Cubs' prospects again gaining plenty of attention
3B Bryant, RHP Edwards among headline grabbers this spring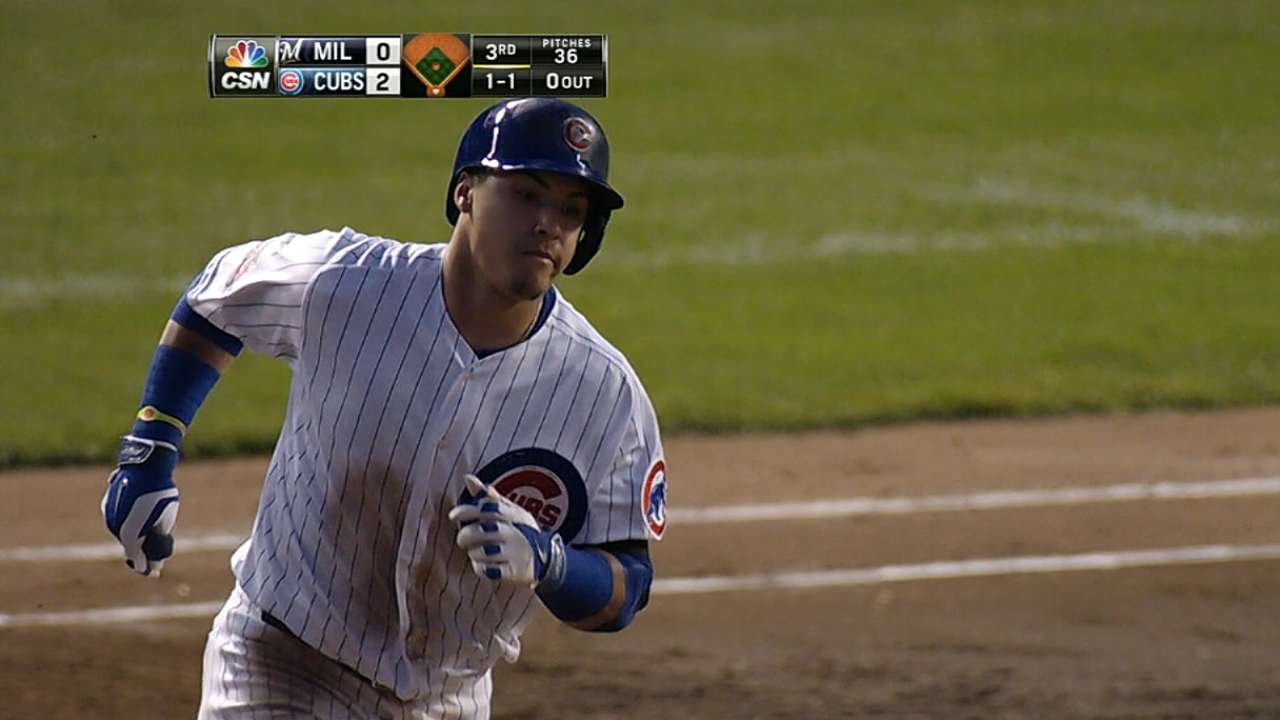 MESA, Ariz. -- Last spring, the Cubs' young prospects received most of the attention in camp. Javier Baez was breaking car windows with his batting practice home runs, Kris Bryant collected two hits in 11 games, both homers, and C.J. Edwards got the jitters in his first Cactus League start.
Baez, Arismendy Alcantara, Kyle Hendricks and Jorge Soler made their big league debuts in 2014, and Bryant is expected to do so in 2015. Here is the third in a series of Spring Training previews, leading up to Feb. 19 when pitchers and catchers report to Arizona, with the focus on a few of the top Cubs prospects.
3B Bryant: It's only a question of when for Bryant. In 2013, he was the college player of the year, the second pick overall in the First-Year Player Draft, and the Arizona Fall League MVP. He followed that with 43 home runs and 110 RBIs while batting .325 at Double-A Tennessee and Triple-A Iowa, and added another trophy as the Minor League Player of the Year. He's No. 1 on MLB.com's top 20 Cubs prospects, No. 2 among the top 100 prospects in all of baseball, and the Minor Leaguer to watch this spring. Bryant has worked hard so he can stay at third and avoid being shifted to the outfield. This will be his second big league spring camp.
SS Addison Russell: Acquired from the Athletics last July, Russell may be the best shortstop of the many in the Cubs organization. He was bothered by a hamstring injury last year, but finished strong, batting .294 in 50 games at Tennessee with 12 home runs. Ranked No. 2 on MLB.com's top 20 Cubs prospects and fifth on the top 100, Russell will be in Cubs spring camp for the first time. Scouts rave about his hands and how smooth he is on the field.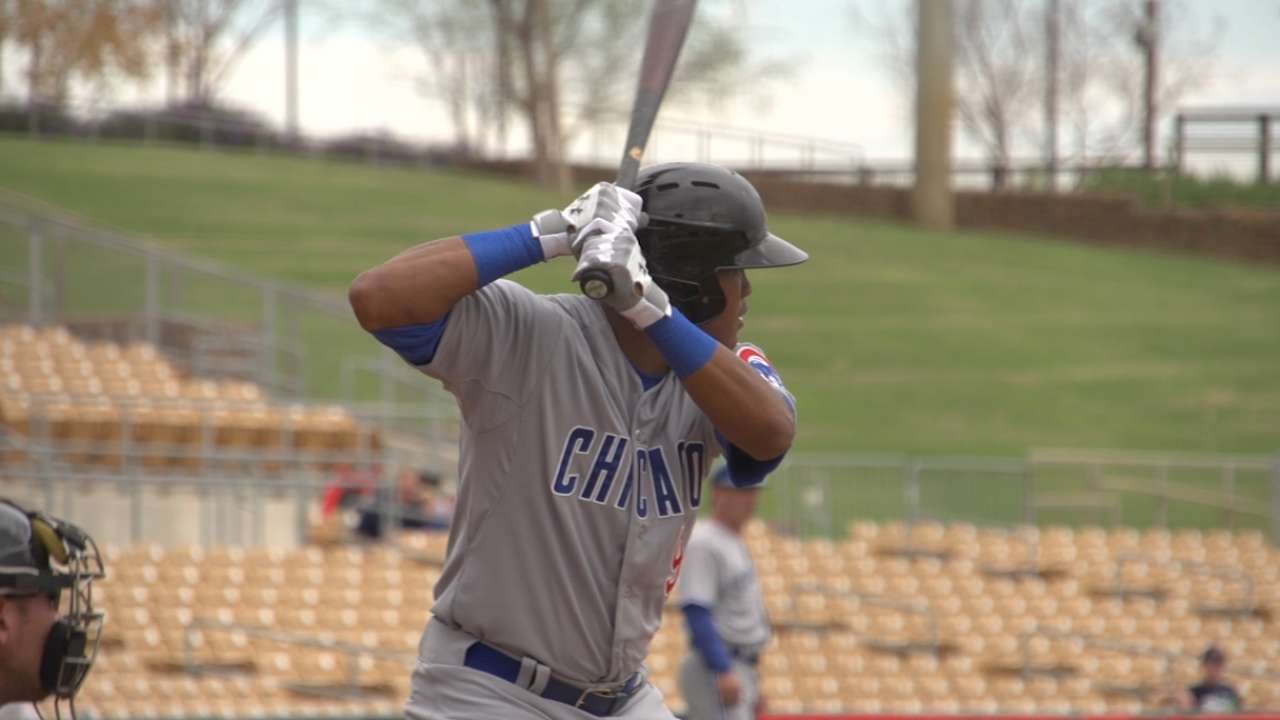 OF Albert Almora: The Cubs' first-round pick in 2012, Almora hasn't progressed as quickly as some of the others. He batted .283 at Class A Advanced Daytona, and .234 at Tennessee last season. But he's one of the top defensive outfielders in the organization, with a solid arm. He's only 20, still developing and very smart. This could be a big year for Almora, ranked No. 3 on the Cubs' top 20 prospects list and No. 36 on the top 100.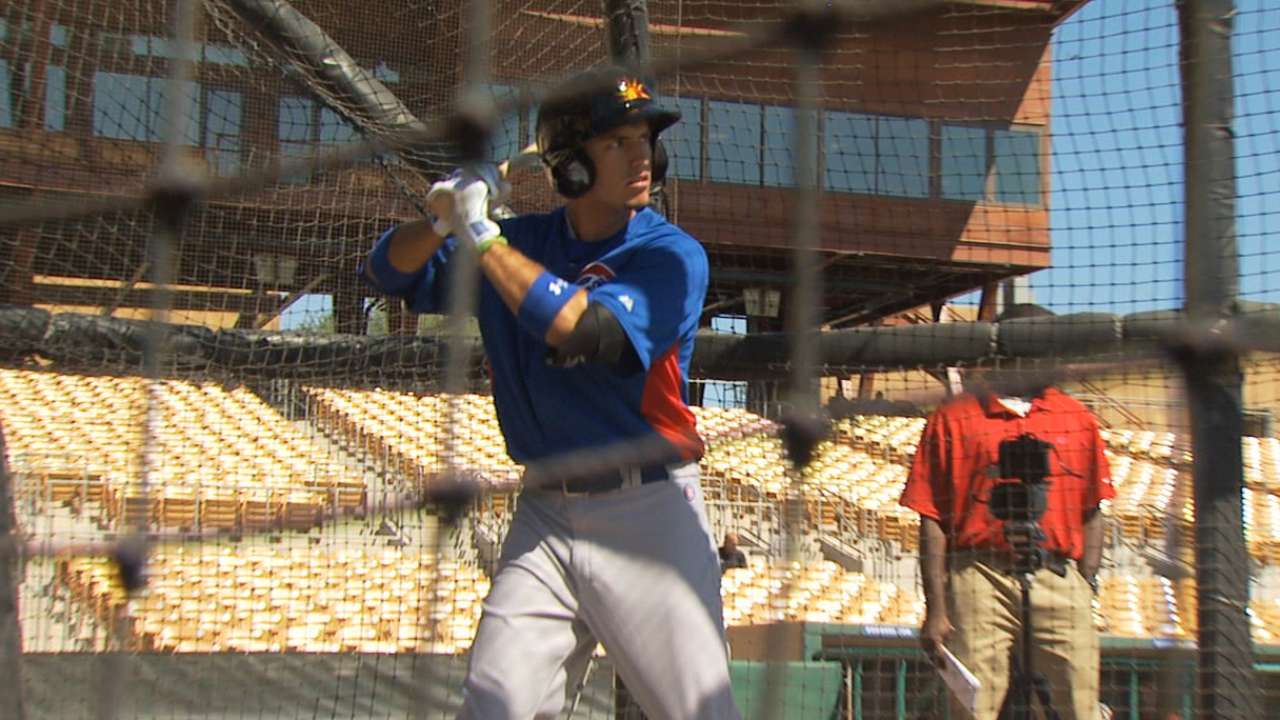 RHP Edwards: You never know where you'll find talent in the Draft. Edwards was a 48th-round pick in 2011 by the Rangers and was dealt to the Cubs in the Matt Garza deal in July 2013. Yes, he's skinny, but he is trying to eat everything in sight -- and he's tired of talking about his weight. He has a nasty four-seam fastball that has fooled scouts into thinking he throws a cutter. In his only big league spring appearance last year on March 25 against the Padres, Edwards admitted he was nervous. He'll get more opportunities this spring. Slowed by soreness in his shoulder, Edwards still is ranked fifth on the Cubs' top 20 prospects list and 53rd on the top 100.
C Kyle Schwarber: The lefty-swinging Schwarber has every intention of being a big league catcher. He got a huge boost last summer after an intensive four-day session with Minor League manager Mark Johnson and roving catching instructor Tim Cossins, making such huge strides that the Cubs are going to keep him behind the plate for now. The No. 1 Draft pick and fourth overall last June, Schwarber batted .344 in 72 games in his first pro season, belting 18 homers and 18 doubles. No. 6 on the Cubs' top 20 prospects, Schwarber will be in big league camp and have a chance to work with veterans Miguel Montero and David Ross, which can only help his development.
RHP Pierce Johnson: The 23-year-old right-hander will be easy to spot this spring. He's the one with the long blonde hair. He also is coming off a solid season in which he compiled a 2.54 ERA in 20 games, holding opponents to a .187 batting average. Drafted 43rd overall in 2012, Johnson is ranked eighth among the Cubs' top 20 prospects. Asked during the Cubs Convention how he got big league scouts to notice him, Johnson quipped: "I grew out my hair." He'll be in the Cubs' big league camp this spring.
LHP Eric Jokisch: The 25-year-old southpaw got a brief taste of the big leagues last year, appearing in four games, including his first start Sept. 26 against the Brewers. An 11th-round pick out of Northwestern in 2010, the lefty was at Triple-A Iowa last season for the first time, and struck out 143 over 158 1/3 innings while walking 31 in 26 starts. In 2013, Jokisch threw a no-hitter for Tennessee, striking out eight.
Carrie Muskat is a reporter for MLB.com. She writes a blog, Muskat Ramblings, and you can follow her on Twitter @CarrieMuskat. This story was not subject to the approval of Major League Baseball or its clubs.