Opportunity to play for Yankees excites Jones
Cashman believes lefty slugger's swing is made for Yankee Stadium
TAMPA, Fla. -- The Yankees believe that Garrett Jones' swing is a perfect fit to take advantage of Yankee Stadium's cozy right-field dimensions, and as Spring Training approaches, the slugger said that he is eager to prove them right.
"I'm thinking about it more and more, just wearing the uniform, getting out on the field and meeting the guys," Jones said. "Getting a chance to play in Yankee Stadium on a regular basis and to experience being a Yankee is pretty special. I've just been getting more and more excited to get the season going."
The 33-year-old Jones, who's hit 117 homers in seven big league seasons, was acquired from the Marlins in December along with right-hander Nathan Eovaldi and Minor League pitcher Domingo German in exchange for infielder Martin Prado and right-hander David Phelps.
It was a deal that created excitement at Jones' home. He and his wife, Cassie, were engaged in Central Park, and her cousin is former big leaguer Ron Coomer, who played 55 games with the Yankees in 2002. Jones said that her family is comprised of die-hard Yanks fans and has joked that they no longer will have to stash their memorabilia in the closet when friends come over.
"New York is definitely going to be our second home," Jones said. "I know my wife is extremely excited to get back in the big city and seeing all her friends, and watching Yankees baseball every day. It's going to be a great summer, and we're looking forward to it."
Yankees general manager Brian Cashman said that Jones' swing "is made for our ballpark," and that the club anticipates having Jones compete with Alex Rodriguez for at-bats as a designated hitter against right-handed pitching. Jones could also back up Mark Teixeira at first base and spell Carlos Beltran in right field.
"It's going to depend on if I'm swinging the bat well, then I think I'm going to be playing more and be contributing more," Jones said. "Right now, I think it's going to be switching around those three spots, and see what happens throughout the season. Things change, and you end up in spots you didn't know you were going to be in. For me, it's just going to be hitting well and being consistent."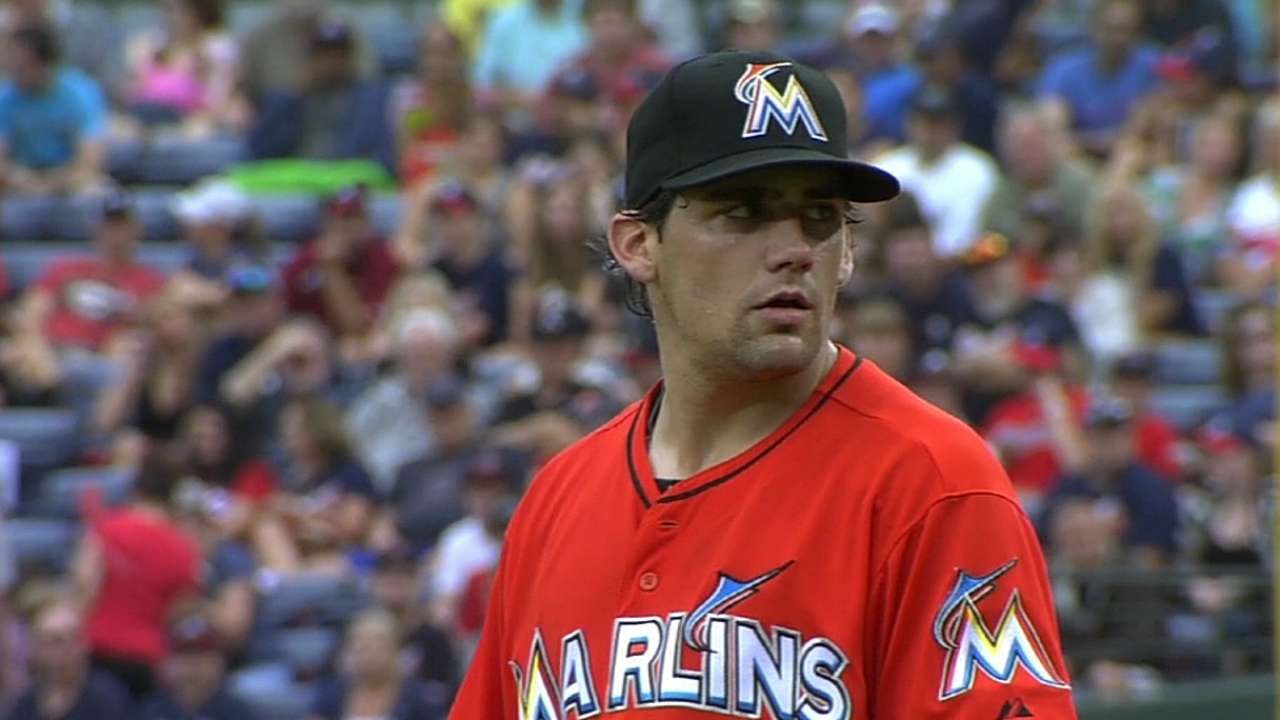 Jones said that he has no issue battling for at-bats with Rodriguez, who is returning after missing all of last season due to suspension.
"Friendly competition is always good for players," Jones said. "It keeps them on their toes and just keeps them not being content at having a position. I like that. I like to go in there and just have a little battle for some ABs. I'm sure Alex is excited to get back to playing and show what he can do and [that he can] still play. He's going to be hungry and wanting those at-bats, too.
"If we have a healthy A-Rod and he's able to hit like he has in the past, then he's going to contribute to the team. I'm excited to get my opportunity as well. I feel great and I'm ready to do some damage. It's going to be a good, healthy competition."
The bulk of Jones' big league service came with the Pirates, from 2009-13, and he has compiled an .811 OPS against right-handers. Last season with Miami, Jones batted .246 with 15 home runs and 53 RBIs in 146 games, and he said that he won't necessarily change his approach just because of that inviting 314-foot target down the right-field line at Yankee Stadium.
"I'm not going to be a home run guy, just striking out while trying to hit home runs," Jones said. "I think with me, with the park definitely being hitter-friendly for lefties, I'm just going to continue my approach and think gap to gap and line drive. I'll let the home runs come. Usually, if you have that approach, you're going to hit more home runs than when you're trying to."
Bryan Hoch is a reporter for MLB.com. Follow him on Twitter @bryanhoch and read his MLBlog, Bombers Beat. This story was not subject to the approval of Major League Baseball or its clubs.