Cardinals pack with spring in step on Truck Day
T-shirts, various items make their way on trailers bound for Spring Training home in Florida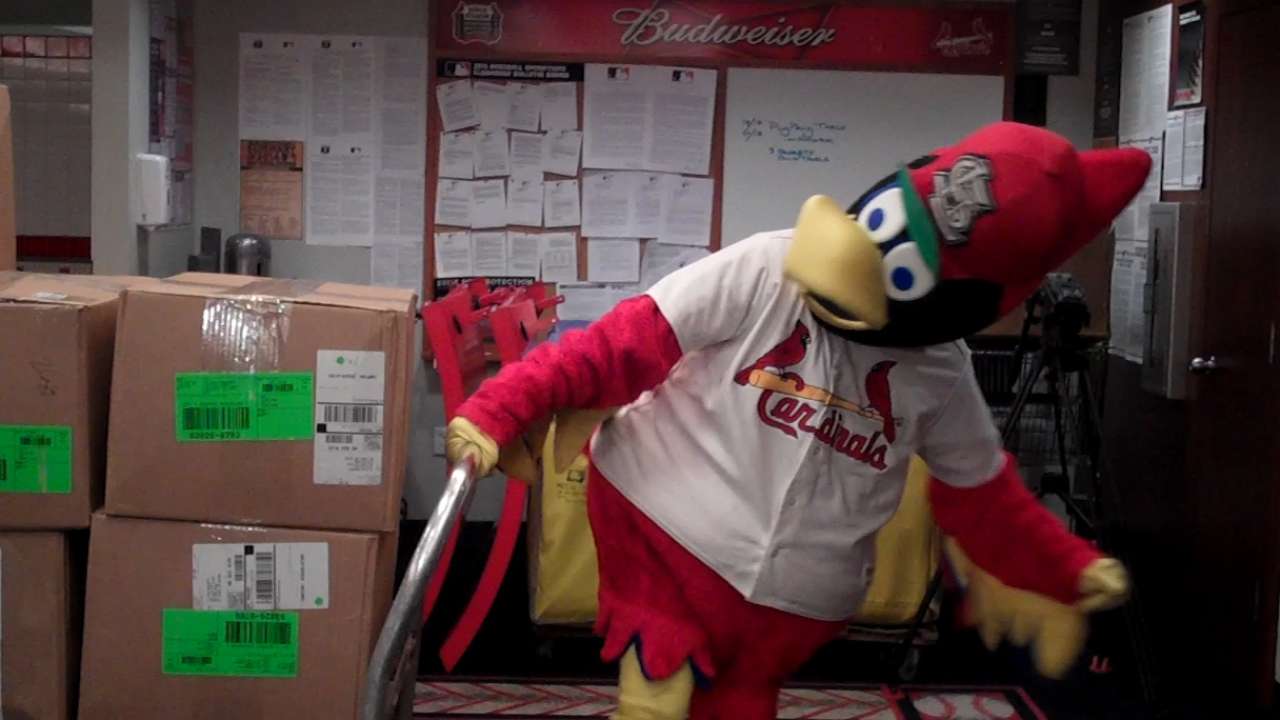 ST. LOUIS -- The temperature gauge may not have suggested it, nor the groundhog predicted it, but there were indeed signs of an early spring on Thursday inside the clubhouse and tunnels of Busch Stadium.
The Cardinals' equipment staff, with help from A-Mrazek Moving Systems and team mascot Fredbird, spent the morning loading up the first of two 52-foot trailers soon bound for southern Florida. They'll make an 1,135-mile journey to Jupiter, Fla., where, on Monday morning, the clubhouse staff will be waiting to unpack the equipment, food, clothing, medical supplies, kitchen goods and various other personal items that will be utilized during the club's Spring Training stay.
"It's kind of become second nature for us," head equipment manager Rip Rowan said of the annual Truck Day. "This staff is incredible. Everybody has been here for so many years that people just know what to do."
This year, Rowan estimated that he packed up 500 T-shirts, 275 pairs of shorts, 275 hoodies, 275 pullovers, three cases of peanut butter and seven pallets of bottled water for transporting. There are also five gallons of Dr. Bronner's Magic Soap, requested specifically by reliever Randy Choate.
Yes, Rowan occasionally packs up some odd items upon request. He's transported tires, choppers and motorcycles in the past, though the only wheels making the trip this year are on a handful of personal bicycles. There were several sets of golf clubs ready to go, as well as a guitar and the clubhouse ping pong table, which will be rebuilt for daily use in the players' spring clubhouse.
In addition to moving the equipment necessary to operate Spring Training, Rowan also invites front-office staff, local media members and player families to drop off anything they'd like brought down for their spring stays.
"We've got the space. We try to help everybody we can," Rowan said. "That's our goal -- to make it as easy as we can for everybody."
Rowan, head equipment manager since 2003 and a member of the organization for 37 years, actually begins preparing for the packing process not long after the season ends.
"It's all winter long," he joked.
First, there is the task of inventorying all of the equipment and goods the Cardinals still have in stock. He uses his time at the Winter Meetings to look at new products and then orders items en masse once he returns. Most of the goods get shipped to Busch Stadium, where they are then packaged to await Truck Day. Others, like the 850 dozen baseballs Rowan ordered, get sent directly to the team's complex in Jupiter, Fla.
The unloading process will begin around 8 a.m. CT on Monday and wrap up shortly after lunchtime. Five days later, the clubhouse will be full of pitchers and catchers ready for the first official workout of spring. Thursday offered the promise that the day is coming soon.
Jenifer Langosch is a reporter for MLB.com. Read her blog, By Gosh, It's Langosch, and follow her on Twitter @LangoschMLB. This story was not subject to the approval of Major League Baseball or its clubs.