Indians prospects line up to make jump to Majors
Lindor, Aguilar among those to keep an eye on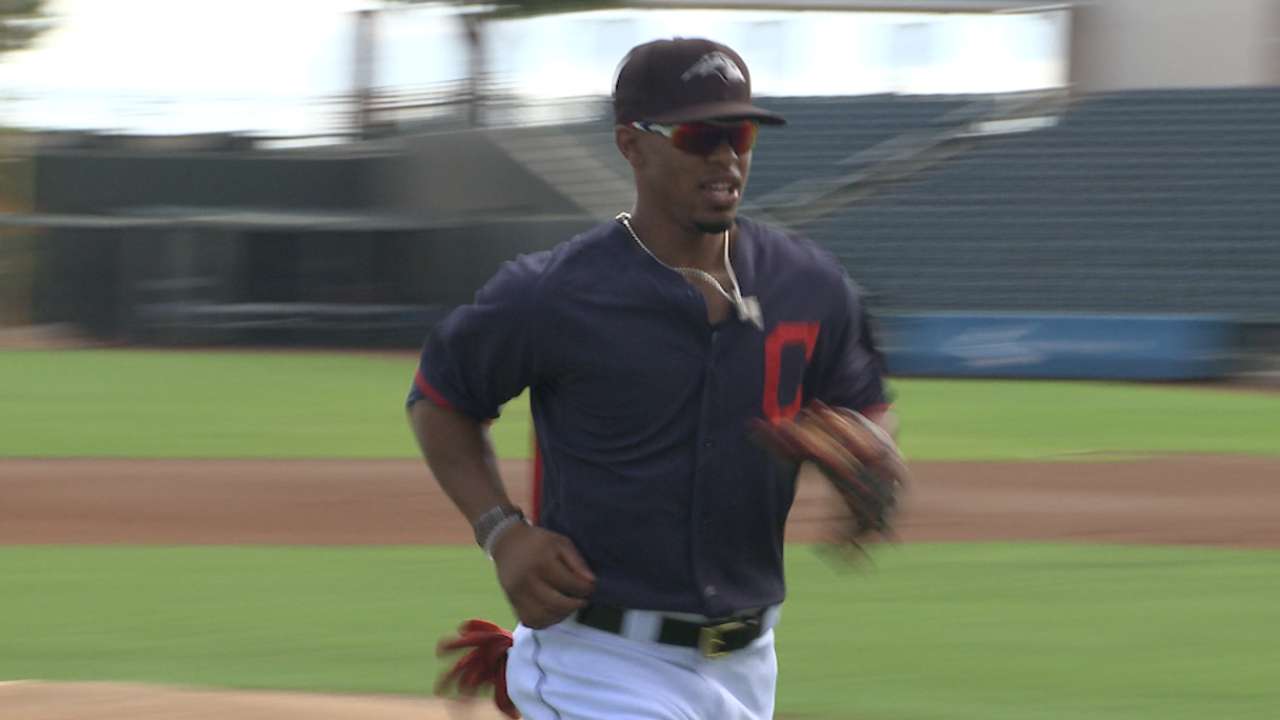 CLEVELAND -- A prospect's path to the big leagues is not always predictable. After the Indians traded shortstop Asdrubal Cabrera to the Nationals last July, the general thought was that top prospect Francisco Lindor's road to Cleveland had been cleared.
That was before Jose Ramirez assumed the shortstop duties for the Indians, performed well down the stretch and added a little more time to Lindor's clock in the Minor Leagues. Even with Ramirez having the shortstop job locked down for the Indians, all eyes will continue to be on Lindor's progress this spring during his second big league camp.
"[Lindor] has extremely high expectations for himself, which we want," said Carter Hawkins, the Indians' director of player development. "I think we'd be disappointed if he didn't have those expectations for himself, so we never want to slow him down. We never want him to stop reaching for these very high goals, because we don't know how good he's going to be. We don't know how soon he's going to come up."
Lindor, who was selected in the first round of the 2011 First-Year Player Draft, is Cleveland's No. 1 prospect and the Majors' fourth-best prospect in MLB.com's rankings. He is among a handful of prospects who could impact the big league team at some point this season for the Tribe.
In the days leading up to the official start of Spring Training, MLB.com is looking at various aspects of each team's roster. Here are some prospects to watch with the Indians in 2015:
1B Jesus Aguilar: Right-handed power seems to be an annual part of the Tribe's winter wish list. Cleveland continues to hold out hope that the 24-year-old Aguilar (No. 9 on MLB.com's prospect rankings for the Indians) might provide an answer. Aguilar had an underwhelming big league debut last season (4-for-33 in 19 games), but he continued to hit well in the Minors. In 118 games at Triple-A, the big first baseman hit .304/.395/.511 with 19 homers, 50 extra-base hits and 77 RBIs.
RHP Shawn Armstrong: The Indians have a solid history of developing relievers, and Armstrong (taken in the 18th round of the 2011 Draft) fits the mold. The 24-year-old right-hander throws hard and will be in camp this spring as a part of the 40-man roster. In 49 games between Double-A Akron and Triple-A Columbus last season, Armstrong posted a 2.41 ERA with 72 strikeouts and 22 walks in 56 innings.
Lindor: Expect to see the 21-year-old Lindor sent to Triple-A Columbus to begin this season, but the highly-touted shortstop could reach Cleveland this summer. In 126 games last season, Lindor turned in a .276/.338/.389 slash line with 11 homers, 28 stolen bases, 31 extra-base hits, 62 RBIs and 75 runs between stops at Double-A and Triple-A. He'll be in camp with the Tribe as a non-roster invitee again this year.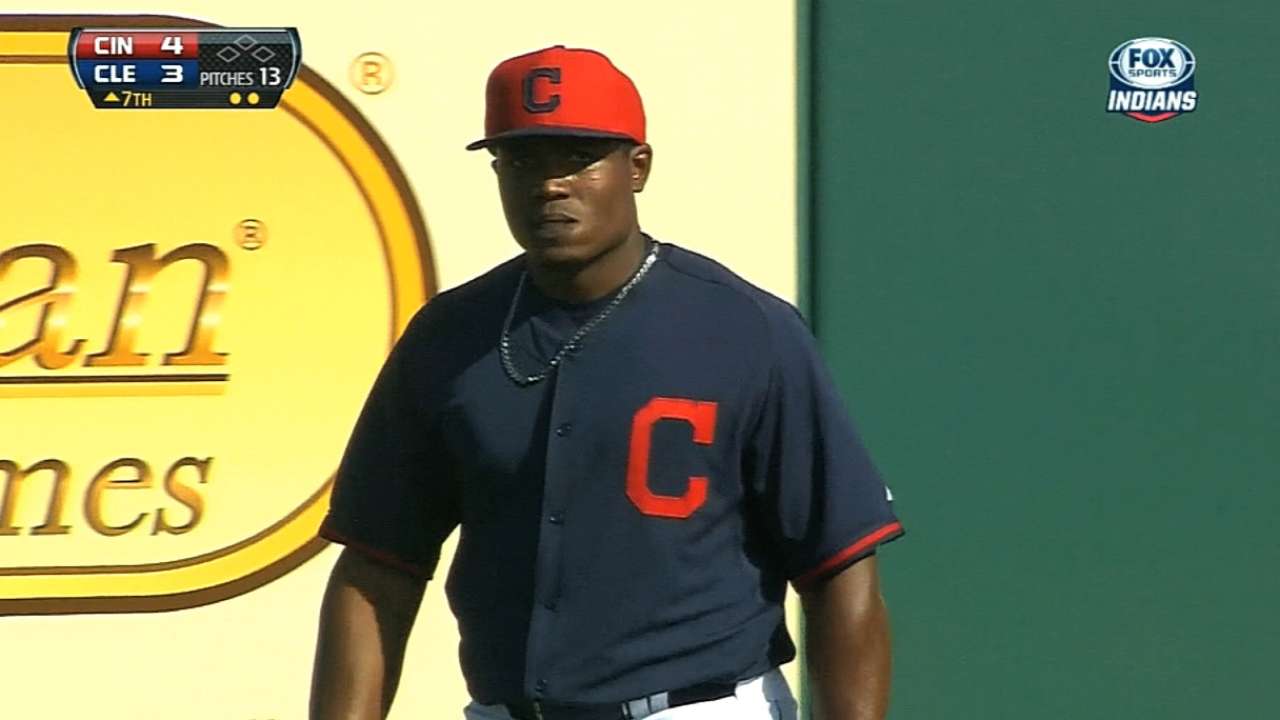 OF Carlos Moncrief: The 26-year-old Moncrief (No. 15 on MLB.com's list for Cleveland's top prospects) has the advantage of currently being on the Tribe's 40-man roster. That makes him and outfielder Tyler Holt two of the top callup candidates if Cleveland needs help in the outfield. Last year, Moncrief hit .271/.328/.431 with 12 homers, 49 extra-base hits, 63 RBIs and 64 runs in 132 games as Triple-A Columbus' primary right fielder.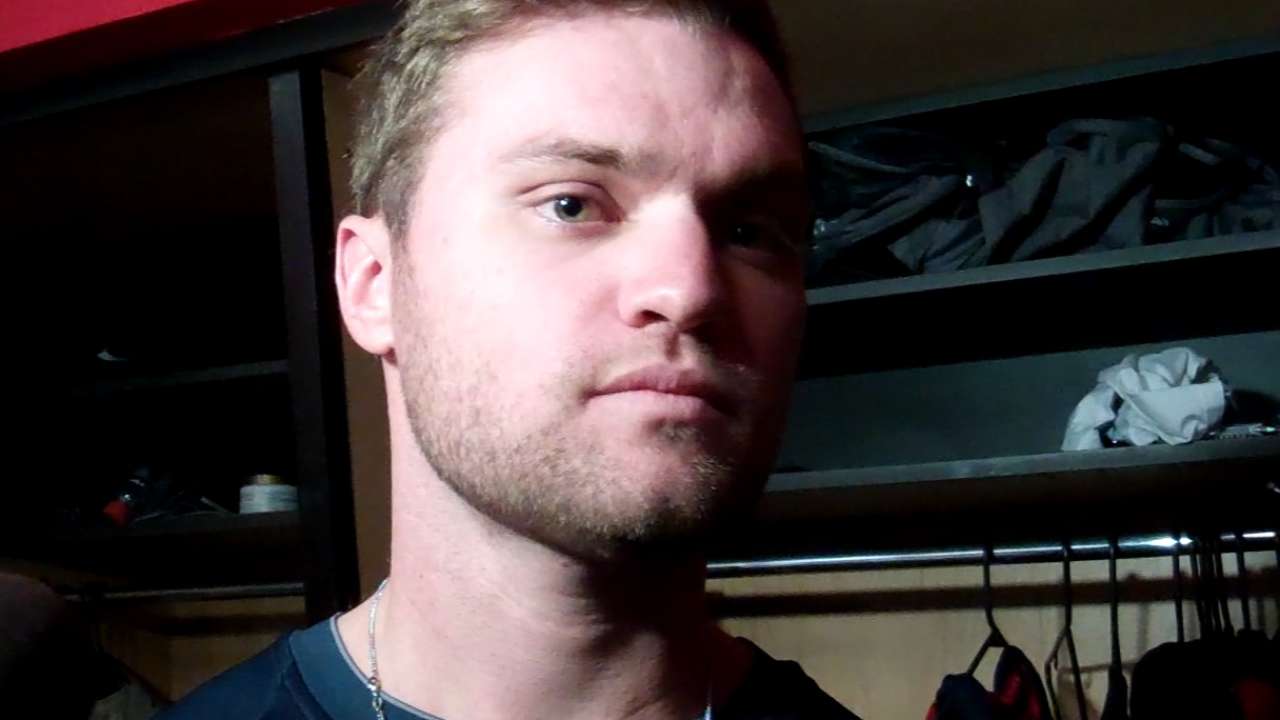 OF James Ramsey: Ramsey might rank below the likes of outfielders Clint Frazier (No. 2), Tyler Naquin (No. 3) and Brad Zimmer (No. 4) on MLB.com's list, but he is positioned closest to the Majors right now. Ranked fifth among Tribe prospects, Ramsey was acquired from St. Louis for pitcher Justin Masterson before the July 31 Trade Deadline last year. In '14, he hit .295/.382/.509 with 16 homers, 41 extra-base hits and 52 RBIs in 95 games between Double-A Springfield (Cardinals) and Triple-A Columbus (Indians).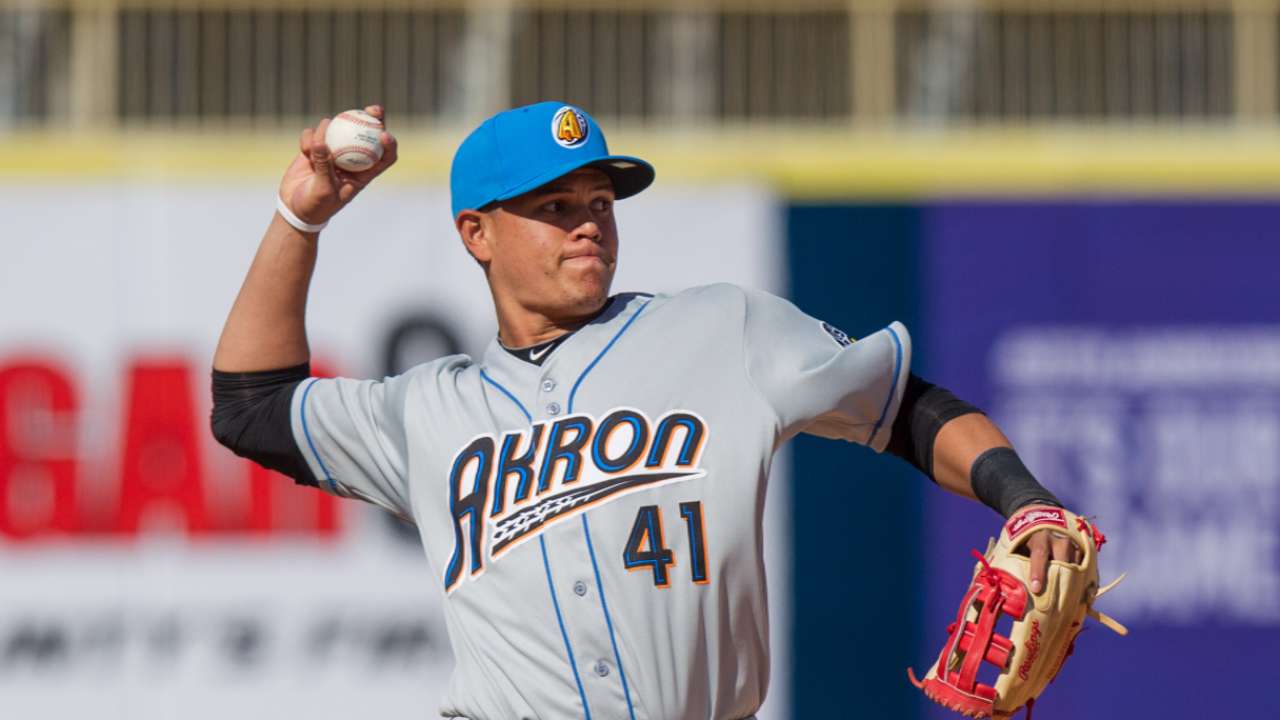 3B Giovanny Urshela: The 23-year-old Urshela might be limited early in Spring Training because of a knee injury suffered in winter ball, but he is firmly on Cleveland's radar as a future possibility for third base. Ranked 12th by MLB.com among Indians prospects, Urshela offers plus defense and has an emerging bat. Last year, he hit .280/.334/.491 with 18 homers, 60 extra-base hits, 78 runs and 84 RBIs in 126 games between Double-A and Triple-A, earning the organization's Lou Boudreau Award (Minor League Player of the Year).
Jordan Bastian is a reporter for MLB.com. Read his blog, Major League Bastian, and follow him on Twitter @MLBastian. This story was not subject to the approval of Major League Baseball or its clubs.