Camp invite gives Phils prospects a chance to impress
Biddle, Franco, Altherr can make their mark, even if they don't make team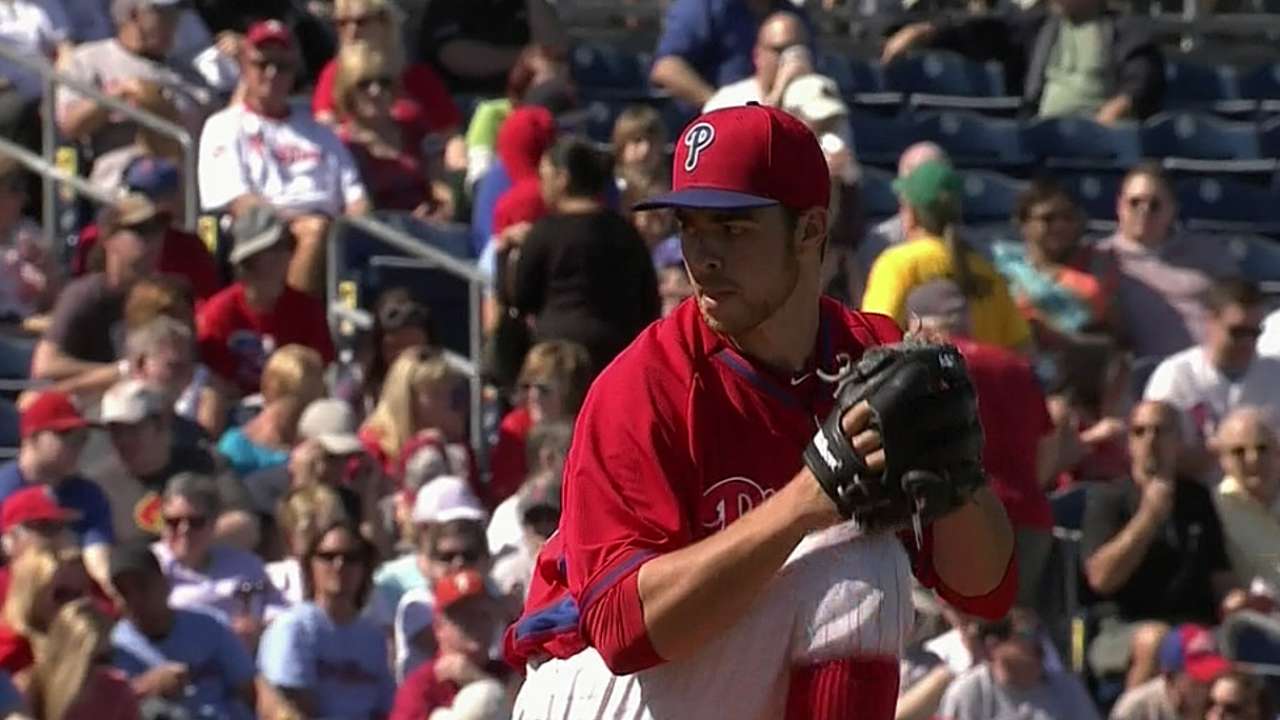 PHILADELPHIA -- Phillies manager Ryne Sandberg said he plans to try to win as many games as possible in 2015, but the focus this year is on the future, which means developing the team's young talent.
That includes more than just the younger players on the Major League roster. The Phils need to have their top Minor League prospects develop at a decent clip to have any chance of competing in the near future.
They will have three of their Top 20 Prospects in big league camp, which opens Thursday with the team's first official workout for pitchers and catchers at Carpenter Complex in Clearwater, Fla. Here is a look at those three and expectations for them entering Spring Training:
LHP Jesse Biddle: This is a huge season for Biddle, who was once the top pitching prospect in the organization. He has fallen to fourth among pitchers and seventh overall after struggling mightily last season with Double-A Reading (3-10 with a 5.03 ERA in 16 starts). Biddle's year included a stint on the temporary inactive list because Philadelphia wanted him to get away from the game to clear his mind. He has battled maturity issues the past couple years, and last season only increased those concerns. Biddle will open the season in the Minor Leagues, where the goal is for him to pitch well consistently and get back on the radar for a big league callup.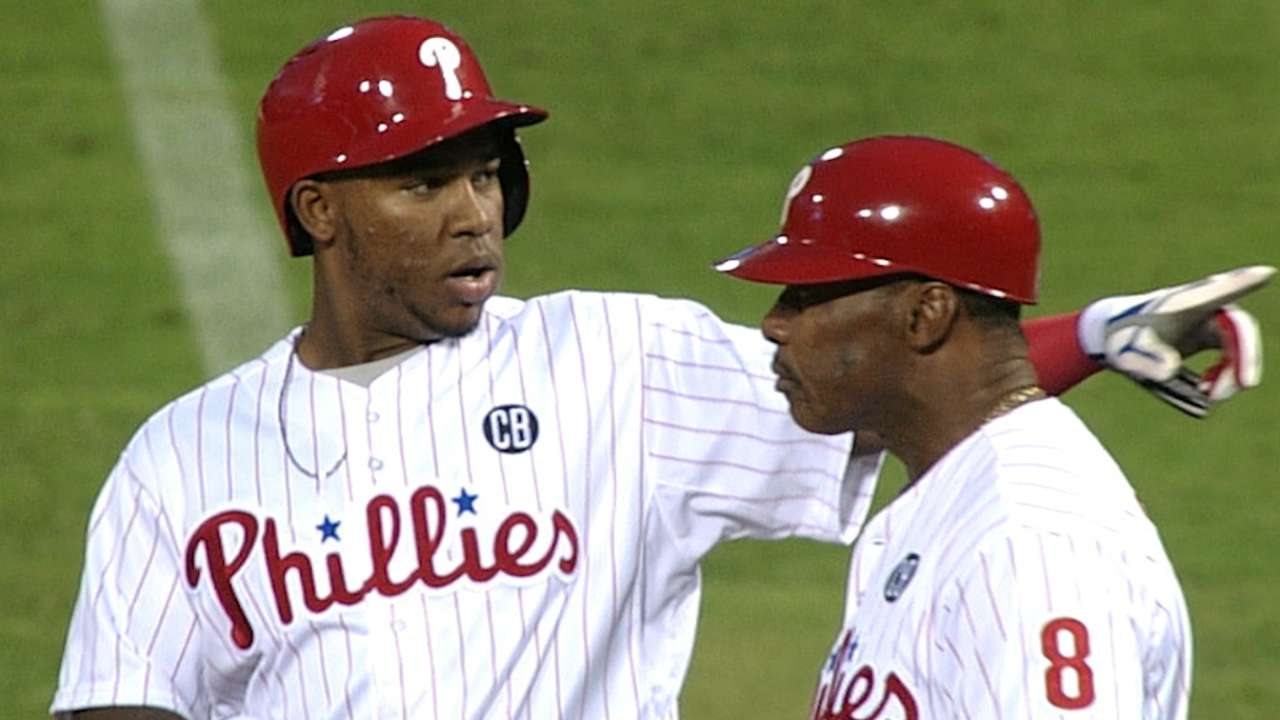 INF Maikel Franco: The 22-year-old, who ranks third among Phillies prospects, started slowly last season in Triple-A before finishing strong. He then hit .179 in 56 at-bats for the Phils in September, before hitting .272 with seven home runs, 29 RBIs and an .805 OPS in winter ball in the Dominican Republic. It seems unlikely that Franco will open the season with Philadelphia unless he puts together an unbelievable spring. Starting the season in Triple-A will give him more time to develop with regular at-bats, but there is something else to consider: it would delay his eligibility for free agency.
If Franco spends the entire season with the Phillies, he could become a free agent following the 2020 season. Coming to the big leagues in late May or later would make him eligible after the '21 season. That delay could help the Phils in numerous ways. First, it would allow Philadelphia to get a longer look at Cody Asche at third base. Second, if Franco turns into the player like they think he can be, it gives them another year with him under team control.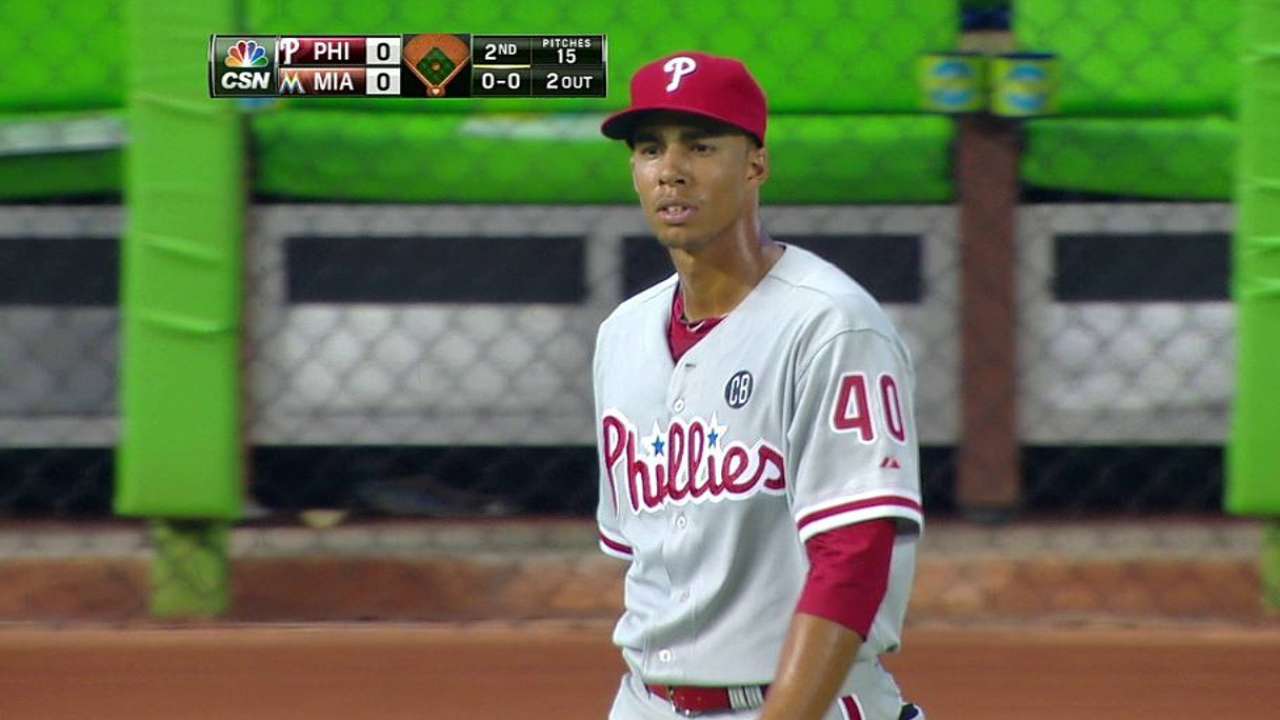 OF Aaron Altherr: The 24-year-old, who ranks ninth among Phillies prospects, hit .286 with five doubles, two triples, four home runs, 27 RBIs and an .878 OPS in 105 at-bats with Aguilas de Zulia in the Venezuelan Winter League. It is a marked improvement from a disappointing season with Double-A Reading, where he hit .236 with 27 doubles, two triples, 14 home runs, 57 RBIs and a .686 OPS in 492 plate appearances.
"We just didn't want the season for him to end in Reading," player development director Joe Jordan said in December. "I think what he did and how he handled it was really good. The guy is as good [of a defensive] outfielder as we have in our system, and possibly in the Major Leagues as well. We just need to get the bat going. I think he's very excited about what he was able to do. Hopefully it's a little springboard for him."
Altherr is expected to open the season in the Minor Leagues, but the Phils hope the Altherr they saw in Venezuela is the same one that shows up to camp this spring.
Todd Zolecki is a reporter for MLB.com. This story was not subject to the approval of Major League Baseball or its clubs.