Truck Day trip for Rays is short but sweet
Tampa Bay sends its equipment to Spring Training home in Port Charlotte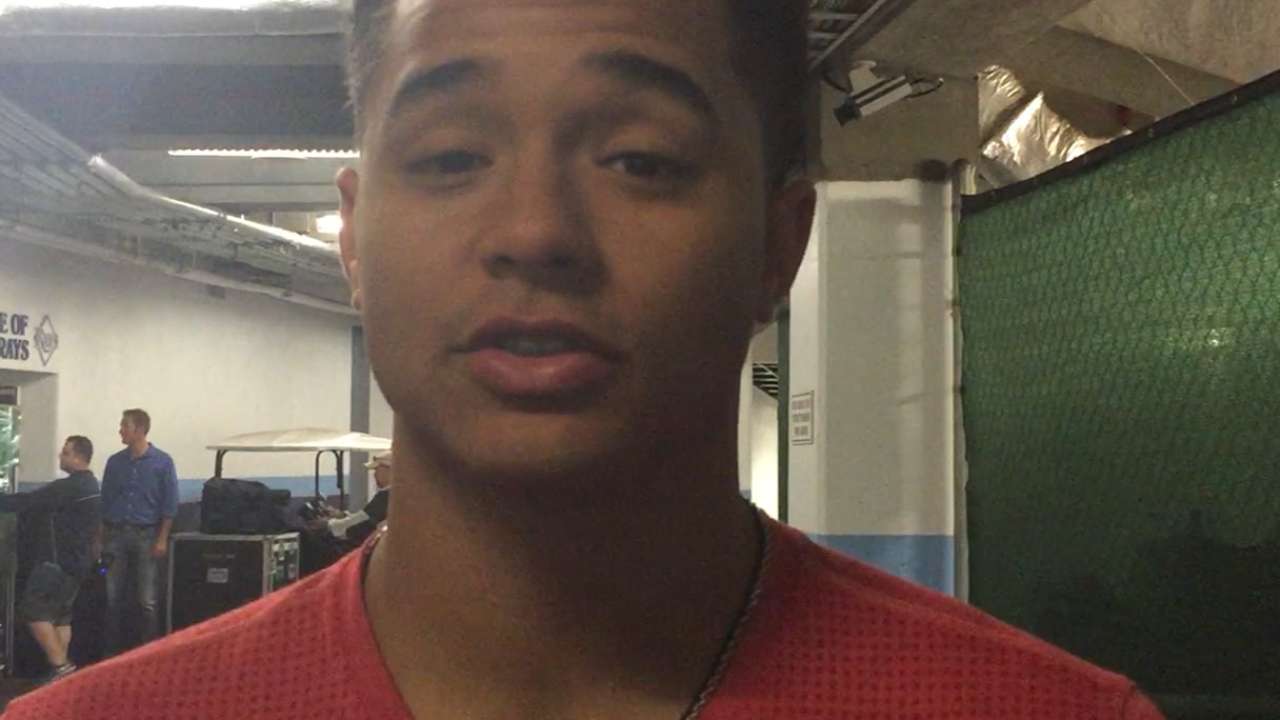 ST. PETERSBURG -- Rays personnel loaded the equipment trucks early Thursday morning. They then headed south toward Port Charlotte, Fla., to stock the shelves for the beginning of Spring Training.
Truck Day might not require as difficult a maneuver for the Rays as for other clubs, most of whom must travel greater distances to reach their spring destinations. But the day is just as significant, since it signals that the beginning of the 2015 season is near.
Included in the load heading south were 600 dozen baseballs, 50 dozen bats, two pallets of bubble gum, two pallets of sunflower seeds and 600 pairs of baseball pants. The uniform tops, which feature plenty of new names after the Rays' busy offseason, will be shipped directly from the manufacturer to Port Charlotte.
A handful of players were on hand Thursday -- including Curt Casali, Tim Beckham, Steven Souza Jr., Alex Cobb and Chris Archer -- and they, too, understood the significance of Truck Day.
"[It] means we're close to getting started," Archer said.
Everyone's favorite seadog lending a hand on Truck Day. Thanks, @RaysRaymond. pic.twitter.com/OsLy3YLx4q

- Tampa Bay Rays (@RaysBaseball) February 12, 2015
Chris Westmoreland is the Rays' traveling secretary, and he used to be the club's equipment manager. Despite being in his second year as the traveling secretary, he still helps with Truck Day. He noted that the changes have brought a lot of activity to the staff.
"It started with Joe [Maddon leaving for the Cubs]," Westmoreland said. "Went from there to [Jose] Molina, [Ben] Zobrist, [Yunel] Escobar -- they're all gone. So it's definitely different.
"We're not used to this much change around here. But even if it's different, it's exciting."
Pitchers and catchers will report on Feb. 21.
Bill Chastain is a reporter for MLB.com. This story was not subject to the approval of Major League Baseball or its clubs.