Getting to know you: Braves will have many new faces in camp
Busy offseason nets Miller, Markakis, Gomes, Pierzynski and other newcomers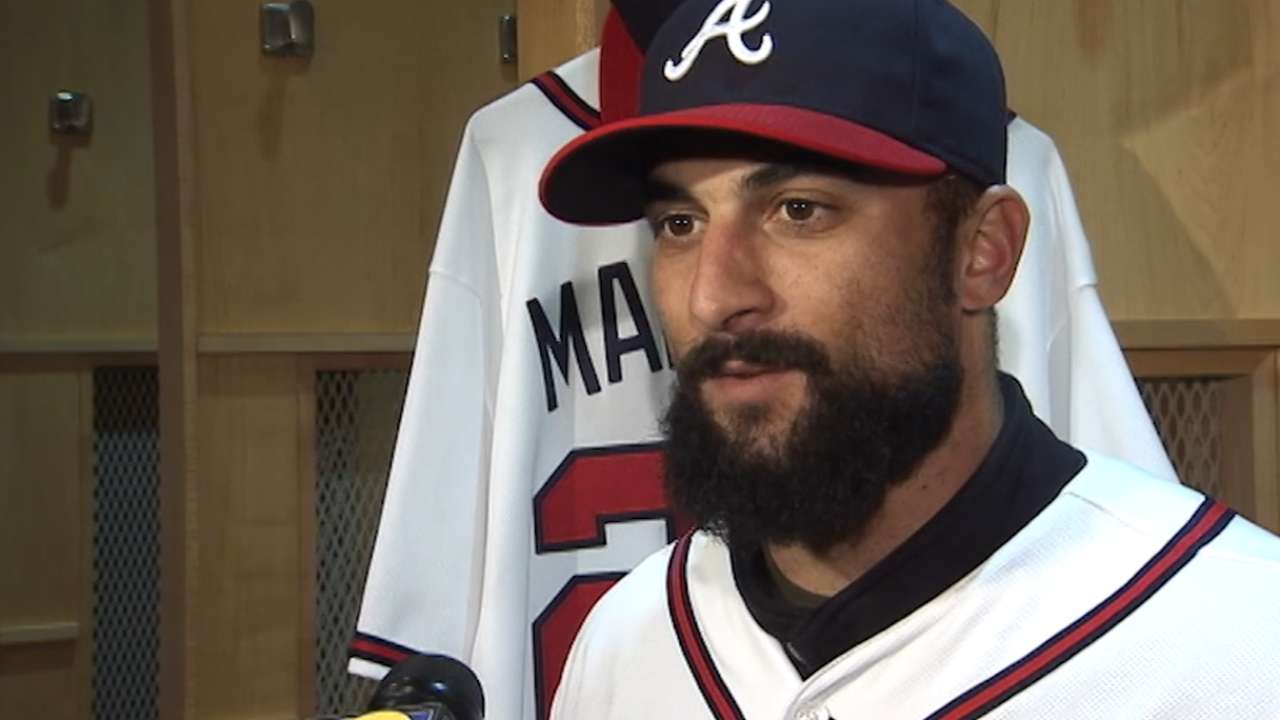 ATLANTA -- Now that the Braves have nearly completed what was their most active offseason in more than two decades, fans will soon have a chance to get a chance to get better acquainted with the many new faces that will fill Atlanta's roster.
MLB.com continues its Spring Training preview package by detailing the many key additions the Braves will likely rely upon at some point this season.
RHP Shelby Miller: Along with gaining an impressive prospect crop by trading Jason Heyward, Justin Upton and Evan Gattis, the Braves acquired Miller, a potential front-line starter who could significantly impact Atlanta's rotation for the next four seasons. The former first-round selection struggled through the first few months of the 2014 season with the Cardinals. But once he expanded his repertoire with a sinker, he posted a 2.08 ERA over his final seven regular-season starts.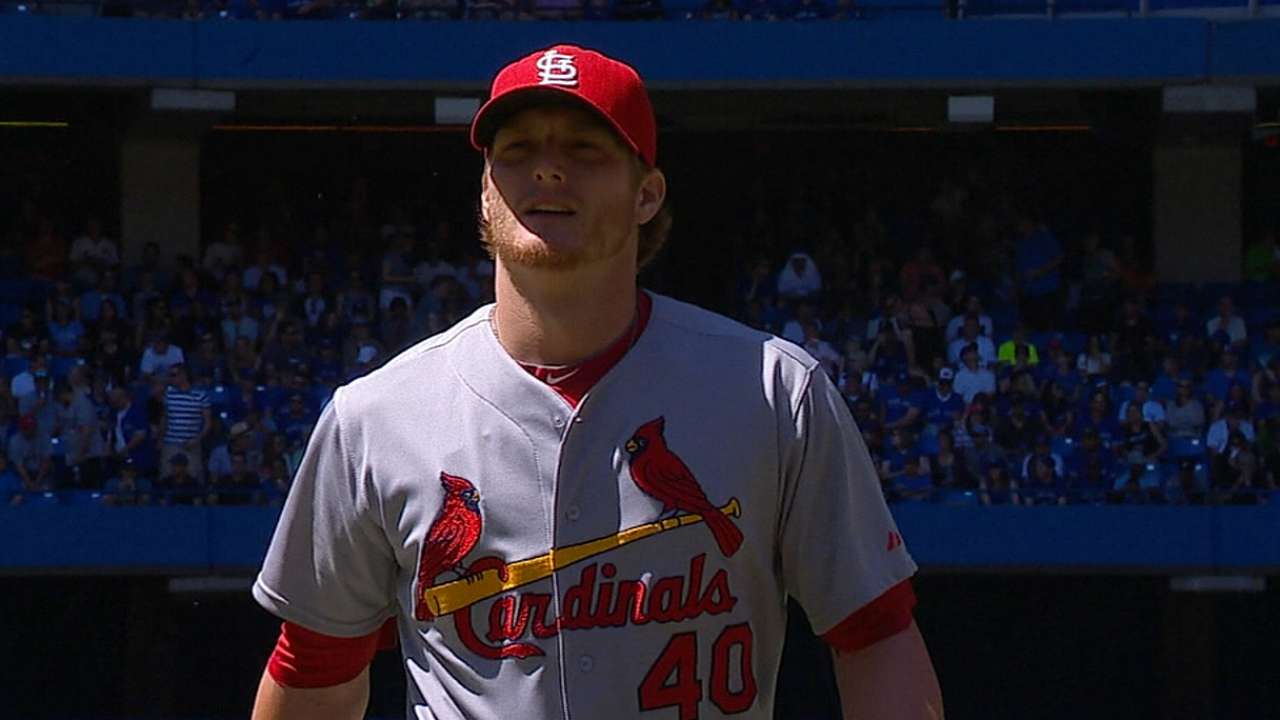 LF Nick Markakis: The Braves targeted Markakis on the free-agent market because they believe he will enrich their clubhouse atmosphere and also regain the productive form he had before he began dealing with a herniated disc before the 2013 season. Once the former Orioles right fielder fully recovers from the neck surgery he underwent in December, he'll attempt to prove he can produce like he did from 2006-12, when he compiled a .819 OPS and averaged 17 homers per season.
LF Jonny Gomes: This veteran outfielder has participated in the postseason during four of the past five seasons. He will likely platoon in left field and serve as the top right-handed pinch-hit option on those days when he is out of the starting lineup.
C A.J. Pierzynski: Like Markakis and Gomes, Pierzynski will be expected to bring some attitude and leadership back to what was a subdued Braves clubhouse last year. The veteran catcher has said he accepts his targeted assignment to serve as a backup and mentor to Christian Bethancourt, who is projected to serve as Atlanta's primary catcher for the first time this year.
RHP Jason Grilli: After establishing himself as an All-Star closer for the Pirates in 2013, Grilli suffered an oblique strain early last season and was traded to the Angels by the end of June. The 2.15 FIP (Fielding Independent Pitching) mark he compiled in 40 appearances after the deal gave the Braves confidence Grilli can serve as Craig Kimbrel's primary setup man.
RHP Jim Johnson: The second of the two former All-Star closers who will serve as a setup man for Kimbrel, Johnson never seemed to gain comfort after being traded from Baltimore to Oakland before the start of last season. Given that he posted a 7.09 ERA for the A's and Tigers last year, the Braves plan to slowly ease him into high-leverage situations with the hope he will steadily regain his confidence and a feel for his sinker.
INF Alberto Callaspo: The Braves took a $3 million gamble on this veteran infielder, whose production has steadily declined while hitting .245 with a .319 on-base percentage over the past three seasons. If Callaspo is in better shape than he was the past couple seasons, he will see regular time at second base and possibly play third base against tough right-handed starting pitchers.
OF Zoilo Almonte: This 25-year-old former Yankees outfielder compiled a .781 OPS against right-handed pitchers at the Triple-A level last year. He will compete with Todd Cunningham, Kelly Johnson and Dian Toscano to begin the season as the guy who will platoon with Gomes in left field.
RHP Mike Foltynewicz: The centerpiece of the return for Gattis, Foltynewicz now stands as the top pitching prospect in Atlanta's system. The powerful right-hander and Eric Stults stand as the early favorites to begin the season as the Braves' fifth starter.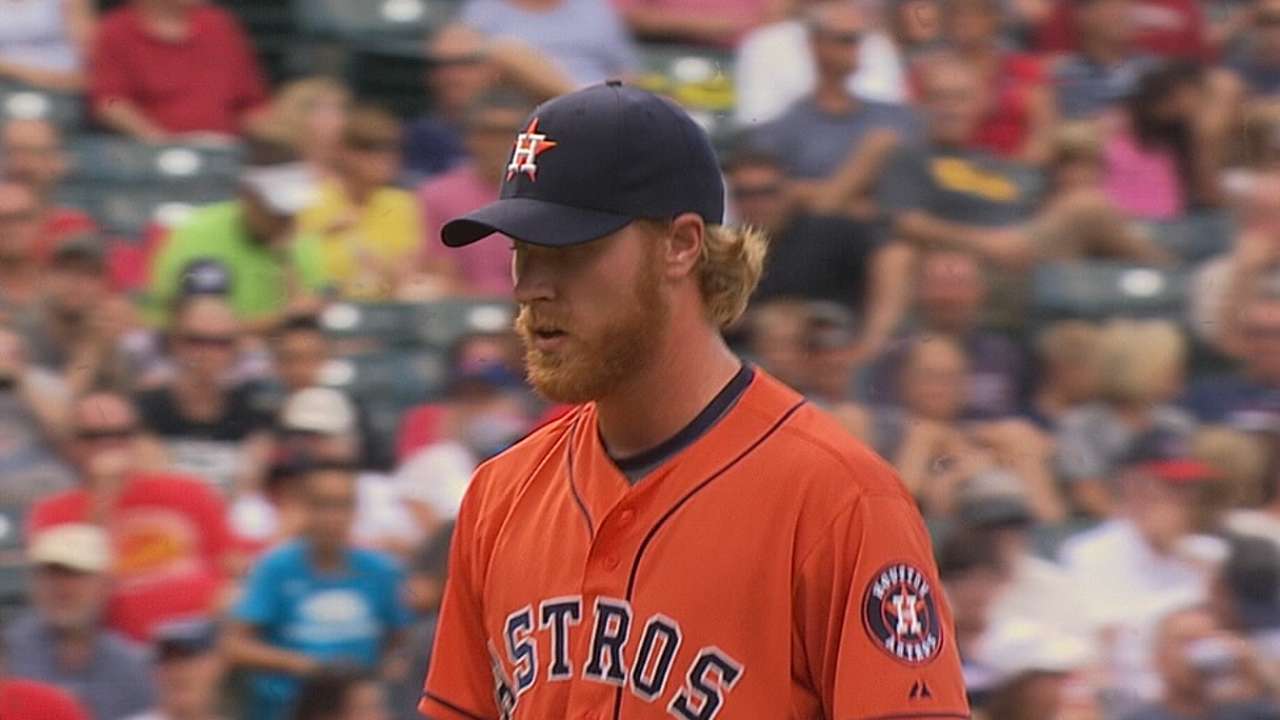 OF Dian Toscano: The Braves are taking a low-risk chance on this Cuban outfielder who has never played on the international level. While he could eventually become a backup in Atlanta at some point this season, he will likely begin the year with Triple-A Gwinnett.
Manny Banuelos: The 23-year-old lefty stood as the top pitching prospect in the Yankees' system before he began battling injuries during the 2012 season and ultimately had Tommy John surgery, which forced him to miss '13. Although he's a candidate to begin the year in Atlanta's rotation, he will likely open the year with Gwinnett.
Tyrell Jenkins: This high-upside prospect, who was acquired with Miller in the Heyward trade, might not reach Atlanta before the 2016 season. But it will be interesting to see how Jenkins progresses if he is indeed able to remain healthier than he has during the early part of his professional career.
Mark Bowman is a reporter for MLB.com. This story was not subject to the approval of Major League Baseball or its clubs.