Top Draft prospects on display as college season begins
CWS champ Vanderbilt expected to draw horde of MLB scouts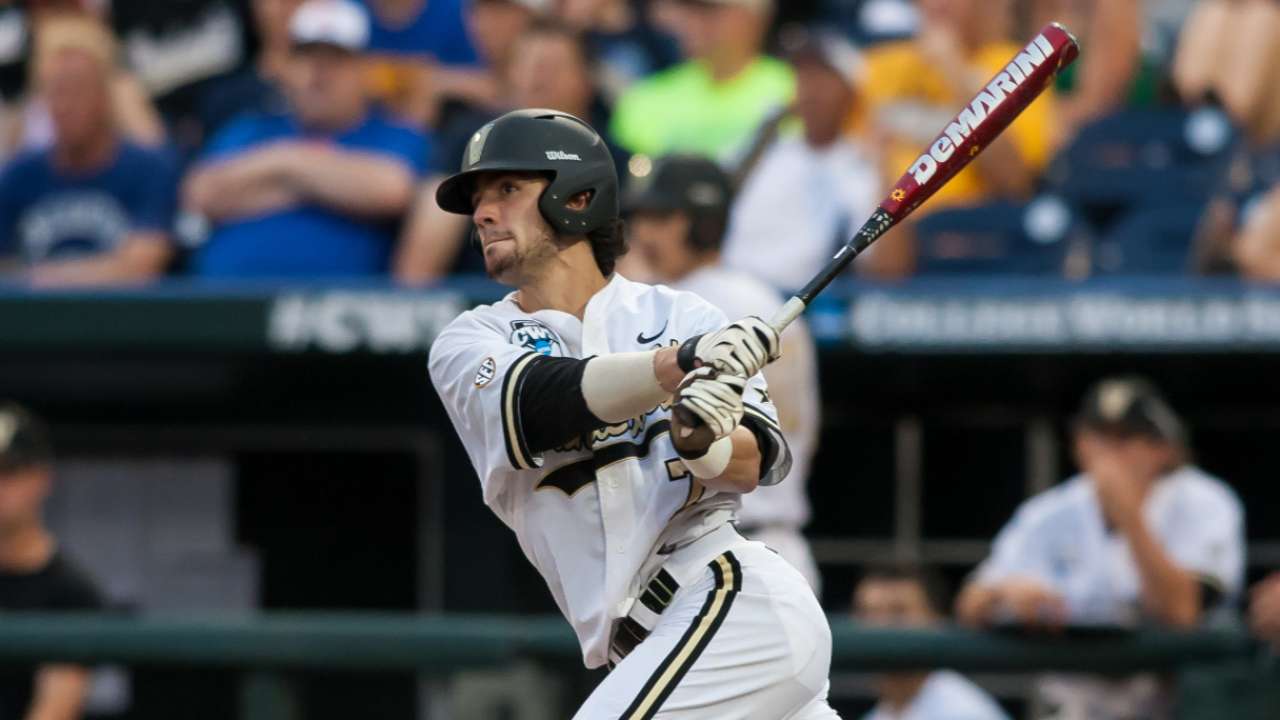 The ball flew off of John Norwood's bat and across the black Omaha sky before settling beyond the left-field wall in TD Ameritrade Park. The outfielder's solo home run last June 30 gave Vanderbilt a 3-2 lead against Virginia in the top of the eighth inning of the decisive third game of the College World Series. The slim lead held up and, six outs later, the Commodores celebrated their first national championship in program history.
As a new college baseball season arrives, that moment has faded into memory. Friday is Opening Day for Division I college programs and the quest for the national championship begins anew.
Even at Vanderbilt, the focus is firmly on this season. Coach Tim Corbin said there are no ceremonies planned for Friday when his team opens the 2015 campaign at home against Santa Clara. Aside from the possibility of a bigger crowd than usual, he said he expects Friday to be like any other Opening Day.
"The celebration moment is cut right when you get back [from Omaha], because kids are moving on to the next experience, whether it's summer ball or professional baseball," Corbin said. "When the kids got back here that returned to this year's team, we just naturally moved on to what we're doing now."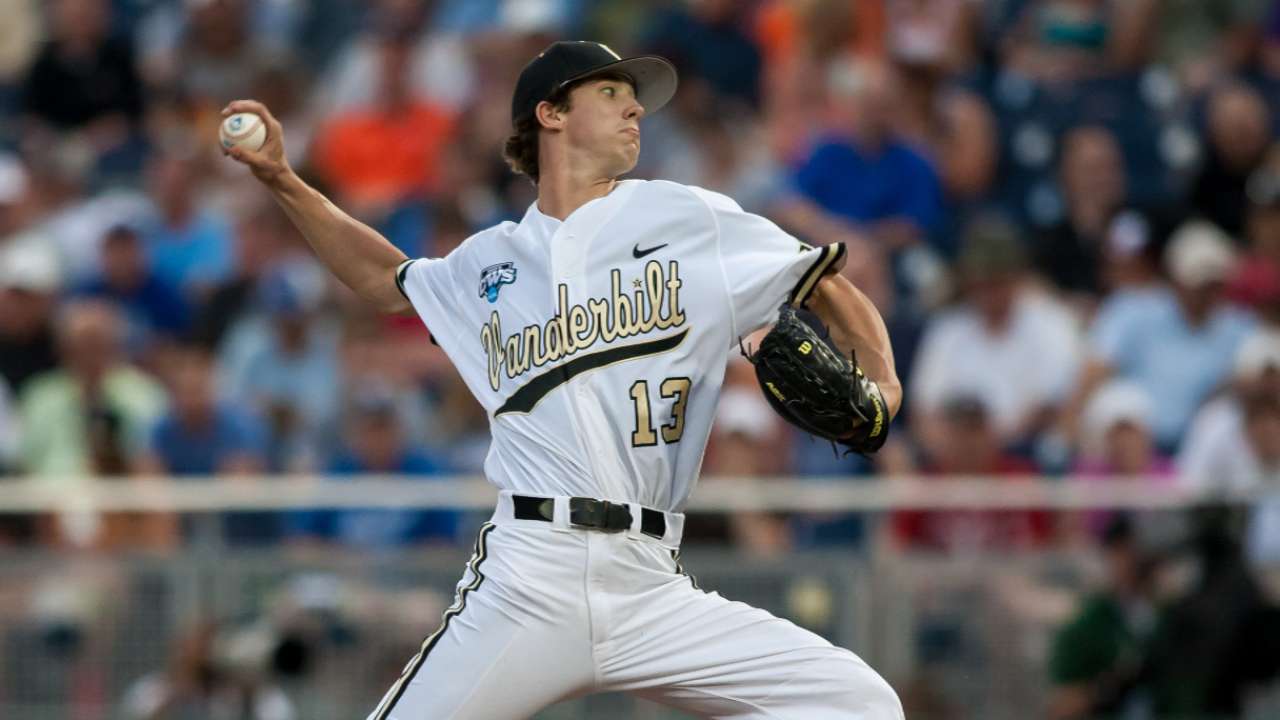 A horde of Major League scouts are among those expected to be in attendance Friday at Vanderbilt's Hawkins Field. Three Commodores -- right-handers Walker Buehler and Carson Fulmer and shortstop Dansby Swanson -- could be first-round picks in June and are ranked on MLBPipeline.com's Top 50 Draft prospects list.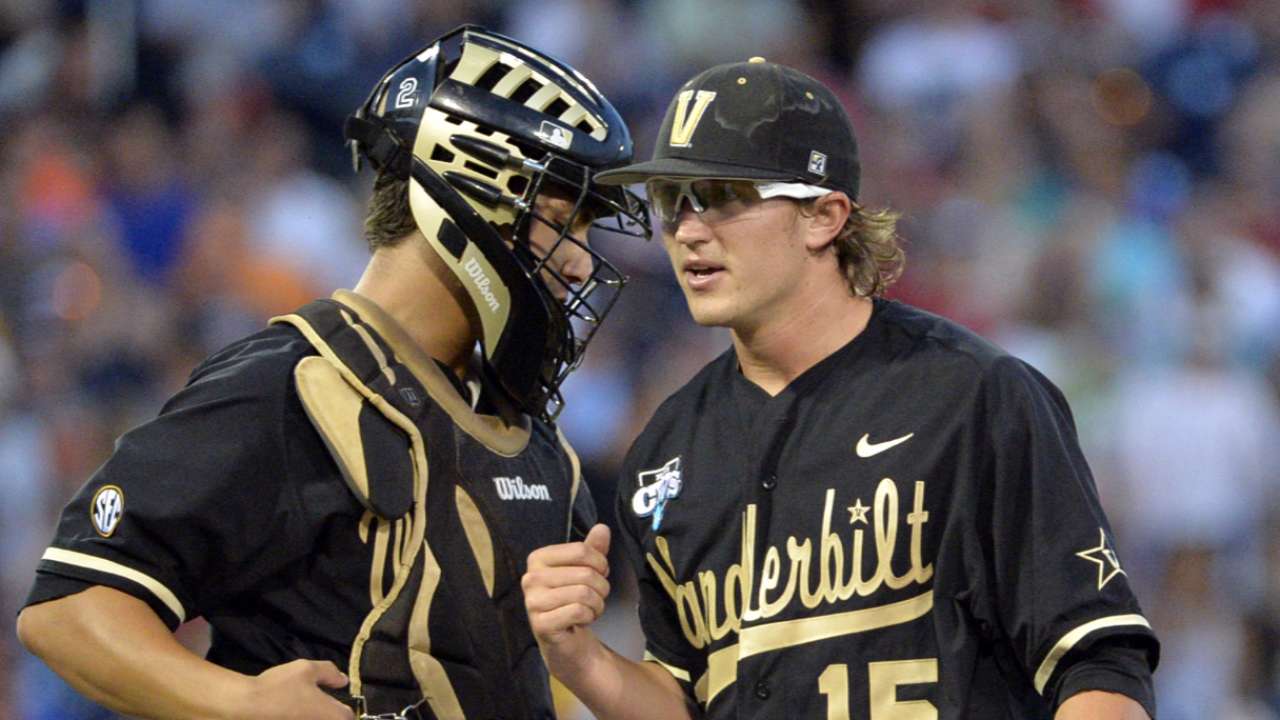 Fulmer, ranked No. 12 in the Top 50, is slated to pitch Friday with Swanson (No. 9) playing shortstop behind him. Buehler (No. 4) won't start this weekend due to elbow soreness, but could appear out of the bullpen. Corbin said he thinks Buehler will be fine going forward.
Scouts will also flock to Berkeley, Calif., to watch right-hander Michael Matuella (No. 2) and Duke take on California. Matuella is strongly in the mix to become the top overall pick in the Draft. Scouts are especially eager to see him because he didn't pitch last summer or fall due to complications of his spondylolysis, a manageable back condition. He has worked hard to strengthen his core to lessen the stress on his back and said he feels good going into the season.
After being sidelined for so long, Matuella is ready to get back into a competitive environment with his Blue Devils teammates.
Top 50 Draft Prospects
College players in the Top 50:

| # | Player | Team |
| --- | --- | --- |
| 2 | Mike Matuella | Duke |
| 4 | Walker Buehler | Vanderbilt |
| 5 | Nathan Kirby | Virginia |
| 6 | Kyle Funkhouser | Louisville |
| 9 | Dansby Swanson | Vanderbilt |
| 12 | Carson Fulmer | Vanderbilt |
| 13 | Alex Bregman | LSU |
| 16 | Ian Happ | Cincinnati |
| 17 | Phil Bickford | CC of Southern Nevada |
| 19 | Kyle Cody | Kentucky |
| 20 | Cody Ponce | Cal Poly Pomona |
| 21 | Riley Ferrell | TCU |
| 23 | James Kaprielian | UCLA |
| 24 | Jake Lemoine | Houston |
| 26 | Richie Martin | Florida |
| 28 | D.J. Stewart | Florida State |
| 30 | Dillon Tate | UC Santa Barbara |
| 34 | Gio Brusa | Pacific |
| 37 | Alex Young | TCU |
| 39 | Chris Shaw | Boston College |
| 44 | Tyler Jay | Illinois |
| 45 | Steven Duggar | Clemson |
| 46 | Marc Brakeman | Stanford |
| 47 | Kevin Newman | Arizona |
| 50 | Joe McCarthy | Virginia |
"I'm very excited to get out there," Matuella said. "We have a relaxed confidence that we developed in the last few weeks as we got enough time playing together. We know we worked hard and can compete with anyone in the nation."
Also among the potential top picks in the Draft is a familiar opponent for Matuella and Duke. Left-hander Nathan Kirby (No. 5) will front Virginia's pitching staff for the second straight season as the Cavaliers attempt to return to Omaha.
Kirby excelled as a sophomore, going 9-3 with a 2.06 ERA and was named ACC Co-Pitcher of the Year. But his season ended with a poor start in Game 1 of the College World Series finals, as he walked five batters and gave up eight runs (five earned) in 2 1/3 innings.
Kirby said it was a disappointing way to end the season, but he has put it behind him and is proud to have been a part of the first team in school history to play for the national championship.
Now, Kirby wants to improve on last year's finish. That quest begins Friday when he takes the mound for Virginia at East Carolina. He said he's ready for the season to begin.
"This week has slowed down," Kirby said. "I'm just thrilled to be out there and pitch for the Cavaliers. We had a lot of pro guys who came back [this winter]. Seeing how excited they were, it's an honor to pitch for this team. I'm thrilled to get back out there."
As much excitement as there is for Opening Day, Friday is just the first day of a long season. Corbin, like many coaches, simply wants to see his team begin to coalesce this weekend.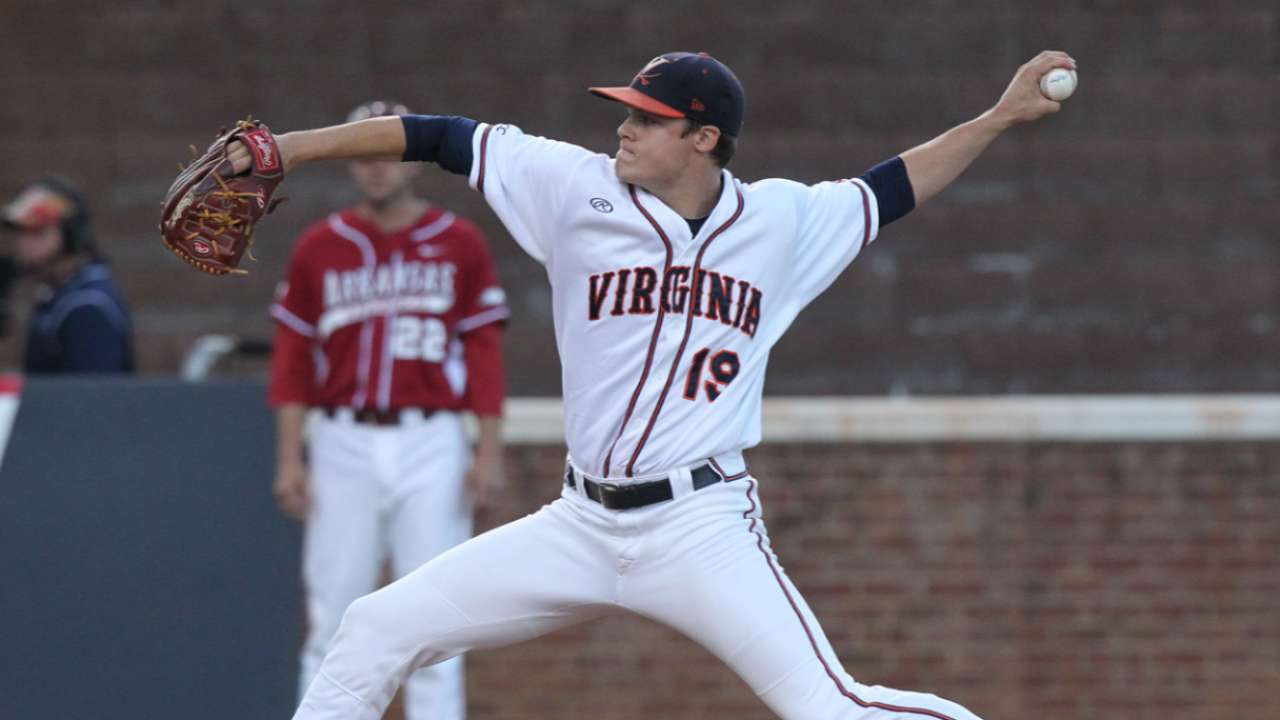 "I want them to be able to play naturally, with a freeness about them and compete as well as they can," Corbin said. "This weekend's not going to define what you'll become at the end of the year. You just start moving in the right direction."
Teddy Cahill is a reporter for MLB.com. Follow him on Twitter at @tedcahill. This story was not subject to the approval of Major League Baseball or its clubs.