Cain gets back into swing of competition at Pebble Beach
Giants right-hander encouraged by offseason mound work after injuries sidelined him in 2014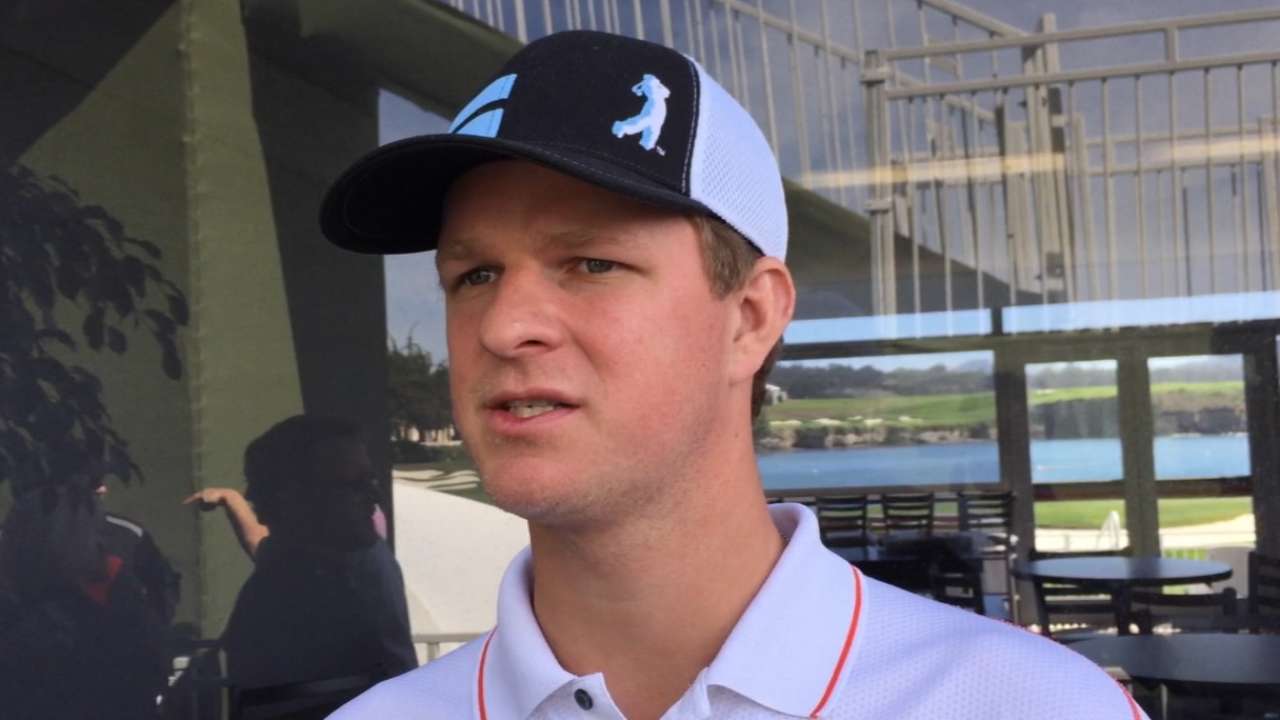 PEBBLE BEACH, Calif. -- This isn't a Major League mound, and it isn't April or October. This is a golf course, and it is early February. But the sight of Matt Cain swinging clubs, walking down fairways and stoking his competitive fire again has to send a warm feeling through the entire Giants organization as a short winter following another title comes to a close.
After all, Cain had been the rotation's rock for so many years, an ace and All-Star before the World Series run and a huge part of the first two of three titles in five seasons. Then in 2014, Cain first wasn't himself on the mound, then he wasn't there at all -- not on the field, at least.
A right elbow that would require season-ending surgery to remove bone spurs followed by an ankle that needed a similar procedure conspired to push Cain to the sidelines for the first time in his career. The big right-hander who had been so reliable for so many years suddenly was thrust into the background for the Giants' historic run to another World Series title.
When he arrived at the seaside golf mecca to play in the AT&T Pebble Beach National Pro-Am this week for the fifth consecutive year, Cain was prepared to do something he hadn't done in months after doing it so well for so many years: He was ready to compete.
Sure, it's a pro-am golf event and not a game against the Dodgers or a postseason start with everything on the line, but it's still very much a competition in the public eye, and Cain is looking forward to it.
"That's what's nice, getting into the competition part of things, getting into that mindset with Spring Training coming, because it has been a while -- since last All-Star break," said Cain, 30, as he practiced in advance of the tournament.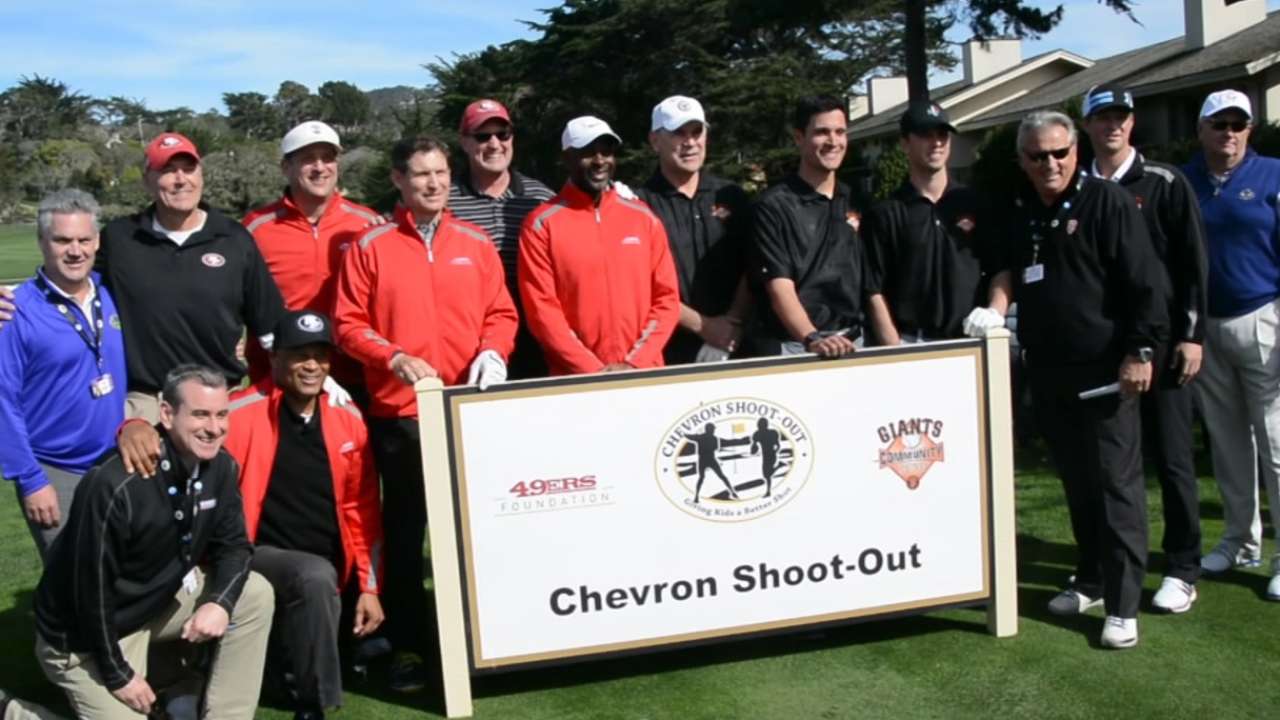 Cain is again paired with professional Matt Bettencourt, his partner last year when they combined for an 11-under total, missing the cut. Cain, who plays to a 6 handicap, showed some of his skills Tuesday on the first hole of the Chevron Shoot-Out, a charity competition with teammates Buster Posey, Javier Lopez and manager Bruce Bochy against a team of 49ers, sending a sand shot right to the lip of the cup. After one more day of practice Wednesday, Cain will begin his 2015 tournament on the Monterey Peninsula Shore Course on Thursday morning, one group ahead of Posey's debut at the tournament alongside pro Nick Watney.
.@BusterPosey and Matt Cain win the first hole at the #ChevronShootout #SFGiants pic.twitter.com/oKw4gPEtEc

- World Champs (@SFGiants) February 10, 2015
The sunshine of Pebble Beach is a long way from the celebratory visiting clubhouse at Kauffman Stadium in Kansas City, where Cain mostly kept to the fringes while his teammates went crazy in the wake of their thrilling Game 7 win over the Royals, claiming the World Series championship.
For a player who has been a cornerstone of the National League's best run of titles since the 1940s, being off to the side rather than in the thick of things was foreign territory, to be sure.
"It was tough to just watch, but it was also fun on the other side of it, being able to take in the whole entire scene and maybe not be as stressed as the other guys," Cain said. "But it was tough not to be able to contribute, knowing what those guys were going through. There's definitely more fulfillment when you're able to go through it with them, but it's an amazing feat and something I'm always going to cherish."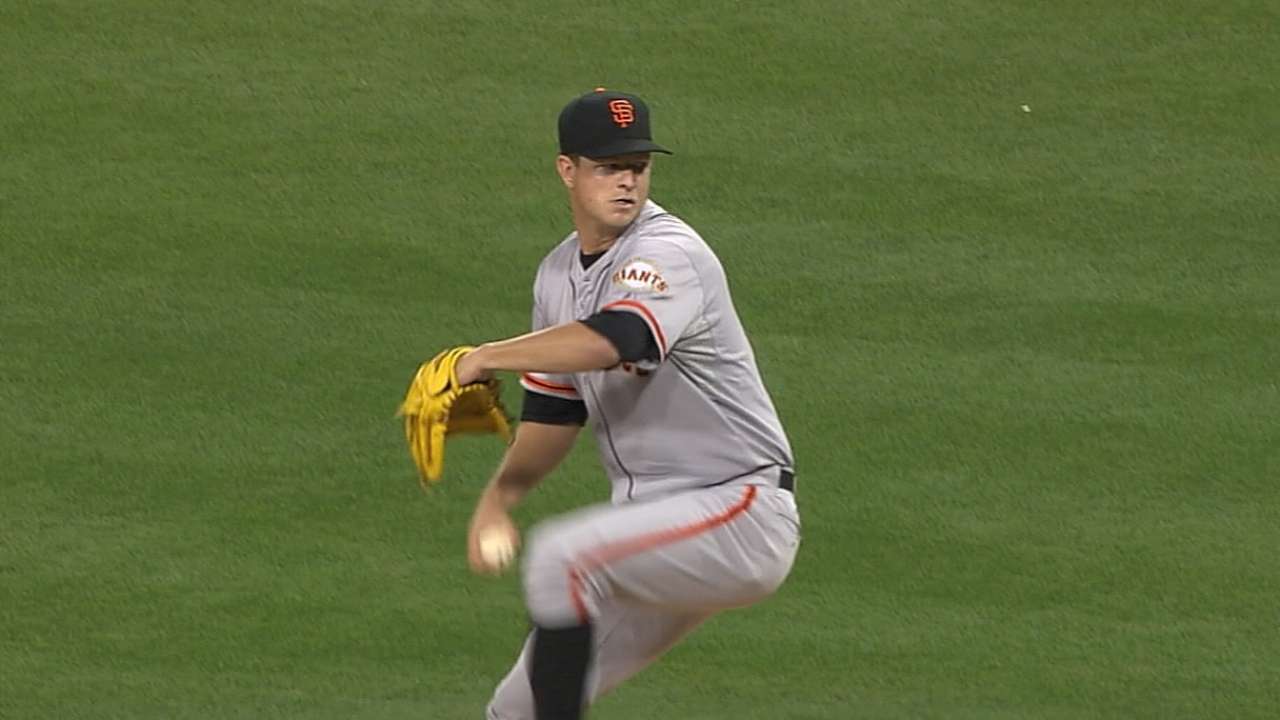 Now, the end of a long road of surgery and rehabilitation is in sight. Certainly, he wouldn't be playing in this golf tournament if he wasn't right. He has been ramping up his throwing routine over the winter, going off the mound and pushing his pitch count into the 30s.
"I feel really good," Cain said. "I've been on the mound a few times, and it's going really good."
Cain is working back toward a regular routine, which includes golf but obviously is focused on pitching every five days during the regular season. That's what he did on an incredibly consistent basis deep into his ninth season, when the injury bug began to take over in late 2013.
With a sunny outlook at Pebble Beach and those competitive fires burning again, Cain is hoping he's back in the thick of another champagne celebration at the end of October, knowing at the very least he's heading to Spring Training feeling like himself physically.
"We're looking forward to it," Cain said. "We feel like we have a group of guys that can keep doing it. If we can keep the guys on the field and healthy, we've got a really good chance of being able to do it again."
John Schlegel is a national reporter for MLB.com. You can follow him on Twitter @JohnSchlegelMLB. This story was not subject to the approval of Major League Baseball or its clubs.