'Win now' attitude from Padres sealed deal for Shields
Club finalizes righty's 4-year pact; Preller, Black love durable veteran's workhorse mentality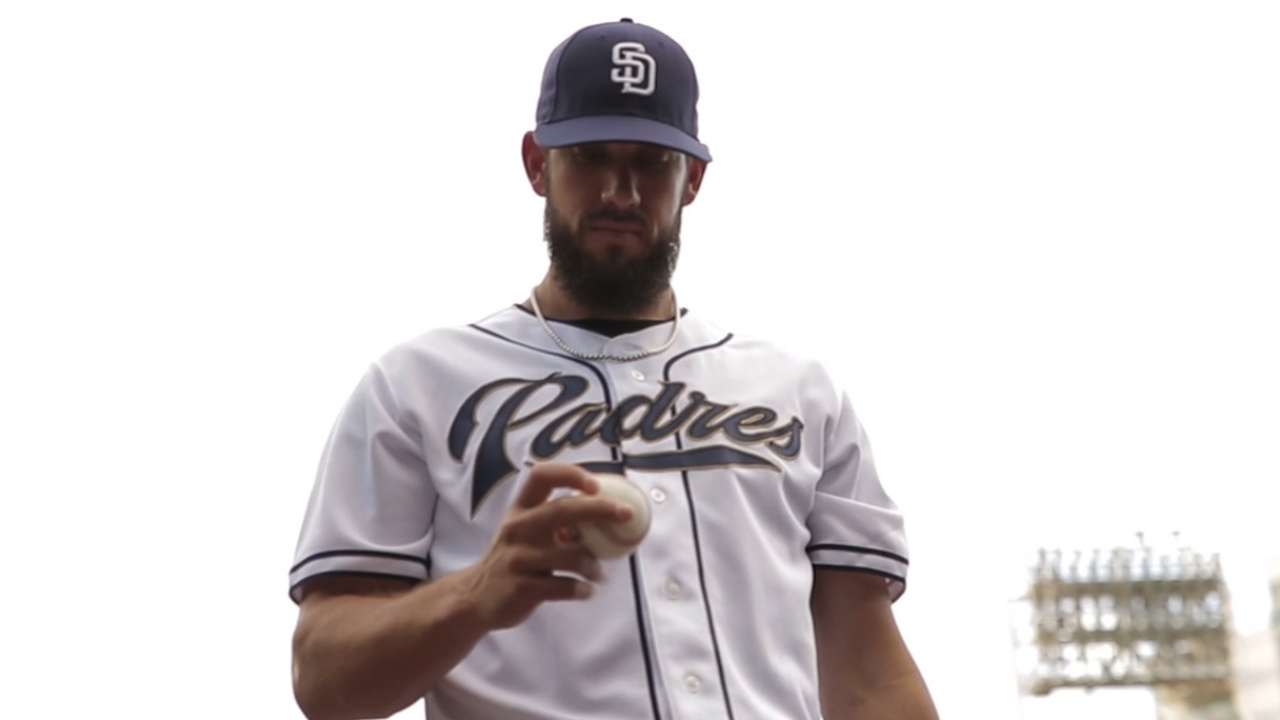 SAN DIEGO -- In early January, and after he had completed most of the heavy lifting of this wild winter, Padres general manager A.J. Preller and assistant general manager Fred Uhlman Jr. took James Shields and his wife, Ryane, out to dinner in downtown San Diego.
What Preller got in return was more than a warm meal and good conversation.
"What you see when you watch him compete, you saw that when we sat down with him at dinner. You hear the passion he has for winning. He's got a lot of energy, he's a team guy," Preller said Wednesday, the day the Padres formally announced Shields' four-year deal with the team.
"Going into it, you know James Shields is a good fit on any team. But I think we felt even stronger after that dinner that he might be a good fit for us."
A month or so later, and after Shields remained available on the free-agent market, the Padres pulled off what Preller called the "finishing piece" of a frenetic offseason, securing the 33-year-old right-hander on a deal worth $75 million, with a club option for a fifth season.
Shields' deal with the Padres will see him make $10 million this season and $21 million over each of the next three seasons. The club option is for $16 million with a $2 million buyout. The Padres, if they make no other additions to the roster, will open the season with a club-record Opening Day payroll just a tad under $100 million.
"It's another exciting day for us," Preller said during the news conference at Petco Park.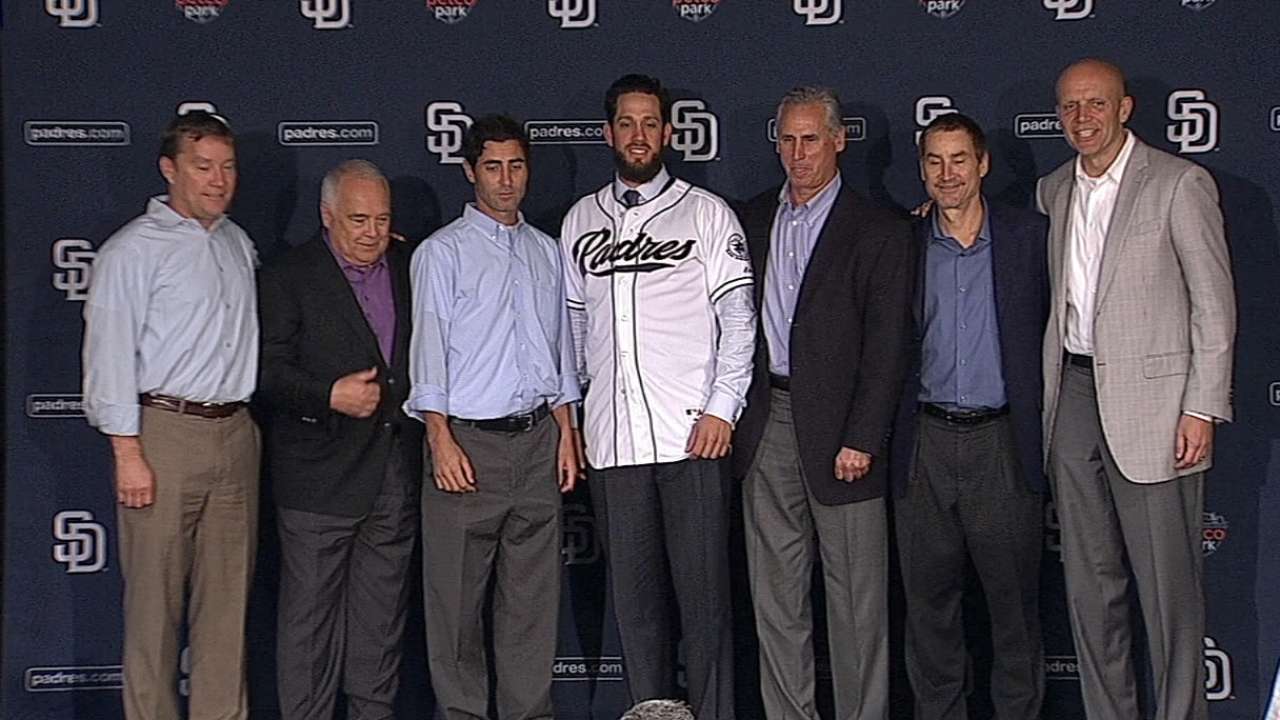 These are heady days indeed for the Padres, who appear hell-bent on returning to the postseason for the first time since 2006. Shields joins outfielders Matt Kemp, Justin Upton and Wil Myers, among other notable additions.
The Padres could have as many as 11 different players on the Opening Day roster than they did a year ago.
Many of those moves were made during a dizzying three-day stretch in mid-December as Preller made a handful of trades that essentially revamped the lineup. Watching from his Rancho Santa Fe, Calif., home was Shields -- doing so, he said, in awe.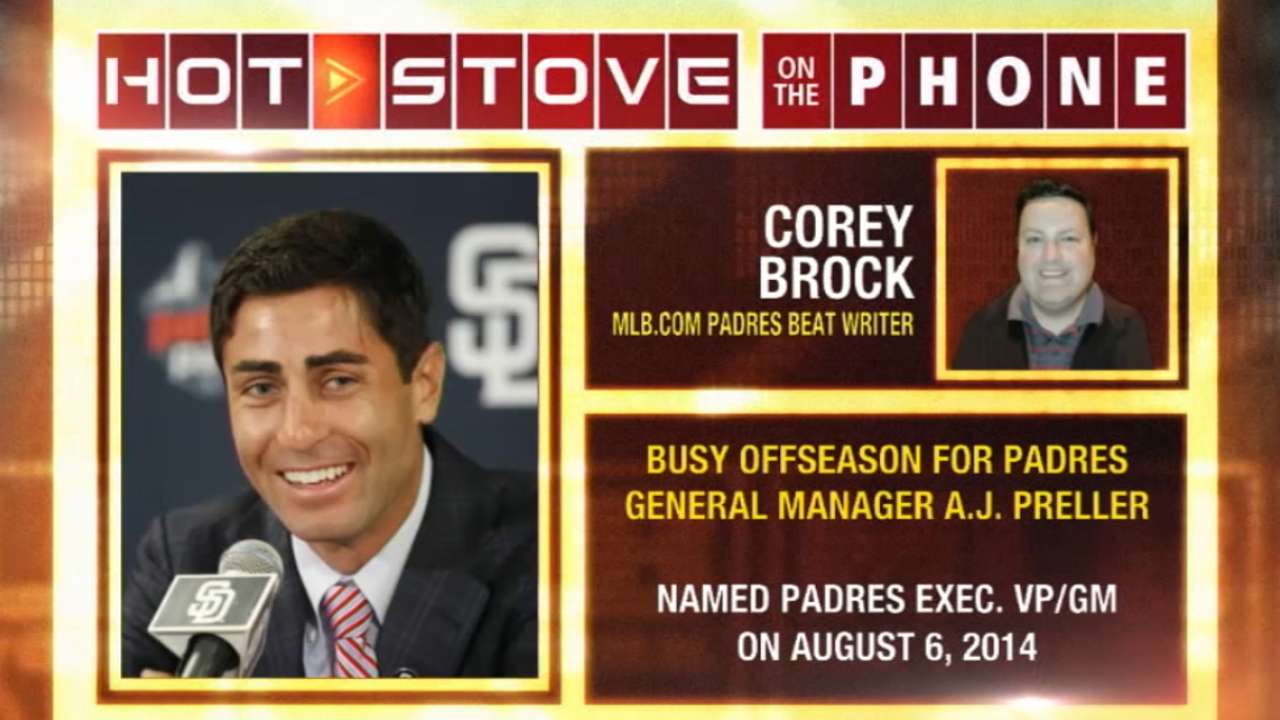 "At the beginning of the offseason, I'm watching the moves [Preller] was making, and it's incredible the change and the willingness to win," Shields said. "It's the fact that this organization is ready to win now, and that's what attracted me to the San Diego Padres."
The attraction on the Padres' part had much more to do than candor over that meal in January. There's a track record, a history of dependability and durability that impressed the organization to no end.
Shields, a nine-year veteran who won 14 games and had a 3.21 ERA for the American League champion Royals last season, has made 33 or more starts in each of the past seven seasons. Consider that since 2011, Shields ranks first among starting pitchers in innings, 15th in ERA, 19th in strikeouts-to-walks and 19th in opponents' batting average.
He's topped 200 or more innings in each of the last eight seasons, a fact that didn't escape his manager, Bud Black, who pitched in an era (1980s and '90s) where 200 innings was the norm for a starting pitcher. That's not the case anymore, which is why Shields reminds him of a throwback.
"There's a physical component in being able to do it [200-plus innings], but there's a mental component of each and every game, saying you're going to compete your butt off and make pitches, not melt early in a game," Black said. "And if you surpass the 100-pitch barrier, that doesn't faze you, and if you pass 115 pitches, it doesn't faze you. It's refreshing to have a pitcher with that mentality."
Shields joins a rotation that was already considered strong, adding to a dynamic quartet that also includes Andrew Cashner, Tyson Ross, who was an All-Star a year ago, and Ian Kennedy. The Padres head to Spring Training next week needing only to settle the final spot in the rotation.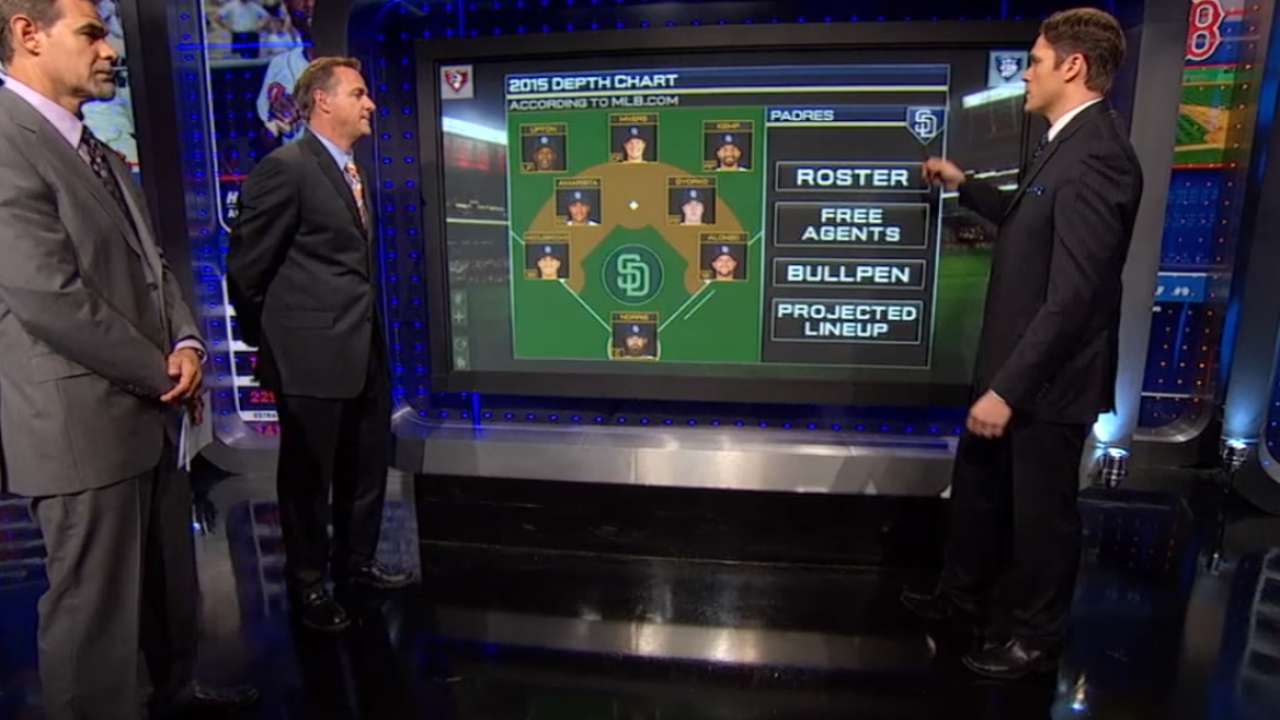 "The depth we have in our pitching staff is incredible," Shields said.
Shields, who has pitched in the postseason with the Rays and the Royals, talked about the expectations he has for himself and his teammates. Even now, some four months after the Royals lost Game 7 of the World Series against the Giants, you could tell it was still eating at him a little.
"I'm accustomed to winning and I want to spend the rest of my career winning," he said, "and hopefully we'll create that winning culture in the clubhouse. To me, that's one of the biggest things about winning, is creating a winning culture."
By the sound of it, Shields sounded as if he was ready to start Wednesday -- not Feb. 19, when pitchers and catchers report to Peoria, Ariz., for the official start to Spring Training.
"I'm as hungry as ever. I'm looking forward to another 1,000 innings," he said.
Corey Brock is a reporter for MLB.com. Keep track of @FollowThePadres on Twitter. This story was not subject to the approval of Major League Baseball or its clubs.