Paxton's offseason routine focused on full season of health
SEATTLE -- When Mariners southpaw James Paxton was on the mound last season, he was as effective as any rookie starter in the history of baseball.
A huge key for Paxton -- and the Mariners -- in 2015 will be keeping the lanky hurler healthy and part of the rotation for a full season.
Dating back to his September callup a year earlier, Paxton went 9-3 with a 2.01 ERA in his first 15 starts in the Majors before a late-season stumble in Toronto. That stands as the fifth-lowest ERA for 15 starts at the beginning of a career for any pitcher since 1914.
The downside for Paxton was missing 3 1/2 months with a strained lat muscle behind his left shoulder, an injury that limited his 2014 season to 13 starts and 74 innings. He finished the season at 6-4 with a 3.04 ERA, and would have been 6-3 with a 2.14 ERA if not for his brief blowup against the Blue Jays.
So dominant was Paxton that he faced a club-record 144 consecutive batters without giving up an extra-base hit from Aug. 20 to Sept. 22, the second-longest streak in the Majors last season behind only reliever Wade Davis of the Royals.
Thus, it's no surprise that manager Lloyd McClendon is counting on Paxton to fill one of his rotation spots this year.
Paxton has learned a lot on the mound in his short time with the Mariners. Now he has to prove he's durable enough to stay there, and that led to remaining in Seattle this offseason for the first time so he could work with the team's training staff and get stronger over the winter.
"It's been great. I've been living in Kirkland, so I'm in here every day working out at Safeco," said Paxton, who previously had always spent his offseasons at home in Victoria, British Columbia. "I've really got into a routine working out with our trainers here. They've got me doing some things, and my body is feeling really good."
Included in Paxton's routine is four sessions of hot yoga each week. He's done yoga in the past to work on his flexibility, but has kicked that up a notch now as well.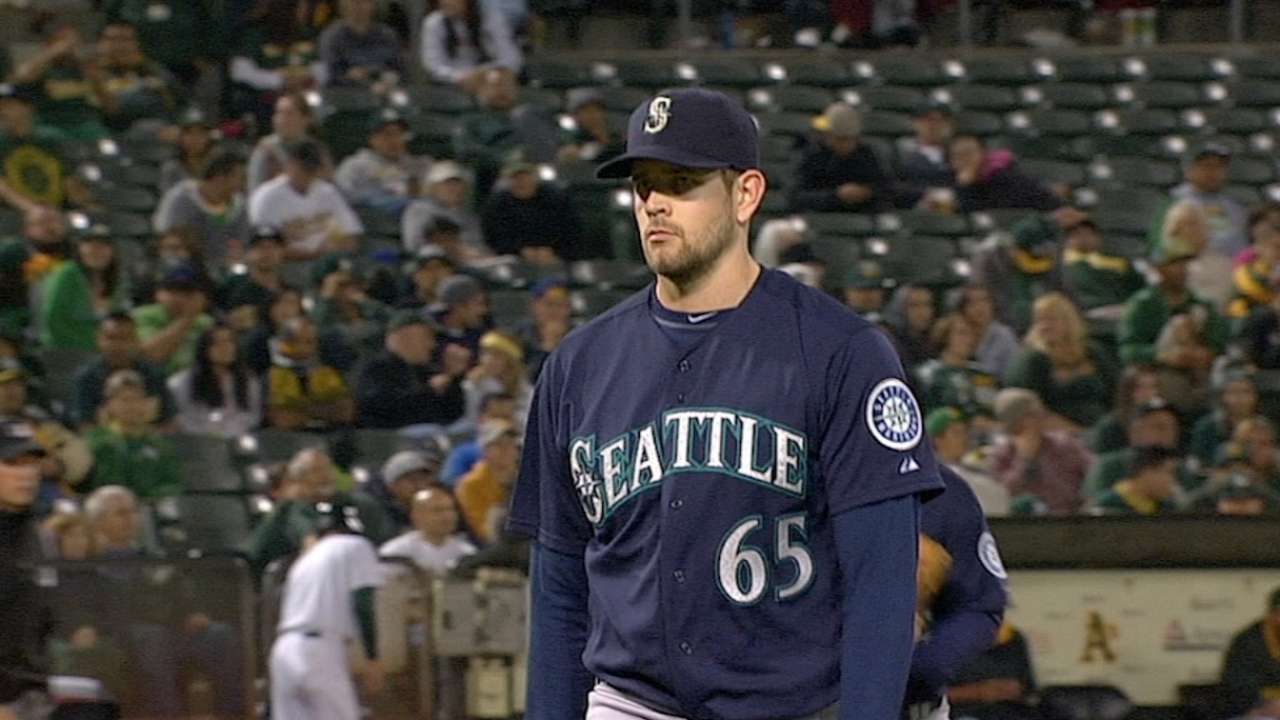 "This year, I've focused on it more and tried to do it a little more often, so I can really loosen up those muscles," he said. "It's hot yoga, so I'm sweating buckets in there. It's a workout as well as stretching."
The 26-year-old says he matured a great deal last year in his first full season in the Majors, both on the mound and in preparation.
"I learned how to get my body ready for each game," Paxton said. "Early on, I was working too hard to find that balance, where my body needs to be for each start. I learned a lot from Chris Young. While I was hurt, I was spending a lot of time watching him and listening to him and how he prepares for a game. I really tried to take that into my second half of the season when I came back, and it helped a lot."
Now Paxton wants to be able to use that knowledge for 30-plus starts and be a part of Seattle's push for the postseason with a club touted by many as a top contender in the American League West.
"My goal and focus the whole offseason has been getting myself ready to pitch for an entire season and stay healthy and make all my starts," Paxton said. "I'm doing whatever they ask me. The pitching staff is going to be great. We have a lot of guys coming back, and a nice addition with [J.A.] Happ. I think it'll be awesome, as far as the rotation goes. And the lineup, adding [Nelson] Cruz and [Seth] Smith, I think it's going to be a powerful lineup as well."
Spending the offseason in Seattle and taking part in the Mariners Caravan gave Paxton a chance to feel the building excitement. With pitchers and catchers due to report to Peoria, Ariz., on Feb. 20, he's ready to get rolling, too.
"I'm definitely sensing a vibe," Paxton said. "People are excited about the additions we've made and how we finished the last season, coming so close. Everyone got really excited there at the end, and I think everyone is ready for another baseball season."
Greg Johns is a reporter for MLB.com. Follow him on Twitter @GregJohnsMLB as well as his Mariners Musings blog. This story was not subject to the approval of Major League Baseball or its clubs.