Presley 'excited' about competition in Astros' outfield
HOUSTON -- For all the uncertainty the Astros have in the outfield going into Spring Training, as far as which player is going to play which position, Alex Presley might have the best idea of his role.
Presley -- who hit .244 with six homers and 19 RBIs in 254 at-bats with the Astros last season after being acquired off waivers in March -- is the frontrunner to be the team's fourth outfielder, though the competition should be a stiff one with Robbie Grossman, L.J. Hoes and Domingo Santana in the hunt.
"Competition is a good thing," said Presley, who signed a $1 million contract this offseason. "I think a lot of positive moves have been made for the team to improve upon last year. There's definitely a lot of pieces in place this season. It should be interesting to see some of the battles. The individual battles at positions should be interesting."
Especially in the outfield, where the Astros added veteran Colby Rasmus (free agency) and slugger Evan Gattis (trade) to the mix. George Springer and Jake Marisnick figure to start somewhere in the outfield, and Gattis could see time in left field, as well as first base, designated hitter and catcher.
How the outfield is aligned on Opening Day could depend on what happens at first base. If Jon Singleton scuffles at the plate this spring and spends time in the Minor Leagues, the Astros could split Chris Carter and Gattis between designated hitter and first base, which would mean more time in left field for someone.
Rasmus has played primarily center field in his career, but is open to moving to left. The team likes Marisnick's glove and speed in center, and Springer played well in right field when he came up a year ago. Presley also can play all three outfield spots.
"There's a lot of versatility with a lot of guys, including myself," he said. "I can see myself in any position at any point throughout the season. I'm ready to do whatever is asked of me, and I'm excited about it."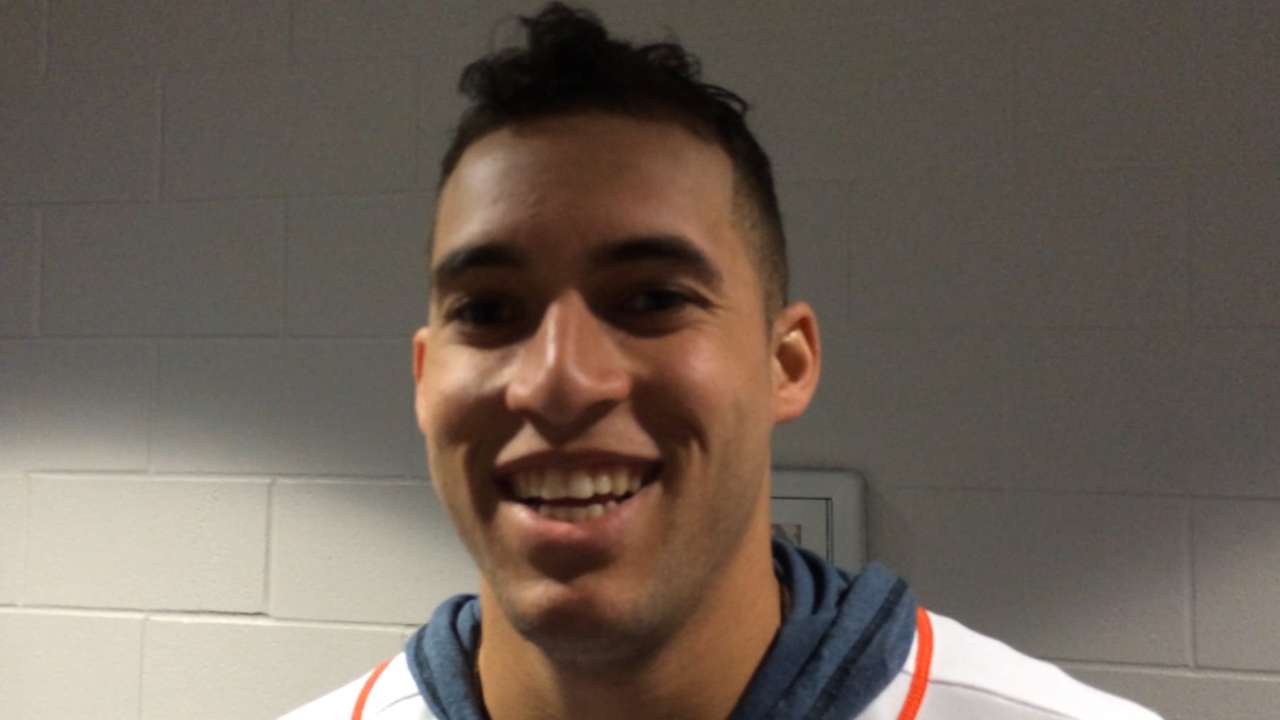 Presley played in 85 games, with 67 starts, at all three outfield spots and designated hitter in 2014, but he missed 47 games from July 9-Sept. 2 with a strained oblique. Prior to going on the disabled list, Presley, a left-handed hitter, was hitting .293 in his prior 42 starts.
Despite the contract and the good performance last season, Presley is anything but complacent.
"I'll never have peace of mind to relax," he said. "I'm always working towards the next year. It's the way I am. Somebody's always out there to take your job. There was a lot of offseason left when I signed [in November], and I knew the team would change and things would change, as far as who's on the team and certain competitions on the team. You've always got to be ready to go. Obviously, I've worked harder this offseason than ever."
Brian McTaggart is a reporter for MLB.com and writes an MLBlog, Tag's Lines. Follow @brianmctaggart on Twitter. This story was not subject to the approval of Major League Baseball or its clubs.