A's ready to see overhauled roster in action
OAKLAND -- A's general manager Billy Beane dominated the transaction wire this winter, orchestrating a complete roster overhaul following another premature postseason departure. Reloading, rather than rebuilding, was his mission, and the finished product appears to be as deep and versatile of a class as any he's had in Oakland.
Soon enough, Beane, his staff and the Oakland faithful will finally get a firsthand glimpse at this group. In the meantime, get to know the new guys residing on the 40-man roster:
RHP R.J. Alvarez: This hard-throwing, high-ceiling right-hander, acquired from San Diego in the Derek Norris deal, could work his way into the Opening Day bullpen with a strong spring. Alvarez, a possible future closer, posted a 1.25 ERA with 61 strikeouts in 43 1/3 Minor League innings ahead of his September callup with the Padres last season. He proceeded to allow just one run in 10 appearances for San Diego.
RHP Chris Bassitt: One of four players shipped to Oakland in the trade that sent Jeff Samardzija to the White Sox, Bassitt is among six candidates vying to help fill out three open rotation spots this spring. The right-hander enjoyed a month-long stint in the big leagues at the end of last season, pitching to a 3.94 ERA in six games, five of them starts, for Chicago.
DH/1B Billy Butler: Signing Butler to a three-year, $30 million deal marked the A's first big move of what became a frenzied offseason. The eight-year veteran, whose entire career had been spent with the Royals, will be counted on for production in the middle of the order. The right-handed-hitting Butler will mostly DH, but expect to see him at first base against several left-handers, too.
INF/OF Mark Canha: Canha went from the Marlins to the Rockies to the A's in a matter of seconds this winter, when Colorado selected him in the Rule 5 Draft, only to immediately flip him to Oakland in a trade. Now, the A's must keep Canha on their 25-man roster all season or offer him back to Miami. He hit .303/.384/.505 with 20 home runs in Triple-A last season, and he will get an opportunity to break through with the A's as a corner-infield and outfield option.
RHP Tyler Clippard: Clippard is a significant addition to an already formidable A's bullpen. The right-hander does bring experience in the closer's role with him and, for this reason, is probably the top option to pitch the ninth inning while Sean Doolittle rehabs an injured shoulder. A two-time National League All-Star with the Nationals, Clippard has a career 2.88 ERA and 1.08 WHIP in eight Major League seasons. Oakland acquired him in exchange for Yunel Escobar in January.
1B Ike Davis: Purchased by the A's from the Pirates in November, Davis is looking to reboot his career in an organization with a reputation for handing out extended opportunities to players who might not have gotten one elsewhere. The raw ability that made Davis a first-round Draft pick by the Mets in 2008 is still there, the A's believe, so they plan to make him the primary first baseman with hopes he can mimic 2012, the last season in which he was not affected by valley fever. Davis compiled 32 home runs and 90 RBIs that year.
LHP Eury De La Rosa: In their quest to add depth to their bullpen this winter, the A's acquired De La Rosa from the D-backs in exchange for cash in December. The lefty began 2014 in Triple-A Reno but was promoted in July and spent the remainder of the season with Arizona, going 2-0 with a 2.95 ERA in 25 appearances.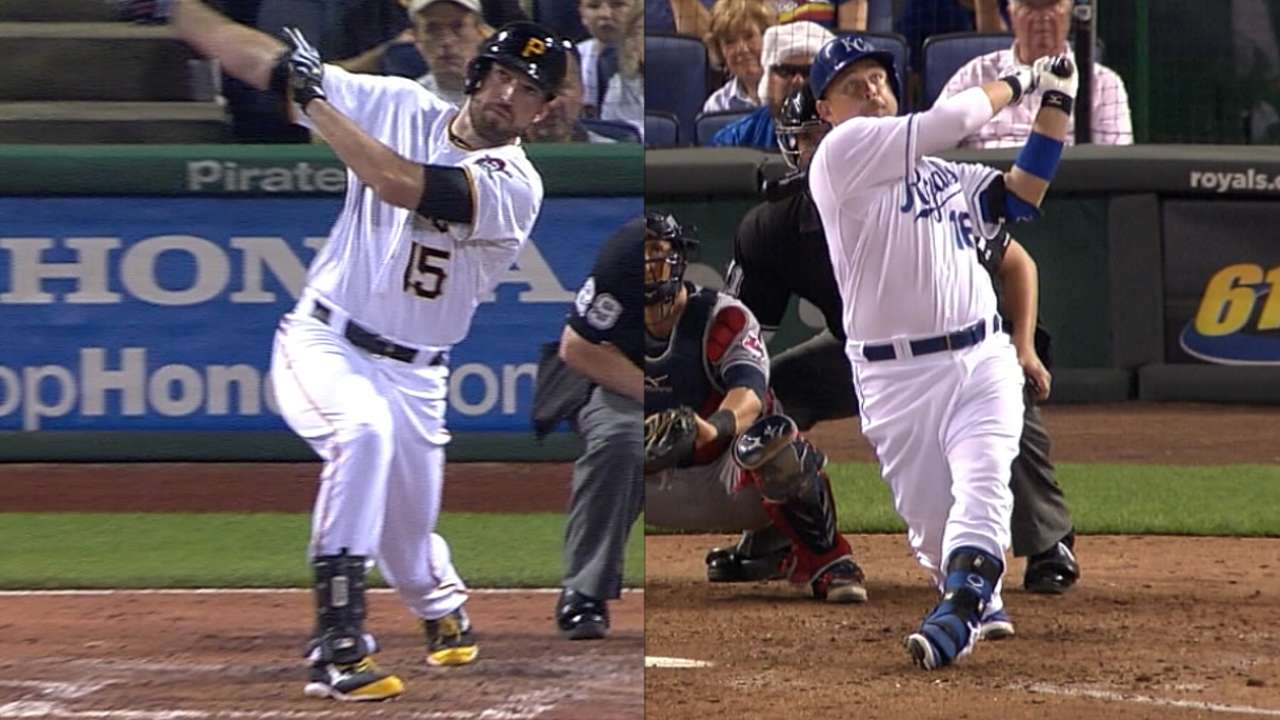 RHP Kendall Graveman: Graveman has a solid shot to crack the rotation amid heavy competition in camp. The right-hander shot through the Toronto organization from Class A to the Majors in just his second professional season last year, making five appearances out of the Blue Jays' bullpen. Adding a cutter to his repertoire to complement his power sinker is believed to be a big reason for the quick ascension. Now he gets to show it off on the West Coast, after arriving in Oakland in the Josh Donaldson deal.
RHP Jesse Hahn: Dealt by the Padres with Alvarez, Hahn is yet another exciting new piece added to Oakland's rotation puzzle. The hard-throwing, 6-foot-5 righty greatly impressed as a rookie last season, compiling a 3.07 ERA and 70:32 strikeout-to-walk ratio with only four homers allowed in 73 1/3 innings for the Padres. He has the potential to be a top-three starter in Oakland's rotation for years to come.
3B Brett Lawrie: Lawrie has big shoes to fill after the A's opted to swap third basemen with the Blue Jays and send All-Star Donaldson north of the border. Though injuries have slowed the early stages of Lawrie's career, he's still just 25 and has high upside on both sides of the ball. In 345 big league games for the Blue Jays, he hit .265/.323/.426.
LHP Sean Nolin: Nolin traveled with Graveman to Oakland in the Donaldson trade, and both will be given a shot to make the A's Opening Day rotation. The 25-year-old lefty has appeared in just two big league games, one in each of the last two seasons for Toronto, and his fly-ball tendencies should better suit his new home.
C Josh Phegley: Phegley, part of the package the A's got in return for Samardzija, became the second catcher on Oakland's depth chart, behind Stephen Vogt, after Oakland traded John Jaso to Tampa Bay. The right-handed-hitting catcher has spent the majority of his last three seasons at the Triple-A level but also has 76 games of big league experience, 65 of them coming in 2013. He has just a .207 career average in the Majors but is considered a solid defender.
INF Rangel Ravelo: Another prize from the Samardzija trade, Ravelo spent the 2014 season in Double-A and is likely to start the 2015 campaign in Triple-A. He hit .309 with 11 home runs and 66 RBIs in 133 games with Birmingham last season, adding 56 walks for a .386 on-base percentage. The 22-year-old began his career as a third baseman but has been playing more first base recently, and the A's are in talks about what position is best for his future.
INF Marcus Semien: Meet the A's newest shortstop. Semien is expected to be given every opportunity to lock down the everyday job at the position this spring, after Jed Lowrie returned to Houston on a three-year deal via free agency. Traded to the A's from Chicago in the Samardzija deal, Semien has appeared in 85 big league games. The 24-year-old compiled a .240 average in that span, after batting .272 in four Minor League seasons.
RHP Taylor Thompson: Thompson also came to the A's from the White Sox, but through a waiver claim. The 27-year-old made his Major League debut last July but was up for only a limited time before returning to Triple-A, finishing the year with a 2.14 ERA with 68 strikeouts and 29 walks in 59 innings for Charlotte. He'll be among crowded competition for a bullpen spot in camp.
INF/OF Ben Zobrist: The A's have long coveted Zobrist, finally landing the ultra-versatile veteran in a trade with the Rays in January. Though the switch-hitter can play all infield positions, as well as all three outfield spots, he's expected to spend the majority of his time at second base this season, barring another move by Beane. The two-time American League All-Star, entering his 10th Major League season, carries a career .354 on-base percentage to Oakland.
Jane Lee is a reporter for MLB.com. Read her blog, Major Lee-ague, and follow her on Twitter @JaneMLB. This story was not subject to the approval of Major League Baseball or its clubs.