Shields gave Royals what they needed, when they needed it
Right-hander helped change culture on the field and in the clubhouse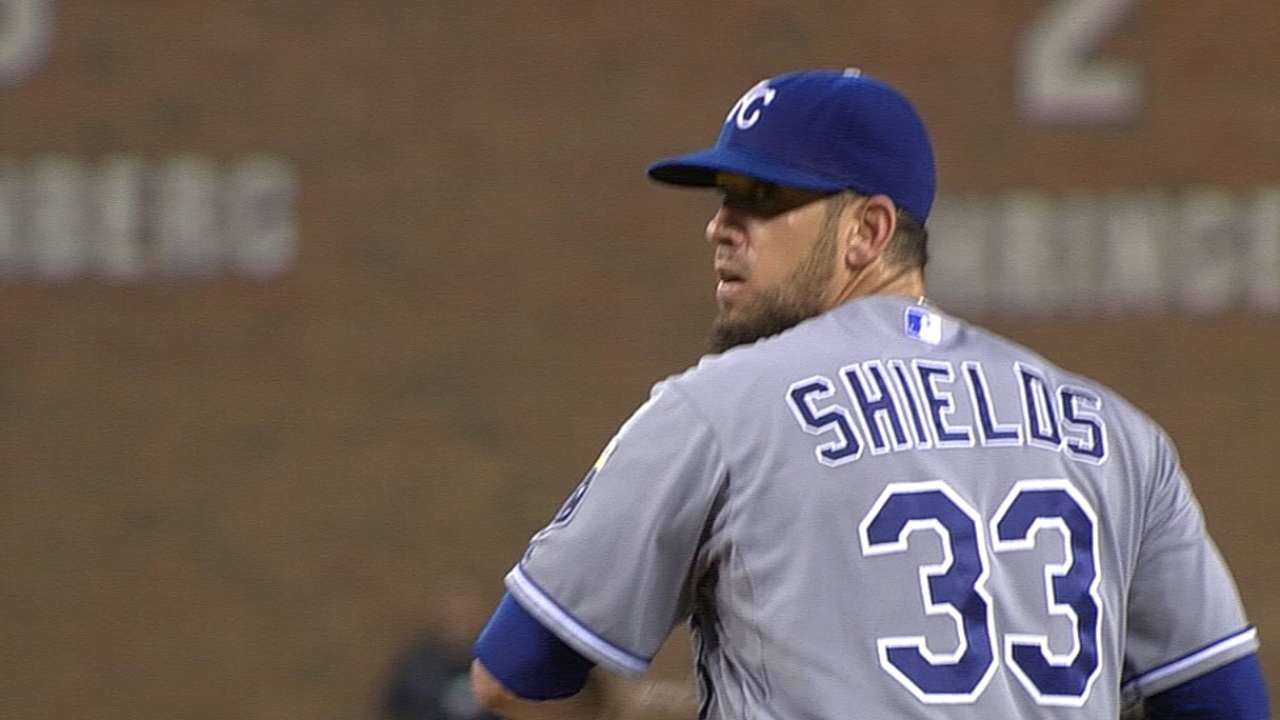 KANSAS CITY -- With right-hander James Shields on his way to the San Diego Padres with a new four-year contract, the Royals will take comfort in that they got exactly what they wanted from Shields in his two seasons here.
When Royals general manager Dayton Moore made the controversial trade with Tampa Bay to acquire Shields and right-hander Wade Davis for Wil Myers, among others, Moore stressed the need for his team to start winning immediately.
And that's exactly what happened with Shields aboard.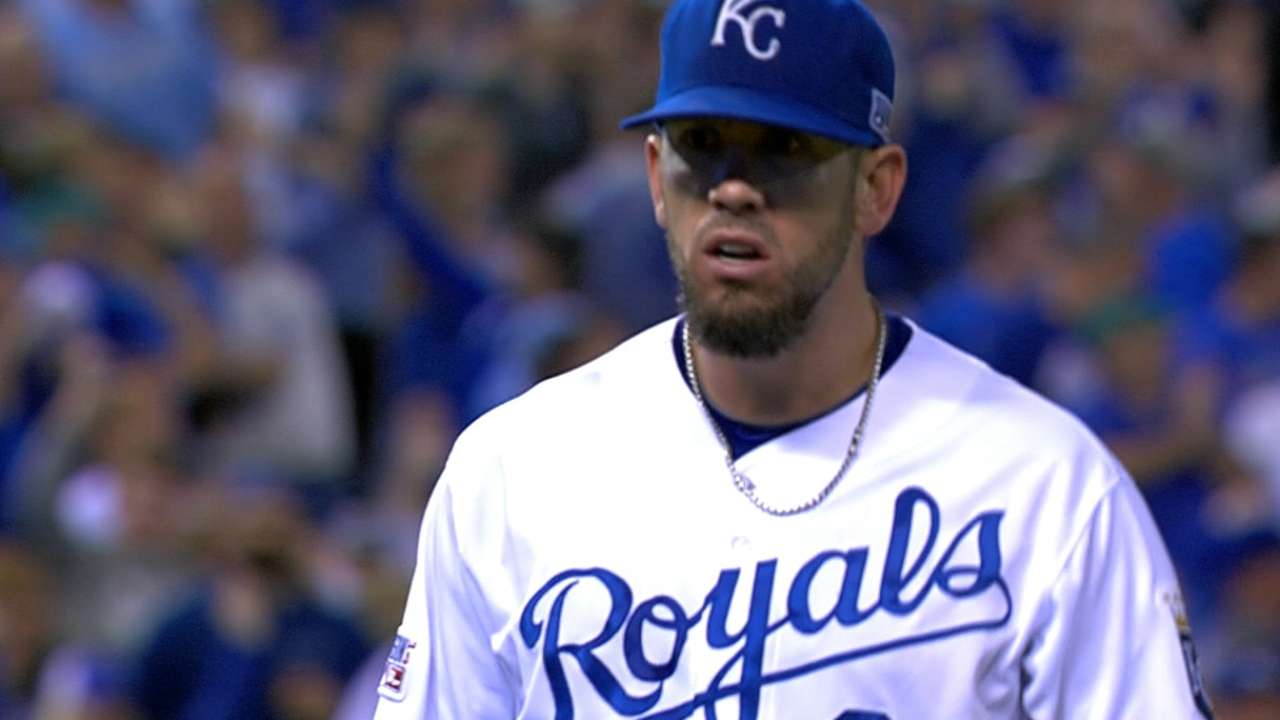 In 2013, Shields logged 228 2/3 innings, won 13 games with a 3.15 ERA, and the Royals finished 86-76, their first winning season in 10 years. Expectations in Kansas City soared.
Then, of course, came the Royals' magical ride in 2014, when they made the playoffs for the first time since 1985, made history by winning their first eight postseason games, and then advanced all the way to Game 7 of the World Series before falling to the Giants.
And Shields again was a leader on and off the field last season, posting a 3.21 ERA over 227 innings while also counseling young pitching stars Yordano Ventura and Danny Duffy.
"He was just a tremendous help to me," Duffy said. "You learn so much just talking to him."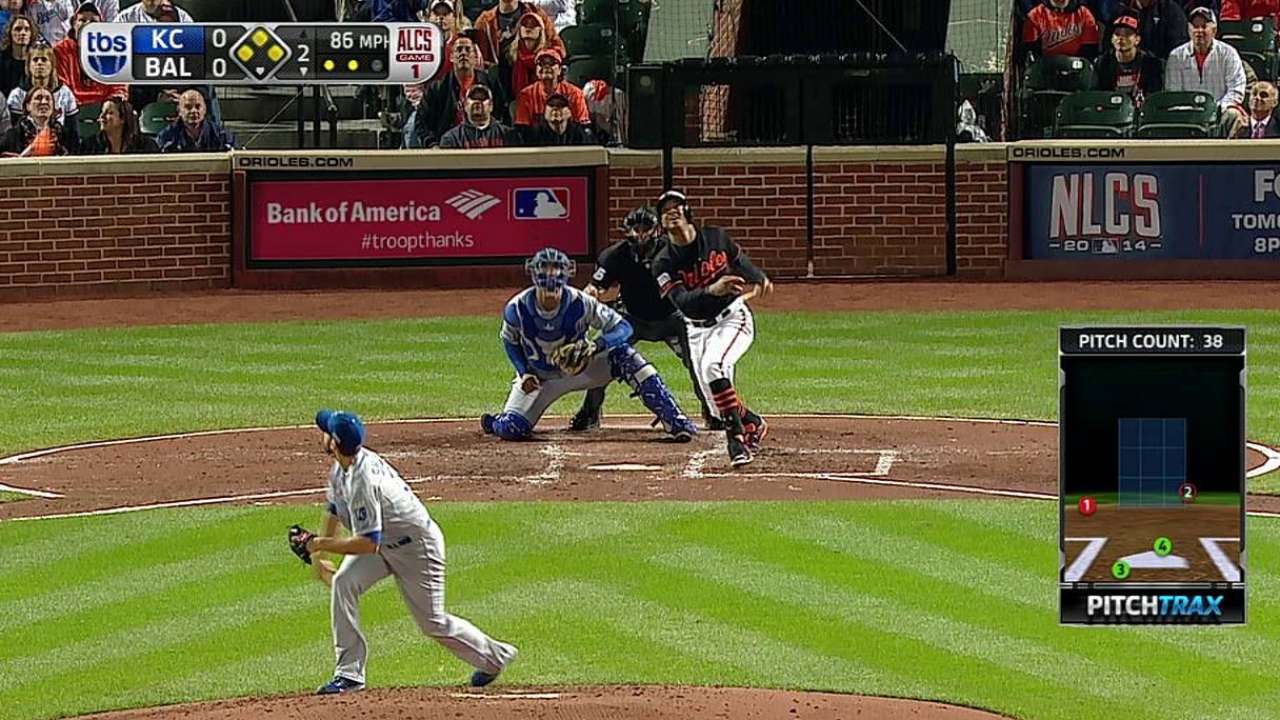 The Royals' success with Shields onboard had to feel like vindication for Moore, who was hounded by fans and critics when he made the trade. But Moore doesn't believe he even needed vindication.
"We were at a point where we simply had to start winning," Moore said. "We needed pitching, and to acquire that, we used our farm system, which is what it is there for."
Shields' presence in the clubhouse was felt almost immediately. He organized postgame celebrations after every win, highlighted with loud music and fog machines.
"It's just important to know that winning is a good thing," Shields said at the time. "You need to feel good about it."
Moore believes that Shields got his teammates simply to trust that they could win.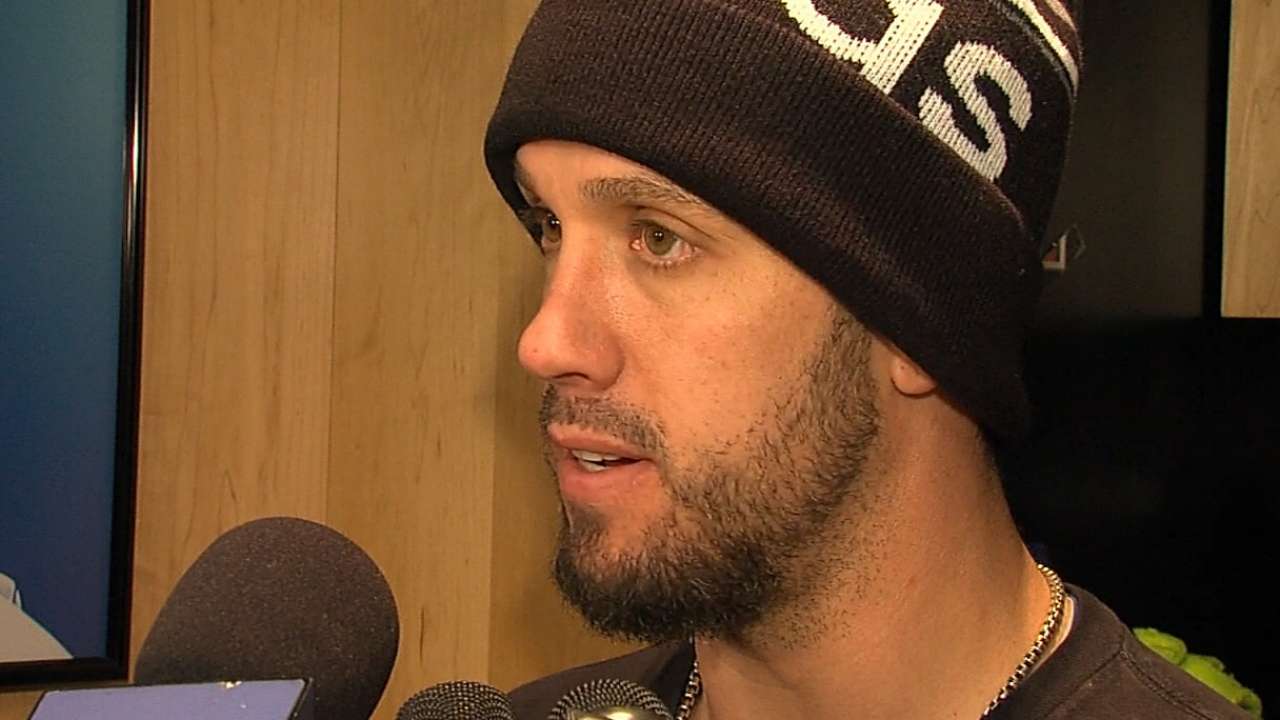 "James brought a swagger and a level of confidence that we didn't have before," Moore said. "He brought a level of expectation to our rotation and to our entire baseball team. He is a proven winner.
"And he helped us accomplish what we set out to do, and that was to change the culture to a winning one here."
The Royals, who made Shields a qualifying offer last fall, stayed in conversations with Shields' agent early in the process, but bowed out when the numbers got out of reach for their small-market finances.
In fact, the Royals gave Shields' No. 33 to newcomer Brian Flynn last week, well before Shields' talks with the Padres heated up. The Royals will get a compensatory pick, No. 33 in the first round of the 2015 First-Year Player Draft, for losing Shields.
"We certainly wish James all the best, and we are grateful for what he helped us accomplish here," Moore said.
Jeffrey Flanagan is a reporter for MLB.com. Follow him on Twitter at @jflanagankc. This story was not subject to the approval of Major League Baseball or its clubs.