Indians expecting Chisenhall to continue making strides at third
Breakout '14 season diminished by inconsistency offensively and defensively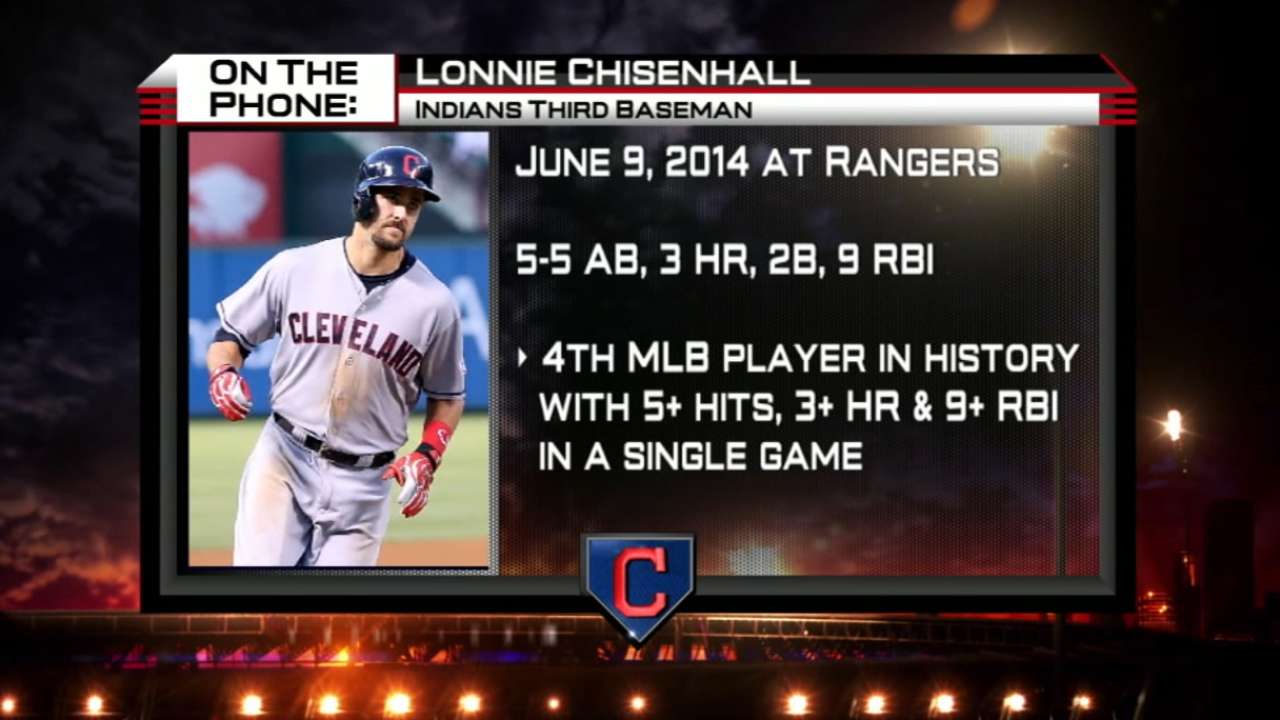 CLEVELAND -- The high number of contracts already in place heading into this offseason made identifying holes on the Tribe's roster a little more complicated. Simply by process of elimination, third base appeared to be a position where Cleveland could search for a potential upgrade.
With the official start of Spring Training now only one week away for the Indians, Lonnie Chisenhall remains in the plans as the starter at the hot corner. From the outset of the offseason, Cleveland raved about the strides Chisenhall made within an inconsistent 2014 season, and the club is hoping for even more improvement in the coming campaign.
"I think one of Lonnie's personal goals next year," Indians general manager Chris Antonetti said, "is to be more consistent from Day One through the end of the season. But, you really can't script how a season is going to unfold. I think what we look at is, on balance, Lonnie had a very productive season when you look at the totality of his contributions."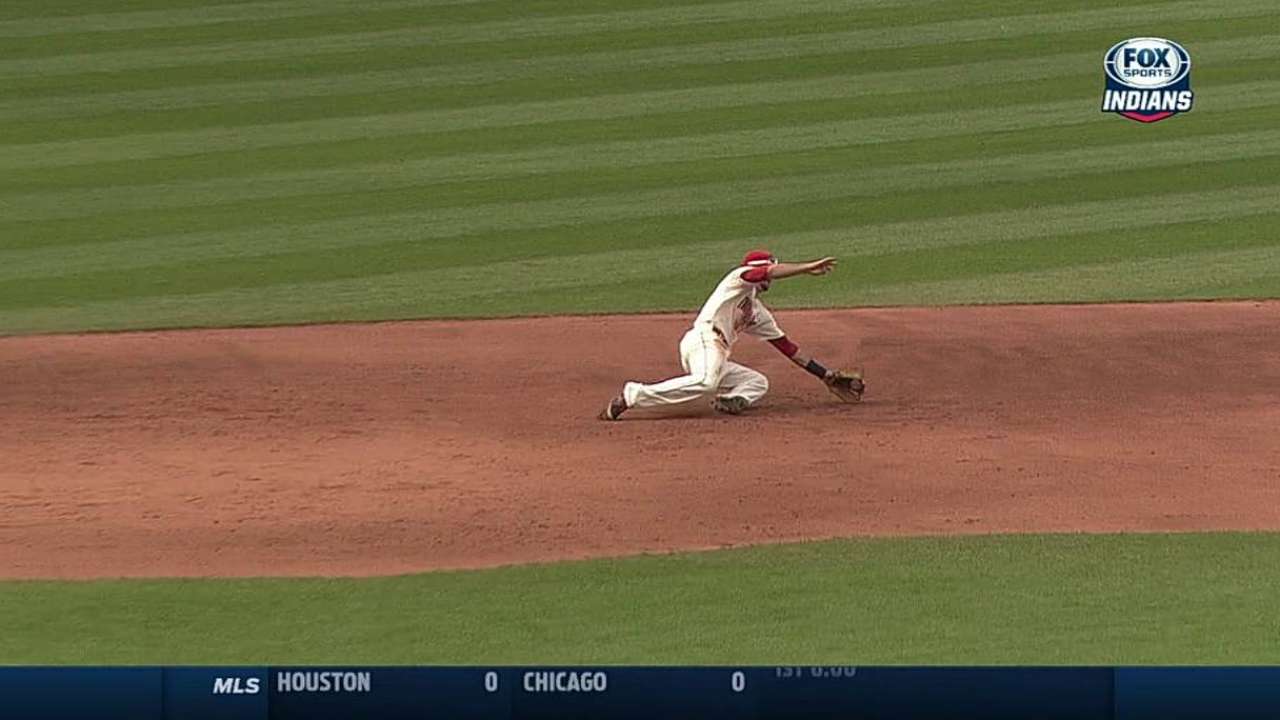 On the whole, Chisenhall did indeed enjoy a career year in '14 and a solid season that had him in the thick of the race for the American League batting title as late as August. The 26-year-old third baseman appeared in the most games of his career (142) and established personal bests in virtually every offensive category.
Overall, Chisenhall posted a more-than-respectable .280/.343/.427 slash line to go along with 13 home runs, 29 doubles, 59 RBIs and 62 runs for the Indians. He showed dramatic improvement against left-handed pitching (.294 average and .729 OPS) and enjoyed one of the greatest offensive performances in baseball history (5-for-5, three home runs, nine RBIs) on June 9 in Texas.
In many ways, it was a remarkable breakout season for Chisenhall.
"If you were to rewind 12 months," Antonetti said, "and then say, 'Hey, at the end of [2013], what would your hopes be for Lonnie at the end of [2014]?' I think Lonnie did more than we probably could've asked. Now, there was some inconsistency along the way to get there, but if you'd say, 'Would you sign up for what Lonnie did this past year?' Absolutely."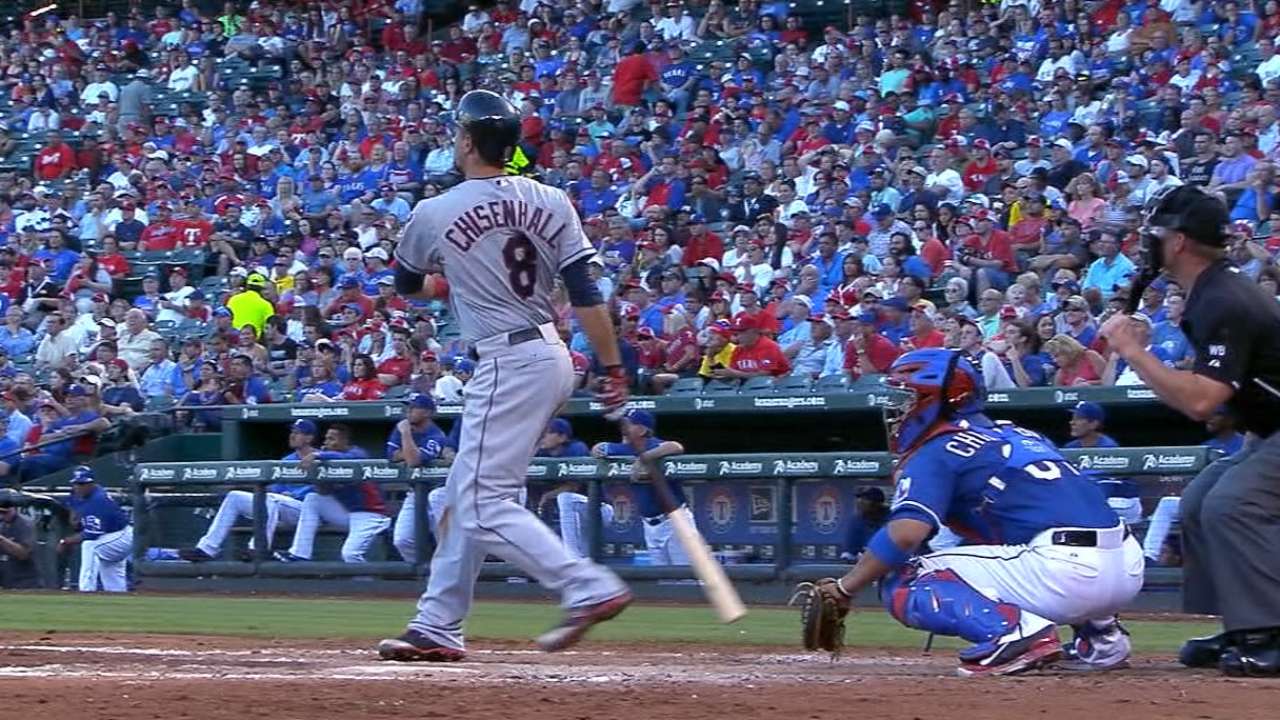 In terms of the inconsistency to which Antonetti eluded, it was really a tale of two seasons for Chisenhall.
Through June 11, Chisenhall was batting .393 with a 1.057 OPS in 53 games (189 plate appearances). After that incredible opening act, however, the third baseman earned more regular playing time and hit .219 with a .614 OPS in his final 89 games (344 plate appearances). There is no clear answer that explains the torrid start or the subpar finish.
One element that may have played a role, though, was how manager Terry Francona used Chisenhall early in the season in comparison to later in the year.
Prior to June 12, Chisenhall only saw left-handed pitching in 16 percent (31 out of 189) of his plate appearances, and he responded by hitting .500 (1.212 OPS) in those PAs. His hot start led to more playing time over the remainder of the season, and he saw more southpaws as a result. After June 11, Chisenhall faced lefties in 26 percent (90 out of 344) of his PAs and hit .222 (.564 OPS) in those at-bats.
Right now, the Indians would rather focus on the success Chisenhall experienced overall in '14.
"Depending upon what statistic you look at, and how you're assessing it," Antonetti said, "he was one of the more productive third basemen in all of baseball. If you look at his OPS among all qualifying third basemen, I think he ranked eighth ahead of a lot of very good names."
Antonetti is not wrong. Chisenhall ranked eighth in the Majors (fourth in the AL) with a .770 OPS last season. According to Fangraphs.com, he also ranked seventh in baseball (fourth in the AL) with a 121 wRC+ (weighted runs created plus). Offensively, Chisenhall ranked ahead of the likes of Matt Carpenter, Pablo Sandoval, Evan Longoria and David Wright, among others, in those categories.
Cleveland knows there is room for improvement and growth both in the batter's box and in the field for Chisenhall, though. Defense was an issue for the team as a whole last season and Chisenhall was among the culprits. His production in Defensive Runs Saved (minus 14), UZR/150 (minus 15) and overall Defense (minus nine) ranked near the bottom of the AL, according to Fangraphs.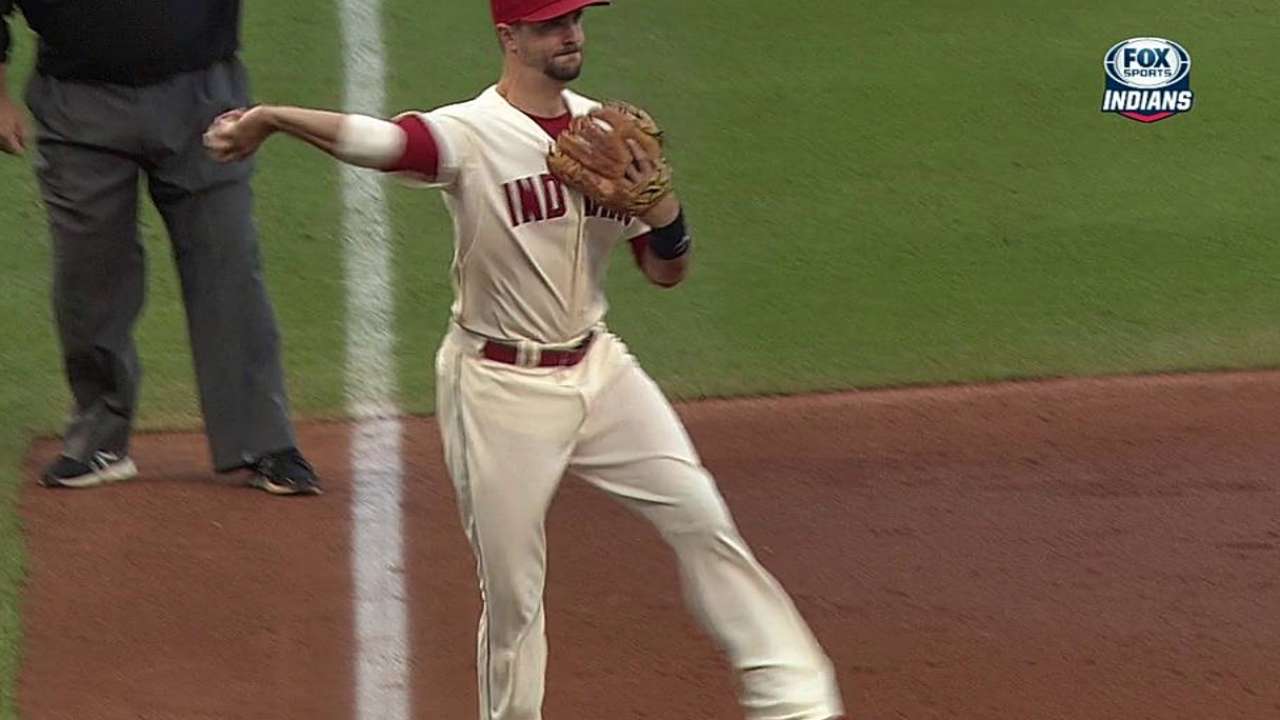 "Lonnie can be a good defender. He's got good reactions," Francona said. "He's got a good body and he's got plenty of arm. I think he's shown what he can do and how he can react. He's also had a knack for making errors that are untimely, or just maybe balls he should make.
"A lot of times, that's part of the maturation process. He's come so far in so many areas that it wouldn't surprise me if he continues to get better defensively."
The Indians are counting on those types of continued strides.
"Lonnie worked incredibly hard ... and made great progress," Antonetti said. "So we're really excited to see how that continues, because he's such a young player. If he continues the same path he's on, next year could be a really good year for him."
Jordan Bastian is a reporter for MLB.com. Read his blog, Major League Bastian, and follow him on Twitter @MLBastian. This story was not subject to the approval of Major League Baseball or its clubs.