Bucs load up the truck for trip to Bradenton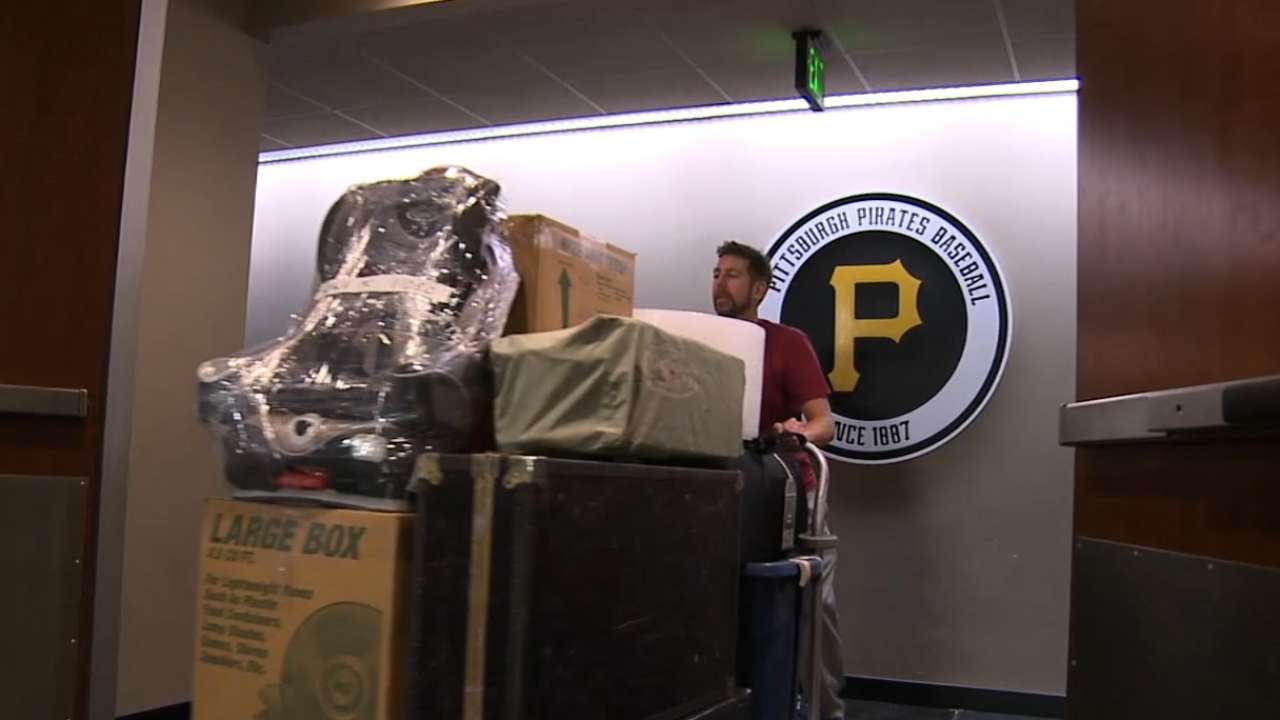 PITTSBURGH -- Don't let the weather tell you otherwise: spring is here. Truck Day, the unofficial beginning of Spring Training for the Pirates, reminds us that baseball season is coming.
The Pirates' 18-wheeler equipment truck departed Pittsburgh on Wednesday morning, it will arrive in Bradenton, Fla., on Friday, and it will be unloaded on Saturday. The truck delivers gear for each player and coach, as well as some of their personal items.
"We pretty much break down our whole entire equipment room and take it down there." Pirates clubhouse manager Scott Bonnett said. "We have personal items [that] members of the team want shipped. Right now, we are looking at about eight bikes [and many] sets of golf clubs, as usual. Second baseman Neil Walker is bringing a ping pong table down this year.
Good morning. It's #PiratesTruckDay! pic.twitter.com/zU0BCBGpEW

- Pittsburgh Pirates (@Pirates) February 11, 2015
"Bats and baseballs are a little different than what I've been doing. Baseballs -- instead of having them shipped here and loading them on a truck and shipped back down [to Florida] -- I have had Rawlings ship the baseballs in bulk to Bradenton. Bats, I have shipped from the company to Pirate City."
Bonnett said there are a lot of other items on the truck that take up the room freed up by the lack of bats and baseballs on board.
"Everything that we use in the clubhouse is shipped other than water -- we get that down there. We are taking down two kiosks machines for the people at McKechnie Field to use for selling tickets, we are taking a skid of gift bags for them to use down there. [There are ] three pierogi bags for the pierogi [racing] costumes, bikes from the weight room and house stuff for bullpen catcher Herbie Andrade for his house down there," Bonnett said.
The Pirates replaced the old clubhouse and expanded the agility field at McKechnie Field as part of a $6.5 million renovation.
"It seems like everything is a week behind this year," Bonnett said. "Our challenge this year is we usually start at Pirate City for 10 days of practices and then we move over to McKechnie Field. Well, McKechnie Field was leveled and we have a brand new clubhouse, so we are going into the unknown a little bit. It's an unbelievable facility right now. It's about five times bigger than the old facility. The main locker room has about 76 lockers and then there is a coach's locker room with about 45 lockers. This will be the first year since I got the job that I will have my own equipment room. It's exciting times."
Pitchers and catchers report to Bradenton on Feb. 18 and begin workouts the next day. The full squad will report on Feb. 23. The first Grapefruit League game will be on March 3 against the Toronto Blue Jays.
George Von Benko is a contributor to MLB.com. This story was not subject to the approval of Major League Baseball or its clubs.