Inbox: What's the lineup design around Longo?
Beat reporter Bill Chastain answers questions from Rays fans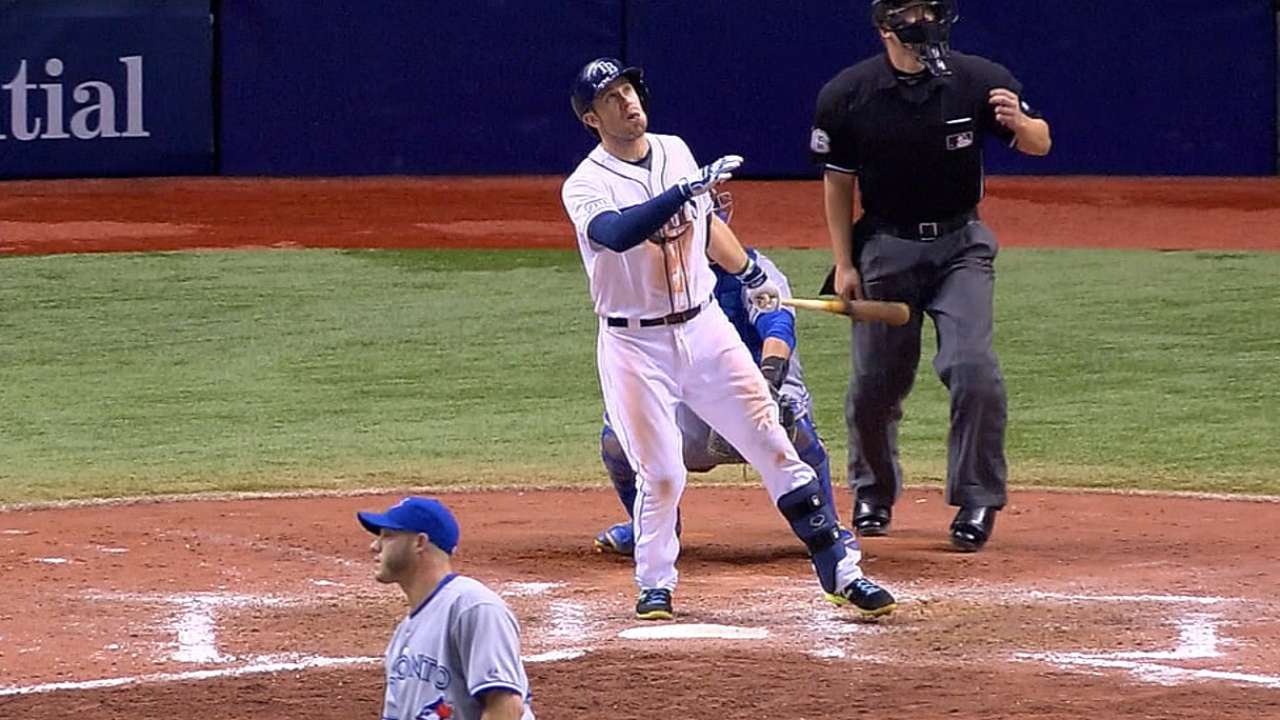 After most of the offseason moves are done, what do you think will be the Opening Day lineup? And which two hitters do you think have the biggest potential to protect Evan Longoria and provide some power?
-- Tom C., Tampa, Fla.
Thanks for asking this question, this is the fun stuff. Looking at the Rays' first game, they open with the Orioles on April 6 at Tropicana Field. So let's say they'll be facing right-hander Chris Tillman. Under that scenario, I'll go with this lineup in order:
1. LF David DeJesus
2. 2B Nick Franklin
3. 3B Longoria
4. 1B James Loney
5. DH John Jaso
6. CF Desmond Jennings
7. SS Asdrubal Cabrera
8. C Rene Rivera
9. RF Kevin Kiermaier
SP. RHP Alex Cobb
Just guessing.
We are always hearing about needing a bat to protect Longoria in the lineup. I never agreed with former Rays manager Joe Maddon's decision to have Loney bat so far down in the order, especially since he has a great approach and leads the team in batting average. How about the prospect of Loney batting third, with Longo providing him some protection? How well do you think Loney would benefit from this change in the lineup?
-- David F., Clover, S.C.
Click here to submit an Inbox question
Until somebody emerges in the lineup, protecting Longoria will continue to be a problem. In my opinion, I would bat Longoria third -- he's comfortable there and he'll get more at-bats. So who do you sandwich him between? Loney and Jaso? Loney and Steven Souza Jr.? There are many variations and no definite answers at this point. Stay tuned.
When will we start upping the payroll and start getting better, more experienced ballplayers? We have great talent, but we need one or two with long contracts to help us win a World Series.
-- Guillermo, Kennewick, Wash.
Long contracts don't necessarily equate to better performance. Look at last year's team. Several players had multiyear deals and disappointed, leading to a 77-win season. I think the Rays have a good model, which is based on quality pitching and defense -- mostly of a younger variety. Young pitchers tend to stay healthy and they benefit from quality defense. I believe the key to Tampa Bay's continued success is sticking to this model and turning over players before they get older and receive a big contract.
Starting pitching in particular falls into this category. Time and again I will see teams spend huge sums on starters who are on the back side of their careers. Rarely have I seen an adequate return on investment. Thus, I'm not in agreement with needing long contracts to help win a World Series.
The Rays' front office is selling the fact that we still have a strong rotation, and I agree about that. And it also seems the defense should be good this year. However, the team's offense has been anemic. Do you see hope in the new team's ability to improve offensively? Can we pad Longoria in the lineup? Kiermaier was great last year, but can he complement his excellent glove with a solid bat?
-- Joshua S., St. Petersburg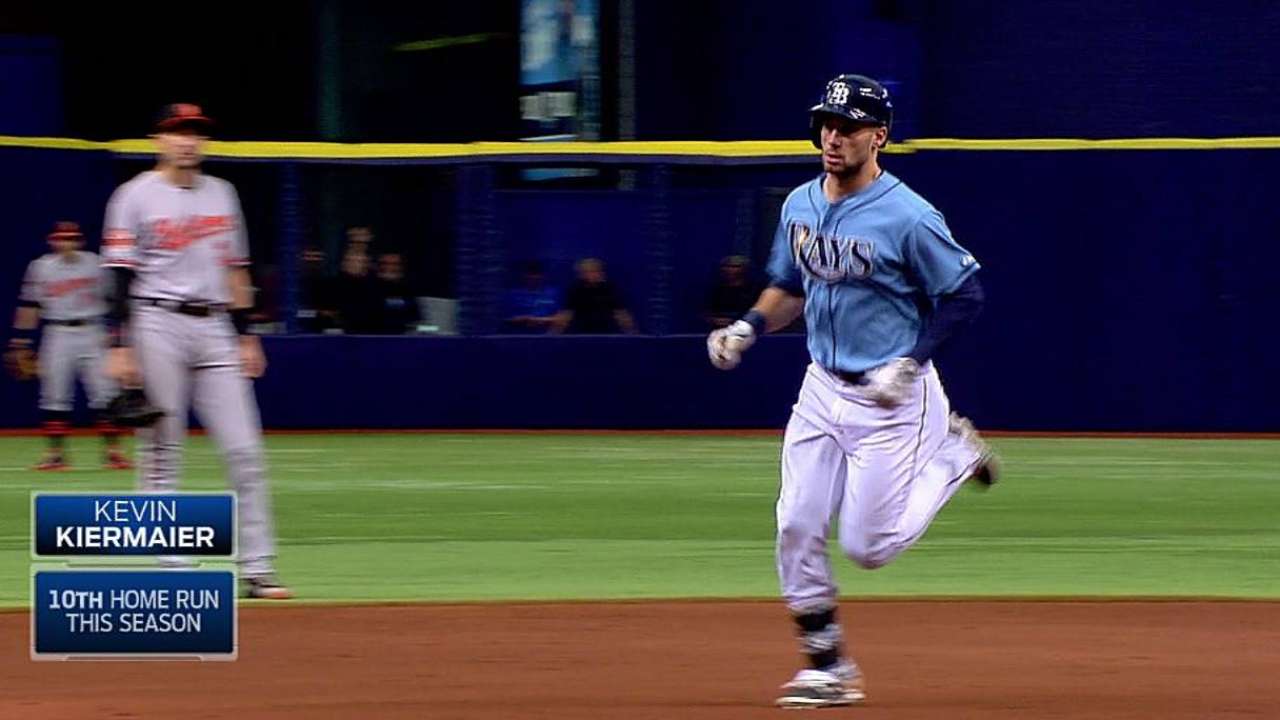 Keep in mind that everybody in baseball is looking for more offense. The key for the Rays is run differential. It doesn't matter if you score 900 runs if you give up 950. In 2014, the team's run differential got out of whack in the early going due to pitching injuries. That made the offense look worse than it was. In essence, if all goes right for Tampa Bay, the club needs an adequate offense to go along with extraordinary pitching and defense in order to succeed.
As for Kiermaier, he got out of the gate quickly on offense last season and then experienced some struggles. I think his fortunes at the plate will be interesting to follow and could be a key to how well the team does this season.
Some of the guys who blog are saying that the Rays are signing too many infielders, especially middle infielders. I disagree. I think I see a pattern: They sign "extra" infielders to help restock the Durham Bulls.
For 2015, Vince Belnome, Cole Figueroa and Jayson Nix are gone, and Wilson Betemit is probably gone. The signings of Alex Casilla and Juan Francisco are part of this pattern. They may be in Durham in 2015, along with two to three returning from last year's group. Then there will be one, two or three from Montgomery to add to this mix in Spring Training, maybe Ryan Brett, Jake Hager or Cameron Seitzer.
-- Robert W., Fuquay-Varina, N.C.
You did your homework, Robert. Well done! One thing I might point out, as well, which might be an influence in making sure the infielder cupboard is not bare, is the fact the Rays felt thin with their infield depth in 2012 and they did not want that to happen again. I agree with you, it will be fun to see how it all gets sorted out.
Bill Chastain is a reporter for MLB.com. This story was not subject to the approval of Major League Baseball or its clubs.