Who will be this season's surprise closers?
Things can change in a hurry when a ninth-inning reliever falters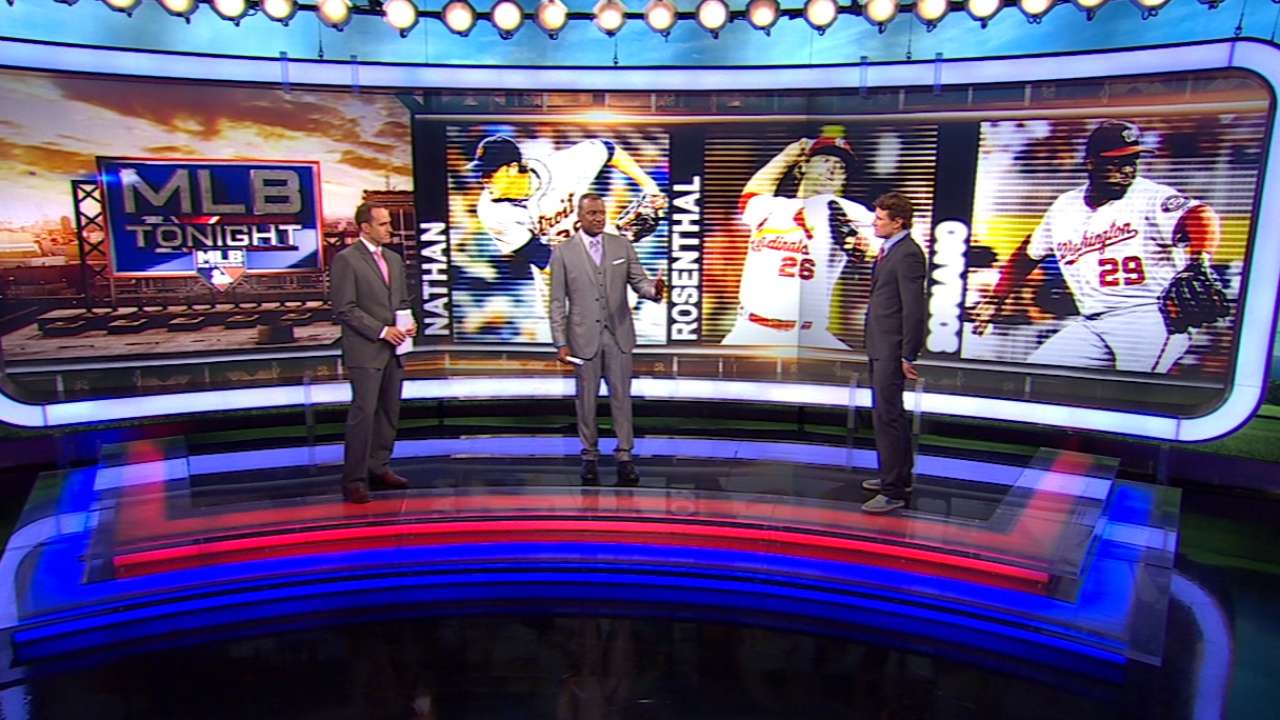 Cody Allen didn't get the gig with the Indians until May. The same went for the Orioles' Zach Britton and the Mets' Jenrry Mejia. Jake McGee didn't get it in Tampa until June.
In 2014, the always-fluid job of Major League closer had big league managers getting more and more creative, sent fantasy owners scrambling and made the landscape of the ninth inning more unpredictable than ever.
Cleveland turned to Allen when John Axford was an April bust. Britton took over for Tommy Hunter in Baltimore. Mejia replaced Kyle Farnsworth in Queens. McGee stepped in for Grant Balfour.
And it's a pretty safe wager that situations just like these will creep up again in 2015.
• Complete fantasy baseball coverage
Barring injury or trade, the last-reliever-standing roles for the Braves (Craig Kimbrel), Reds (Aroldis Chapman), White Sox (David Robertson), Mariners (Fernando Rodney), Cardinals (Trevor Rosenthal), Dodgers (Kenley Jansen), Pirates (Mark Melancon), Royals (Greg Holland), Tigers (Joe Nathan), Twins (Glen Perkins), Angels (Huston Street), Giants (Santiago Casilla), Nationals (Drew Storen), Marlins (Steve Cishek), Padres (Joaquin Benoit), D-backs (Addison Reed), Indians (Allen) and Orioles (Britton) look relatively set.
With the emphasis on "relatively."
Some teams, such as the Yankees, haven't named a closer and have options (New York will decide between lefty Andrew Miller and righty Dellin Betances) who should fit right in if they're given the chance.
Others, like the Phillies, have a clear-cut closer (Jonathan Papelbon) but also a huge financial commitment that makes said closer a clear-cut trade chip if the team finds itself out of contention as the summer rolls along.
Also, injuries happen all the time. Deals happen every July as the non-waiver Trade Deadline nears. Underperforming can cost a player his job at any time, even in April, if the pressure to win is already mounting.
Here are 10 teams that might be more likely than others to call on a new name in the ninth inning before the season is over.
Astros: Houston signed free agent Luke Gregerson, but Gregerson has never had the closer role on a full-time basis. The Astros also signed veteran reliever Pat Neshek and have former closer Chad Qualls on their roster. That would make it easier to change things around if Gregerson doesn't seem suited for the gig.
A's: This one will happen right away because of the shoulder woes of incumbent closer Sean Doolittle. Oakland will let new acquisition Tyler Clippard and bullpen mates Ryan Cook and Eric O'Flaherty battle it out in Spring Training to see who gets the ninth until Doolittle comes back.
Blue Jays: Any time a team goes into Spring Training with a competition for the closer role, as the Jays are expecting to have with Brett Cecil and Aaron Sanchez, there's always the chance one guy gives way to the other. We'll see how it plays out in Dunedin, Fla., next month.
Brewers: Milwaukee goes into Spring Training with former big league closer Jonathan Broxton on its roster, but the club might also try to bring back free agent Francisco Rodriguez, who did the job for the Brewers last year in a surprising role reversal after it appeared all spring that Jim Henderson had it locked up. In other words, who knows?
Cubs: Hector Rondon did a nice, if unexpected, job for Chicago last year, saving 29 games, but the team signed former Cardinals ninth-inning man Jason Motte in the offseason and figures to give him a long look in Mesa, Ariz., in March. Don't ever underestimate new manager Joe Maddon's willingness to change things up.
Mets: Mejia looked very comfortable in the ninth inning for New York last year, but he was only in the role because incumbent closer Bobby Parnell had Tommy John surgery. The Mets have other hard-throwing bullpen options (Jeurys Familia, Vic Black) who could step in if Mejia falters early and Parnell isn't ready to return.
Rangers: Neftali Feliz reclaimed the closer's role in Texas and put up good numbers in 2014 (1.99 ERA and 13 saves in 30 games), but his career-low strikeouts-per-nine-innings number of six, albeit in a small sample size, could be a concern.
Rays: McGee looked great in the ninth inning for Tampa Bay last year, but he had elbow surgery in December and might miss games in April. That could pave the way for contributions from former closer Balfour or other capable members of the bullpen, including Brad Boxberger, Ernesto Frieri and Kevin Jepsen.
Red Sox: Koji Uehara was a huge part of Boston's World Series title in 2013, and he was superb last year, too, with 26 saves and a 2.52 ERA. But he'll be 40 on Opening Day and suffered arm fatigue last September. If those symptoms pop up earlier in 2015, Boston could look to Edward Mujica, Junichi Tazawa or a new acquisition such as Alexi Ogando.
Rockies: LaTroy Hawkins has said 2015 will be the final season of his remarkable career. His 2014 campaign (23 saves) was impressive, but he's 42 years old, so it wouldn't be shocking if he struggles with health or effectiveness in 2015.
Doug Miller is a reporter for MLB.com. Follow him on Twitter @DougMillerMLB. This story was not subject to the approval of Major League Baseball or its clubs.