Giants hit Pebble links vs. Niners for charity
Posey, Cain to play pro-am this weekend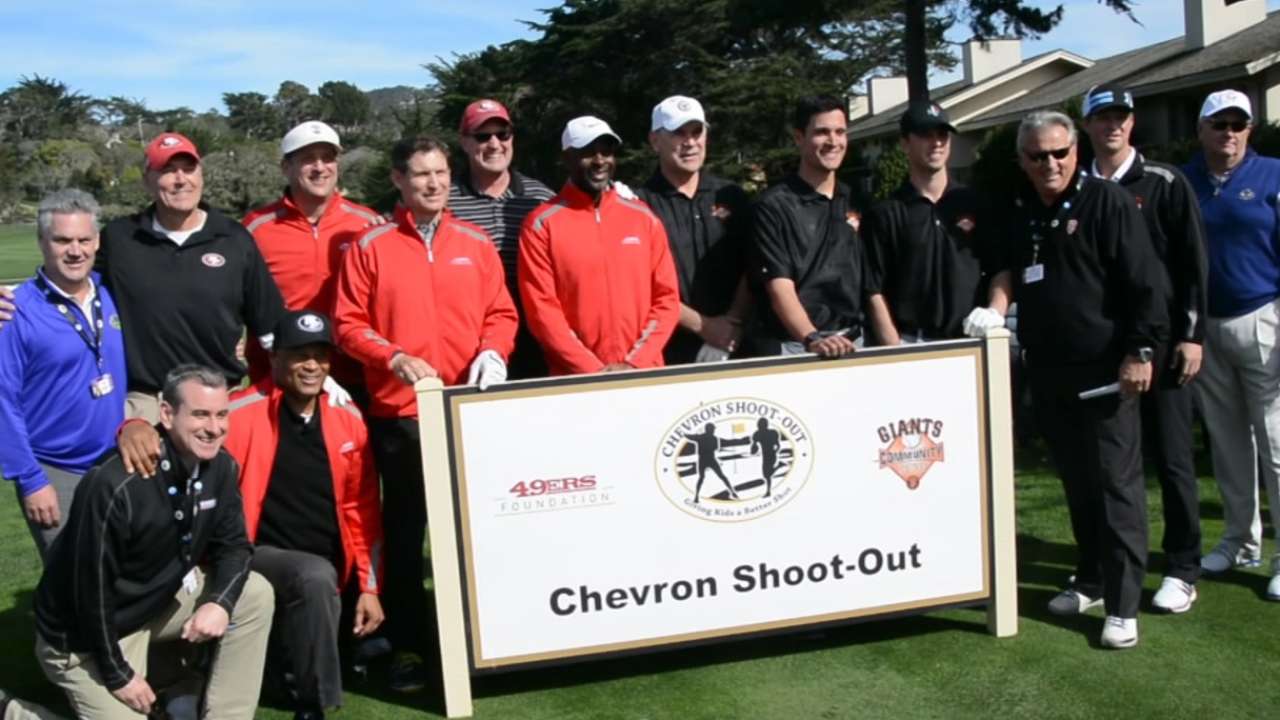 PEBBLE BEACH, Calif. -- Eight championship trophies were on display Tuesday at the Pebble Beach Golf Links, and fans lined up in the early morning to view the unique gathering of San Francisco's five Super Bowl trophies and three World Series trophies. Players from the two four-man groups representing the Giants and 49ers at the famed course have a combined 13 World Series rings and 11 Super Bowl rings to their names.
And with all that baseball and football talent in one place, it was time for a friendly game of golf at one of the most beautiful places in the world, all for a good cause.
Really, the only thing that was missing as the Chevron Shoot-Out was about to begin was a championship dogpile, and the Niners contingent was glad to provide one, giving a group hug to Giants catcher Buster Posey -- the man in the middle of one for three World Series celebrations in the last five seasons. Of course, this one came right before he teed off No. 1 in the friendly competition that began a full week of golf at the Pebble Beach National Pro-Am, just in time to give him some first-tee jitters.
That was the brand of fun on display with Posey joining starter Matt Cain, reliever Javier Lopez and manager Bruce Bochy for the Giants group against a Niners team consisting of Hall of Famers in receiver Jerry Rice and quarterback Steve Young, along with two more storied players in wide receiver Dwight Clark and tight end Brent Jones.
• Giant-49ers Pebble Beach photo gallery
"It's great to be here for a cause and play some golf here at Pebble Beach," Bochy said before getting a few practice putts. "We'll be cranking it up pretty good here in a few days, so to have some time off in such a beautiful place like Pebble, it doesn't get any better than this."
The 49ers wound up winning the Shoot-Out, but really this event was about benefiting local charities and each team's foundation -- along with putting on a show for fans who came out to form a huge gallery to cheer on their title-winning stars during the five-hole event.
The Chevron Shoot-Out raised $100,000 for charities in Salinas and Monterey counties, the Giants Community Fund and the 49ers Foundation. Organizations benefiting from the tournament included Girls Inc. of the Central Coast, United Way Monterey County, the Salinas Valley Junior Golf Association and Harmony at Home.
Harris Barton, the former 49ers offensive lineman, is a member of the Monterey Peninsula Foundation, which puts on the PGA Tour event and generated $10 million in charity last year, so he was glad to see such a great turnout. Barton served as a captain of the Niners team, along with Hall of Fame defensive back Ronnie Lott, while broadcaster Duane Kuiper served as the Giants' captain.
Said Barton: "To have something like this on a Tuesday before a Thursday tournament is amazing, and it really raises a lot of money for the community. All these guys are very charitable to come down here and do this."
Before the tournament began, the players were invited to the skybox at the 17th green to a Pendulum Exhibit, which demonstrated putting and also included a stimpmeter, which measures the speed of a green. Their instructors were two students from STEM (Science, Technology, Engineering and Math) programs.
That also provided an opportunity for the championship-winning players from both sides to share a few moments before squaring off on the course.
"Last year was one of the most epic things I've ever seen," Barton told the Giants players. "The way you guys won that championship was amazing, so fun."
Said Cain: "Thanks, [Madison] Bumgarner."
Posey, who along with Cain will be among the amateurs playing in the pro-am this weekend, got in his first competitive action at Pebble, paired with Cain.
"It was a blast," Posey said. "I got to watch Cain hit some great shots."
After being on the Giants' winning Shoot-Out team a year earlier at Pebble, Lopez noted that the Niners brought out some big guns this year.
"The 49ers had to reach into their bag of tricks and bring out a bunch of Hall of Famers, I don't think that's fair," Lopez said with a smile.
The Giants reliever said he was in fact impressed with the way the former players from the Niners came out in force to play against their younger counterparts with the Giants -- a unique San Francisco sports fan's treat on a beautiful day at Pebble Beach.
"You just realize the amount of tradition that is actually out here in the Bay Area, and it's nice to see," Lopez said. "Some of those guys might be removed from the game, but they're not removed from the community. It's nice to come out and share in that."
John Schlegel is a national reporter for MLB.com. You can follow him on Twitter @JohnSchlegelMLB. This story was not subject to the approval of Major League Baseball or its clubs.