Truck Day the unofficial start of Mariners camp
Equipment expected to arrive in Peoria, Ariz., on Thursday; pitchers and catchers report Feb. 20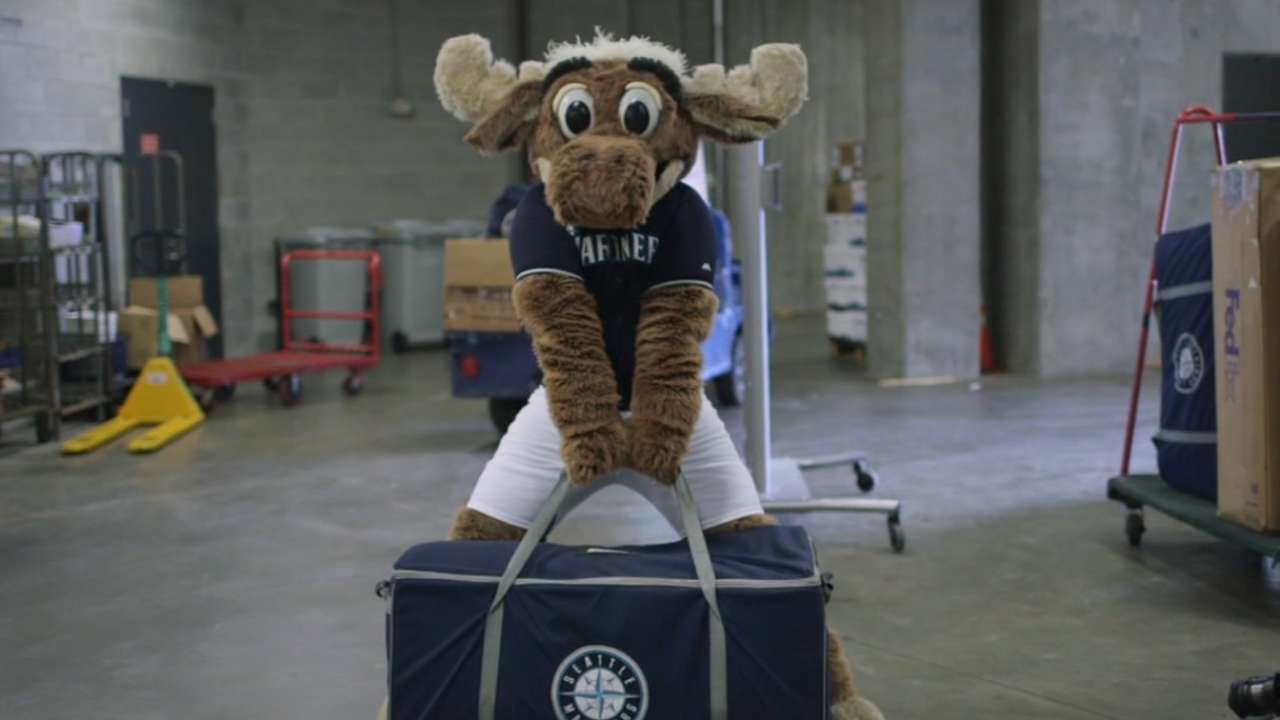 SEATTLE -- While rain and gray clouds continue to be a winter constant in the Puget Sound region, a welcome sign of spring appeared Tuesday at Safeco Field as the Mariners loaded their massive truck and began the annual process of moving their organization south for seven weeks.
Truck Day, as it's known around baseball, is akin to the swallows appearing at Capistrano, signaling the impending start to Spring Training each year. For the Mariners, their 18-wheeler will arrive at Peoria, Ariz., on Thursday and gear will be unloaded and prepared for the arrival of players and staff next week.
The truck departed Safeco Field at noon PT on Tuesday, beginning a 1,500-mile journey that requires about 22 hours of driving. The plan is to spend Tuesday night at Medford, Ore., stop somewhere north of Los Angeles on Wednesday night and arrive in Peoria on Thursday afternoon.
With assistance from the always helpful Mariners Moose, the team's clubhouse staff loaded the truck with everything from office supplies to baseball bats and balls, training and medical equipment, pallets of Gatorade and water, video gear and personal items for players and staffers who'll be making Peoria their temporary home shortly.
Upon arrival in Arizona, the crew will set up shop at the Peoria Sports Complex, which underwent a complete clubhouse and facility makeover last year and now will feature a remodeled stadium this spring as Phase II of the upgrade is being completed.
Many players arrive ahead of time to work out informally, but all pitchers and catchers are to report on Feb. 20, with the first workout on the field Feb. 21. The team's position players are due for physical exams on Feb. 24, with the initial full-squad workout on Feb. 25.
Seattle's first Cactus League game will be March 4 against the Padres at Peoria Stadium.
Greg Johns is a reporter for MLB.com. Follow him on Twitter @GregJohnsMLB as well as his Mariners Musings blog. This story was not subject to the approval of Major League Baseball or its clubs.