MLB.com Columnist
Lyle Spencer
SoCal should be special place in 2015 season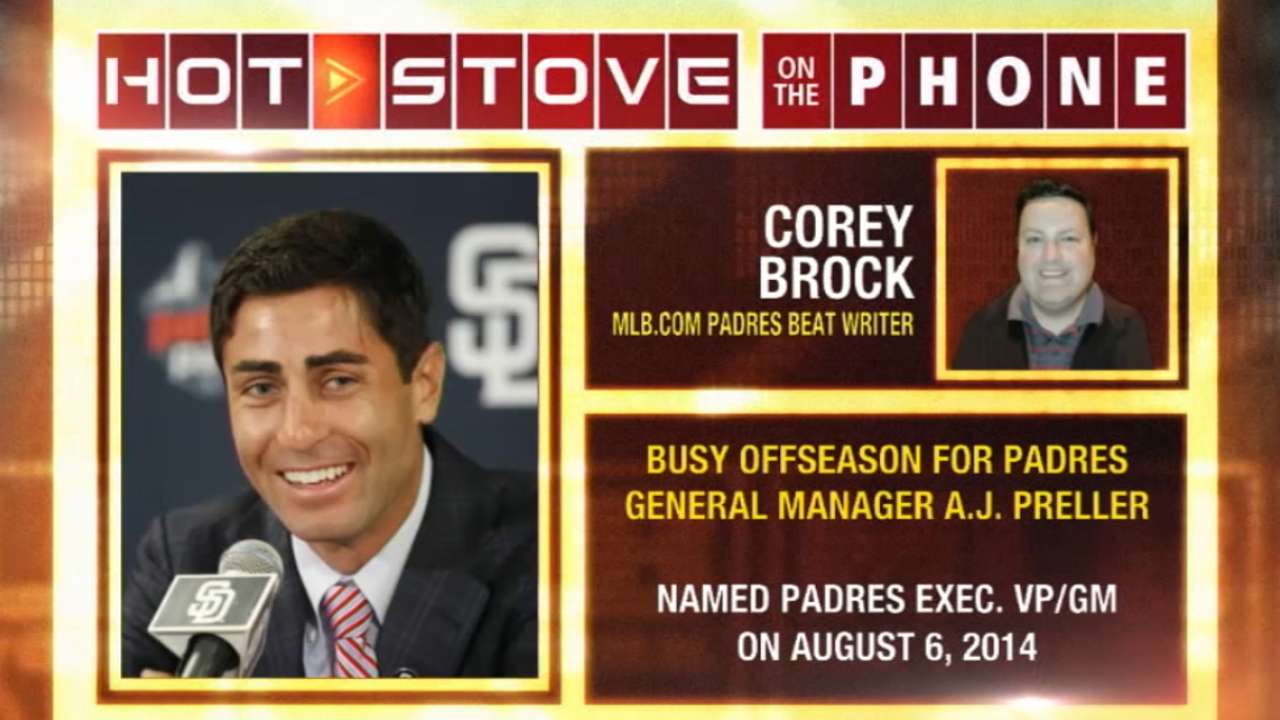 We might have to go back to New York and the golden era of the 1950s to find a time and place comparable to what Southern California has now with the Dodgers, Angels and Padres. Stars abound, and all three teams are legitimate contenders, linked by Interstate 5 running from Los Angeles through Anaheim down to San Diego.
The sport's most complete athlete, Angels American League Most Valuable Player Award winner Mike Trout, and its best pitcher, Dodgers National League MVP and Cy Young Award winner Clayton Kershaw, play here. Albert Pujols, Trout's partner, is arguably the best player of his generation. Matt Kemp, the new Padre and far from done at 30, preceded Trout as the game's premier all-around player in many minds. The Angels led the Majors in 2014 with 98 wins; the Dodgers were fourth with 94.
Baseball fans in the land of sand, waves and palm trees never have had it so good.
Close to every day of the season, starting with an April 6 clash between the Dodgers and Padres at Dodger Stadium, a game will be in commuting reach. It figures to be Kershaw vs. James Shields on Opening Day, Kemp joining Justin Upton and Wil Myers in the fashionable Padres outfield. What could be better than that?
Trout and his Angels open on the road against the suddenly formidable Mariners. But they'll be home that opening weekend to engage the Royals with a little edge after the way Kansas City treated them in the AL Division Series sweep.
The Padres, following their series in Los Angeles, head home for a four-game set against -- that's right -- the reigning World Series champion Giants.
Nothing like giving the fan base at Petco Park a rousing start to what promises to be a season to remember.
San Francisco and always fascinating Oakland are accessible on I-5 from the south, but the distance is emotional as well as geographical. Fans in SoCal and NoCal seem to view each other as residing in different states -- and completely different states of mind.
What makes 2015 so fresh and even more compelling than usual in the Golden State is that the Padres have become relevant in the afterglow of general manager A.J. Preller's whirlwind winter. Long regarded as a quality manager with insufficient resources, Bud Black now has an offense to go with pitching that annually holds its own.
"If we score more and we pitch like we did last year, absolutely we can contend," Black said. "No doubt about it."
That declaration was made a month before the former stylish left-hander knew he'd have Shields to front a staff featuring three other hammers in Andrew Cashner, Tyson Ross and Ian Kennedy. Odrisamer Despaigne is expected to complete a formidable rotation, backed by a deep, resourceful bullpen.
The Padres landed just four games shy of .500 in 2014, finishing third in the NL West, with the game's worst offense averaging 3.3 runs per game. The Padres' 3-4-5 hitters batted .225 with a .307 on-base percentage. The team was dead last in the Majors in average (.226), OBP (.292) and slugging (.342).
All of those numbers will jump significantly if Kemp, Upton and Myers -- two of the three, actually -- are healthy enough to play regularly.
Concerns have been expressed by insiders over the defensive capabilities of the new outfielders with Petco's vast spaces to cover. Upton, Myers and Kemp are exceptional athletes, each with something to prove. The guess here is that they'll handle the challenge nicely, with range rovers Cameron Maybin and Will Venable available for late-game calls.
Along with catchers Derek Norris and Tim Federowicz and third baseman Will Middlebrooks, an underrated Padres winter pickup was veteran Clint Barmes, a superb shortstop capable of handling all four infield roles. Diminutive Alexi Amarista is a plus defender at four positions: short, second, third and center.
Black and brilliant bench coach Dave Roberts have lots of options.
The Padres struggled in the division in 2014 at 33-43 but had the NL West's best home record. The infusion of offense should enable them to dramatically improve their 29-52 road record.
Another potential issue voiced is the Padres' decidedly right-handed attack, with first baseman Yonder Alonso and shortstop Amarista the only projected starters from the left side. The Padres' all-righty rotation would represent the stiffest challenge for their lineup.
Three of the Dodgers' projected starters -- Kershaw, Hyun-Jin Ryu and Brett Anderson -- are lefties. Giants ace Madison Bumgarner and Patrick Corbin, the D-backs' ace when he's ready after surgery, are southpaws. The Rockies have a pair of lefty starters in Jorge De La Rosa and Tyler Matzek.
All of those right-handed weapons in San Diego could be a plus.
The Dodgers have two new starters (Anderson and Brandon McCarthy), a new catcher (ex-Padre Yasmani Grandal), a new middle infield (Jimmy Rollins and Howie Kendrick) and a new center fielder, assuming Joc Pederson wins the job. It might take a while for these pieces to mesh.
The Angels will miss Kendrick's consistent production while hoping dominant righty Garrett Richards and enigmatic Josh Hamilton rebound from surgeries. But the talent is there to defend their AL West title.
In SoCal, the sun almost always shines. It just figures to be a little brighter than usual this summer.
Lyle Spencer is a reporter for MLB.com. This story was not subject to the approval of Major League Baseball or its clubs.