May believes '15 could be his breakout season
Young Twins righty to compete for fifth spot, willing to pitch in relief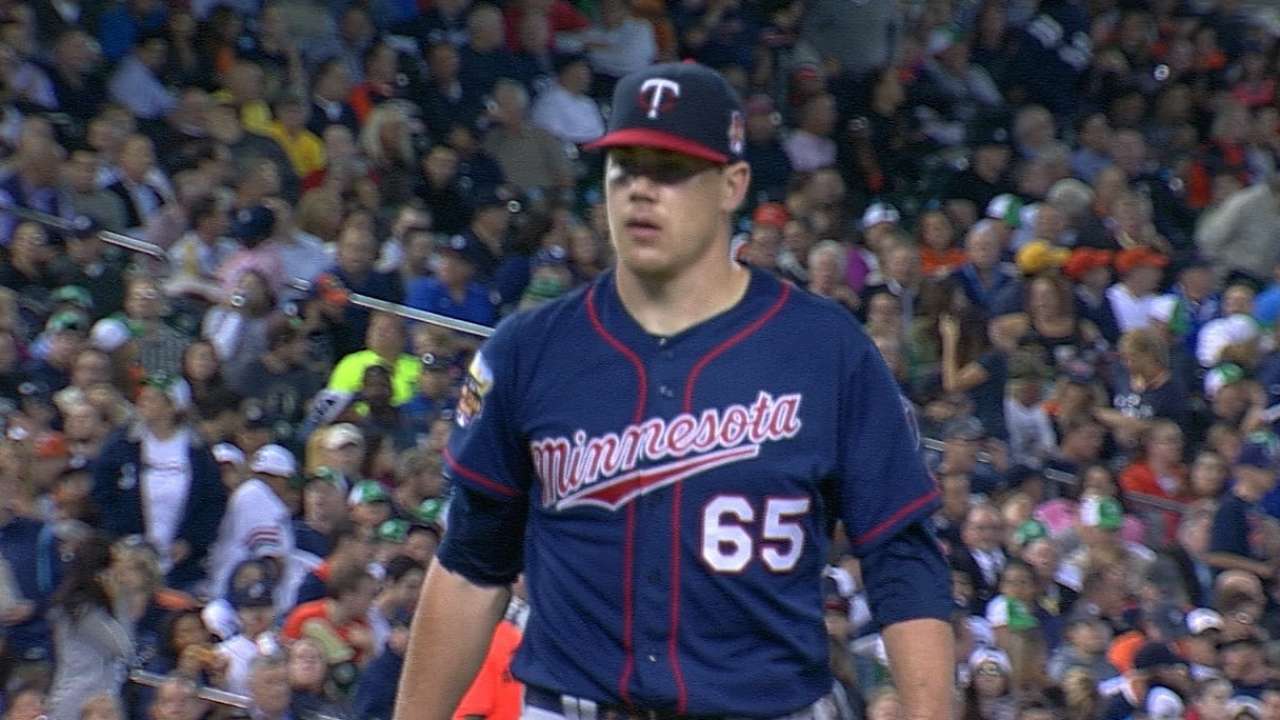 MINNEAPOLIS -- Trevor May can't exactly put his finger on why, but he's always struggled early on when he's made a jump to the next level.
It was again the case last year, when the right-hander made his Major League debut with the Twins, only to walk seven batters in just two innings against the A's in early August. But May settled down after his first few starts and started to show the signs that made him a top pitching prospect.
May's ERA in his 10 appearances, including nine starts, was 7.88, but he struck out 44 in 45 2/3 innings and started to cut down his walk rate. After walking 13 in his first nine innings, May walked just nine in 36 2/3 innings the rest of the way.
He credited former Twins pitching coach Rick Anderson for tweaking his mechanics, and said he's worked hard this offseason to stay taller in his drop-and-drive delivery.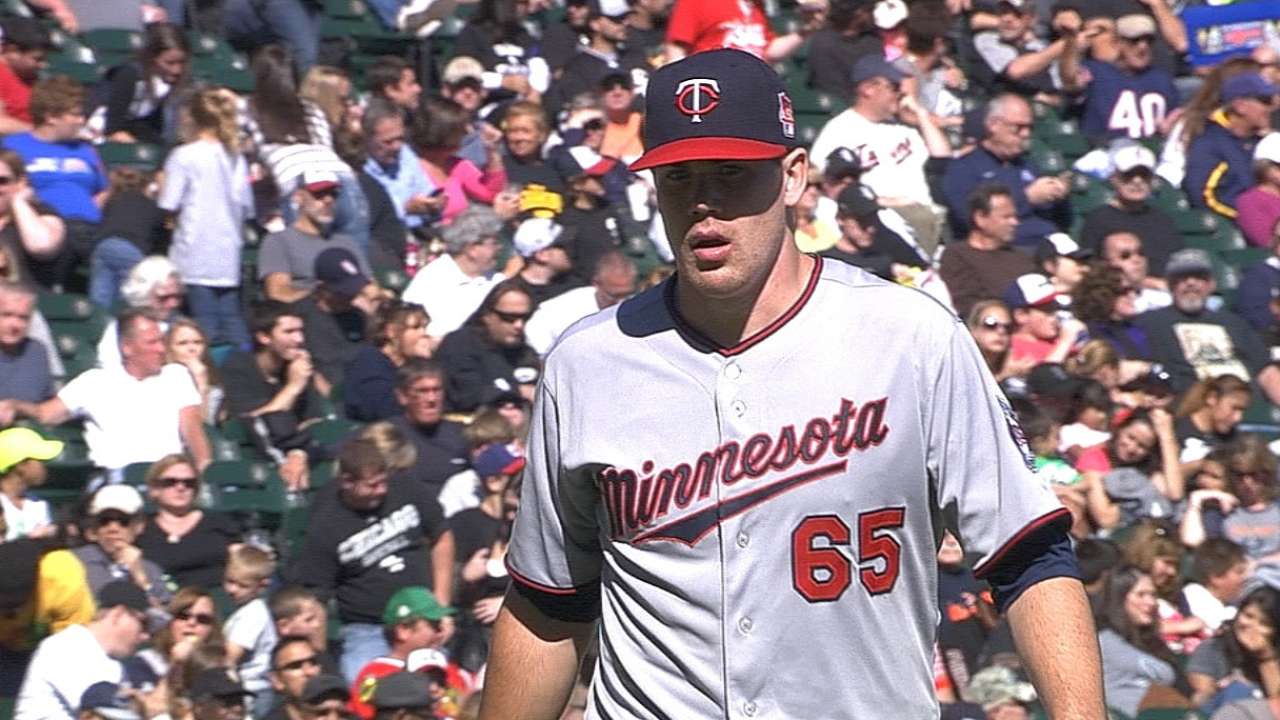 "Toward the end, I stayed taller and my stuff got better," May said. "I got more swings and misses. The runs that were scoring were more in spurts. And the walks got better, too. I started pounding the zone better than I ever have."
May, 25, is an intriguing candidate for the fifth-starter spot, but knows the odds are stacked against him, competing against veterans such as Tommy Milone and Mike Pelfrey. But it hasn't stopped May from heading into Spring Training with the right mentality, as the 6-foot-5 right-hander said he put a lot of effort into conditioning and said he's in the best physical shape of his life.
"I think the progress was enough to keep me in the conversation," May said. "But baseball is a business and some guys are on contracts. If you're going to throw as good as them and your stats are identical, they're going to get the job. But that's how it is and I know that. But my job doesn't change because of that. My job is to be in the best shape possible and compete for a spot."
May also said he's open to pitching out of the bullpen if he loses out on the fifth-starter competition, as it's a role he embraced while pitching in the Arizona Fall League in 2013. May is more likely to open at Triple-A Rochester as a starter, and prefers starting long term, but said he's on board with whatever the Twins ask of him.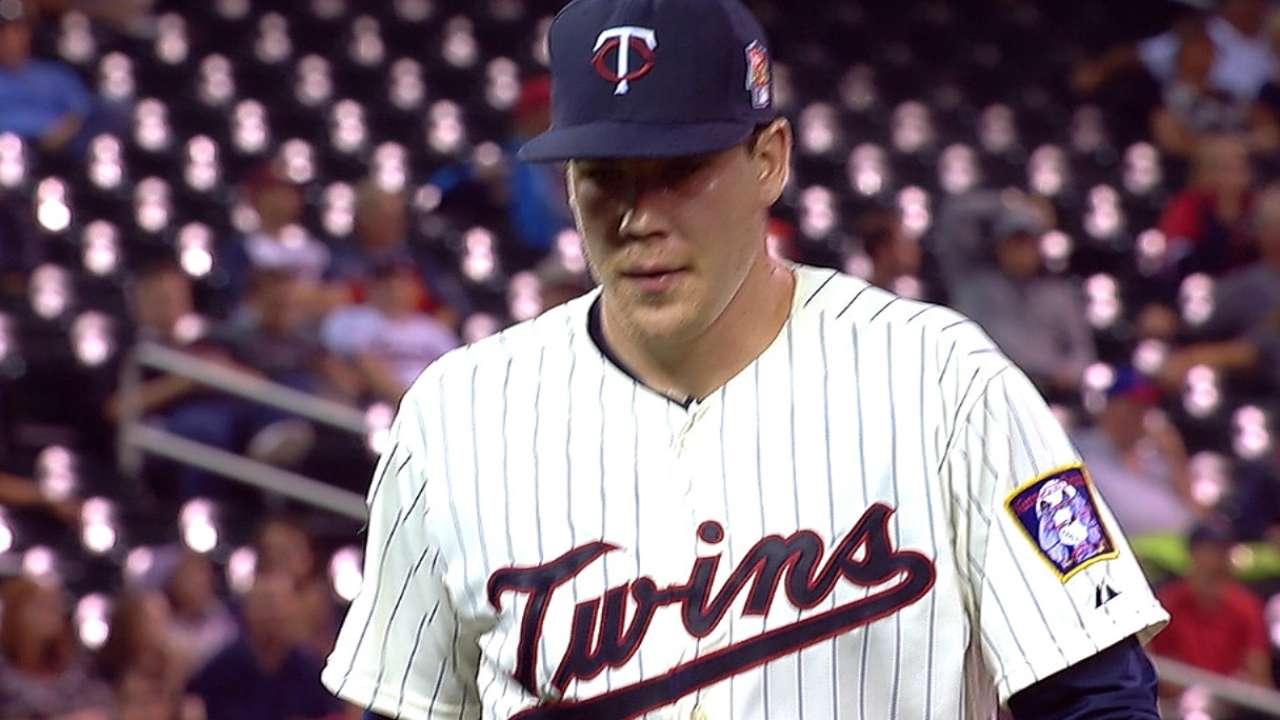 "I'd have no problem with that," May said. "I did it in the Fall League and really enjoyed it. It's a role I think I do well in. It allows me to focus on the fastball and I throw hard enough to be a back-of-the-game type guy. So I'd relish that opportunity, especially if it were the difference between being up here or in the Minors."
No matter the role, May feels like the 2014 season was a learning experience, and if his track record in the Minors is any indication, he believes he's primed to break out in '15.
"I think it's only going to be better this year," May said. "I think the past has shown me the second time around is when I succeed."
Rhett Bollinger is a reporter for MLB.com. Read his blog, Bollinger Beat, and follow him on Twitter @RhettBollinger. This story was not subject to the approval of Major League Baseball or its clubs.