Chirinos opening camp as Rangers' starting catcher
Backstop threw out AL-best 36.2 percent of basestealers in 2014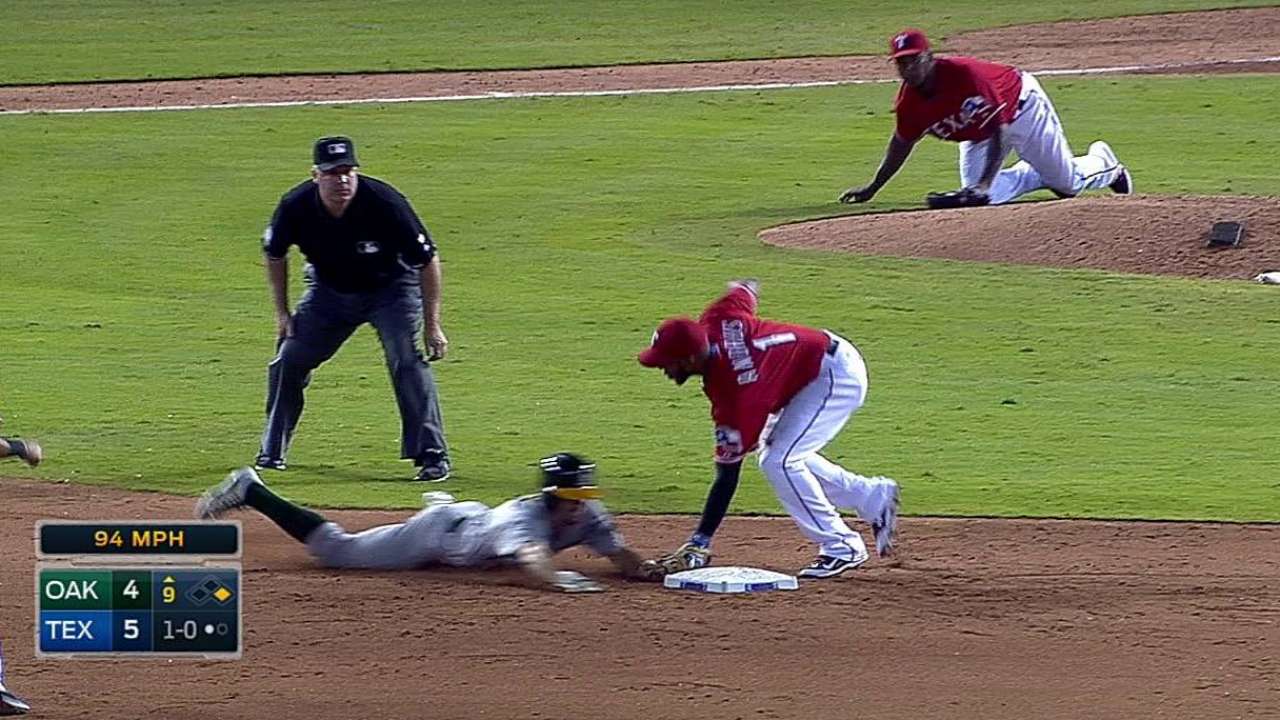 ARLINGTON -- Rangers pitchers and catchers report in 10 days and Robinson Chirinos appears as if he'll stay at the top of the depth chart. Chirinos looks like he'll make it through the winter as the Rangers' No. 1 catcher.
That's not a complete surprise but was never a given. Upgrading catching was one of three main goals for the Rangers this winter along with improving their starting pitching and outfield. The Rangers attacked those two other areas with vigor, trading for three starting pitchers and loading up on extra outfield candidates.
Their approach to catcher was more muted. Not particularly thrilled with the catching available, the Rangers settled on acquiring Carlos Corporan from the Astros to be Chirinos' backup and re-signed Chris Gimenez as Triple-A depth. If all goes as planned, he'll share those duties with Tomas Telis while top prospect Jorge Alfaro starts at Double-A Frisco.
The intense competition for spots in left field and in the rotation does not appear to be the situation at catcher. Chirinos is the Rangers' guy going into Spring Training.
"That means a lot," Chirinos said. "I finally have the opportunity for more responsibility. Now I need to prepare more and help my pitchers any way I can. I need to be ready because this is something I wanted to do."
Last year Chirinos went into Spring Training in the same position as Gimenez is now. He was considered Triple-A depth. But he won a spot on the Opening Day roster because Geovany Soto sustained a knee injury and when J.P. Arencibia struggled at the plate, Chirinos ended up as the Rangers' No. 1 catcher.
He didn't erase any club catching records held by former All-Stars Jim Sundberg or Ivan Rodriguez, but Chirinos did hold his own at a time when the American League is lacking in big-name catchers. With Joe Mauer now at first base, there is Salvador Perez of the Royals and everybody else. Chirinos fits right in there.
First of all, he led all AL catchers by throwing out 36.2 percent of attempted basestealers. That's not bad for a guy who started his professional career as an infielder before switching to catching in 2009.
That's the same percentage that Sundberg, a six-time Gold Glove winner, threw out in his rookie season with the Rangers in 1974. In 10 seasons as the Rangers' catcher, Sundberg bettered that mark five times and was under it in four others.
Offensively, Chirinos hit .239 with 13 home runs -- second on the team -- and 40 RBIs. His .418 slugging percentage as a catcher was third best in the league. The negative was a .294 on-base percentage as he walked just 17 times in 338 plate appearances.
"The one thing I see is a still-fresh catcher," Rangers manager Jeff Banister said. "He is still learning, not only how to catch but learning the league. This is probably the toughest position in baseball to learn and establish yourself at the Major League level. He is learning his staff and how they work, and then learning the opposing hitters.
"He is still tapping into his ability to catch. I still see some upward mobility in his ability to catch."
Banister had plenty of time to get to know Chirinos this winter. Chirinos elected to skip winter ball for the first time since 2010 and instead spent the offseason working out daily with a group of teammates in Arlington. Chirinos said he hopes skipping winter ball will allow him to stay stronger through the season.
"Last year I got tired in August and September," Chirinos said. "All my work this offseason is to help me stay strong."
He won't have to carry the load by himself. The Rangers are expecting Corporan, a switch-hitter who caught 110 games for the Astros over the past four years, to be able to catch 70-80 games if needed. The Rangers elected to trade for him rather than sign some established catchers off the free-agent market, a list that included Soto, Nick Hundley, Gerald Laird, John Buck, David Ross, John Baker, A.J. Pierzynski and Russell Martin.
But right now, the Rangers' offseason is over and Chirinos is still the No. 1 catcher.
T.R. Sullivan is a reporter for MLB.com. Read his blog, Postcards from Elysian Fields, and follow him on Twitter @Sullivan_Ranger. This story was not subject to the approval of Major League Baseball or its clubs.