Olt eager to apply lessons learned in 2014
Cubs third baseman used Triple-A demotion to adjust swing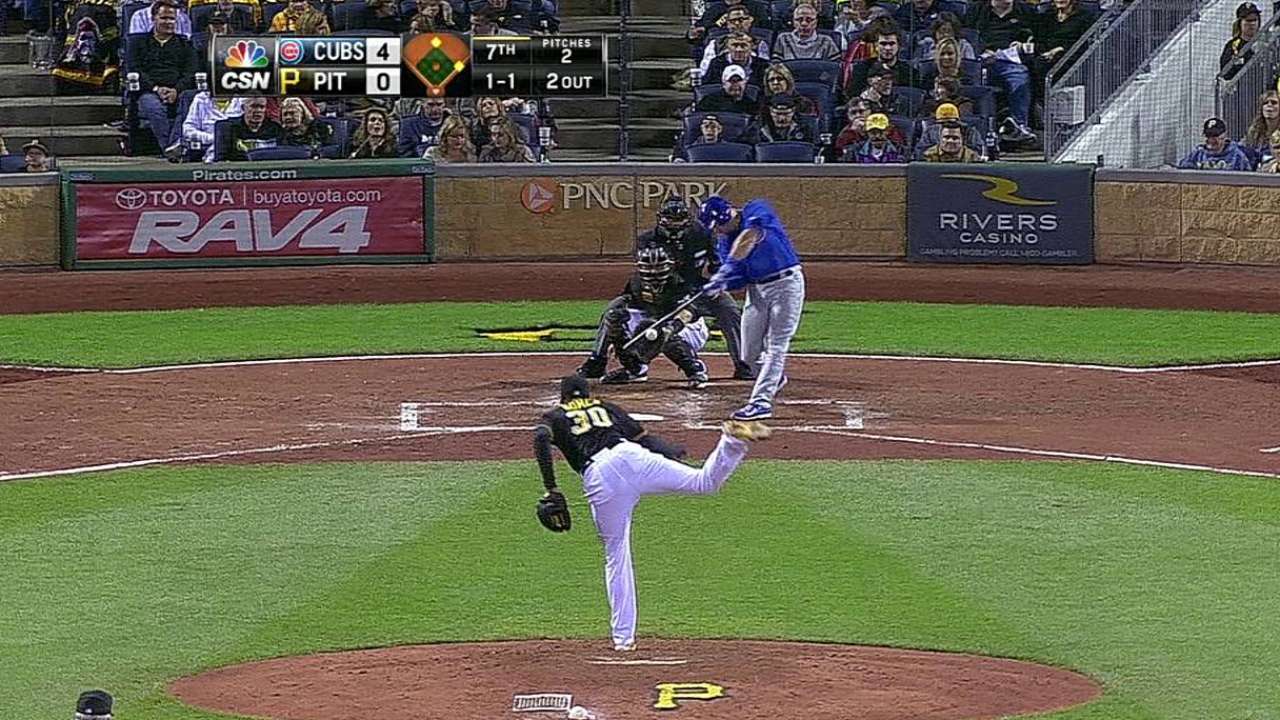 MESA, Ariz. -- Mike Olt knows most Cubs fans are expecting top prospect Kris Bryant to be the Opening Day third baseman. He just smiles.
"I'm just making sure I'm ready and making the adjustments I need and that I learned from last year," Olt said Monday after a workout at the Cubs Spring Training complex in Mesa. "I took a lot out of last year. It took me a while to kind of get over a lot of negative things, but when I started focusing on the positive things I did and the things I can improve on, which were slightly easy adjustments, I think it'll help me."
Olt, 26, who was the Opening Day starter at third in 2014, had a rough first season with the Cubs. He batted .160 in 89 games and struck out 100 times in 225 at-bats. His struggles resulted in a demotion to Triple-A Iowa on July 22. He was batting .139 at that time.
"I just lost confidence, and that's the most important thing about baseball is confidence," Olt said. "If you can get positive things out of the negatives, and build on that, you can get back on track, and that's what I'm trying to do."
The Minor League stint was "the best thing for me," said Olt, who batted .302 in 28 games at Iowa. He was able to play every day and simplified his swing under the tutelage of Iowa hitting coach Brian Harper.
"The pitchers up in the big leagues are not different than the guys in the Minor Leagues," Olt said. "[The big league pitchers] are able to execute their plan more. When they saw some holes in my swing, they were able to exploit it. It's all about minimizing those holes. The only way to really minimize it is to simplify everything. I don't need to generate any more power, I just need to focus on getting in a good hitting position and go from there.
"It's not like I came back from the batter's box last year and said I was overmatched at all, which is the positive I needed to take out of last year. I was never overmatched; I got myself out most of the time."
Critical fans might disagree.
"If I was a fan, I'd think the same thing," Olt said, laughing. "A big thing was confidence and realizing you belong there. That's the biggest part of being in the big leagues."
Olt's main goal now is to try not to swing so hard. He showed power in the first half last season, hitting 12 homers before the All-Star break.
"It's tough to say but when you swing hard, everything starts to fly open, and if I can be quick to the ball, I'll let the natural power take over," he said. "It's tough to tell yourself but when you can calm yourself down, you get in a good position."
How serious was he about making adjustments? When Olt reported to Iowa, he told Harper he was prepared to go 0-for-50. The goal was to develop a more consistent swing, and now, Olt feels he's ahead of schedule.
So, who's starting at third on Opening Night for the Cubs?
"In my eyes, I am, of course," Olt said.
Carrie Muskat is a reporter for MLB.com. She writes a blog, Muskat Ramblings, and you can follow her on Twitter @CarrieMuskat. This story was not subject to the approval of Major League Baseball or its clubs.