Prepping to defend AL title, Royals load up truck for spring
Toy bicycle for Gordon's kids, Hochevar's bikes, Matthews' apple box among items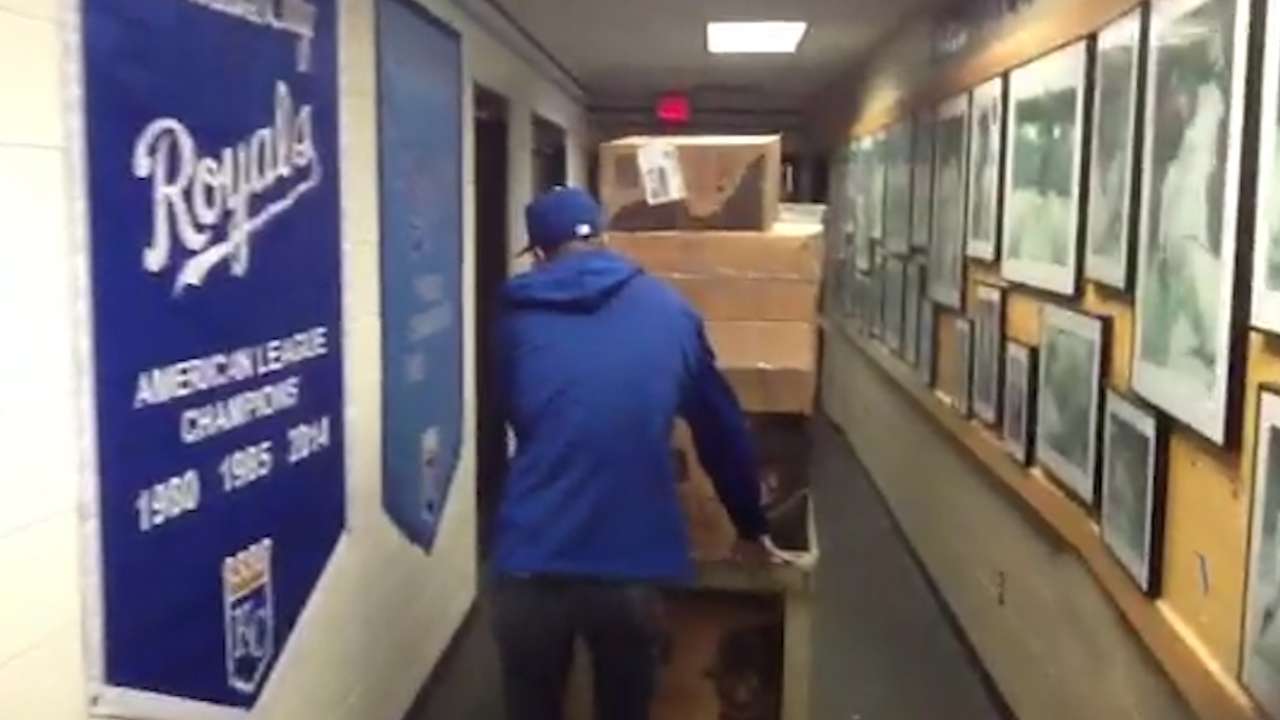 KANSAS CITY -- This is the time of year when robins get jealous -- the true first sign of spring, after all, is the Royals loading up an 18-wheeler to move all their gear and equipment to Surprise, Ariz., for Spring Training.
A large contingent of clubhouse attendants and stadium workers were on hand Tuesday morning at Kauffman Stadium packing and loading uniforms, jackets, helmets, pine tar, training supplies, energy bars, you name it.
"Everything we need to get through the next six or seven weeks," said visiting clubhouse manager Chuck Hawke, who supervised the process. "By the time we get done, we'll have about 35,000 to 40,000 pounds of stuff packed in that truck."
The truck is expected to arrive in Surprise on Friday morning. Pitchers and catchers report for Spring Training on Feb. 19.
Most of the balls and bats are shipped beforehand, though about 20 cases of rubbed baseballs (with a special mud compound) were loaded on the truck.
There were some personal items belonging to the players -- a toy bicycle for Alex Gordon's sons, Sam and Max, and Luke Hochevar's two mountain bikes.
"But we don't get as many personal items from players as we used to," Hawke said. "They tend to take care of that stuff themselves."
But one item once again found its way on board the truck -- radio announcer Denny Matthews' famous "Apple box" containing some necessary spring items for the Hall of Fame broadcaster. That box has made its way from Kansas City to Spring Training for anywhere from 20 to 25 years.
Matthews said the box is so old that its age needs to be determined like one would with a tree's rings -- by counting the amount of tape wrapped around it.
The Royals, the defending American League champions, open their Cactus League schedule on March 4 against the Rangers.
Jeffrey Flanagan is a reporter for MLB.com. Follow him on Twitter at @jflanagankc. This story was not subject to the approval of Major League Baseball or its clubs.