Ex-Tiger greats Gibson, Morris aboard as TV analysts
FOX Sports Detroit announces additions to broadcast rotation for 2015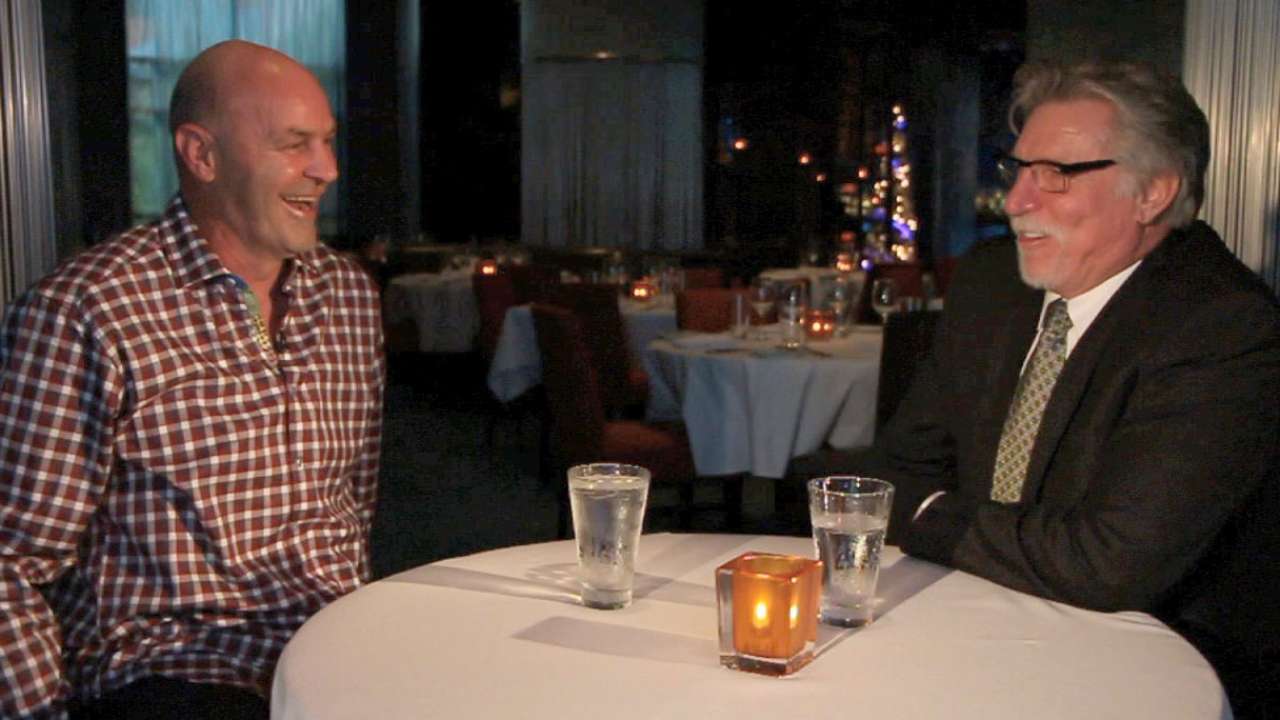 DETROIT -- Jack Morris is back in rotation for the Tigers. Kirk Gibson, his Tigers teammate in the 1980s, is joining him.
Much like the club's starting pitchers, the Tigers television analysts are going to rotate. Fox Sports Detroit announced on Tuesday that it will employ a trio of analysts this season, rotating them alongside play-by-play man Mario Impemba over the course of the schedule.
Rod Allen, who has been FS Detroit's primary Tigers analyst since 2003, will continue to work Tigers games, but he won't do the full season. Instead, he'll split games with Gibson, his predecessor on Tigers telecasts, and Morris, who broadcast six games in a late-season audition late last season.
It'll be an experiment of sorts in Detroit, where the broadcast tradition included Hall of Famer Al Kaline for years working alongside George Kell. It also included Gibson working with Josh Lewin from 1998-2001, then with Impemba in 2002.
Gibson left broadcasting for coaching when his good friend Alan Trammell took over as Tigers manager in 2003, then became a manager himself with the D-backs for the last five seasons. His return to the booth doesn't necessarily mean he's done coaching, he said. As a native Michigander who still makes his home in the state, he said the opportunity made sense.
"It's easy to be home," he said. "I have a long association with the Tigers going back to 1978, so there's a mutual fondness."
Gibson said he'll work somewhere around 60 games this season, allowing him to spend time with family and watch his son Cam play baseball for Michigan State. When he's on, however, he intends to get people thinking and talking about baseball.
"You think about any sporting event you ever watched, it stimulates great conversation," he said. "I think I'll be able to help them do that."
His time as a manager will help him in that aspect. He was opinionated in his previous broadcast stint. That said, he likes the job Brad Ausmus did in his first season as manager.
"It's a great challenge to do that job," Gibson said, "and overall nobody's going to make the right decisions all the time. I think one thing I've always done as a player and a manager is I've never given in to frustration."
Morris, also honest with his insights, will split his time between Tigers telecasts for Fox Sports Detroit and Twins broadcasts for Fox Sports North. He said at baseball's Winter Meetings that he was interested in returning and enjoyed being back in Detroit. He, too, has a history broadcasting Tigers games on WKBD in 2003.
"The fans in Detroit have always been incredible," Morris said in a statement Tuesday.
Despite the depth, FS Detroit spokesperson Courtney Welch said the network is not considering a three-man broadcast team at this point.
"The plan is for a two-man booth," Welch said.
Jason Beck is a reporter for MLB.com. Read Beck's Blog and follow him on Twitter @beckjason. This story was not subject to the approval of Major League Baseball or its clubs.