MLB.com Columnist
Jonathan Mayo
Perspectives: Mets' Ynoa tops list of sleeper prospects
Outside the Top 100 list, 21-year-old right-hander primed to make big jump in '15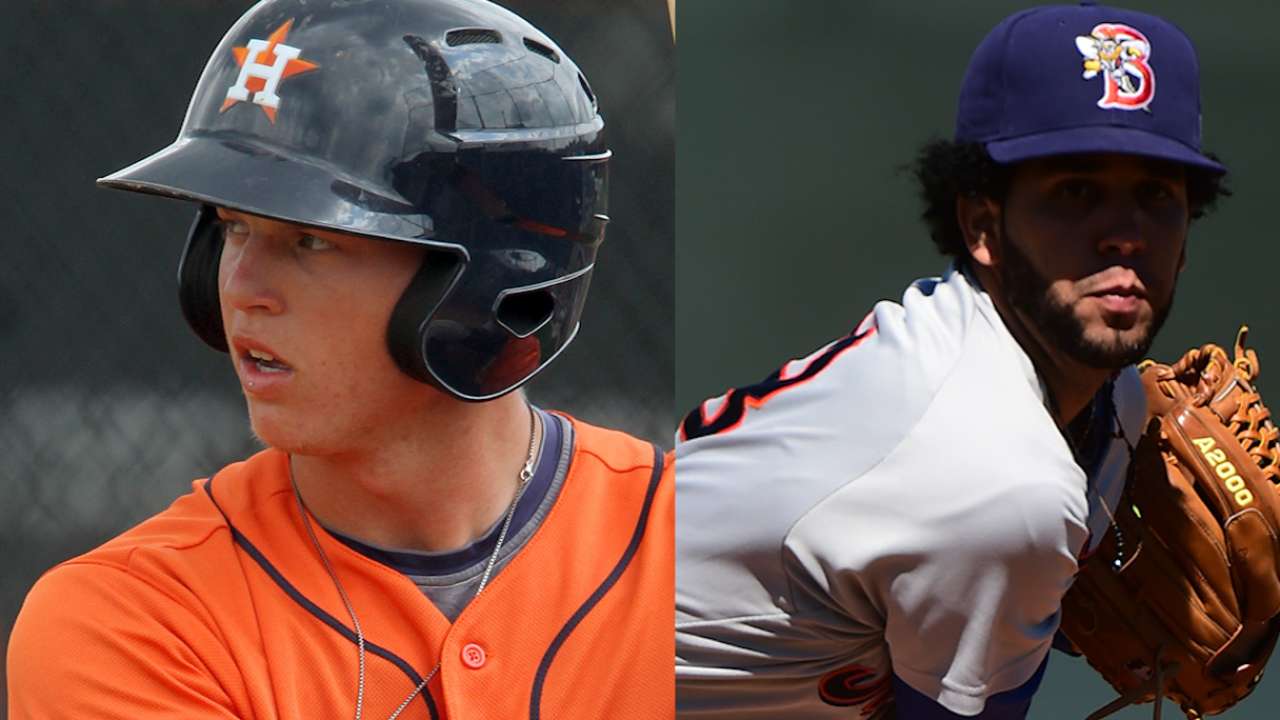 There's a good amount of subjectivity regarding baseball prospects. With the evaluation of talent being in the eye of the beholder, finding consensus is often difficult. Even Jim Callis and Jonathan Mayo of MLBPipeline.com don't always see eye to eye. They discuss their viewpoints regularly in a feature called Pipeline Perspectives. Submit a topic for them to debate.
As much time as we spend on figuring out who should go on the Top 100 Prospects list, we care about more than just the "big" names. Sure, they may get a good amount of our ink, but rest assured, we try to keep an eye on the entire prospect landscape.
While we love seeing the elite prospects live up to expectations and become exciting superstars, we also enjoy watching lesser-known Minor Leaguers jump firmly onto the prospect map with a breakout season. That's why Jim Callis and I are using this edition of Pipeline Perspectives to tackle the question, "Which sleeper not on the Top 100 Prospect list do you like best?"
A sleeper could be defined in any number of ways, but both Jim and I have chosen players who have largely been under-the-radar types, at least in terms of overall Top 100 lists. They were all on their individual team lists at the end of 2014 and will be firmly on the '15 versions coming out in March.
But neither of the players we chose -- Jim has Astros outfielder Brett Phillips and I have Mets right-hander Gabriel Ynoa -- received strong consideration for the Top 100, other than perhaps a nod as a "sleeper to consider for the future." Of the players on my top five sleepers list, Ynoa is the only one who came remotely close to the overall rankings right now:
1. Ynoa
2. Amir Garrett, LHP, Reds
3. Clint Coulter, OF, Brewers
4. Dom Nunez, C, Rockies
5. Lewis Thorpe, LHP, Twins
But a year from now, any one of them could be strong contenders. That's what we were looking at when making our choices. To me, the only way Ynoa doesn't work his way onto the Top 100 is if he pitches his way to the big leagues and graduates off the list.
That might seem far-fetched, given that Ynoa is just 21 years old and there are a slew of young pitchers in the Mets' system to compete against. But I wouldn't count out the 6-foot-2 Dominican for one simple reason: He really knows how to pitch.
There are other pitchers with better pure stuff than Ynoa, there's no question of that. He does have plenty of fastball, sitting in the low-90s and touching 95 mph, but that's not up where upper-echelon pitching prospects -- like organization-mate Noah Syndergaard -- live. Ynoa has an excellent changeup and a slider that's OK, but nothing like the exploding breaking stuff you might see from the guys at the top of the Top 100.
What Ynoa can do is throw strikes. He walked 1.5 per nine innings across two levels, reaching Double-A, in 2014. And that was a career high. It made Ynoa's career walk rate skyrocket all the way up to 1.2. He made 25 starts in 2014 and walked exactly that many batters, 25. In his Minor League career, Ynoa has issued 63 walks in 86 total games. Everyone realizes how insane that is, right?
Now, Ynoa does have some work to do. He was much more hittable last year, as he advanced, than he had been in previous seasons. Ynoa's control is impeccable, but he needs to command his pitches better, keep them down in the zone more. He needs to learn how to miss on occasion purposefully, getting hitters who are off-balance to chase.
Everything else works extremely well. Ynoa has a smooth and clean delivery that he repeats consistently well. His changeup is so effective because his arm speed never changes. If Ynoa can sharpen his breaking ball some to miss a few more bats, it could be a huge difference-maker.
I have confidence in Ynoa's ability to do all of those things for a number of reasons. Two are his plus makeup and mound presence. He doesn't get flustered on the mound and he knows how to make adjustments. I fully expect Ynoa to come out in 2015 and make the corrections necessary to succeed at the upper levels. If it all clicks and there's a need, he's the type of advanced arm that could move quickly to New York -- or at the very least, move quickly onto the Top 100.
Every fall, when I head to the Arizona Fall League, there are scouts I love to catch up with. One veteran scout I always seek out gives me a couple of players to keep an eye out for, either a sleeper not on the list or a guy he predicts will make a huge jump the following season. This past fall, he mentioned two pitchers, both in the Mets' system. One was Steve Matz, the lefty now at No. 66 on the Top 100. The other was Ynoa, who he just raved about in terms of his pitchability.
I tend to listen to this scout. Not long ago, he sang the praises of a lanky young outfielder in the Pirates' system who he said I absolutely had to move up the list in a hurry. His name? Gregory Polanco.
Jonathan Mayo is a reporter for MLBPipeline.com and writes a blog, B3. Follow @JonathanMayoB3 on Twitter. This story was not subject to the approval of Major League Baseball or its clubs.