10 awesome James Shields stats
Numbers make ace-worthy case for experienced right-hander headed to San Diego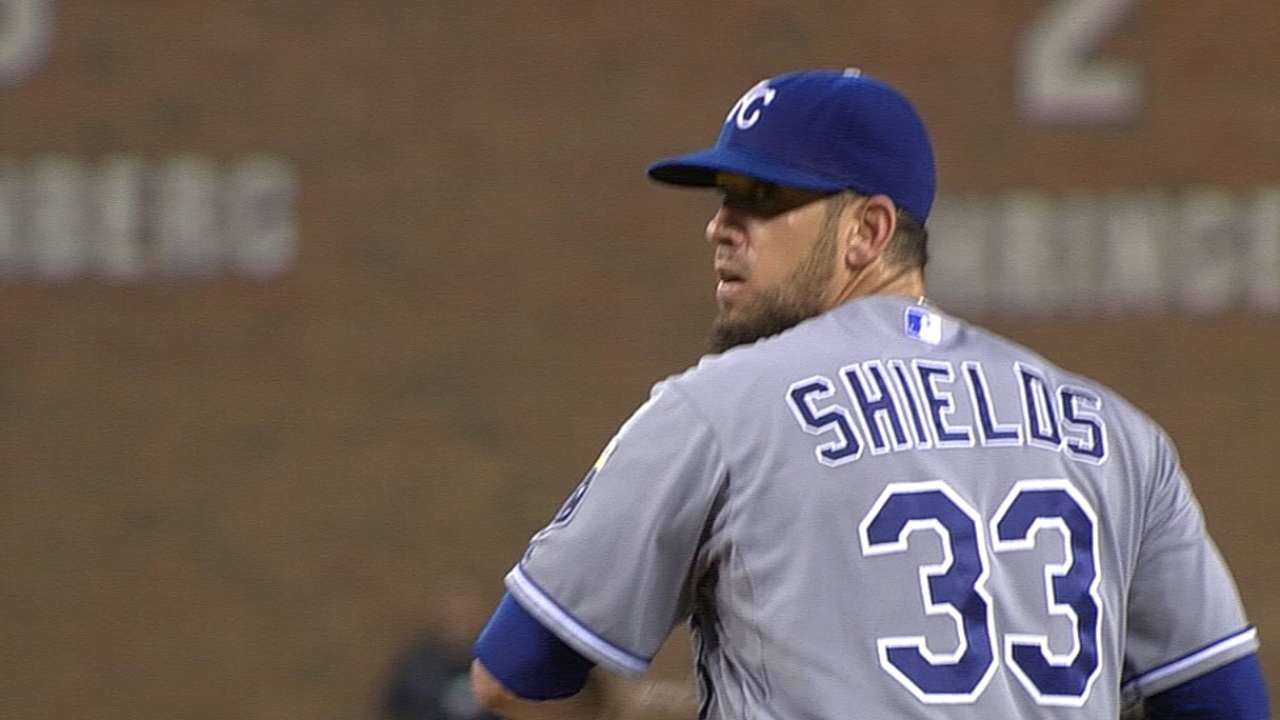 For much of the offseason, James Shields waited in the shadows, while fellow marquee free-agent starters Jon Lester and Max Scherzer soaked up the spotlight.
It was nothing new for Shields, who has sometimes flown under the radar as one of the game's most efficient starters over the past seven years. He was also often overshadowed during his time with Tampa Bay by former teammate and staff ace David Price.
All things considered, however, the Padres may have landed themselves one of the best starters in the Majors on Monday when they reportedly agreed with Shields on a four-year deal. From a durability and production standpoint, few pitchers have matched some of Shields' numbers over recent seasons.
Here's a look at some of the most impressive stats put up by the newest member of the Padres throughout his career.
1. Shields is one of only two pitchers, along with Mariners ace Felix Hernandez, to toss at least 200 innings and record an ERA+ of at least 109 in each of the past four seasons.
2. He's also in elite company when it comes to measuring his ability to limit home runs, walks and hit batters while still racking up strikeouts. Shields is one of just four pitchers (joining Hernandez, Cole Hamels and Madison Bumgarner) to pitch at least 200 innings and post a 3.60 FIP (Fielding Independent Pitching) or better in each of the past four seasons.
3. Shields notched a 4.09 strikeout-to-walk ratio and a 125 ERA+ over 227 innings last season. Those numbers made him one of only three pitchers to toss 220-plus innings, while racking up a strikeout-to-walk ratio greater than 4.00 and an ERA+ of at least 120. The two other pitchers to reach those plateaus were American League Cy Young Award winner Corey Kluber and runner-up Hernandez.
4. The right-hander was the only AL pitcher to log at least 215 innings and an ERA+ of at least 120 over each of the past two seasons. The only other pitcher to match those numbers, regardless of league, was Cardinals veteran Adam Wainwright.
5. Since 2011, Shields is 6-0 with a 3.02 ERA in regular-season starts at National League ballparks. That's the most wins by an AL pitcher in an NL ballpark without at least one loss during that span.
6. Shields leads all Major League pitchers in innings since 2007, with 1,785 2/3. Only two other hurlers -- Hernandez and Tigers right-hander Justin Verlander -- have even eclipsed 1,700 innings during that span.
7. Shields has made at least 33 starts in seven straight seasons, making him the only starter to do so over that span. Verlander has made at least 33 starts in six of those seven seasons and Hernandez has done it in five, while no other big leaguer has made that many starts in any more than four seasons since 2008.
8. Shields' 11 complete games during the 2011 season remain the most by any pitcher since 1999, when Randy Johnson fired off 12. In fact, those 11 complete games are more than all but one pitcher (Clayton Kershaw) has over the past four seasons combined. Shields has 17 complete games during that span compared with Kershaw's 16, while no other pitcher has more than 10.
9. Since 2007, Shields has 176 strikeouts against NL opponents. That total is the fourth most by any pitcher in Interleague Play, behind only Hernandez (215), Verlander (213) and A.J. Burnett (178).
10. Shields tossed seven shutout innings against the Padres on May 7 last year, his lone career start at his new home, Petco Park.
Paul Casella is a reporter for MLB.com. This story was not subject to the approval of Major League Baseball or its clubs.