Tigers taking hard look at young Cuban talent
Detroit among many teams lining up for shortstop Moncada's services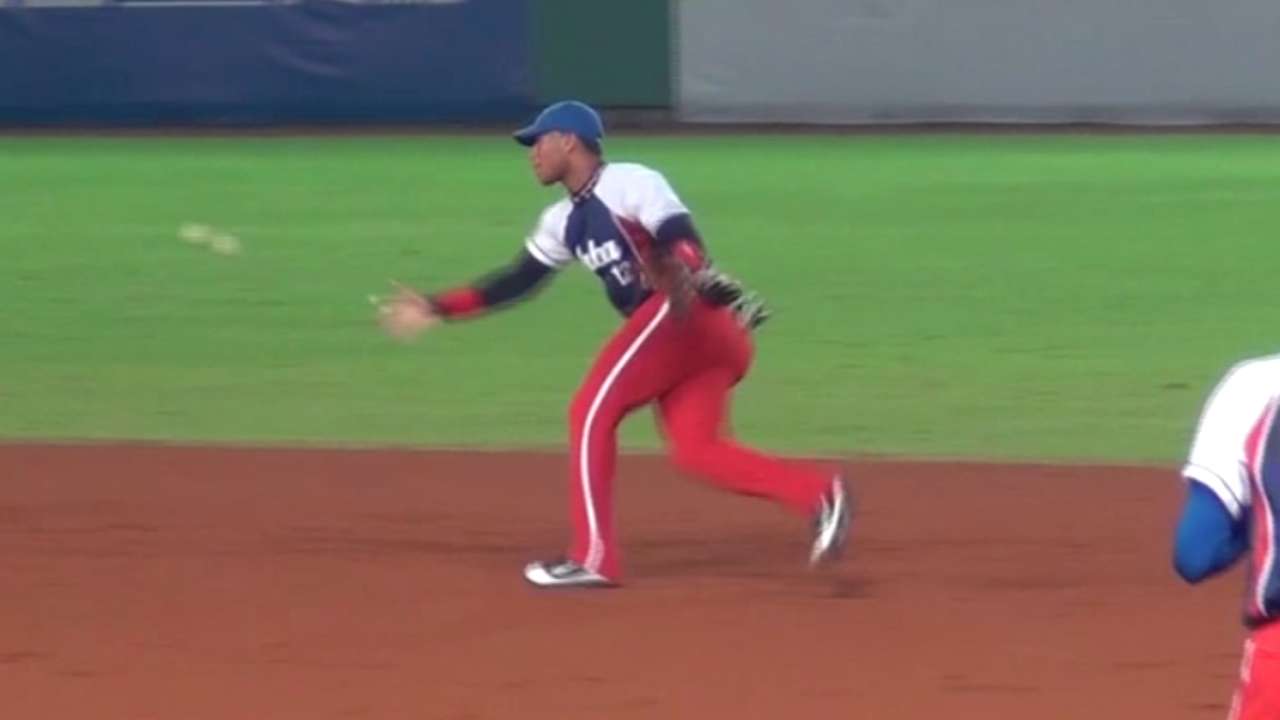 DETROIT -- The market for Yoan Moncada is expected to heat up now that the teenage Cuban shortstop is cleared to sign with a club. It might not be the only market where the Tigers get involved on a prominent Cuban player.
As the Tigers look for ways to add more young talent to their system, it could be the next wave for Detroit, which has tried to crack the Cuban market in recent years but come up empty.
While Detroit entered the conversation on Moncada last week, having worked out the highly-touted switch-hitter in Lakeland, another crop of Cuban players is beginning the same process of working out for teams. According to MLB.com's Jesse Sanchez, Cuban second baseman Hector Olivera and teenage right-hander Yadier Alvarez will work out for interested clubs in the Dominican Republic on Wednesday. Another young Cuban middle infielder, Andy Ibanez, has also been working out for teams in the Dominican recently.
Tigers international operations director Tom Moore and Latin American operations director Miguel Garcia will also be in the Dominican next week. They were in Puerto Rico scouting the Caribbean Series, including the Cuban team that won the four-nation tournament, before leaving San Juan on Sunday. The two were at Major League Baseball's international showcase on Monday, and will be looking at players beyond that.
The Tigers have made it a point for years to watch Cuban stars in international tournaments, gathering information long before a player might defect and hit the market. Scouting prominent Cuban players in workouts can be another matter.
The Tigers heavily scouted Yoenis Cespedes three offseasons ago, sending virtually every top evaluator from team president/general manager Dave Dombrowski on down to the Dominican Republic to watch him work out. They were involved in the bidding until Victor Martinez's season-ending knee injury in January 2012 prompted them to sign Prince Fielder to fill the gap. The information on Cespedes, however, came in handy this offseason when the Red Sox traded him.
Multi-tooled outfielder Rusney Castillo worked out for Tigers officials, including assistant GM Al Avila, in Miami last summer before the Red Sox signed him.
The latest crop of Cuban talent is generally younger and requires more projection. While Moncada has earned raves as potentially the best Cuban talent in years, he's expected to require some developmental time first. Ibanez is similar at age 21, while Olivera is older at 29.
The Tigers are pretty well set in their infield for now, and would be more likely interested in younger talent -- not just for their own future, but for a farm system that has lost several well-regarded prospects to trades in recent years. Like Moncada, however, Ibanez is young enough to count against teams' international signing budgets.
To break the bonus pools would mean a 100 percent penalty on average, and no signings over $300,000 for the next two years. If any team could weather that restriction from a scouting standpoint, however, it's the Tigers, who have made their mark in Venezuela finding players on a budget.
Jason Beck is a reporter for MLB.com. Read Beck's Blog and follow him on Twitter @beckjason. This story was not subject to the approval of Major League Baseball or its clubs.