Jays' Navarro a possible option if V-Mart shelved
Detroit waiting on slugger's surgery results before charting course of action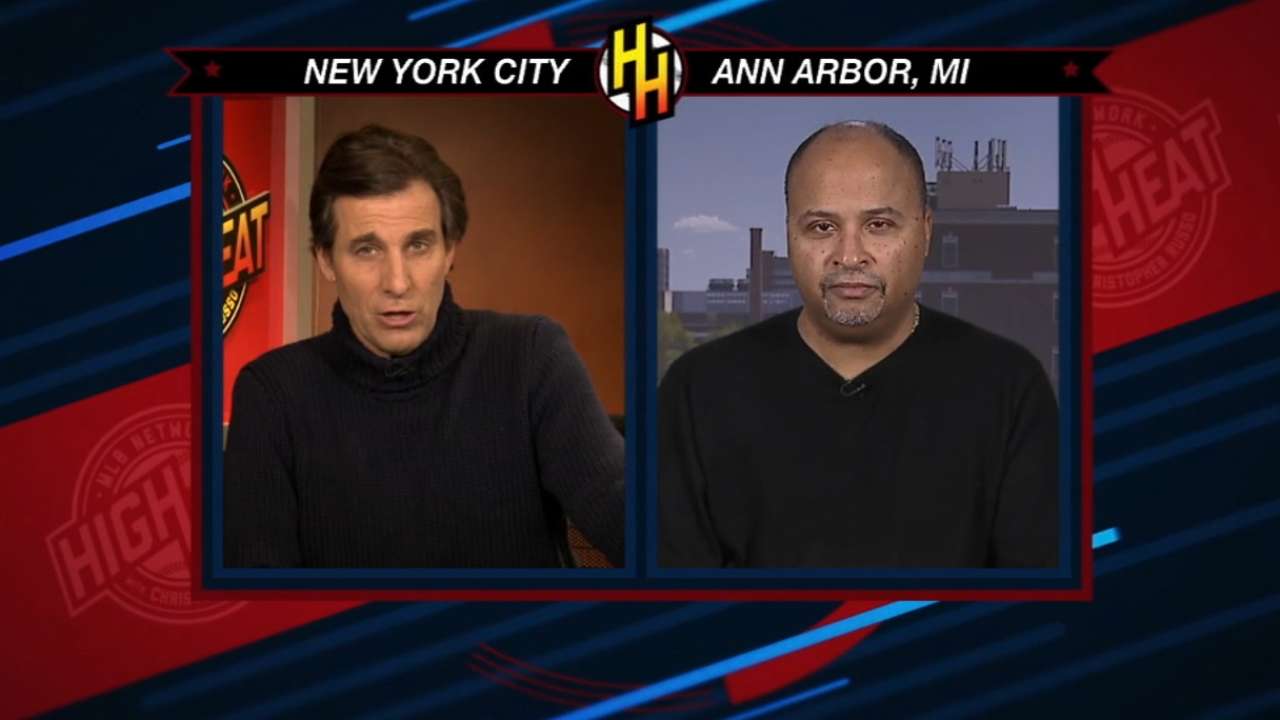 DETROIT -- The Tigers are waiting on results of Victor Martinez's left knee surgery Tuesday to see how long they should expect to miss the American League Most Valuable Player Award runnerup. In the meantime, however, they appear to be considering their options in case he's out awhile.
A Monday report from SportsNet Canada suggested the Tigers have had discussions regarding Blue Jays catcher/DH Dioner Navarro. A report later in the day from FAN 590 said the two teams have not actually had trade talks.
No deal is close on any hitter, and likely won't get that far unless Detroit gets a worst-case scenario on Martinez. If that happens, though, expect the Tigers to look into a move -- if not for Navarro, then somebody else.
Navarro started 102 games at catcher for the Blue Jays last year, but it's his bat that would interest the Tigers. He hit .274 with 12 home runs, 69 RBIs and a .712 OPS last year over a career-high 481 at-bats. He became a backup option behind the plate once Toronto signed Russell Martin. And at $5 million, he'd be a high-priced reserve.
Navarro hit Tigers pitching when they visited Toronto last August, going 6-for-14 with a home run and three RBIs over the three-game series.
Just as important, Navarro is a switch-hitter, which would address a serious lineup imbalance the Tigers would face without the switch-hitting Martinez for an extended stretch. Alex Avila and speedster Anthony Gose are the only left-handed hitters projected to start in Detroit's lineup, and Avila's slugging percentage fell to .359 last year.
Martinez was diagnosed last week with a torn meniscus, and will undergo surgery Tuesday morning. Depending on what Dr. James Andrews finds, the timetable for Martinez's return could be either weeks or months.
The expectation is that Martinez will have a partial repair, essentially clipping the torn cartilage rather than reattaching it. Recovery from such a procedure usually takes 4-6 weeks, though Martinez could take another week or two given his age and previous surgeries on the knee.
If Dr. Andrews does a full repair and reattaches or replaces the meniscus, however, Martinez could miss anywhere from 12 weeks to six months, according to orthopedic surgeon Dr. Victor Khabie.
"Losing a guy like Victor for any length of time is a big blow," manager Brad Ausmus said last week. "Losing that bat, especially when [he's] really the one power threat from the left side [is tough]."
Adding to the uncertainty is Miguel Cabrera's recovery from offseason surgery to repair a stress fracture in his right foot as well as remove a bone spur from his right ankle. He has a followup exam scheduled for next week, after which he could resume baseball activity. However, the Tigers don't know yet whether Cabrera will have enough time to be ready for Opening Day.
If the Tigers decide to make a move, they'll likely have other options. The Red Sox have a surplus of hitters that potentially includes switch-hitting outfielder Daniel Nava. The Dodgers still have more outfielders than outfield spots, including high-priced Andre Ethier. The Phillies have slugging first baseman Ryan Howard. It's difficult to see the Tigers seriously considering the latter two unless the other team takes on most of the contract.
Jason Beck is a reporter for MLB.com. Read Beck's Blog and follow him on Twitter @beckjason. This story was not subject to the approval of Major League Baseball or its clubs.