Even with success, Fien has 'something to prove'
Twins setup man takes nothing for granted after uneven start to career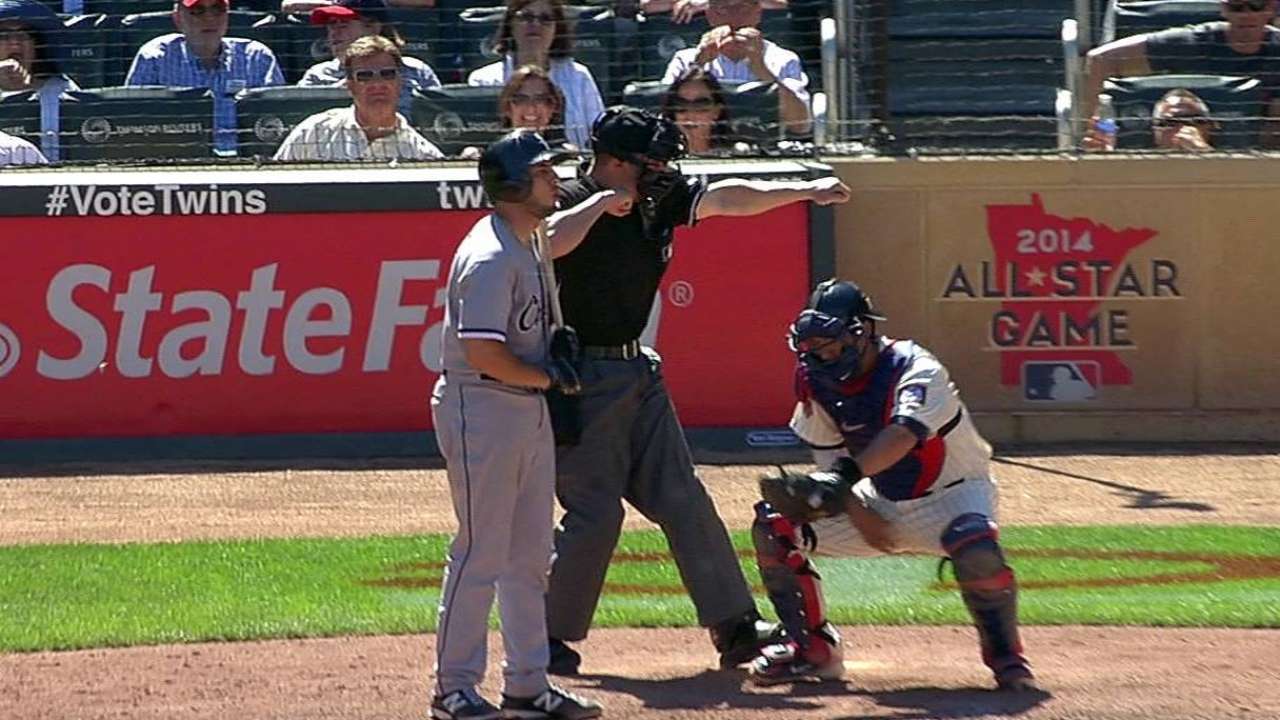 MINNEAPOLIS -- It was just three years ago that Casey Fien was pitching in the Mexican Pacific League in the offseason, hoping to get noticed by a Major League club.
Fien had been released by the Astros after the 2011 season after spending the year at Triple-A, and he had just 11 career big league appearances under his belt with the Tigers in 2009 and '10 with an unsightly 8.36 ERA. But the Twins saw enough from Fien that winter to sign him to a Minor League deal to give the club some organizational bullpen depth.
But Fien proved to be much more than that and quickly excelled at Triple-A Rochester before getting a shot with the Twins in July of 2012. The right-hander was a pleasant surprise the rest of the year, and he has kept it up since then, as he has a 3.54 ERA and 156 strikeouts in 160 1/3 innings over his last three seasons.
The 31-year-old is now primed to be Minnesota's top setup reliever to closer Glen Perkins after the departure of Jared Burton, but given his long road to the Majors, Fien isn't taking anything for granted.
"This year, after the last three years of at least 90 losses, I'm coming in like I need to earn my job again," Fien said. "Things need to get shakin' up. I'm coming in just like it was 2012 and no one thought of me to make the team. So I think it'll make me better and push me and hopefully push everyone else."
As Fien alluded to, the Twins did shake things up this offseason with the hiring of Paul Molitor as manager to replace Ron Gardenhire, as well as the hiring of Neil Allen as pitching coach and Eddie Guardado as bullpen coach.
Fien said he's going to lean on the new staff to help him, as he's struggled in the second half of the season the last two years. Last season, he had a 2.23 ERA in the first half but a 7.04 ERA in the second half. Fien attributed it to fatigue.
"The last two years, I've had a rough second half, so I need to figure that out," Fien said. "Maybe Eddie Guardado can help me out and show me how to warm up better or maybe not throw so many pitches in the bullpen. I can't wait to work with him."
Fien, who ranked eighth in the Majors in holds last year with 26, added that he plans on coming into Spring Training with a clean slate, especially considering Allen, who came from the Rays' organization, doesn't know any of the Twins' pitchers.
"As a reliever, you always have something to prove," Fien said. "There's always [players] coming up, and if a starter doesn't do well, they move them to the 'pen. So I always have somebody behind me, and I'll never lose that focus. Once you think you're established, that's when things go bad for you."
So far, it's been a mentality that's worked out well for Fien since his winter pitching in Mexico.
Rhett Bollinger is a reporter for MLB.com. Read his blog, Bollinger Beat, and follow him on Twitter @RhettBollinger. This story was not subject to the approval of Major League Baseball or its clubs.