Zunino refining swing with right-center approach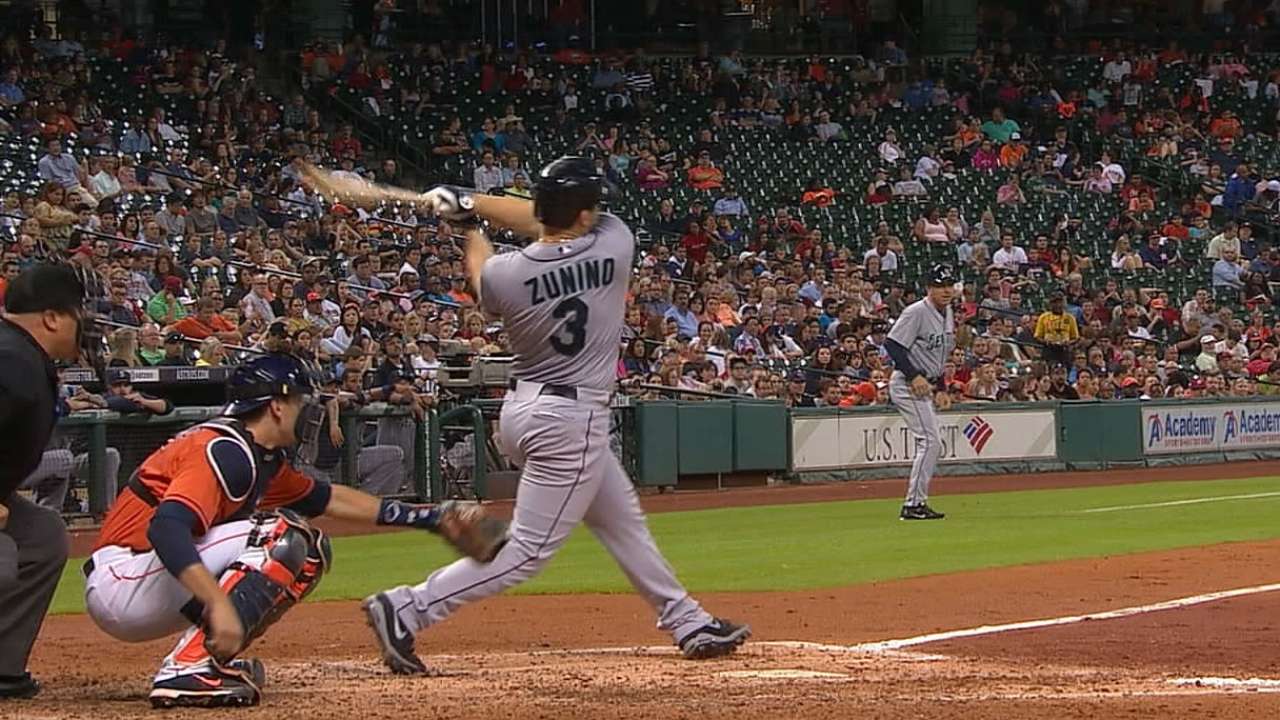 SEATTLE -- Mike Zunino proved two things last year for the Mariners.
The young backstop ranks among the game's premier up-and-coming catchers, a quality receiver who proved fully capable of handling one of baseball's best pitching staffs in his first full season as a starter. And Zunino has some serious pop in his bat, clubbing 22 home runs, a Mariners record for a catcher.
Now the challenge for the 23-year-old Florida native is to take the next step and become a more-complete offensive player after batting just .199 in 131 games in 2014. And manager Lloyd McClendon believes that is the only thing standing between Zunino and All-Star status, which the skipper feels isn't far away for a youngster who zoomed from being the third pick in the 2012 Draft to the Mariners' starting catcher in less than two years.
"The natural progression is he knows the league a little better from an offensive standpoint now," McClendon said. "He's got to become a better hitter. We know he has the power. But he has to commit himself to becoming a better hitter, shorten up his stroke in certain situations, and he's committed to doing that. I'll remind all of us that it's just not that easy sometimes. Hitting the baseball is probably the most difficult thing to do in any sport. He'll get better. He'll work at it."
Zunino managed the rare feat of totaling more extra-base hits than singles last year. His 22 homers, two triples and 20 doubles added up to 44 extra-baggers compared to 43 singles, which is why Zunino ranked fifth on the team in slugging percentage at .404 despite his lowly batting average.
It's not hard to see how Zunino can improve his overall offense by taking more of what the pitchers are giving him rather than looking to pull the ball as much, and Zunino spent the first part of the offseason pondering those possibilities before getting back to work at the University of Florida in recent weeks to focus on refining his swing.
"You check out your highlights or whatever from last year, and see where you had success, and sort of take a step back from the season and how guys attacked you and what you were doing," Zunino said. "It was nice to take a little time, totally clean the slate off and get back in the batting cage. You start with the basics. It's been feeling really good."
Zunino, the son of Reds scout Greg Zunino, has always been a student of the game. He watches opposing hitters and how they react to his own pitchers' offerings, so the trick now is to apply some of that to his own approach at the plate. After some offseason conversations with McClendon and hitting coach Howard Johnson, he's ready to put things into play.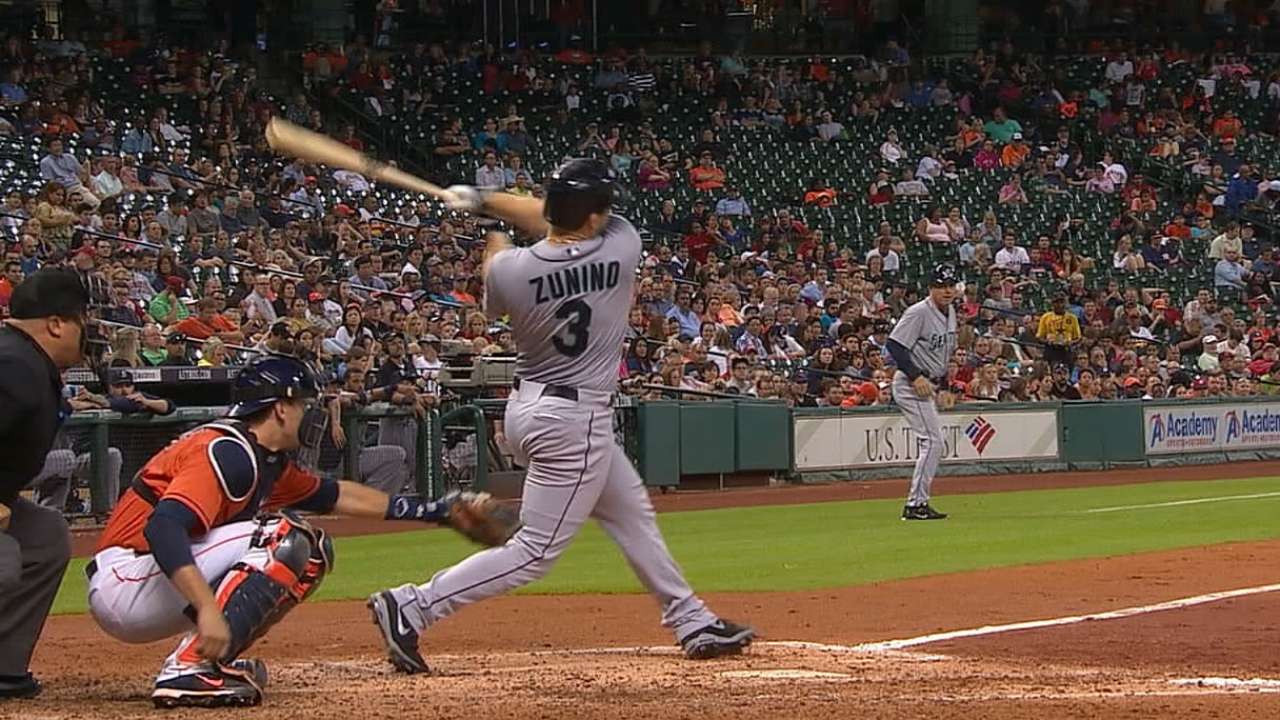 "For me, it's just totally committing on going to right-center," Zunino said. "That's been my strength for a while, and that keeps my bat in the zone longer. When you don't feel 100 percent or start to get a little fatigued, you try to generate too much, and that was pulling me off my swing. If you can get that path to right-center and stay balanced, I think that's going to be the key to changing things."
With all the talk about adding newcomers Nelson Cruz, Seth Smith and Justin Ruggiano to the lineup, Seattle's success also will come down largely to the continued maturation of youngsters like Zunino, Dustin Ackley, Brad Miller and Chris Taylor. And if Zunino takes a solid step toward becoming a better all-around hitter, that will add another potent right-handed bat to the mix.
With pitchers and catchers set to report to Peoria, Ariz., in less than two weeks, Zunino is eager to see how it's all coming together for a club that improved by 16 wins last year, finishing at 87-75.
"You see all the moves and everything they're doing, and we're feeling really good," he said. "There's only excitement out here and a good buzz. I think we're all ready to get back to work and pick up where we left off last year."
Greg Johns is a reporter for MLB.com. Follow him on Twitter @GregJohnsMLB as well as his Mariners Musings blog. This story was not subject to the approval of Major League Baseball or its clubs.