Inbox: Whose comeback is most critical to Tribe?
Beat reporter Jordan Bastian answers Cleveland fans' questions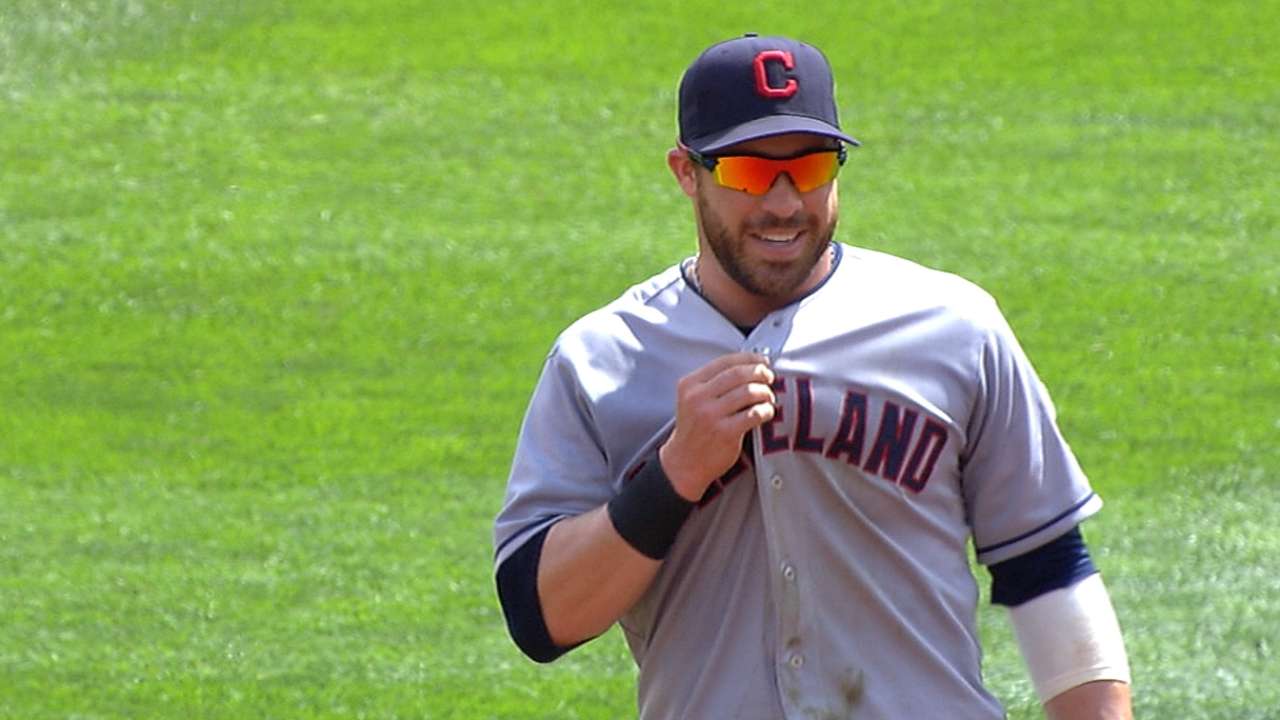 The Tribe has a large number of players who had down years in 2014, whether from injuries or poor performance. The list includes Michael Bourn, Gavin Floyd, Jason Kipnis, Zach McAllister, Brandon Moss, David Murphy, Ryan Raburn, Nick Swisher and Josh Tomlin. From that group, which two comeback candidates do you think are the most critical to the Tribe's 2015 success?
-- Richard S., Evansville, Ind.
From that list of players, I would put Bourn and Kipnis first and second in terms of importance for the team's lineup and the Tribe's overall success. I believe Cleveland has the pitching depth to withstand any setbacks from the starters you mentioned (Floyd, McAllister or Tomlin), and I think the addition of Moss can help make up for any continued issues with guys like Swisher, Murphy or Raburn.
Bourn sticks out to me, not only in light of the diminished stolen-base totals in his time with the Indians, but because of his drop in on-base production. In his two years with Cleveland, the leadoff man has posted a .315 on-base percentage to go along with a .675 OPS. Prior to signing with the Tribe, Bourn had a .348 OBP and .726 OPS across the 2009-12 campaigns.
Submit a question to the Inbox.
Over the past two years, Bourn has dealt with hamstring issues and the center fielder is hoping his offseason training this year will help prevent similar problems. I doubt we'll see the same Bourn who averaged 54 stolen bases per season from 2009-12, but an improved on-base percentage would certainly position the him to increase the average of 16 thefts he turned in over '13-14.
Kipnis, who was an All-Star in his breakout season in 2013, dealt with a right oblique issue that seemingly sapped his power to the opposite field last season. Many of the second baseman's peripheral statistics in '14 were in line with his career production, but Kipnis saw his slugging percentage drop to .330 after a .452 showing in the prior season. Like Bourn, a healthy Kipnis does wonders for igniting the offense.
Floyd provides some leadership and depth for Cleveland's talented young rotation, but his arrival has the potential to push Tomlin to Triple-A and McAllister to the bullpen to open the season. Raburn will be important for facing left-handed pitching, and Murphy currently gives the Indians outfield depth while the team monitors the respective comebacks of Moss (right hip) and Swisher (both knees).
I plan on going to an Indians game in this summer. How different will it be from the Progressive Field we've seen the past 20 years?
-- Kenny K., Elyria, Ohio
From behind home plate, expect to see a new wide-open view of the downtown section around the corner of E. 9th St. and Eagle Ave. The Market Pavilion and pedestrian bridge, which both used to block part of the view of the city, have been removed. The bullpens will also be stacked and in center field now. You'll find a new two-story bar in the right-field corner, an upgraded Kids Clubhouse (two levels) and tiered sections of party decks in the upper deck in right field. Plus, you'll find some local restaurants (Melt, Barrio and Sweet Moses) will now have concessions stands in the revamped Right Field District.
Numerologists want to know: What uniform number will Floyd wear?
-- @Monte_Colorman (via Twitter), Solon, Ohio
Floyd will don the digits first worn by an Indian in 1931 (Oral Hildebrand) and most recently in 2013 (Scott Kazmir). If No. 26 is as kind to Floyd as it was to Kaz, then that will be great news for Cleveland. Like Kazmir two years ago, Floyd will be aiming for a strong comeback campaign. In two years as the Indians' pitching coach, Mickey Callaway has gained a strong reputation for helping turning pitchers around. The Tribe is hoping the same will apply to Floyd.
I know the Indians have a logjam in the outfield, but do you see Dayan Viciedo (recently designated for assignment) being a possible pickup for Cleveland? He has played outfield, third base and first and is for sure a power threat. Do you see him as a fit?
-- Luke O., Stow, Ohio
I understand why many Indians fans have written in about Viciedo. He's 25 years old. He bats right-handed. He hits home runs. Even with all of that being true, I don't see him as a fit. He is rated as one of baseball's worst defensive outfielders and he hasn't been much better in his career at first (minus 17.7 UZR/150) or third base (minus 19.7). His slugging percentage dropped to .405 in 2014 from .426 in '13 and .444 in '12. He has a .298 career on-base percentage and his platoon splits are actually reversed over the past two seasons combined (.692 OPS against lefties and .711 OPS against righties). Given Cleveland's emphasis on platoon advantage and the team's need for improved defense, I don't see Viciedo as a match.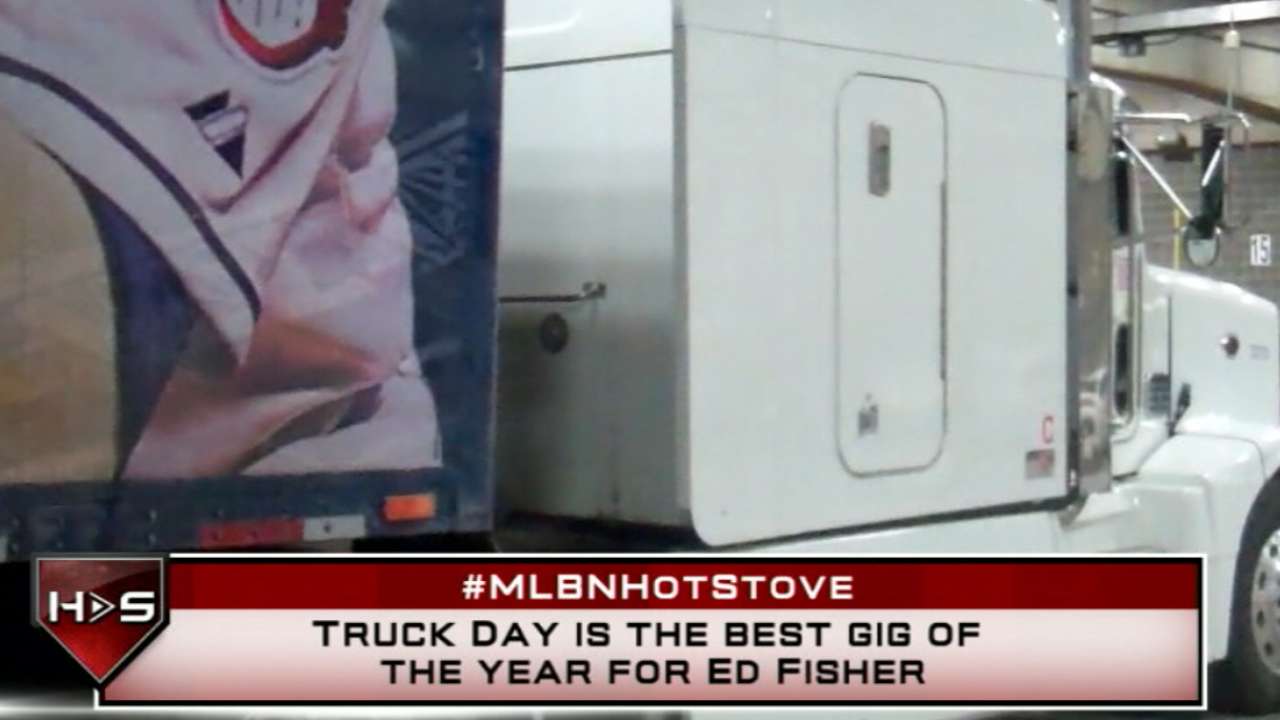 Will Anthony Swarzak be tested primarily as a relief option, or will he be given starting chances in Spring Training?
-- Steve A., Hudson, Ohio
Indians manager Terry Francona loved the signing of Swarzak to a Minor League contract due to the pitcher's experience with enduring a high volume of innings out of the bullpen. Cleveland plans on throwing Swarzak into the mix for a relief job this spring -- similar to Scott Atchison a year ago. Swarzak logged 68 innings (2014), 96 innings (2013) and 73 1/3 innings (2012) in each of the past three years as a reliever. He is not currently in the mix as a starting option.
With Jason Giambi reportedly mulling an off-field position in the organization, what is the possibility that a new type of position could be created for him? I'm thinking the best way to utilize what he brings to the ballclub would be to make him the first-ever "Clubhouse Coach." Thoughts?
-- Jason C., Johnsville, Ohio
I like the way you're thinking, but creating such a role would go against Major League Baseball's rules for uniformed coaching staff members. Each team is allowed to have six coaches -- seven if the team has an assistant hitting coach like Cleveland does. The jobs include bench coach, pitching coach, bullpen coach, hitting coach, first-base coach and third-base coach. If the Indians hired Giambi as a Minor League coach or instructor, or a front-office advisor, he could surely make trips to Cleveland at points during a season.
Since Corey Kluber is making the league minimum, do you think that the Indians should issue a bonus check to the pitcher for doing such a good job in 2014?
-- Roger F., Sylvania, Ohio
Almost every player has awards bonuses built into their contract. In Kluber's case, the right-hander did indeed earn a $10,000 bonus for winning the American League Cy Young Award. During future contract negotiations, whether for an extension or year-by-year arbitration talks, there will continue to be similar bonuses added into the deals.
Jordan Bastian is a reporter for MLB.com. Read his blog, Major League Bastian, and follow him on Twitter @MLBastian. This story was not subject to the approval of Major League Baseball or its clubs.