Inbox: Will Moncada end up with Yankees?
Beat reporter Bryan Hoch answers fans' questions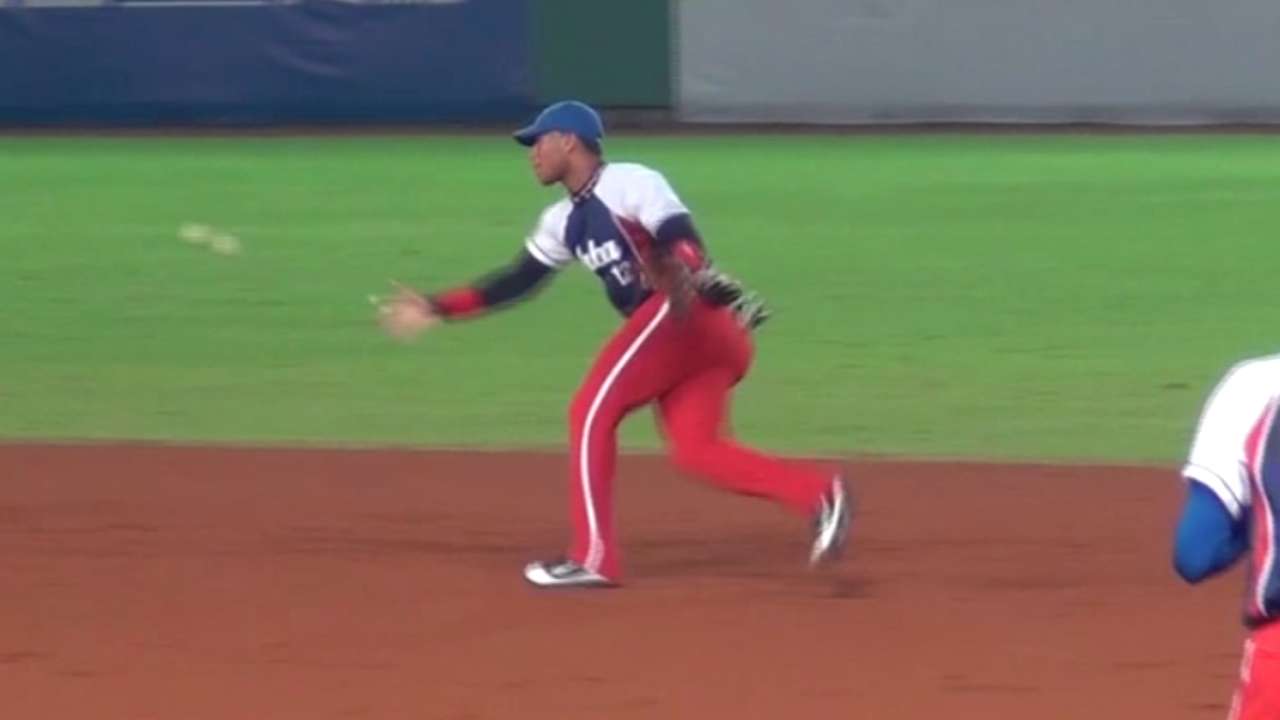 There is already some stirring behind the chain-link fences at the Yankees' training complex in Tampa, Fla., and it'll continue to pick up steam in the next two weeks as players begin reporting to camp. Here's what fans are talking about this week:
Do you think the Yankees will try to sign Yoan Moncada? He would fit perfectly in the farm system.
-- Patrick H., Newport, R.I.
Oh, yes. Since the baseball world has a touch of Moncada fever right now, this is a good time to reiterate that the Yankees remain the favorite landing spot for the 19-year-old switch-hitter. The Yanks have scouted him extensively, including a private workout in Tampa, and project him as a future second baseman or third baseman if he were to join their farm system. Moncada would have every opportunity to advance through the Minor League system rapidly if he signed, and the club doesn't appear to be shaken by the fact that it would take a substantial investment to bring him in.
A popular estimate pegs Moncada's expected bonus between $40 million and $50 million (though some wonder if that price tag might wind up lower), and for the Yankees, that becomes even pricier considering that they are subject to a 100 percent tax because they've already blown well past their allotted international bonus pool. Since they're already prohibited from signing any pool-eligible player for more than $300,000 during the next two signing periods following their July international spending spree of more than $15 million, it could make sense for the club to write that big check for a talent whom evaluators say could have been the top pick in this past year's First-Year Player Draft, had he been eligible. Moncada would fit into any team's farm system.
Submit a question for the Inbox.
Only two of the projected starters for the Yankees pitched more than 100 innings last season: Masahiro Tanaka had 136 1/3 and Nathan Eovaldi had 199 2/3. How will that impact the number of innings we can expect from them in 2015?
-- Sharon L., Laramie, Wyo.
Manager Joe Girardi raised a good point recently regarding Eovaldi, noting that the Yankees had one starter who stayed in the rotation all of last season, Hiroki Kuroda. They squeezed 199 innings out of Kuroda in what appears to have been his final big league campaign, and so the Yanks feel like they have essentially replaced that by trading for the 24-year-old Eovaldi, who obviously has age on his side as he attempts to harness his stuff in the American League East. You still want the innings to be quality, but that durability and strength was a big plus toward making the trade with the Marlins, especially considering the other question marks that you alluded to.
As far as Tanaka, that's one of the great unknowns of this season -- even more crucial to the Yankees' hopes than what Alex Rodriguez has left in the tank. Tanaka returned to Japan as a healthy player and was able to go through what the Yanks say was a normal offseason, needing no special attention to the partially torn right ulnar collateral ligament in his right arm. It's possible that he could go through the entire year without a blip, or there could be one pitch in a Spring Training game that knocks him out for the next 12-18 months. At some point, you'll stop watching every pitch with some anticipation of injury, but Tanaka will never be considered completely out of the woods.
The Yankees were saying around this time last year that they would place no inning restrictions on Tanaka, and because of the July injury, he fell well short of where they projected him to be. As a refresher, Tanaka arrived in the United States with a substantial workload entering his age-25 season -- 1,315 innings in Japan. By comparison, Felix Hernandez had thrown 1,154 2/3 big league innings at that point, CC Sabathia had 972 2/3 and Clayton Kershaw had 944. One final note here: Though Michael Pineda only pitched 76 1/3 innings in 2014, the Yanks believed at this point last year that he would have no issues getting above 170, and so that should again be a realistic goal here in 2015.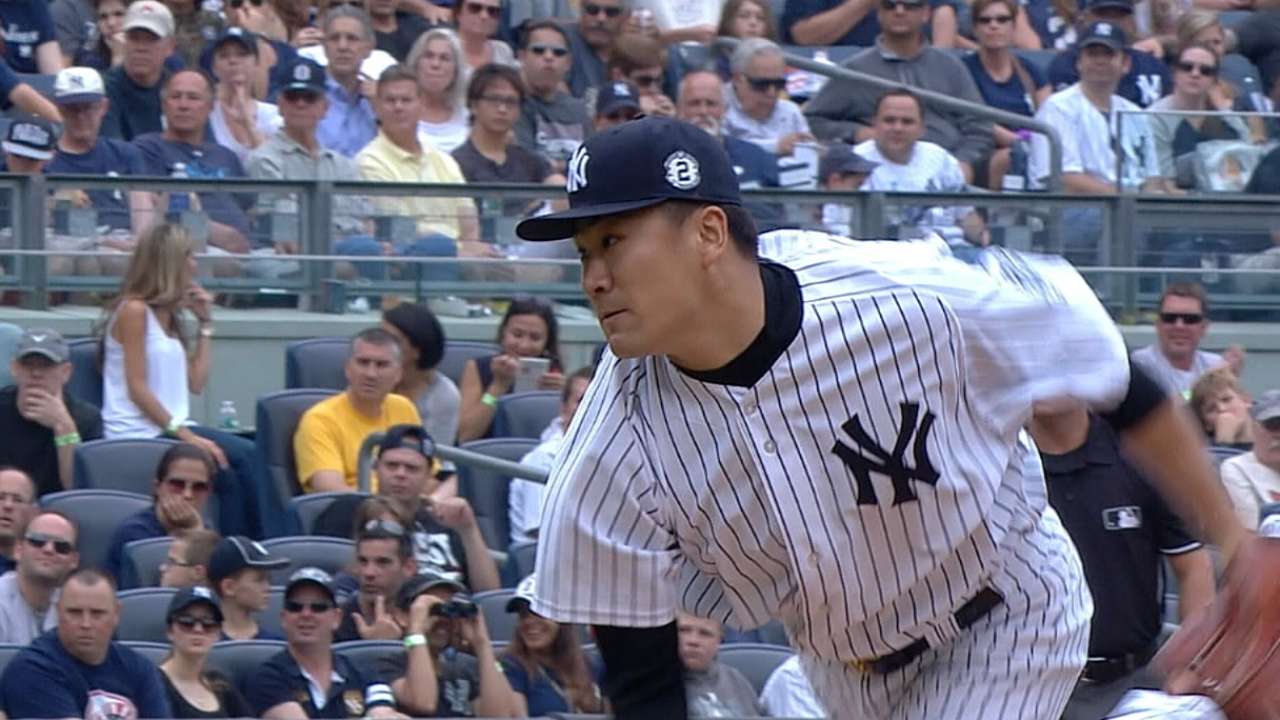 Adam Warren will be in the starting rotation. What you think about that?
-- Don I., Warwick, R.I.
Could be. Warren is preparing for Spring Training as a starter, and he could fill a variety of roles for the 2015 club. It's easier to transition a pitcher from a starter to a reliever, if necessary, rather than to build them up to join the rotation. As of now, Warren projects to compete with Chris Capuano for the final rotation spot. Girardi recently said that he was pleased by how Warren rebounded from a rough July and finished his year on a strong note. Warren will certainly help them in some capacity.
Do you see Carlos Beltran getting back to his normal numbers if he stays healthy?
-- Chris B., Middlesex, N.J.
This is the time of year when I love flipping through those glossy magazines with the stat projections (usually procrastinating while I'm supposed to be grocery shopping) to see what numbers the computers are spitting out for players before a pitch has even been thrown. In Beltran's case, many of those advanced models see him having a better season than 2014, and that makes sense. Just on the eyeball test, that wasn't the real Beltran -- certainly not what the Yankees were paying $15 million for. In theory, an elbow bone spur is something that he should be able to come back from with minimal effect.
But let's hold up on writing in that excellent 2013 St. Louis line of .296/.339/.491. Beltran will be going into his age-38 season, and so it seems reasonable to think Beltran's performance should be somewhere between his '13 and '14 numbers. The Fangraphs and Steamer advanced models crunched the numbers and seem to agree within a few notches of a .260 average, 17 homers, 55 RBIs and an OPS between .748 and .762, given 415 to 453 at-bats. Not exactly All-Star production, but it's an improvement over what was there last season. Who knows if that's how the numbers actually wind up, but it's fun to think about.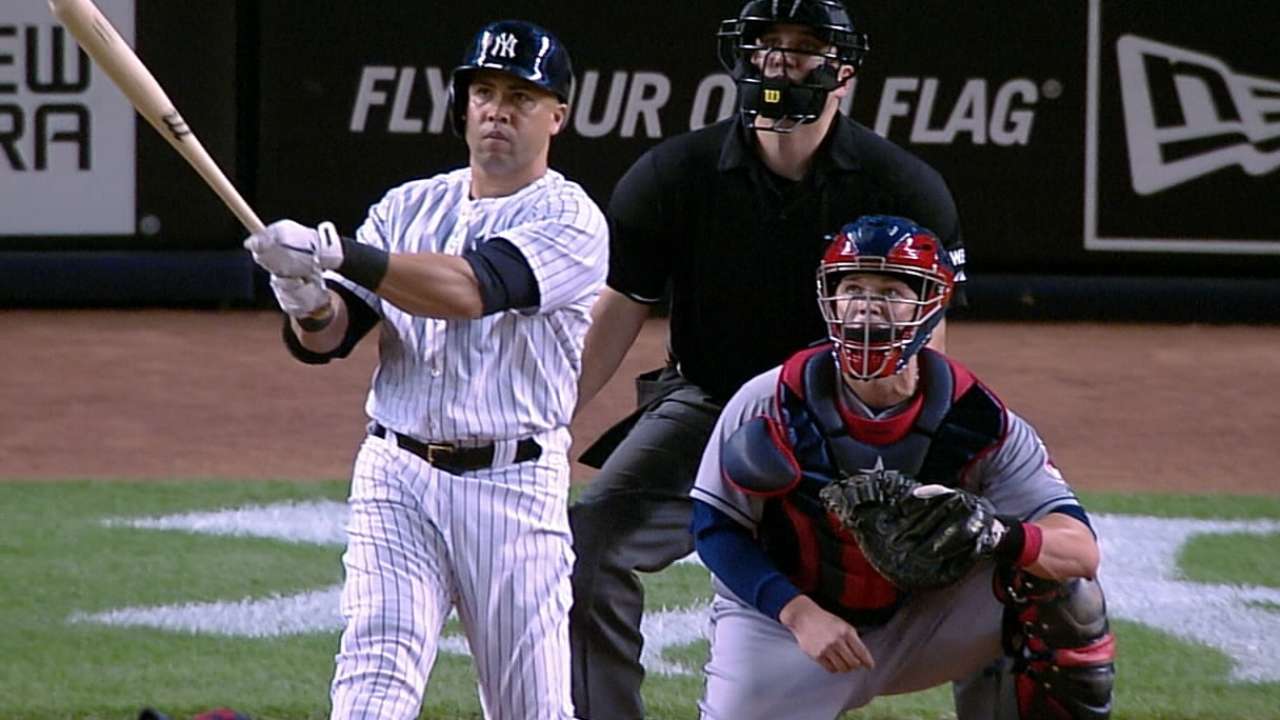 Bryan Hoch is a reporter for MLB.com. Follow him on Twitter @bryanhoch and read his MLBlog, Bombers Beat. This story was not subject to the approval of Major League Baseball or its clubs.