Finnegan prepared to compete for roster spot
With Royals' rotation likely set, left-hander could join bullpen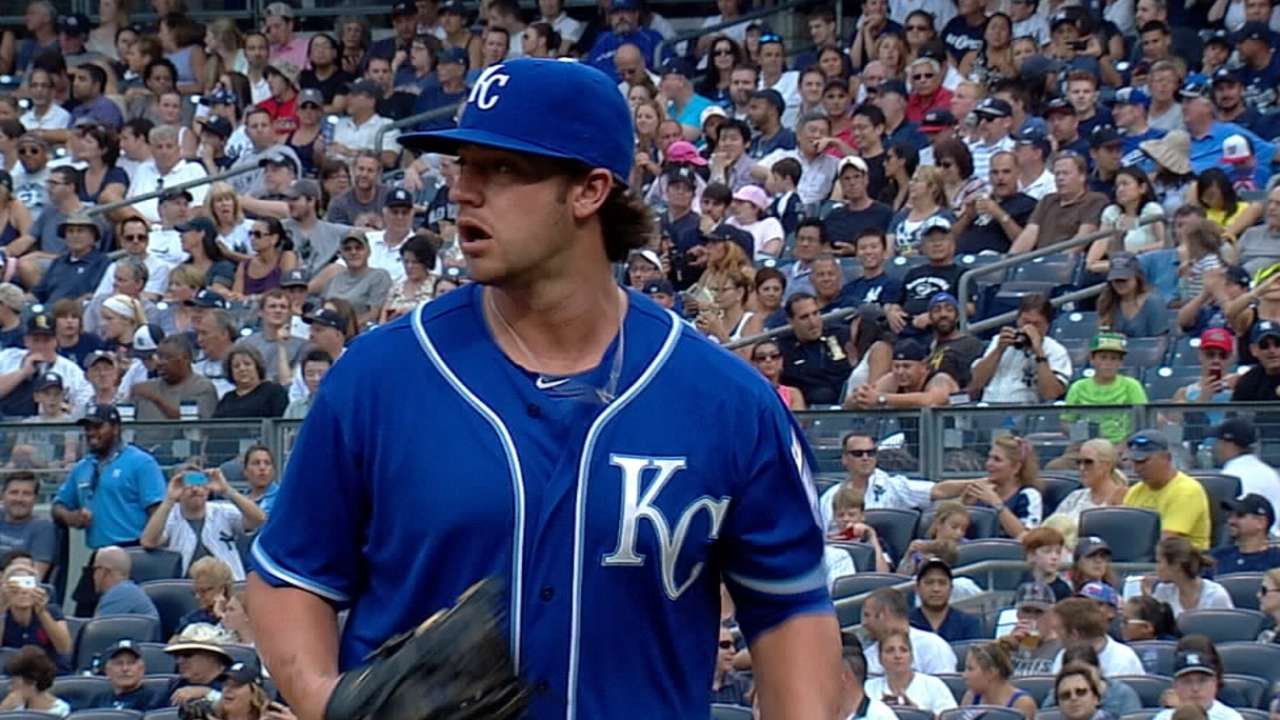 KANSAS CITY -- Royals rookie left-hander Brandon Finnegan will never forget 2014.
Finnegan became the only player in history to pitch in the College World Series (with TCU) and Major League Baseball's World Series in the same year.
But that accomplishment doesn't guarantee Finnegan anything; he will be facing an uphill battle just to make the Royals' roster in 2015.
There is no spot for Finnegan in the rotation, which is set with Yordano Ventura, Danny Duffy, Jeremy Guthrie, Jason Vargas and Edinson Volquez.
And the Royals will have to decide whether it is more beneficial to use Finnegan in the bullpen, where he excelled last September, or in the Minor Leagues as a starter.
"That is what we have Spring Training for," manager Ned Yost said. "I do know that he has a bright future, no matter what we decide for him."
Finnegan, the Royals' top pick in the Draft last June, was brilliant down the stretch in the regular season, pitching in seven games and posting a 1.29 ERA. He had his ups and downs in the postseason, though he did record a victory in the American League Division Series against the Angels.
"I'm the type of guy who knows nothing is going to get handed to me," Finnegan said. "That's the way it was for me at TCU. I knew I had a spot on the team, but you still want to be the No. 1 guy, so I always had to fight for that.
"It's going to be weird not having a set spot on the team, but I'm going to give it all I got. There's always room for improvement, and that's what I'm going to keep trying to do."
According to Finnegan, his success last season should be a confidence builder.
"I never made it more than what it was," he said. "The World Series and all of that -- it was just baseball to me. I think that really helped me, having that kind of attitude."
Finnegan knows his best chance at making the Royals' roster likely will be out of the bullpen.
"Whatever they want, I'll do," he said. "I would be glad to be in the bullpen. I liked hanging with the guys down there. But I can be a starter, too. I've been a starter all my life. I just want to win a spot on the team and help them out."
That mission will start at the end of next week when pitchers and catchers report.
"I've never experienced Spring Training," he said. "But I know it will be intense for me. It will be tough, but it's nothing I can't handle."
Jeffrey Flanagan is a reporter for MLB.com. Follow him on Twitter at @jflanagankc. This story was not subject to the approval of Major League Baseball or its clubs.