MLB.com Columnist
Richard Justice
Shields knows how to give a team a lift
Padres will benefit from signing of workhorse with history of winning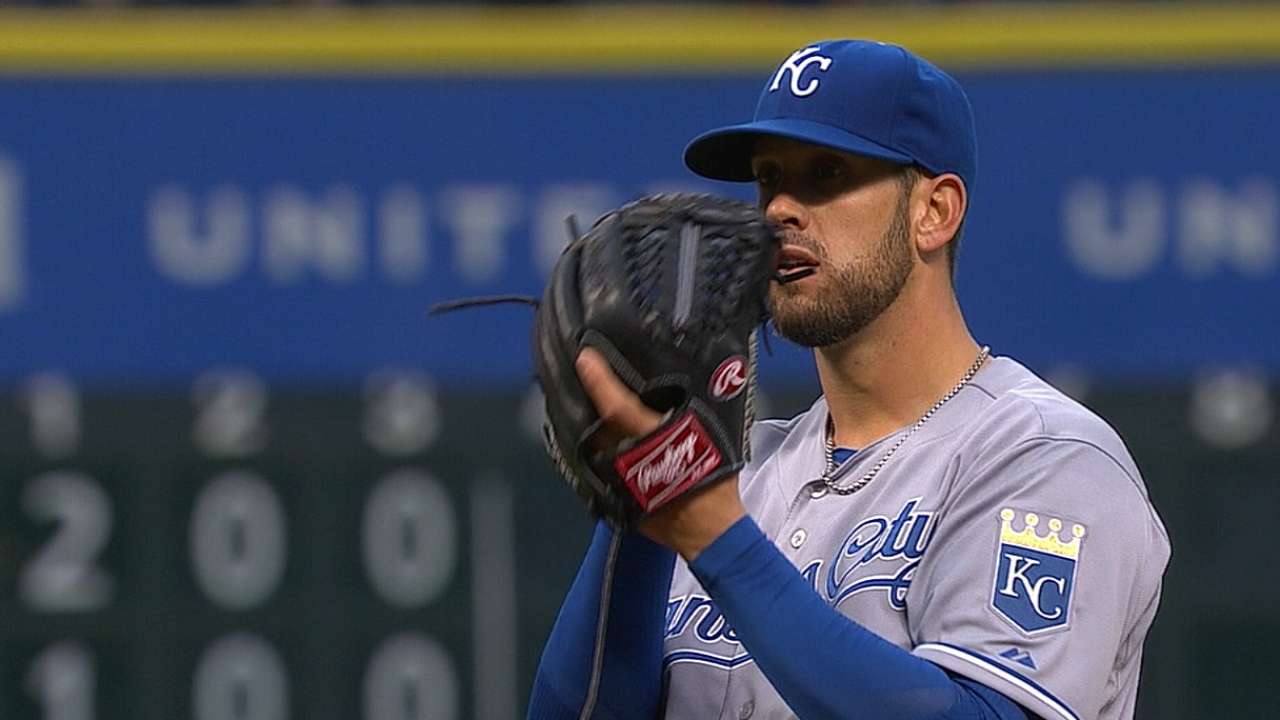 The San Diego Padres just put a ridiculously good finishing touch on one of the great offseasons any baseball team has had in a long time. That's what the reported signing of James Shields represents.
First, Shields adds depth and quality to a rotation that already had a chance to be pretty good. Over the past four seasons, he has averaged 233 innings and 206 strikeouts. In that time, he has 96 quality starts and a 3.17 ERA.
That's 19 more innings than any other pitcher in the Major Leagues. Only Clayton Kershaw and Cole Hamels had more quality starts, and here's the list of pitchers with more strikeouts: Kershaw, Felix Hernandez, Max Scherzer, Justin Verlander and David Price. How's that for name dropping?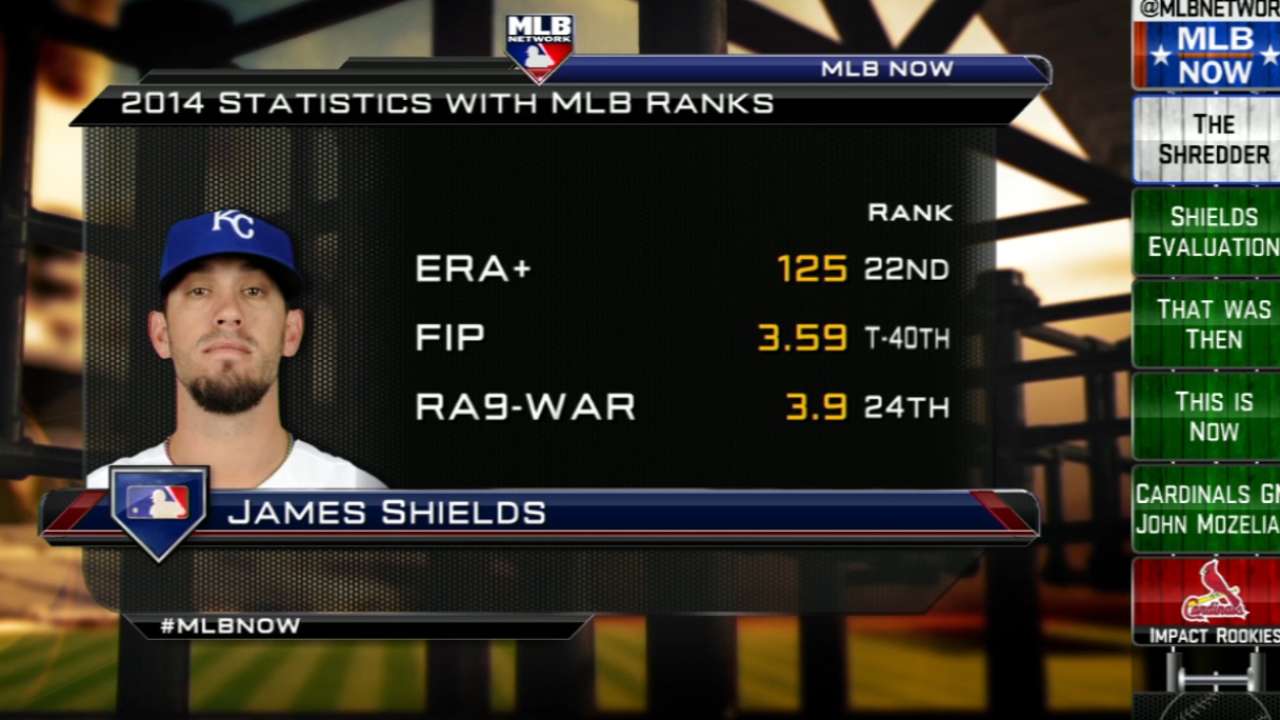 Shields' ERA was the 15th-best among big league starters in those four seasons, a tick behind that of Zack Greinke and Price. So there's no way to have a discussion of the best starting pitchers without including Shields.
Yes, Shields is 33 years old and is approaching his 2,000th inning. So it's fair for teams to wonder how much longer he can continue to perform at such a high level. He also looked worn down during the 2014 postseason, pitching to a 6.12 ERA in five starts. In that way, his greatest strengths -- durability and workload -- hurt his value in the marketplace.
On the other hand, Shields' fastball averaged 92.4 mph last season, the highest of his career, according to FanGraphs.com. Inside the numbers, he was pretty much the same guy he'd always been.
And because Shields is so relentless in terms of preparation and work ethic, in smarts and pitching aptitude, there's no reason to think he can't continue to churn out quality start after quality start.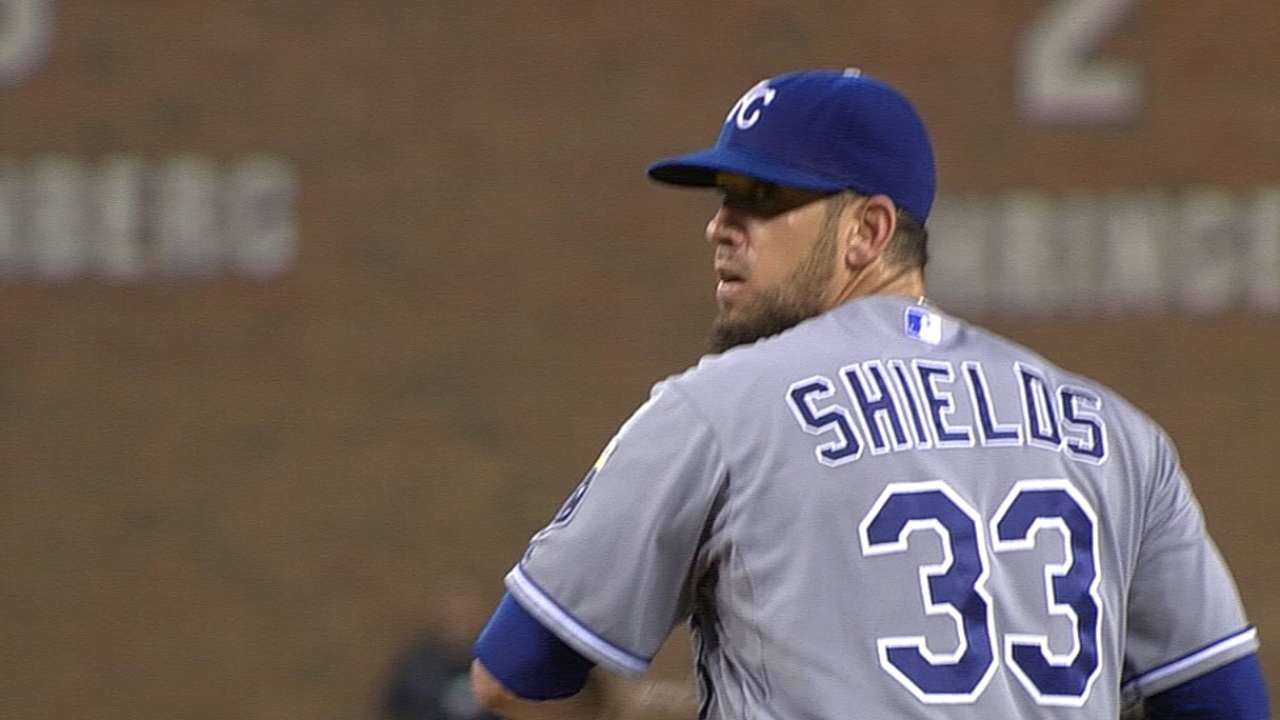 Shields took the ball on days when he had his best stuff, and he took it on days he had nothing. He thought those days were important, too, because he has always believed he can figure out something and spare the bullpen extra work.
With Shields, production is only part of the story. Obviously, it's the biggest part. His leadership and toughness and expectations wouldn't mean much if he didn't pitch all those quality innings.
That said, Shields is an absolutely perfect addition for a team that has been remade, a team that will go to Spring Training seeking cohesion and direction and a cultural shift.
In Bud Black, the Padres have one of baseball's best managers. His gifts of organization and leadership and setting the right tone will be extraordinarily helpful in turning a collection of individuals into a team.
But there are some parts of the process that must come from the clubhouse, from the players themselves. That is why Shields will be valuable in ways that go beyond the numbers.
The Royals and Rays say Shields played a huge role in changing the culture of both those franchises. In Tampa Bay, he helped show a generation of young players how to be good teammates and consummate professionals.
With the Royals, Shields made an impact the moment he stepped inside their clubhouse two seasons ago. He did it with his work ethic, but he also did it with the expectations he had for winning.
Shields had been where the Royals were trying to go, and virtually every single member of that club says he helped them get there, not just with all those innings, but with his attitude and approach.
That's why the Padres are such a perfect fit. New general manager A.J. Preller has completely changed the way we think about this franchise by adding a breathtaking amount of talent: Matt Kemp, Justin Upton, Wil Myers, Will Middlebrooks, Derek Norris, Brandon Morrow and Clint Barmes.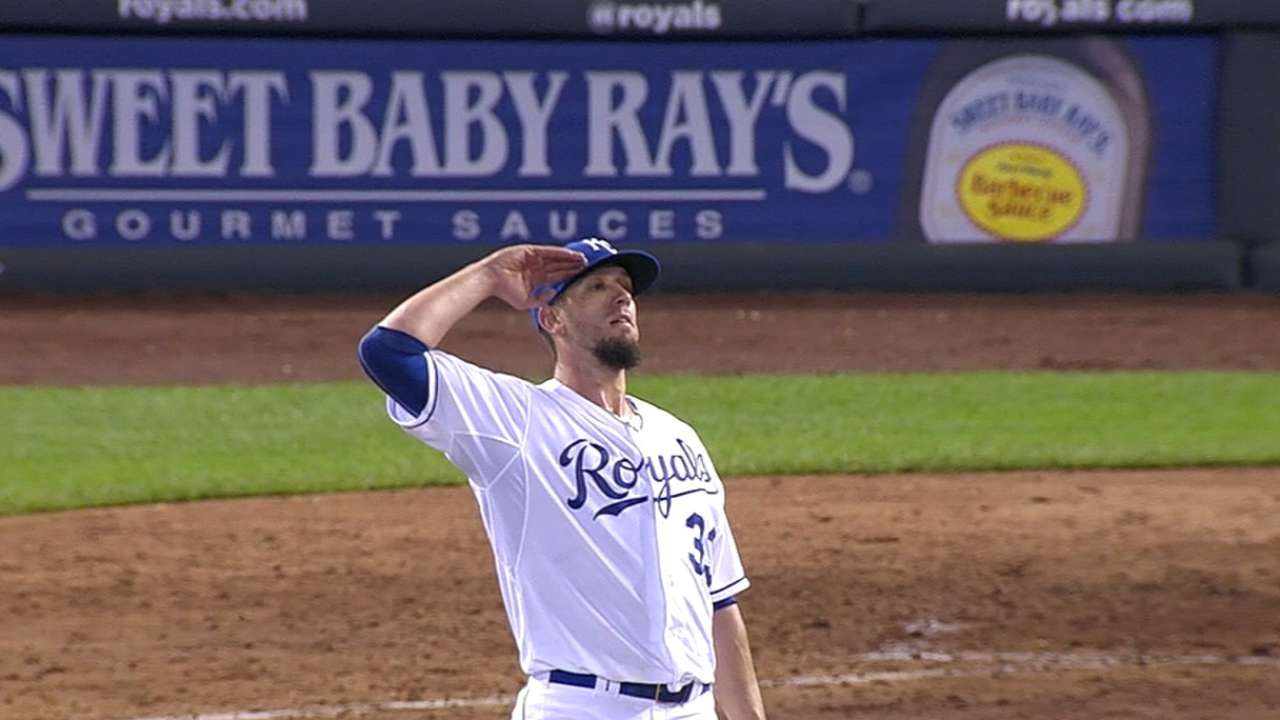 Preller gained a reputation for his intensity and perseverance during 10 years in charge of international scouting for the Rangers. He routinely lived 300 nights a year on the road, and as one of his mentors, longtime personnel man Don Welke, instilled in him: "Sleep is your enemy."
Rather than take some time to evaluate his new team, Preller made move after move. He traded away enough front-line prospects that there are baseball people who think he could end up regretting some of his decisions.
But those people may not understand what Preller was trying to do. His charge was to change a team and a clubhouse and a culture. It was to get San Diego fans engaged in a way they may not have been in recent years.
That he has done. Every big league fan on the planet is aware of Preller and his amazing offseason. To add Shields to a rotation that already had Andrew Cashner, Ian Kennedy and Tyson Ross has positioned the Padres to hang with the Dodgers and Giants in the National League West and to return to the playoffs for the first time since 2006.
Given that baseball's landscape is more balanced than it has ever been, nothing is certain. With the start of Spring Training 10 days away, at least two dozen clubs believe they're good enough to go to the playoffs, and the Padres certainly are on the list.
For Shields, the agreement -- reported to be for about $75 million over four years -- is the end of a free-agent process that went longer than he could have anticipated. Maybe all those innings caused teams to hesitate. Or maybe Scherzer and Jon Lester both had to come off the board before there was a definitive market set for Shields.
In the end, Shields surely couldn't have asked for more. Not only does he return to his native Southern California, he does it with a club that, like the Royals and Rays, is in win-now mode. When all is said and done, neither side could have asked for more.
Richard Justice is a columnist for MLB.com. Read his blog, Justice4U. This story was not subject to the approval of Major League Baseball or its clubs.