Revamped A's expect to contend in AL West
Club rejects rebuilding notion with key additions of Butler, Clippard, Zobrist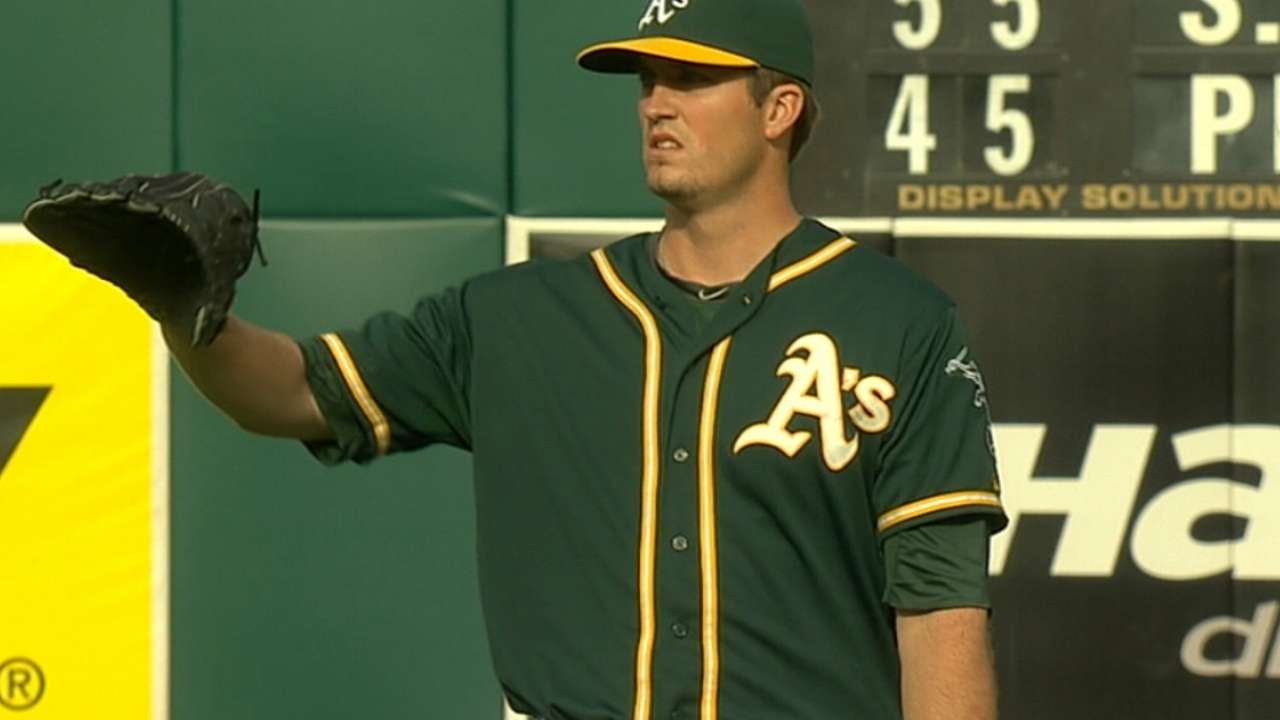 OAKLAND -- Sell high, buy low, and stockpile dozens of years of team control on an abundance of talent. This is how A's general manager Billy Beane spent his offseason, often to the soundtrack of groans from a skeptical fanbase that watched him trade several All-Stars, including Josh Donaldson, Jeff Samardzija and Brandon Moss.
"I can promise you," Beane said at FanFest on Sunday, "I don't wake up in the morning and go, how can I make everyone mad today?"
Any anger caused by Oakland's latest overhaul has likely dissipated in recent weeks, amid more moves -- namely the acquisitions of the ultra-valuable Ben Zobrist and All-Star reliever Tyler Clippard -- that undoubtedly make the A's competitors again in a robust American League West.
"You look at it early on, and you're thinking, what are we doing here?" manager Bob Melvin said. "Then, I think, when you see the last few moves, bringing in Zobrist and how that all went down, that ended up being terrific for us. It all came together at the end, as far as what this team should look like."
"Everybody is overlooking us again, with what the Angels and Mariners have done," said outfielder Josh Reddick, "but we've got some great pieces in return for what we lost. [Beane] knows exactly what he's doing every year."
This renewed sense of optimism bounced off the walls at the Coliseum on Sunday, with nearly 20,000 fans in attendance for the team's annual FanFest. More than 20 players were on hand for the event, though without nametags.
"That's why we didn't go with the BP tops today," Melvin joked.
"Yeah, we have names on the back," said Sean Doolittle, "but we kind of need them on the front, too."
Even for the A's, long accustomed to frequent turnover, this offseason overhaul was monumental. Beane orchestrated a total of nine trades involving 27 players, all with the intention of reloading, rather than rebuilding. He constructed an entirely new infield and added a bounty of depth to the rotation, with as many as six candidates expected to compete for three rotation spots behind Sonny Gray and Scott Kazmir this spring.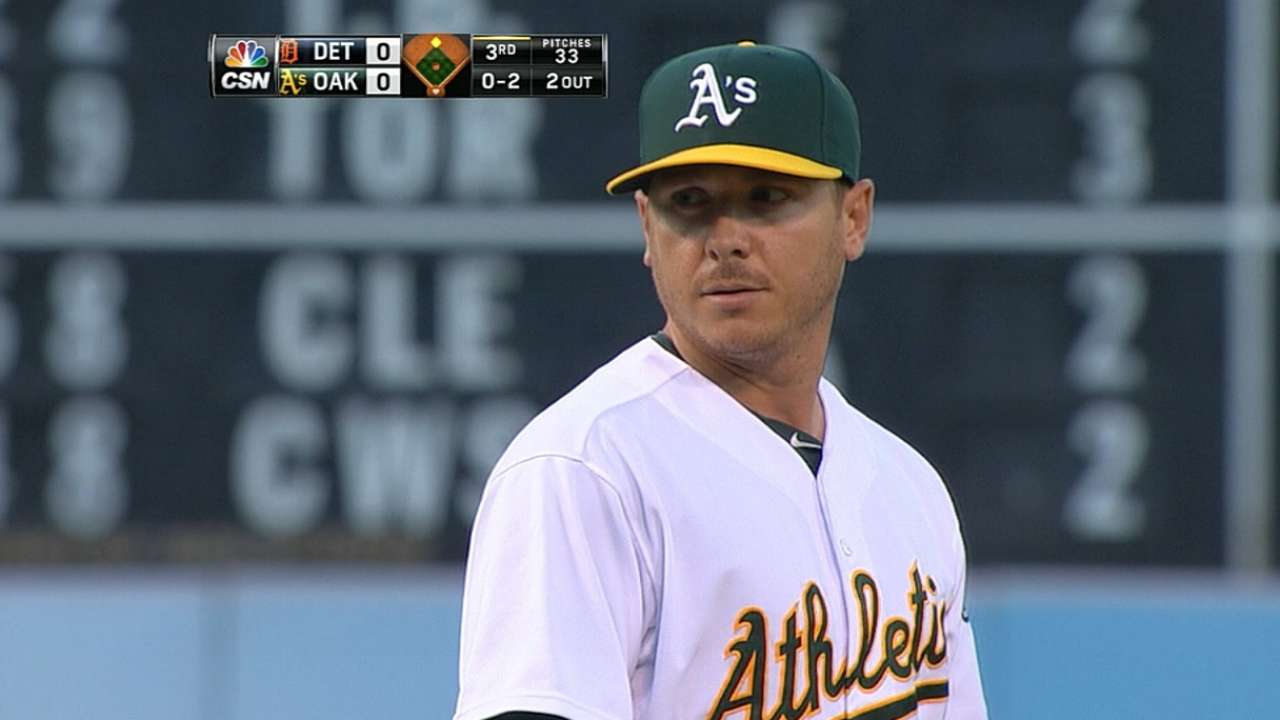 The outfield and bullpen largely remain intact, following an 88-win season that ended in heartbreaking fashion with an extra-inning loss to the Royals in the AL Wild Card Game. From there, said assistant general manager David Forst, "We needed to get younger and healthier, and change the direction.''
"This is my 18th year here, and we've never just said, 'Hey, we're going to take five years and just stock the farm system,'" Beane said. "We've tried to win every single game every single year I've been here. In our market, it would probably be pretty easy to do [a rebuild], but we've never done that.
"I'm too old to be on a five-year rebuild. Every game is precious in the Major Leagues, and we treat it that way. Sometimes we do it at the risk of trading some younger players, but I can tell you, we want to win every single game. I get cranky in Spring Training when we don't win games. So, the term 'rebuild,' we don't try to use that around here often."
Depth and versatility prevail again on this A's roster, maybe even more so than last year, argued Melvin, who expects to get production from the entire lineup. A good dose of power went astray when Donaldson and Moss were traded, and some was brought back when Billy Butler came on board via a three-year, $30 million deal, but this is a club that won't rely on it.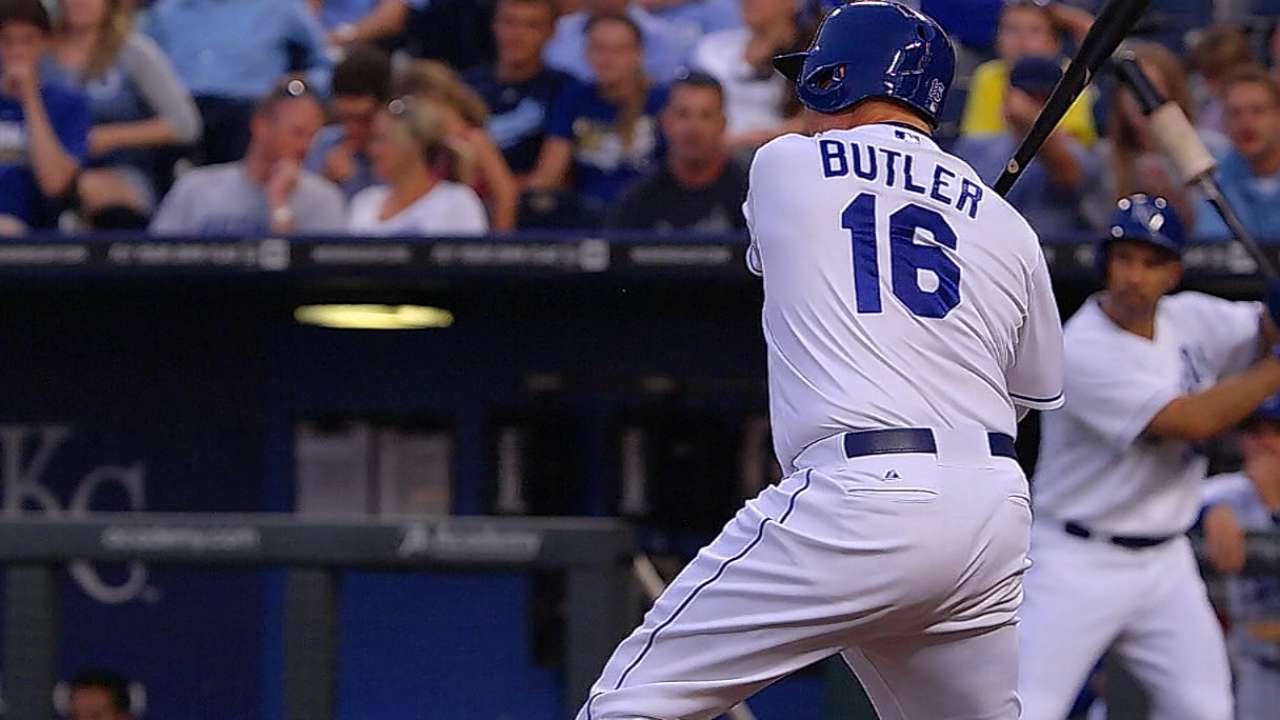 "I think it gives us an opportunity to maybe do things differently," Melvin said. "Our makeup isn't going to be as station-to-station as it was. When Coco [Crisp] got hurt, then [Craig] Gentry was out, the speed dynamic of our team took its toll on us. I think this is maybe more of a group that maybe we try to run a little more, hit and run, do some things that we haven't in the past."
"It's crazy to me, the turnover," said catcher Stephen Vogt. "Yet, when I was talking to Dan Otero the other night and we were speculating on the lineup and the bullpen and starting rotation, we thought, man, we're good. It's not the same names as last year, it's not going to be the same team, we're going to have to play different and find other ways to win than we maybe did in the past, but this is still a really solid, versatile team that we have."
The end product is proof that Beane really did have a plan. He always has a backup one on hand, too.
"At the end of the day," he said, "we think this is a pretty good team. And guess what? If it doesn't work, we'll make other moves, because that's just what we do. We're not going to sit there and wait for things to develop. We're going to be proactive, and hopefully that's appreciated."
Jane Lee is a reporter for MLB.com. This story was not subject to the approval of Major League Baseball or its clubs.