MLB.com Columnist
Lyle Spencer
Traditional platoon shifts not always the right moves
Plenty of hitters bucked trends in 2014 and avoided odd alignments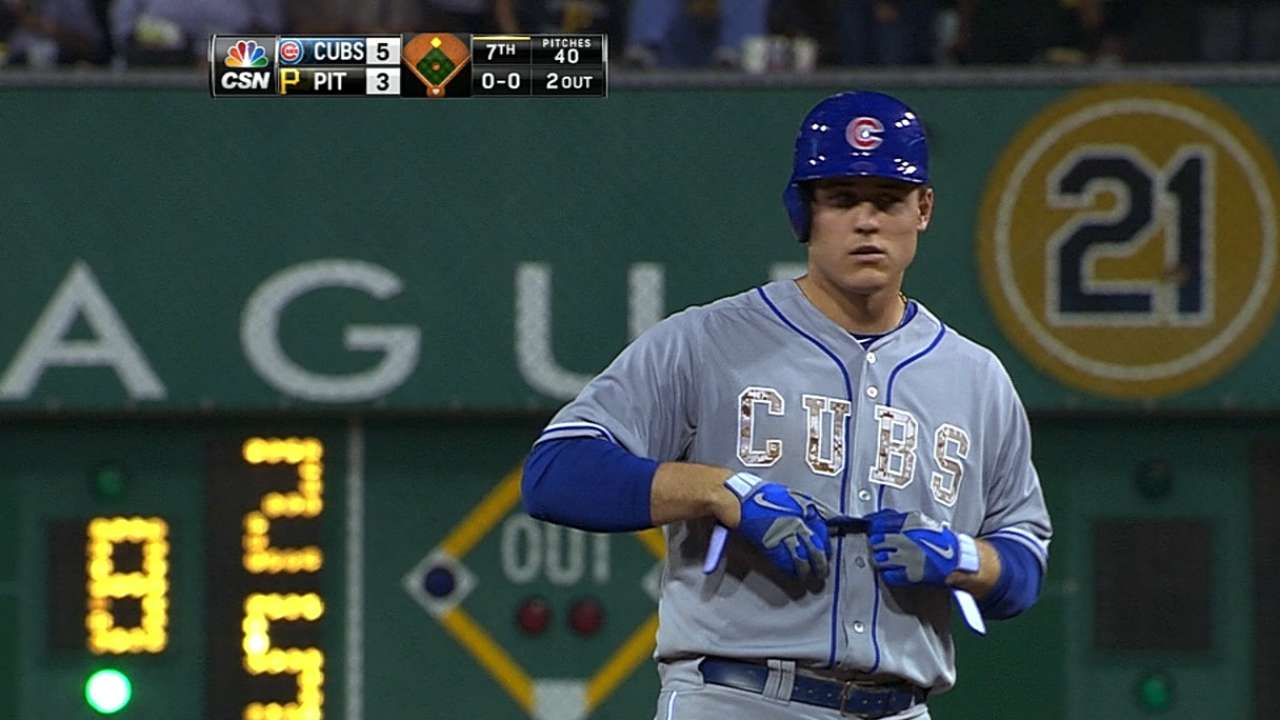 Platooning has been part of the game's fabric since it was popularized by Casey Stengel during his reign with the dynastic Yankees of the 1950s. Joe Maddon, as colorful as Casey in his own way, mastered the art of mixing and matching with the Rays, and he will continue to make use of his full roster with his Cubs.
Playing the percentages works, but the book doesn't always apply. Some left-handed hitters prosper against lefty pitchers; the same rings true of select right-handed batters feeling more comfortable against righties. Here are some hitters who bucked the percentages in 2014 and should be immune to standard platoons:
Anthony Rizzo, Cubs
Rizzo, Maddon's first baseman, is a certified star. He pounded lefties with a .300/.421/.507 line in 2014, his MLB-best .928 OPS by a left-handed hitter eclipsing his .907 mark against righties. Padres fans love Andrew Cashner, but parting with Rizzo in the big trade following the '11 season has to hurt.
Nori Aoki, Giants
Aoki, who is moving from the American League champion Royals to the World Series champion Giants, gives San Francisco manager Bruce Bochy another left-handed weapon against southpaws. Aoki's .863 OPS versus lefties was fourth in the Majors by a lefty hitter in 2014. Only Rizzo, David Ortiz (.893) and Brandon Crawford (.879) were more productive. New teammate Gregor Blanco was eighth in the National League among lefty hitters with his .730 OPS against lefties.
Ben Revere, Phillies
The Phils' offense sputtered last season, but Revere soared against lefties with his .763 OPS. Teammate Ryan Howard (.770 OPS) also unloaded against southpaws in 2014, something prospective shoppers might want to keep in mind. No need to platoon the big man.
Brandon Crawford, Giants
The superb, underrated shortstop is no candidate for platooning. But when he needs a break, it probably should be against right-handers. Crawford banged lefties with a .484 slugging percentage in 2014, compared to .346 vs. righties. His career OPS is slightly better against lefties (.678 to .666), as well.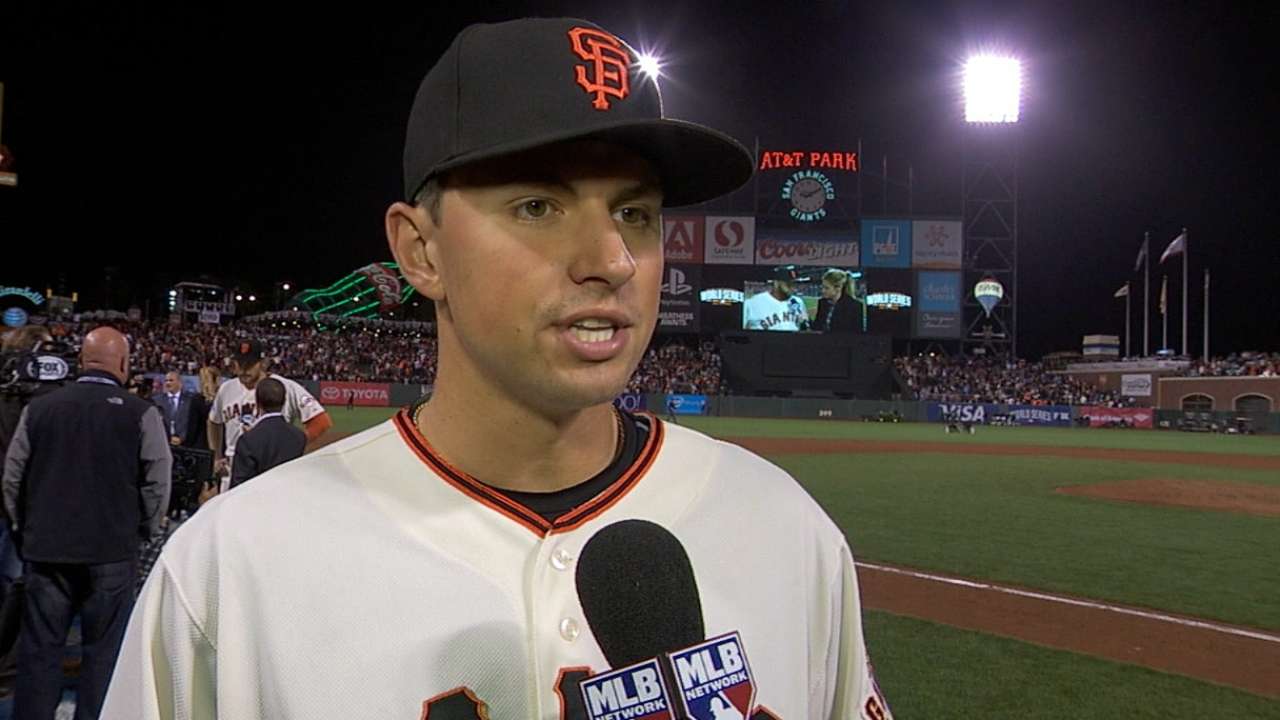 Joe Panik, Giants
Panik, the cool rookie second baseman with the sweet left-handed stroke who was a vital component in San Francisco's success, pounded lefties with a .373/.381/.458 line. His .839 OPS was substantially better than his .655 production vs. righties.
Dee Gordon, Marlins
The Dodgers' leadoff catalyst in 2014, Gordon put his early-career struggles against lefties behind him with his .719 OPS, 10th best in the NL against southpaws. The electric second baseman, who led the Majors with 64 steals and 12 triples, should flourish playing his home games in vast Marlins Park.
Christian Yelich, Marlins
Another left-handed hitter who hangs in against lefties, Yelich is expected to follow Gordon in manager Mike Redmond's order. Future star Yelich's .819 OPS vs. lefties was third highest in the NL from the left side. Gordon and Yelich could give Giancarlo Stanton a realistic shot at 150 RBIs.
Michael Brantley, Indians
Brantley has arrived as one of the game's elite players in part because of his ability to deliver against lefties: .307/.378/.449 in 2014. Those numbers would be even better if not for White Sox ace Chris Sale, who held Brantley to three hits in 22 at-bats.
Brian McCann, Yankees
McCann, the former Braves star, took to Yankee Stadium as anticipated, with 19 of his 23 homers landing in the South Bronx. His .850 OPS was the AL's third best by a lefty hitter vs. lefties. Right behind McCann, at .828, was teammate Jacoby Ellsbury.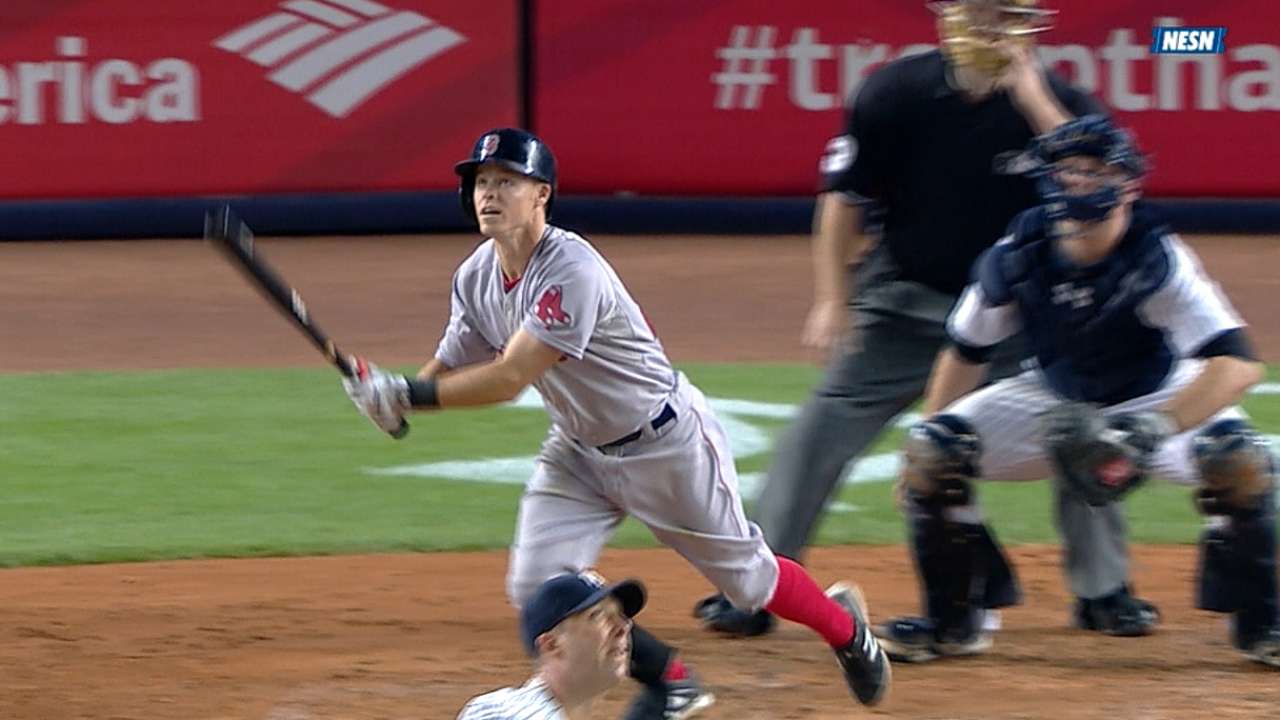 Brock Holt, Red Sox
Holt, arguably the game's most versatile player, drilled lefties from the left side with his .763 OPS, going .682 vs. righties. Ortiz, Holt's celebrated teammate, has evolved into an equal-opportunity basher. His .893 OPS vs. lefties in 2014 was better than his .863 vs. righties.
Yasiel Puig, Dodgers
Puig's .901 OPS against righties was the third best in the NL (behind Andrew McCutchen and Stanton) by a right-handed hitter. Twenty-seven of his 35 career homers have come off righties, against whom he is slugging .516, compared to .459 vs. lefties.
Brett Lawrie, Athletics
Lawrie, who was imported from Toronto in the big Josh Donaldson swap, needs to step it up against southpaws. His .760 OPS vs. righties dwarfed his .595 vs. lefties in 2014. For his career, the right-handed thumper is .760 vs. righties, .713 vs. lefties.
Casey McGehee, Giants
Like Lawrie, McGehee moves to the Bay Area to replace a star (Pablo Sandoval) and is hoping his right-handed bat comes alive against lefties. McGehee's 2014 splits were even more dramatic than Lawrie's: .738 vs. righties, .596 vs. southpaws.
Logan Morrison, Mariners
Morrison was more productive against lefties (.846 OPS) than righties (.695) in 2014, reversing a career trend by moving to Seattle from Miami.
Mike Trout, Angels
The game's best all-around player will never ask to sit, but if he does, it should be against a lefty. Trout crushes righties with his .962 career OPS, compared to .898 vs. southpaws.
Jon Jay and Peter Bourjos, Cardinals
Lefty-swinging Jay bashed southpaws (.859 OPS compared to .721 vs. righties) in 2014, while Bourjos, a right-handed hitter with few defensive equals, was much better against righties (.680 OPS) than southpaws (.582). How about a reverse platoon by the Gateway Arch?
Lyle Spencer is a reporter for MLB.com. This story was not subject to the approval of Major League Baseball or its clubs.