Source: Padres await response from Shields
Terms of offer unknown; club expects to hear back from free-agent hurler by Monday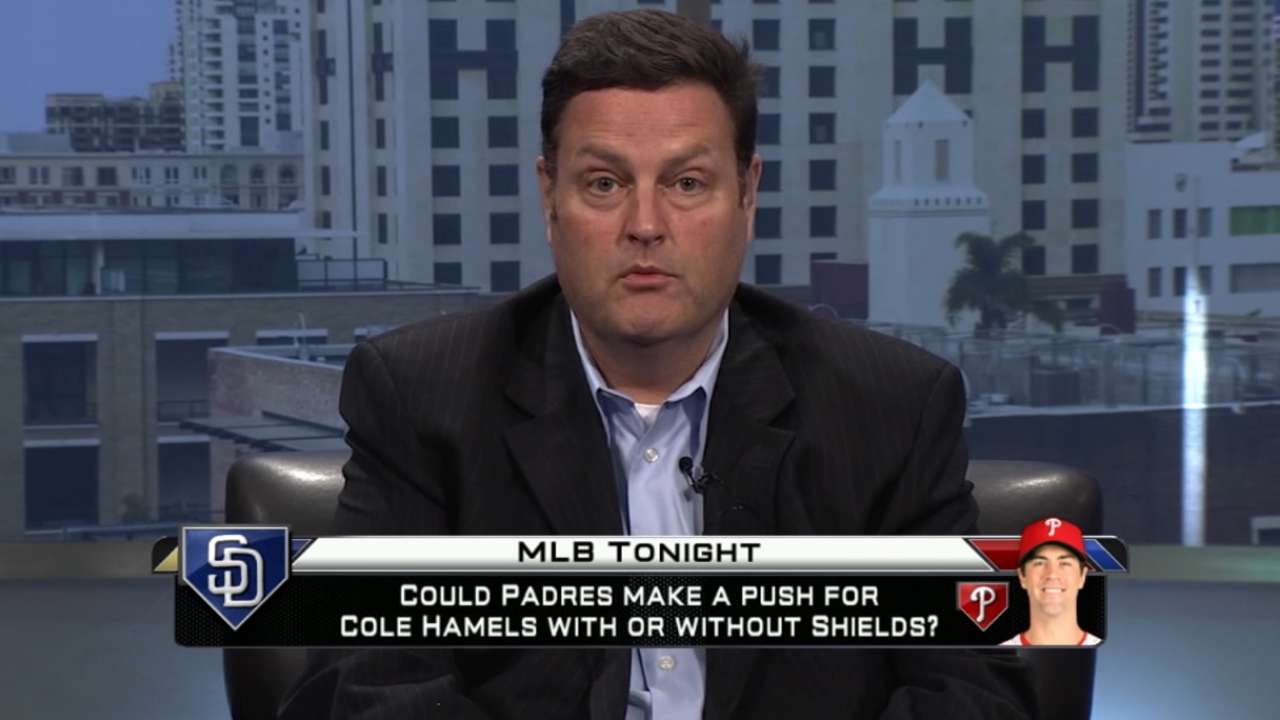 SAN DIEGO -- Now the waiting game begins for the Padres, who figure to know by Monday at the latest if free-agent pitcher James Shields will accept their latest contract offer.
A baseball source said Saturday that Shields was expected to give the team an answer soon. The terms of the offer are not known, though it won't exceed four years, the source said.
It's believed the Padres remain the favorites to land Shields, the top free agent remaining on the market.
Shields, 33, would give the Padres a formidable starting rotation to match their revamped offense, one that first-year general manager A.J. Preller spent much of his time on this winter, adding Justin Upton, Wil Myers and Matt Kemp, among others.
The Padres didn't set out this offseason to add to their rotation, but with Shields still available less than two weeks before pitchers and catchers arrive for Spring Training, Preller opted to pursue the durable right-hander more ardently.
San Diego pitchers and catchers report to Arizona on Feb. 19.
In Shields, the Padres would add a workhorse for the top of the rotation, giving them four solid starters with Andrew Cashner, Tyson Ross and Ian Kennedy for the upcoming season.
Shields, a nine-year veteran who won 14 games and had a 3.21 ERA for the Royals in 2014, has made 33 or more starts in each of the last seven seasons. Consider that since 2011, Shields ranks among all starting pitchers first in innings, 15th in ERA, 19th in K/BB, 17th in xFIP and 19th in opponents' batting average.
Steamer projections on FanGraphs.com peg him to post a 3.63 ERA over 201 innings as a 3.0 WAR performer in 2015.
Shields moved to Rancho Santa Fe, north of downtown San Diego, about a year ago, and that might factor in his final decision.
San Diego executive chairman Ron Fowler told MLB.com last week that he had given Preller "financial flexibility" to make additions and to take payroll beyond its current state, which is less than $90 million -- where it was a year ago on Opening Day, a club record.
"I believe A.J. feels he has sufficient flexibility to make a deal if it is the right fit," Fowler said in an email. "I very much respect his discipline in looking at options."
The largest contract in Padres history remains the three-year, $52 million extension the team gave Jake Peavy in December 2007 after he had won the National League Cy Young Award. The team was prepared to go beyond $100 million to sign free-agent third baseman Pablo Sandoval earlier this offseason before he signed with the Red Sox.
ESPN reported Saturday that "one official involved in the Shields bidding does not expect final numbers will be as high as $80 million, four years."
Myers -- who was the centerpiece of the trade from the Royals to the Rays in December 2012 that saw Shields head to Kansas City -- said he has heard nothing but good things from many of his former teammates from both clubs about Shields.
"They would be getting a workhorse, an established big league pitcher," Myers said of Shields. "He has been a leader on both teams he's been on. I've only heard good things about him. I would be excited to get him. He's a great pitcher."
Corey Brock is a reporter for MLB.com. Keep track of @FollowThePadres on Twitter. This story was not subject to the approval of Major League Baseball or its clubs.