Making sense of Moncada's top 5 suitors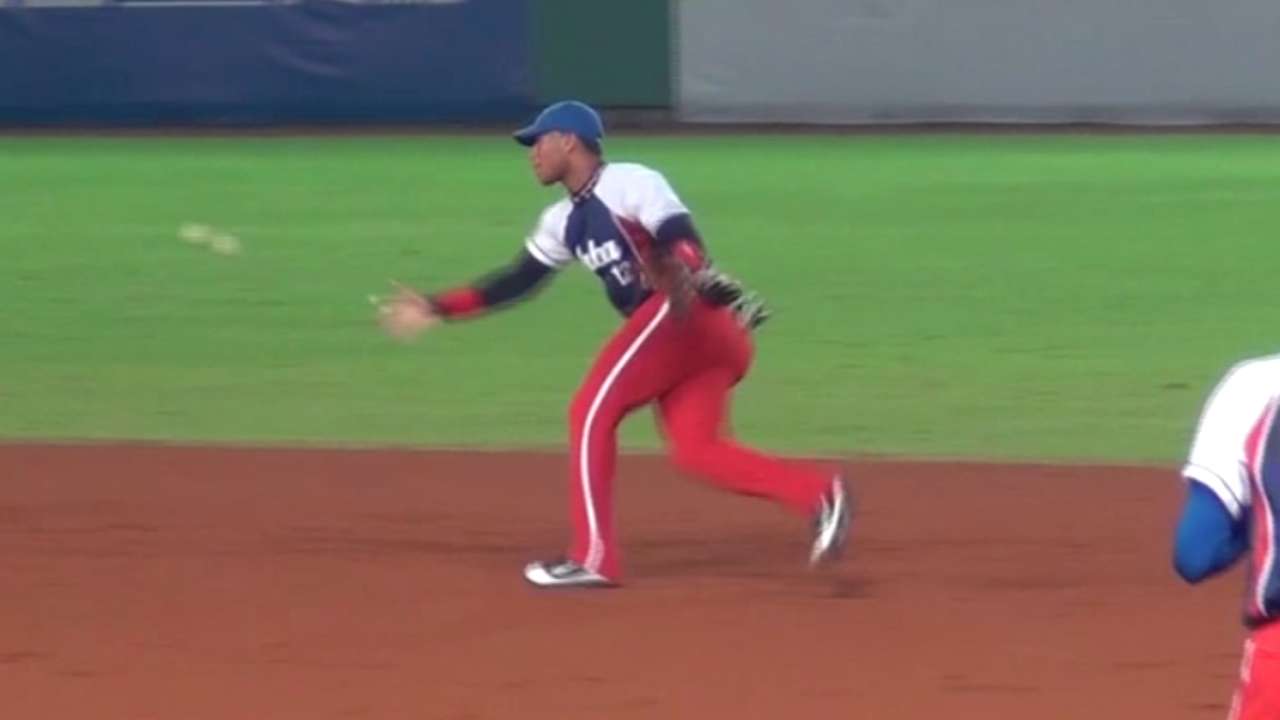 The recent influx -- and success -- of Cuban defectors has only heightened the excitement around 19-year-old infielder Yoan Moncada, who was just cleared to sign with the club of his choosing this past week.
Moncada is considered the best young Cuban prospect to come along since Yasiel Puig and Jorge Soler signed in 2012, and the bidding will be intense. However, his age and lack of experience in Cuba's Serie Nacionale means he is subject to the international amateur signing guidelines, which give each team a limited amount of money -- based on record the previous season -- to spend on signing bonuses for international amateurs in a given year.
Clubs are penalized if they exceed their bonus pools by certain amounts, and the Yankees, Rays, Red Sox, D-backs and Angels have all exceeded their allotted money by more than 15 percent and are in the maximum penalty range for the upcoming 2015-16 signing period. The penalty includes a 100 percent tax on their pool overages and prohibits them from signing any pool-eligible player for more than $300,000 during the next two signing periods.
Of course, those restrictions won't stop certain clubs. MLB.com's Jesse Sanchez recently ranked the five likeliest destinations for Moncada, and we asked the beat reporters for those clubs -- the Yankees, Dodgers, Red Sox, Padres and Tigers -- to give their take on each team's odds of landing the phenom. Those odds are complete with a "Moncada Likelihood" score on a scale of 1 to 10, with 10 being "he's coming here."
YANKEES
The Yankees have been strongly connected to Moncada, and they are viewed by many to be the favorite landing spot for the switch-hitting stud, who would instantly become the brightest prospect in their farm system. New York has already spent approximately $15 million on international players since last summer, blowing away its $2.2 million limit.
But pushing the envelope a bit further for Moncada makes sense in the club's eyes. That's because it will be in the penalty box for the next two signing periods, unable to spend more than $300,000 on any one player.
On a potential Moncada contract, the Yankees still have to pay a 100 percent penalty because they exceeded their international pool limit -- for example, a $40 million bonus would actually hit the team's bottom line for about $80 million -- but they can swallow it. As far as the international market is considered, this could be their last chance to use their checkbook as a weapon.
Moncada had a private workout for the Yankees in Tampa, and the organization sees him at second base or third base, if and when he gets to the big leagues. If installed into their system, he would get every opportunity to move quickly up the ladder, a point they surely will stress in negotiations.
They decided to sit out on the likes of Jon Lester, Max Scherzer and James Shields this offseason, but when the Yankees believe that they absolutely must have a player, they can still lap the field financially. (Last winter's pursuit of Masahiro Tanaka was evidence of that. Moncada seems to be that type of player in their eyes.)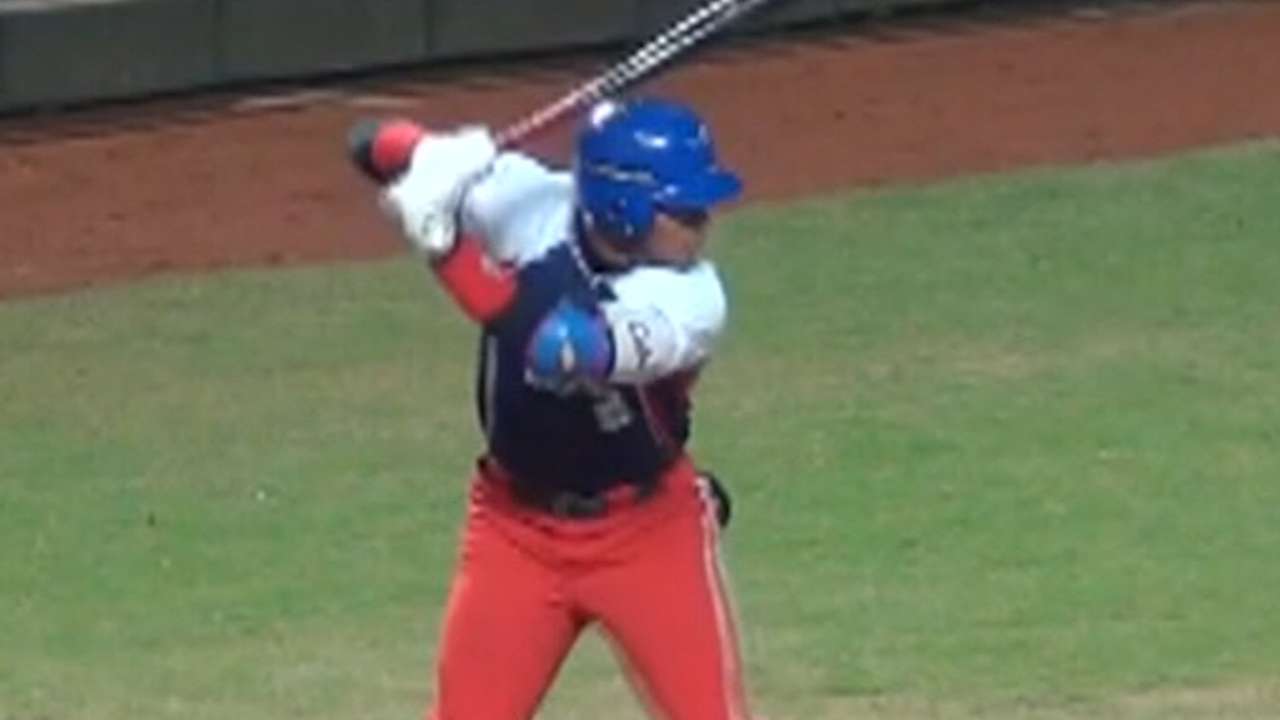 MONCADA LIKELIHOOD: 9
-- Bryan Hoch, Yankees beat reporter
DODGERS
The Dodgers have the resources to outspend any team for Moncada, but the penalties now attached to such a signing have made this outcome anything but the no-brainer many believe.
If Moncada was the one finished product that would put the Dodgers over the top for the World Series, then maybe. But he's 19 years old. And in addition to the $60-80 million in contract and taxes it would cost, the club would be sidelined from any significant international signing for two years.
Combined, that's a massive bet on one player, and not just financially. Accepting a signing ban is no way to rebuild a sustainable farm system, and that cash would come in handy when the Dodgers need to pick up a Cole Hamels-like contract at the Trade Deadline.
MONCADA LIKELIHOOD: 4
-- Ken Gurnick, Dodgers beat reporter
RED SOX
The Red Sox have a track record of being aggressive in international waters, as they proved by investing a total of $103.1 million in Daisuke Matsuzaka and $72.2 million just last summer for Cuban outfielder Rusney Castillo. Now, here comes Moncada, and you can be sure Boston will be engaged in the negotiations.
The one reason other clubs might be willing to invest more is that the Red Sox have long-term depth at the positions Moncada is most likely to play. Second baseman Dustin Pedroia is signed through 2021, shortstop Xander Bogaerts is several years from free agency, and third baseman Pablo Sandoval is in the fold through at least '19.
But if Moncada is the athlete the scouts say he is, his position will probably be flexible going forward. Power is hard to find these days, and that's what will draw the interest of the Red Sox.
MONCADA LIKELIHOOD: 4
-- Ian Browne, Red Sox beat reporter
PADRES
Before being hired by the Padres, general manager A.J. Preller built a reputation for himself with the Rangers as a boots-on-the-ground talent evaluator, spending upwards of 300 nights on the road, scouring Latin America and just about anywhere else for international talent.
So far, Preller's work in San Diego has been on the domestic side, revamping the Padres woeful offense with notable additions like Justin Upton, Matt Kemp and Wil Myers, among others.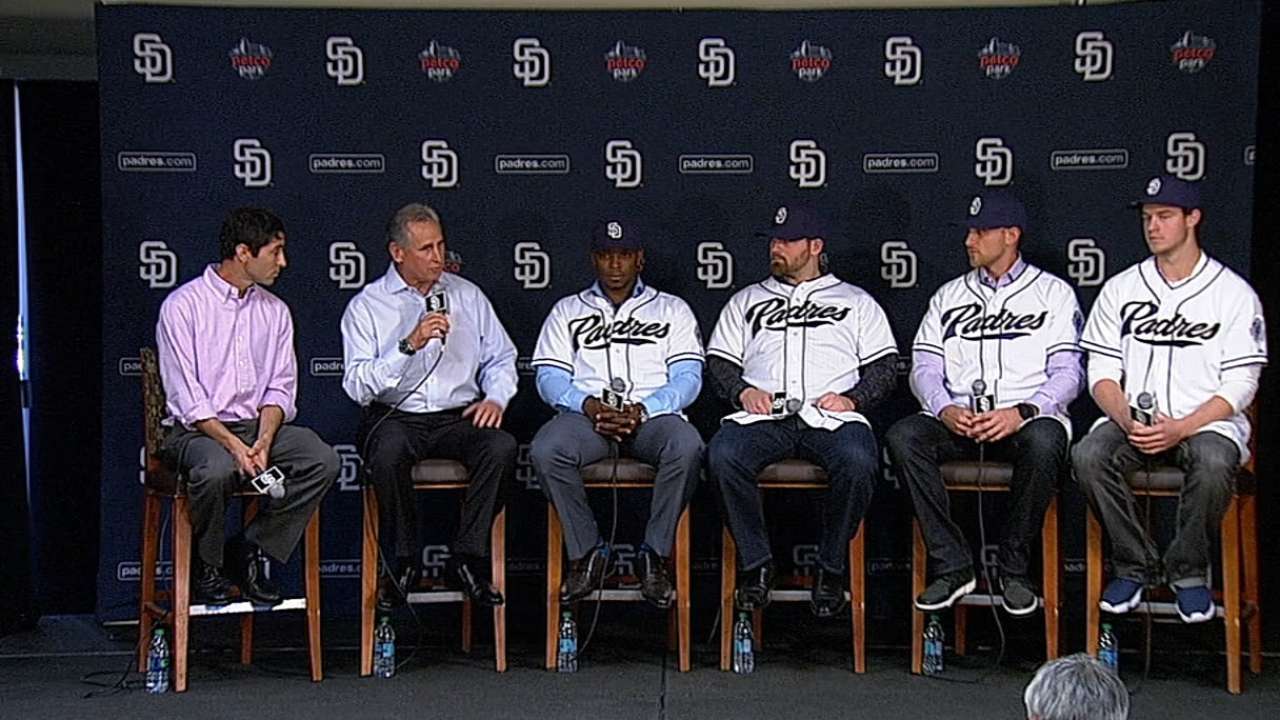 But that doesn't mean he's forgotten his roots.
Preller was in on Yasmany Tomas, and he has personally watched several other international workouts. The Padres will be a player, to a point, for Moncada. But the financial commitment will likely prohibit them from being as active as they'd like in the international market in the next few years.
MONCADA LIKELIHOOD: 3
-- Corey Brock, Padres beat reporter
TIGERS
The Tigers qualify as a dark horse in the Moncada courtship, having entered the mix after a private workout last week. Detroit doesn't often spend big on top international signings, preferring to spread out its investments. However, the Tigers had a history of big-money signings in the Draft before bonus pools took effect, including Justin Verlander, Rick Porcello, Andrew Miller, Jacob Turner and Nick Castellanos.
It's a different time in Detroit, but the Tigers have an aging roster and a depleted farm system that has produced trade pieces but little star talent in recent years. Moncada is likely the club's best chance at grabbing a young star since it traded for a 24-year-old Miguel Cabrera in 2007. That said, team president/general manager Dave Dombrowski told MLB Network on Friday that he feels the spending rules on Moncada favor large-market clubs.
MONCADA LIKELIHOOD: 3
-- Jason Beck, Tigers beat reporter