Russo: Harvey not one to sit quietly following surgery
Mets' RHP expected to debut at home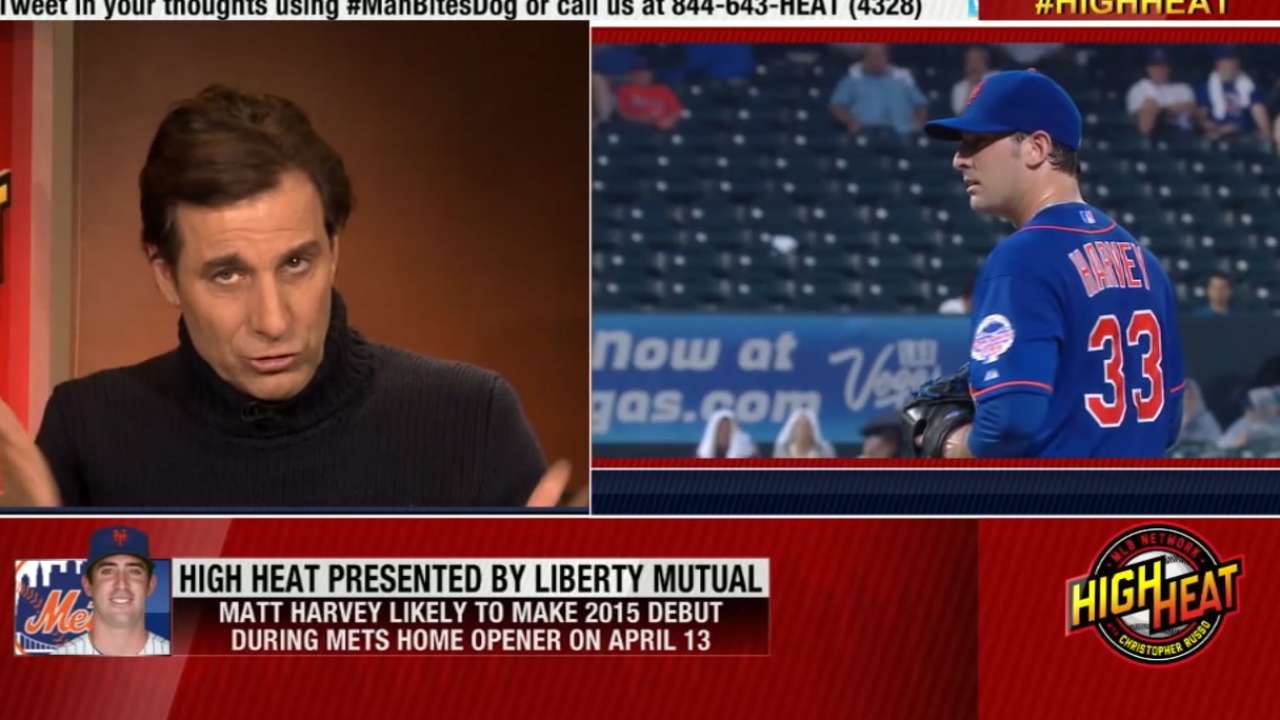 Matt Harvey is unlikely to make his 2015 debut until the Mets return home for their opener against the Phillies at Citi Field on April 13. And how the Mets plan to utilize Harvey, more than a year removed from Tommy John surgery, going forward will be a situation to monitor as the regular season draws near.
MLB Network's Chris Russo recently discussed on his program, High Heat, the 25-year-old right-hander's comeback and what his delayed start to the season could mean for the 2015 Mets.
"He's not going to make a big deal about it because he's getting the Opening Day assignment at Citi Field, so he'll be quiet now," Russo said. "But if they sit there and they space starts out and they give him two weeks off and they keep the cap limit at 175 innings, he is going to moan and groan."
Harvey will likely sit out the club's first road trip featuring a pair of three-game series in Washington and Atlanta. He hasn't pitched since Aug. 24 of the 2013 season.
The No. 7 overall selection in the 2010 First-Year Player Draft, Harvey is 12-10 with a 2.39 ERA through two seasons in the Majors (36 starts, 237 2/3 innings).
Russo noted that the Mets could learn from the situation in Washington back in 2012 when the club shut down Stephen Strasburg for the final 24 games of the regular season and the playoffs, a decision to which Strasburg did not respond positively.
"And Strasburg is quiet about it; Harvey won't be," Russo said. "He's going to let his feelings [be] known if he's sort of pampered with. He wants to go out there and pitch his 220 innings and be the guy who's the leader of that franchise."
Chad Thornburg is a reporter for MLB.com. This story was not subject to the approval of Major League Baseball or its clubs.