Dodgers wary in pursuit of Moncada
Signing Cuban infielder would come at a high cost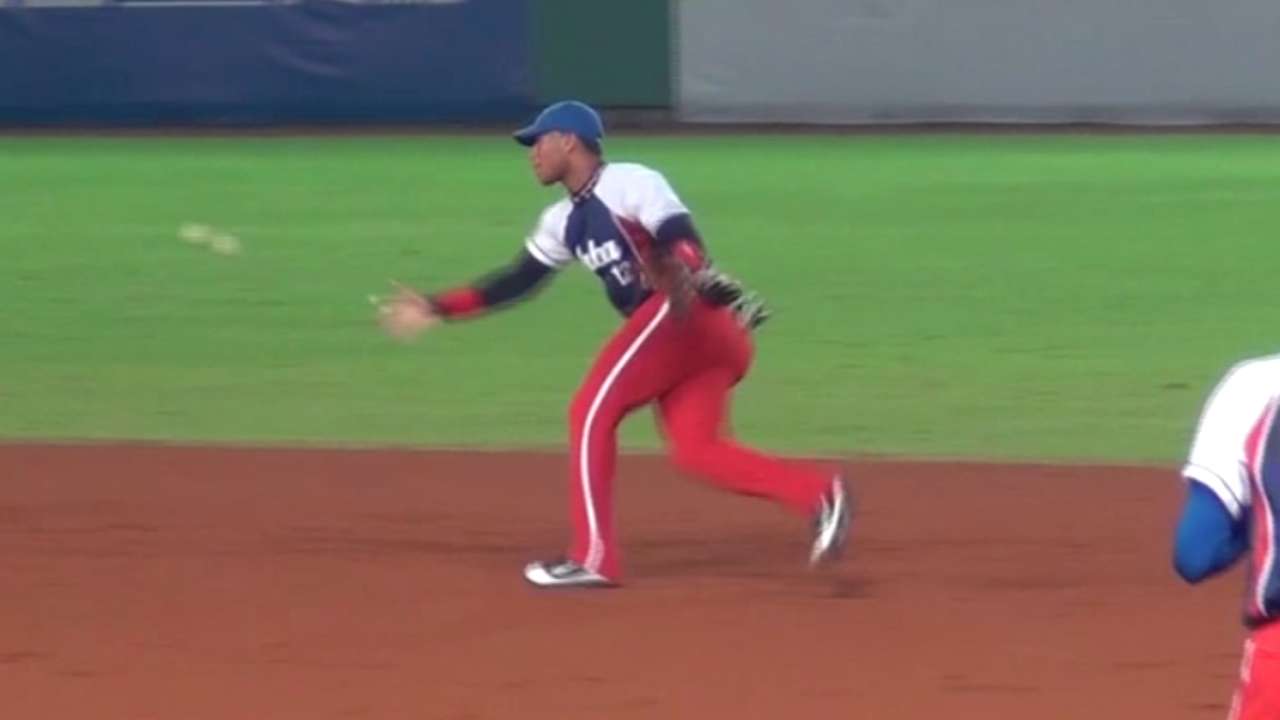 LOS ANGELES -- While Dodgers officials were reportedly very visible at Friday's showcase for Cuban second baseman Hector Olivera, their interest in fellow Cuban free agent infielder Yoan Moncada remains unclear.
General manager Farhan Zaidi hosted a Twitter chat with fans Friday and avoided answering questions about Moncada, who is rumored to be targeted by other deep-pocketed franchises like the Yankees and Red Sox.
That backs away from an interview Zaidi gave MLB Network Radio three weeks ago, when he said: "To the extent that our evaluation of [Moncada] matches or exceeds where the market goes, we'll definitely be players for him."
Since then, however, one baseball source insisted the Dodgers have serious reservations about signing the 19-year-old Moncada because of the extreme cost.
Because he is under 23 and did not play in a Cuban professional league for at least five seasons, Moncada is subject to the international signing guidelines, under which each team is allotted a $700,000 base and a bonus pool, based on the team's record in 2013 for the international signing period, which started on July 2 and ends on June 15.
Exceeding that pool amount comes with a 100 percent tax on the pool overage and prohibits the club from signing any pool-eligible player for more than $300,000 during the next two signing periods.
While the signing of Moncada would land a potential superstar, it would also sideline the franchise from future big-ticket signings for two years, in addition to costing $60 million to $80 million cash, all for just one very talented -- but unproven -- player.
When manager Don Mattingly and president of baseball operations Andrew Friedman attended Moncada's workout, speculation intensified that the deep-pocketed Dodgers would go all-out to sign him.
But one baseball official said the organization is hesitant because of the three-prong cost, especially the signing ban.
The Dodgers have utilized the recent availability of Cubans to jump-start the restoration of their farm system, with mixed results. They scored huge with outfielder Yasiel Puig's $42 million signing, but have little to show for spending $53 million on infielders Alex Guerrero and Erisbel Arruebarrena (who was outrighted to Triple-A).
According to a Baseball America report, Dodgers officials Josh Byrnes, David Finley and Galen Carr were at Friday's showcase of Olivera in the Dominican Republic. Olivera, 29, is not subject to the tax and signing ban and, presumably, is advanced enough not to need any Minor League seasoning.
Ken Gurnick is a reporter for MLB.com. This story was not subject to the approval of Major League Baseball or its clubs.