Konerko's locker part of Truck Day cargo
White Sox shipping item to Arizona along with club's Spring Training supplies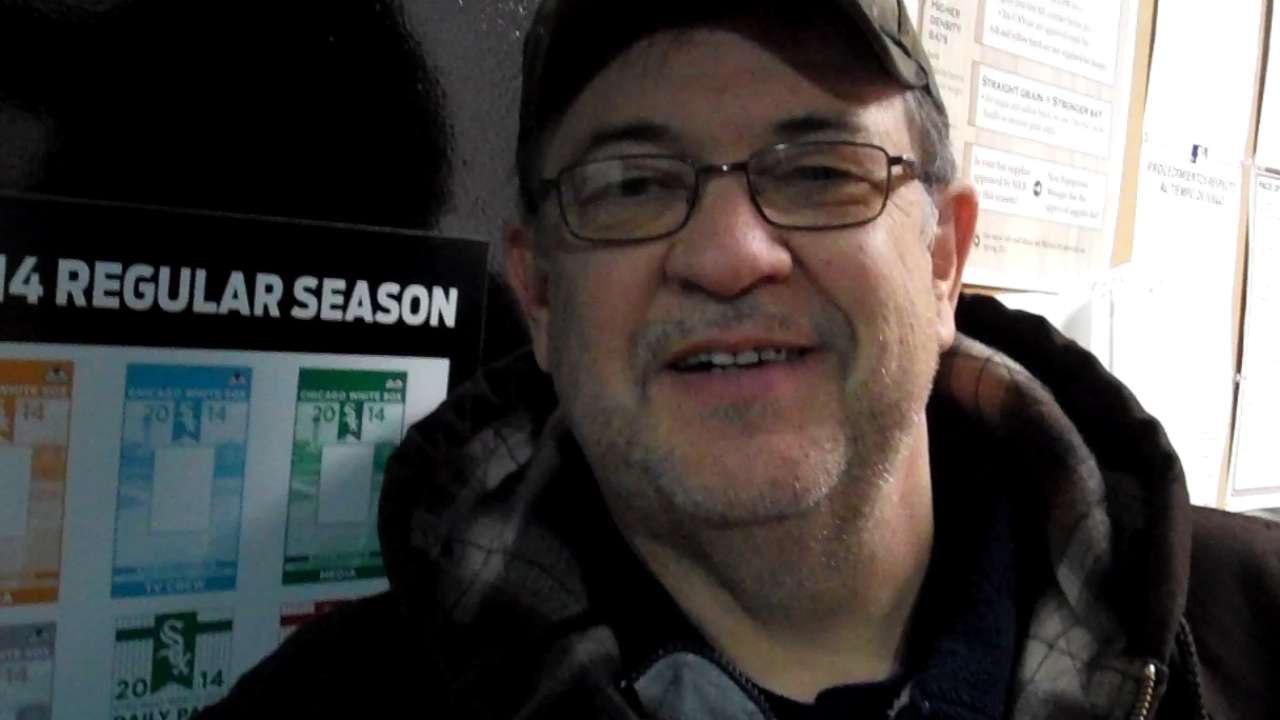 CHICAGO -- The White Sox truck leaving snow-covered U.S. Cellular Field for the 80-degree warmth of Glendale, Ariz., on Friday afternoon featured the normal inventory for Spring Training needs. Normal, that is, except for one unique item.
Paul Konerko's locker, located in the front-right corner of the clubhouse near the players' dining area, is being shipped in whole on the truck to Arizona. The specific ballpark home of the captain, whose illustrious and highly respected 16 years on the South Side came to an end with his retirement upon the conclusion of the 2014 campaign, eventually will make its way to Konerko's home in North Scottsdale.
This locker request was made by Konerko before he left Chicago. Clubhouse manager Vince Fresso anticipated the request.
"He came up with it and I knew about it. It was going to be a surprise at the end of his playing time," said Fresso, as he supervised the truck loading Friday with visiting clubhouse manager Gabe Morrell. "I said, 'You already got it.' [White Sox chairman] Jerry [Reinsdorf] approved it, so off it goes."
Konerko's locker became easier to move because of the extensive construction upgrades currently being done in the home clubhouse. The tradesmen were pulling out all the lockers as part of the work.
"To say [Fresso] wanted to give him that locker on a normal basis, with lockers staying in there, it might have been more difficult," Morrell said. "It made it a lot easier for Vince."
Konerko's locker--on its way to Arizona pic.twitter.com/H3B7hhSS60

- Scott Merkin (@scottmerkin) February 6, 2015
After departing at approximately 2 p.m. CT on Friday, the 53-foot truck was scheduled to reach Arizona on Tuesday morning. Fresso and Morrell are part of the White Sox crew leaving for Arizona on Saturday to begin the inventory and unloading process.
Some of the items already were sent to Arizona because of that home clubhouse construction. The visitors' clubhouse was full and there wasn't room to put anything extra.
"A lot of stuff went directly to Glendale," Fresso said. "We did it a little different. Usually it will come here, we'll inventory and then take it. We reversed it a little bit this year."
"Everything was over in the visitors' [clubhouse]. So it was stored here all winter from the end of the season," Morrell said. "Instead of going all over the park to get stuff, it was all right out of this clubhouse. It made it easier hauling everything out of one spot compared to all over the ballpark. We were actually ahead of schedule compared to years past."
Delivering Konerko's locker stands as a seemingly perfect post-retirement tribute to a man who meant so much to the organization. It still will be strange for the White Sox to start Spring Training with Konerko away from baseball.
"It's having him around every day, and just the stories and stuff that he does is kind of cool," said Fresso of Konerko. "We are going to miss that. I'm sure Gordon [Beckham] will pick up some of the slack."
"It was like the first spring we didn't have Frank [Thomas]. He was just a fixture," Morrell said. "You would show up to Spring Training, and it was, 'Wait a minute. There's no Frank.' It will be the same feeling without PK there."
Scott Merkin is a reporter for MLB.com. Read his blog, Merk's Works, and follow him on Twitter @scottmerkin. This story was not subject to the approval of Major League Baseball or its clubs.