Braggs' 1990 broken-bat fame remains intact
Reds outfielder says impressive feat wasn't new for him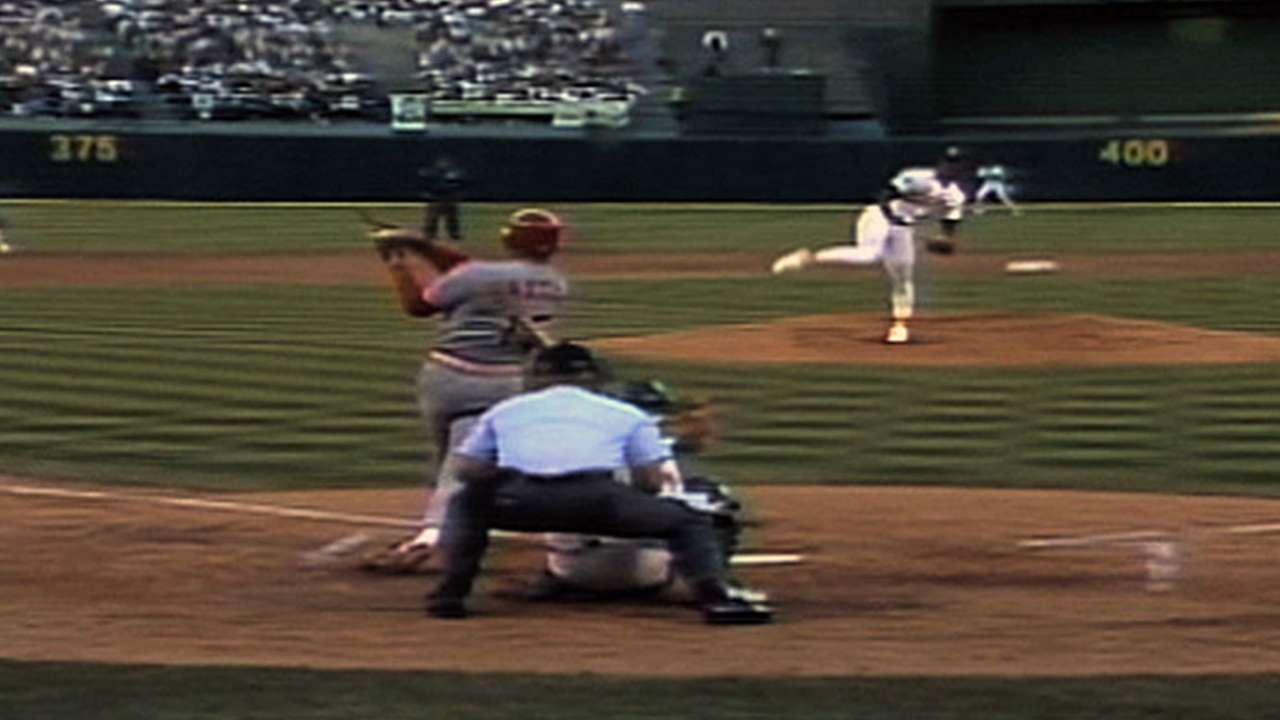 CINCINNATI -- When Reds fans meet former outfielder Glenn Braggs, he already has a pretty good idea of what they will ask him about.
How did Braggs break that bat over his shoulder while swinging in the World Series?
"This is the thing I find the most funny. I'm asked about the broken bat more than anything," Braggs said.
In Game 4 of the 1990 World Series vs. the A's on Oct. 20, Braggs was pressed into service to bat in the second inning. He replaced Eric Davis, who suffered a lacerated kidney in the bottom of the first inning trying to make a diving catch.
Braggs, who led off the second, had a 1-0 count against Oakland ace Dave Stewart. Although listed at 6-foot-3 and 210 pounds, Braggs looked like he was built much bigger -- especially with his large and muscular arms. World Series broadcasters Jack Buck and Tim McCarver were quick to point that out after the first pitch of the plate appearance.
"We've mentioned it before, but this fella has a tremendous physique. He's built more like a football player than a baseball player," Buck said while calling the game.
On the very next pitch, Braggs swung wildly and missed on a Stewart fastball. The handle of the bat connected with the back of his left shoulder. The bat snapped in half, leaving Buck and McCarver shocked and amazed.
"There's an example!" McCarver exclaimed.
"That's how strong he is, folks!" said Buck.
"Holy cow!" replied McCarver.
"Have you ever seen that before?" Buck asked.
"No," said McCarver.
"I never have," replied Buck.
"We kiddingly talked about how he's built more like 'Fort Braggs,'" McCarver added.
Even in the days before the Internet, MLB.com and video clips gone viral, it was still a water cooler-type of moment.
"I am asked a lot about the broken bat, primarily because it happened on national TV in the World Series," said Braggs, who flied out in that at-bat vs. Stewart. "But I had done it about a dozen times before that."
A more tangible moment for the team came a little over a week earlier in the National League Championship Series vs. the Pirates. In Game 6 on Oct. 12, 1990, with Randy Myers trying to close it out with a 2-1 lead in the top of the ninth, Carmelo Martinez skied an opposite-field fly to right field. Backed up to the wall, Braggs jumped and made the catch for the second out, robbing Martinez of a two-run home run that would have put Pittsburgh ahead. Myers then struck out Don Slaught to end the series.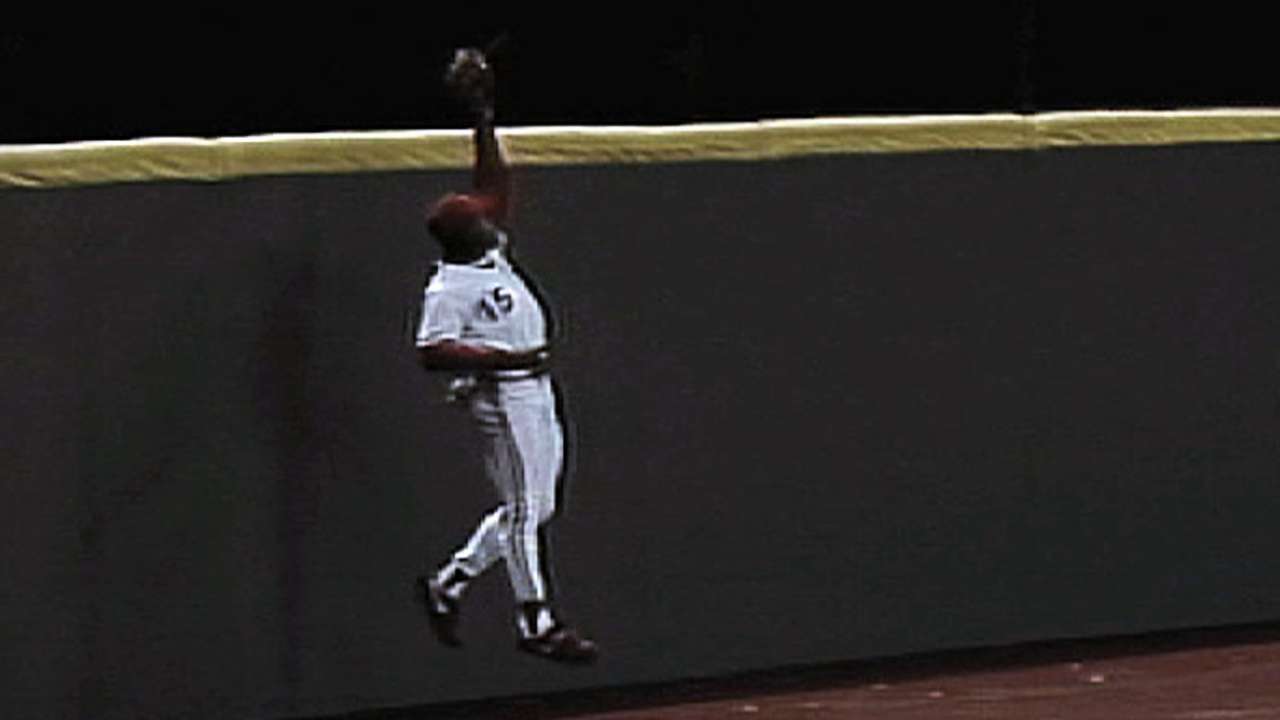 "I love talking about that 1990 year. It was just a fun year. The catch was probably the pinnacle of my career," Braggs said. "I was never really known as a glove guy but one of the biggest memories of my career was the catch that I made."
Braggs had come to the Reds from the Brewers in a June 9, 1990, trade for pitcher Ron Robinson. He remained with Cincinnati through 1992 before finishing his career playing in Japan.
During his playing days, Braggs married singer Cindy Herron from the pop group En Vogue, and the couple now has four children. Now 52 with one kid in college, two in high school and a fifth-grader, Braggs lives in Los Angeles and is involved in a variety of activities.
"About three or four years ago, I completely changed my diet over to vegan. I have a completely vegan diet," Braggs said. "I work with kids on the weekend doing hitting lessons. I'm involved in real estate. I do some acting and some modeling. My primary focus is my family because I have the time to do so. I get to drive my kids in the morning and pick them up from school."
Braggs doesn't mind looking back, however. This will be the 25th-anniversary season since the Reds' last World Series.
"It was one of the best teams I ever played on from the standpoint of camaraderie and togetherness," Braggs said. "That team had a lot of fun. We were gamers on the field and we were friends off the field. We did a lot of things off the field together -- dinner excursions, the pool and it was all just a lot of fun."
Mark Sheldon is a reporter for MLB.com. Read his blog, Mark My Word, and follow him on Twitter @m_sheldon. This story was not subject to the approval of Major League Baseball or its clubs.