Left-field competition wide open for Rangers
At least 10 candidates for position, with no clear favorite heading into Spring Training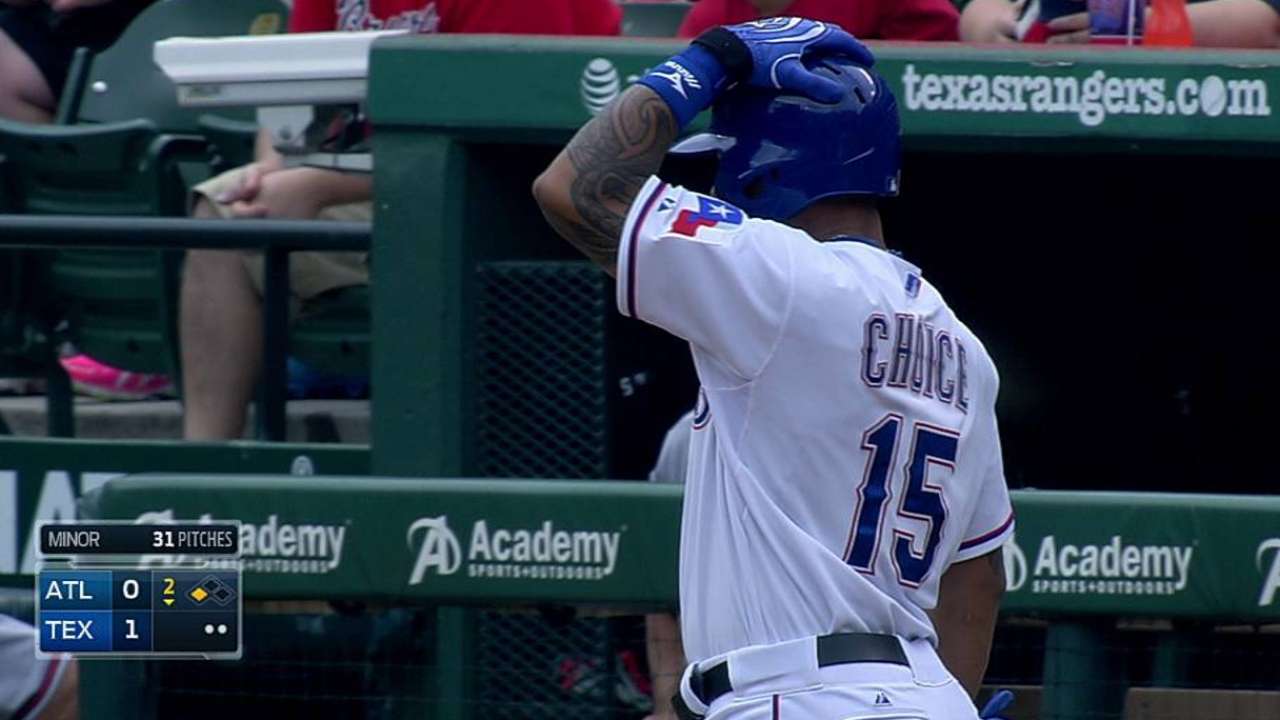 ARLINGTON -- This may be the mother of all Spring Training competitions. There may be nothing like it in Rangers history.
The Rangers have an opening in left field, they have no less than 10 candidates for the job and there is no clear favorite. Texas has a candidate who has played in an All-Star Game, one who has been in two World Series and others who played in the All-Star Futures Games. Two were first-round picks, two were 17th-round picks. One, big league veteran Nate Schierholtz, was added to the mix on Friday.
Left field is not the only position at stake. The Rangers need a designated hitter, a fourth outfielder and one more player off the bench in an undetermined role.
Breaking down 10 of the candidates:
1. Michael Choice
Acquired: From the Athletics in a four-player trade in December 2013.
Assets: Choice is a former first-round Draft pick out of the University of Texas at Arlington with rare right-handed power and good on-base percentage numbers in the Minors.
Concerns: Choice hit .182 in 86 games and 280 plate appearances for the Rangers as a rookie last season as he struggled to adapt to a part-time role.
Best chance: The Rangers traded for Choice because they expected him to be an everyday outfielder as early as this season. Now he has to win the job.
2. Ryan Rua
Acquired: Drafted in the 17th round of the 2011 First-Year Player Draft out of Lake Erie College.
Assets: Rua has soared through the Rangers organization by being able to hit at every level and play multiple positions.
Concerns: Rua was drafted as an infielder and just doesn't have much experience in the outfield.
Best chance: Rua could be the perfect fourth player on the bench because he hits right-handed and can play multiple positions.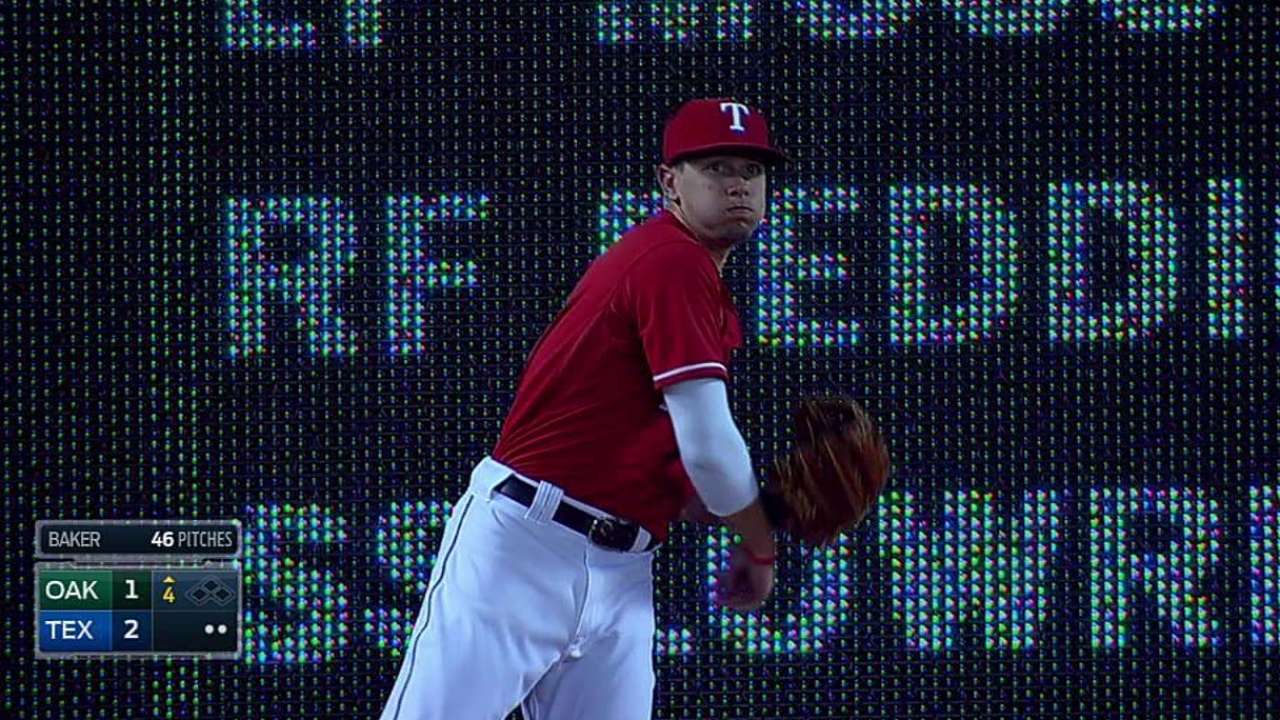 3. Jake Smolinski
Acquired: Signed as Minor League free agent on Nov. 18, 2013.
Assets: A right-handed hitter, Smolinski batted .349 with a .512 slugging percentage in 24 games for the Rangers in 2014, although a broken left foot prevented Texas from getting a longer look.
Concerns: A second-round Draft pick by the Nationals in 2007, Smolinski had eight unremarkable Minor League seasons -- .263 career batting average, .397 slugging percentage -- before the Rangers gave him a chance last year.
Best chance: Nobody can ignore a .349 batting average, even in limited exposure.
4. Mitch Moreland
Acquired: Moreland was taken in the 17th round of the 2007 Draft out of Mississippi State.
Assets: Moreland is a proven left-handed Major League hitter when he is healthy.
Concerns: Moreland just hasn't been able to stay healthy over the past three seasons as major surgery on his left ankle ended his season after 52 games last year.
Best chance: The Rangers say they are going to look at Moreland in the outfield this spring, but he is the leading candidate to be their designated hitter and backup first baseman behind Prince Fielder again.
5. Ryan Ludwick
Acquired: Ludwick was signed to a Minor League contract on Wednesday.
Assets: Ludwick has had a highly productive 12-year Major League career as a right-handed power-hitting corner outfielder. He laps the field as far as big league experience.
Concerns: Ludwick is 36 and has had shoulder problems for the past two years. His last big season was in 2012.
Best chance: Ludwick could win a spot as at least as a platoon partner with Moreland and backup outfielder. But if the guy is healthy and at his best, he would be Texas' left fielder.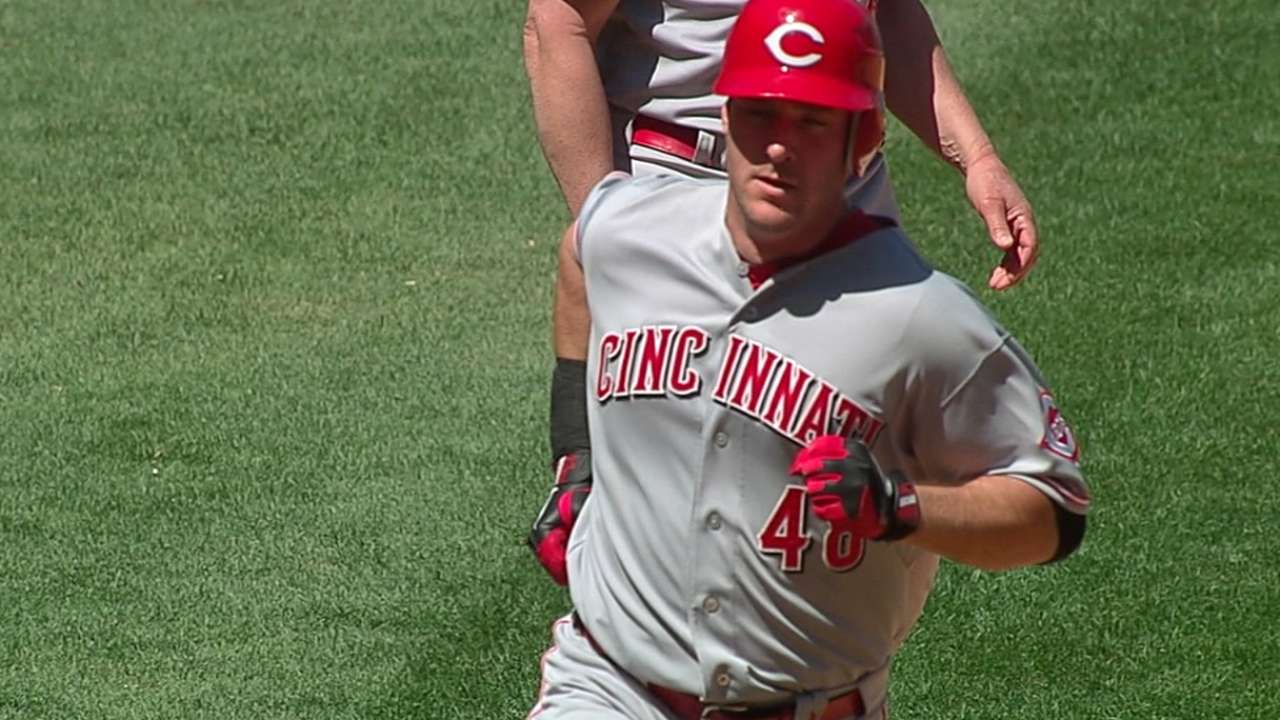 6. Kyle Blanks
Acquired: Blanks was signed to a Minor League contract in December.
Assets: Blanks was a 42nd-round Draft pick by the Padres in 2004 under the old draft-and-follow rules. Signed just before the 2005 Draft, he had five excellent seasons in the Minors. By 2009, the Padres were moving guys like Chase Headley and Kevin Kouzmanoff around to find a spot for Blanks in the lineup.
Concerns: An amazing run of injuries over the past five seasons kept Blanks from achieving some pretty high expectations. In 760 Major League at-bats, Blanks has hit .234 with 30 home runs, 105 RBI and a .407 slugging percentage.
Best chance: Blanks can play first base and the outfield when healthy. Since he hits right-handed, he has the assets to be a backup for both Fielder and Moreland. But Blanks has been on the disabled list six straight seasons.
7. Carlos Peguero
Acquired: Peguero agreed to a Minor League contract on Jan. 13.
Assets: Peguero hits left-handed and has some serious power. He has had some big Minor League seasons in the Mariners organization and was once considered one of their top prospects.
Concerns: Peguero has big power but also big strikeout numbers. In 214 Major League at-bats, he has nine home runs, a .196 batting average and 89 strikeouts.
Best chance: Peguero has played well in winter ball, and getting him away from pitcher-friendly Safeco Field might help. Being a left-handed hitter might be an advantage. The best case is Peguero might be a left-handed-hitting Nelson Cruz, who also broke through late in his career.
8. Delino DeShields
Acquired: Taken in the Rule 5 Draft from the Astros in December.
Assets: A former No. 1 Draft pick (eighth overall) in 2010, DeShields has tremendous speed and some power. A right-handed hitter, he can play both the infield and the outfield.
Concerns: DeShields has never played above Double-A. At Double-A Corpus Christi this past season, DeShields played in 114 games and hit .236 with 14 doubles, two triples, 11 home runs, 54 stolen bases, 61 walks, 112 strikeouts, a .346 on-base percentage and a .360 slugging percentage.
Best chance: As a Rule 5 Draft pick, DeShields has to be kept on the big league roster all season. That's always difficult for a contending team, but the Rangers like the talent and he might stick as a fourth outfielder if he can play center field.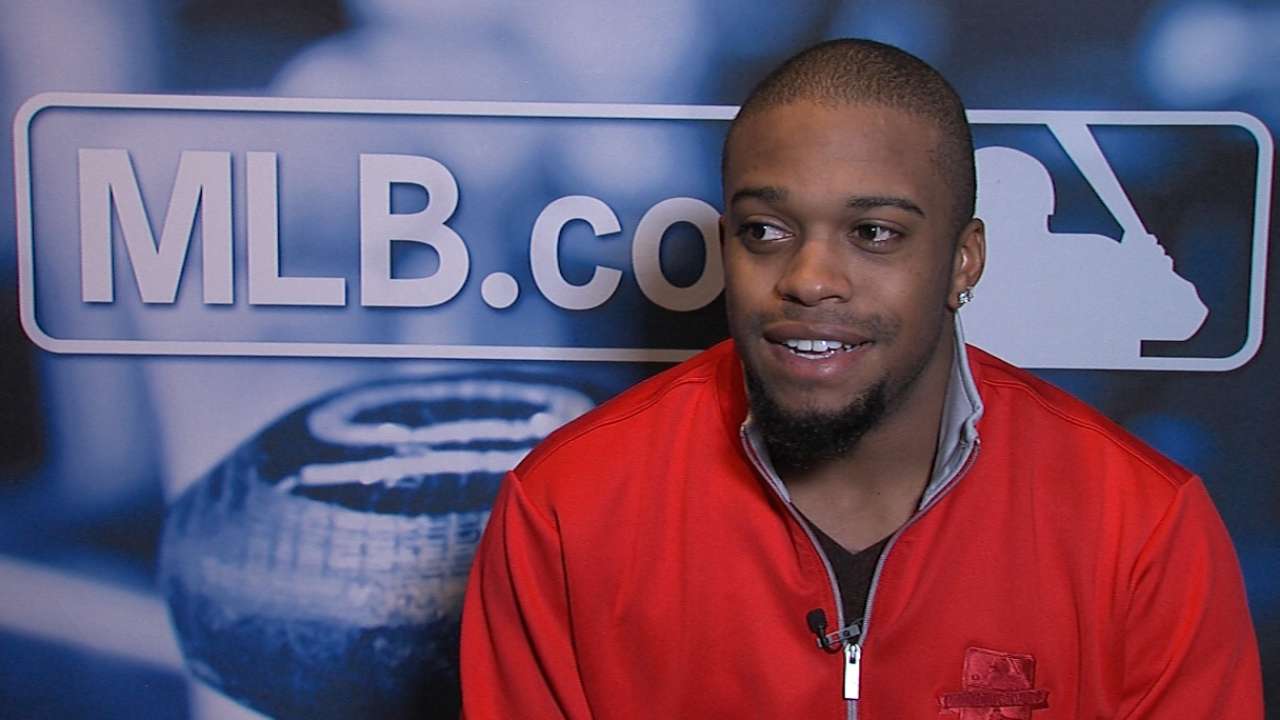 9. Jared Hoying
Acquired: Hoying was drafted in the 10th round out of the University of Toledo.
Assets: A left-handed hitter, Hoying is coming off a strong season at Triple-A Round Rock, hitting .271 with 33 doubles, 26 home runs, 78 RBI and a .517 slugging percentage.
Concerns: Hoying walked 40 times and struck out 140 times in 555 plate appearances. He made progress, but there are still some holes in the swing.
Best chance: Hoying has a reputation for being one of the hardest workers in the organization, and that has been reinforced by the improvement he has shown while moving up in the system. If he can cut down the strikeouts and maintain the other numbers, somebody will find him a spot in the big leagues.
10. Antoan Richardson
Acquired: Richardson was signed as a Minor League free agent on Dec. 13.
Assets: Think Daniel Robertson with more speed. Richardson is a 5-foot-8 switch-hitter with 324 stolen bases in 10 Minor League seasons. He played briefly with the Yankees last season and the Braves in 2011, making him one of six Major League players born in the Bahamas. He does get on base. Richardson led the International League in hit by pitches last season.
Concerns: Richardson can fly but has little power. He was signed mainly to provide Triple-A depth in center field.
Best chance: If the Rangers kept Richardson, it would likely mean DeShields being offered back to the Astros. He is really the kind of guy you would like to have around in September in a pennant race.
T.R. Sullivan is a reporter for MLB.com. Read his blog, Postcards from Elysian Fields, and follow him on Twitter @Sullivan_Ranger. This story was not subject to the approval of Major League Baseball or its clubs.