Crane sees Astros as postseason contenders
Owner excited about club's offseason additions, anticipates more activity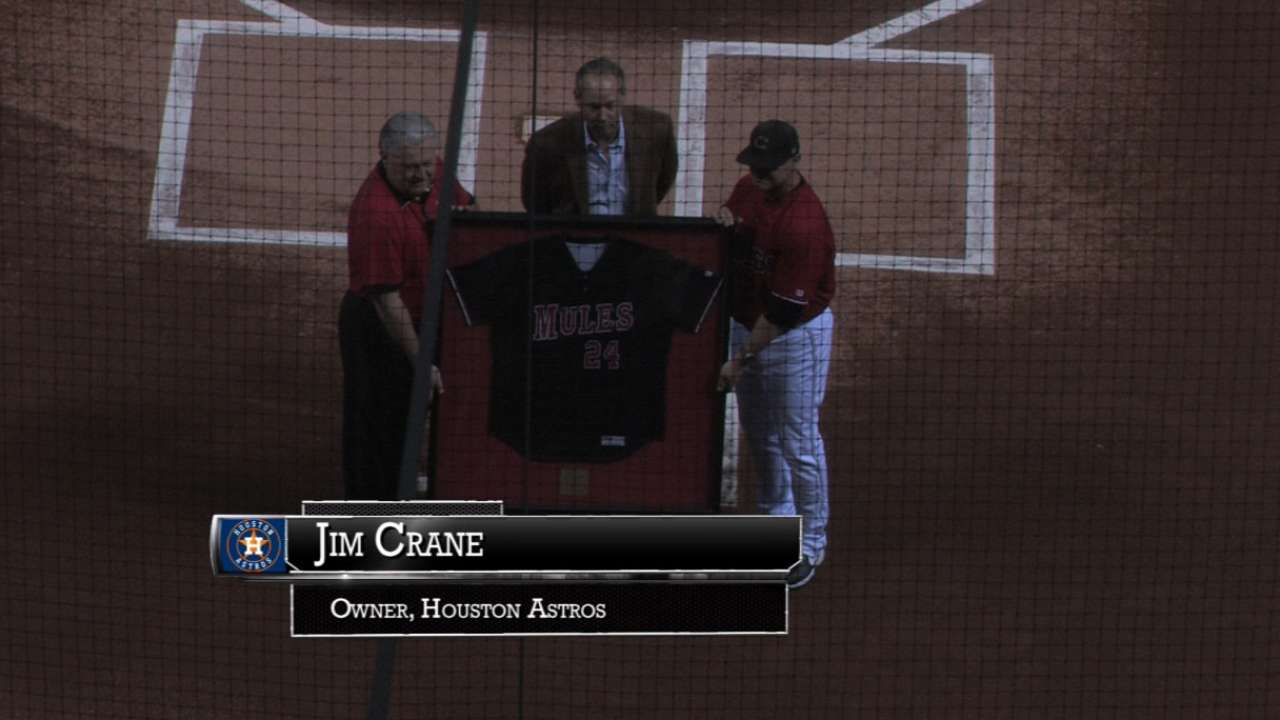 HOUSTON -- The Astros have upgraded their roster this offseason with free-agent signings and trades, and more activity may be in the works, according to owner Jim Crane.
Crane was on hand at Minute Maid Park on Thursday for Day 1 of the four-day Houston Winter Invitational featuring Central Missouri, one of six NCAA Division II teams in the field and the team for which Crane pitched from 1973-76.
Crane said general manager Jeff Luhnow is still trying to improve the team, two weeks before pitchers and catchers report for the start of Spring Training.
"Jeff's still working on a few -- we're looking for a couple more players [to see] if we can make a couple more key additions," Crane said. "But we like the moves we've made, and I think the team's going to be very exciting this year -- a lot more competitive.
"We eventually want to win championships. I think this team has an opportunity to get to the playoffs, and we're expecting to get there."
The Astros went 70-92 last season, finishing fourth in the American League West. A.J. Hinch, set to make his managerial debut, appears to have more pieces this season to complement last season's Major League batting champion, Jose Altuve. That is what has Crane enthused about the upcoming season.
"When you look at the moves that we've made," Crane said, "we lost a lot of games last year. We blew a lot of saves. We got two good additions to the bullpen [in Luke Gregerson and Pat Neshek]. We brought in some more power on first and DH with [Evan] Gattis and certainly filled in at third [with Luis Valbuena] and short [with Jed Lowrie].
"When you look at the team, it doesn't look like it has as many holes as it did last year, so that's really exciting to see -- in every position, we've got a good Major League player. That's been the goal since we started rebuilding."
Crane said the franchise's goal is to return to the postseason this year.
"I think the team on paper, when you look at it, it looks pretty good," Crane said. "Now, the chemistry has to be there. We have a new [manager], but we expect to make the playoffs this year. That's my objective. That's always going to be the goal from here on in."
Crane also addressed the Astros' Spring Training situation. Palm Beach County (Fla.) gave final approval on Tuesday for the Astros to proceed with plans to build a new Spring Training facility to be shared with the Nationals.
The Astros expect to be at their new facility by January 2017, meaning they will stay in Kissimmee, Fla., for two more years. Kissimmee has been the Astros' home since the club left Cocoa Beach, Fla., in 1985.
"Palm Beach looks like a great site," Crane said. "We have to fast-track it now. It looks like we can get it done in time for 2017."
With the move south, the Astros would be close to the Marlins and Cardinals, who share a facility in Jupiter, Fla., and the Mets, who train in Port St. Lucie, Fla.
"When we first bought the team [more than three years ago], we wanted to make an upgrade," Crane said. "It took a little longer than we thought it would, to get it all put together. But the timing is good.
"The big thing is, it saved baseball on the East Coast there because now there are five teams. Teams don't have to travel as much. It's good for everybody. It's good for baseball. It's good for the fans. It's good for our team."
Richard Dean is a contributor to MLB.com. This story was not subject to the approval of Major League Baseball or its clubs.