Inbox: Will Cano bounce back in power department?
Beat reporter Greg Johns fields fans' questions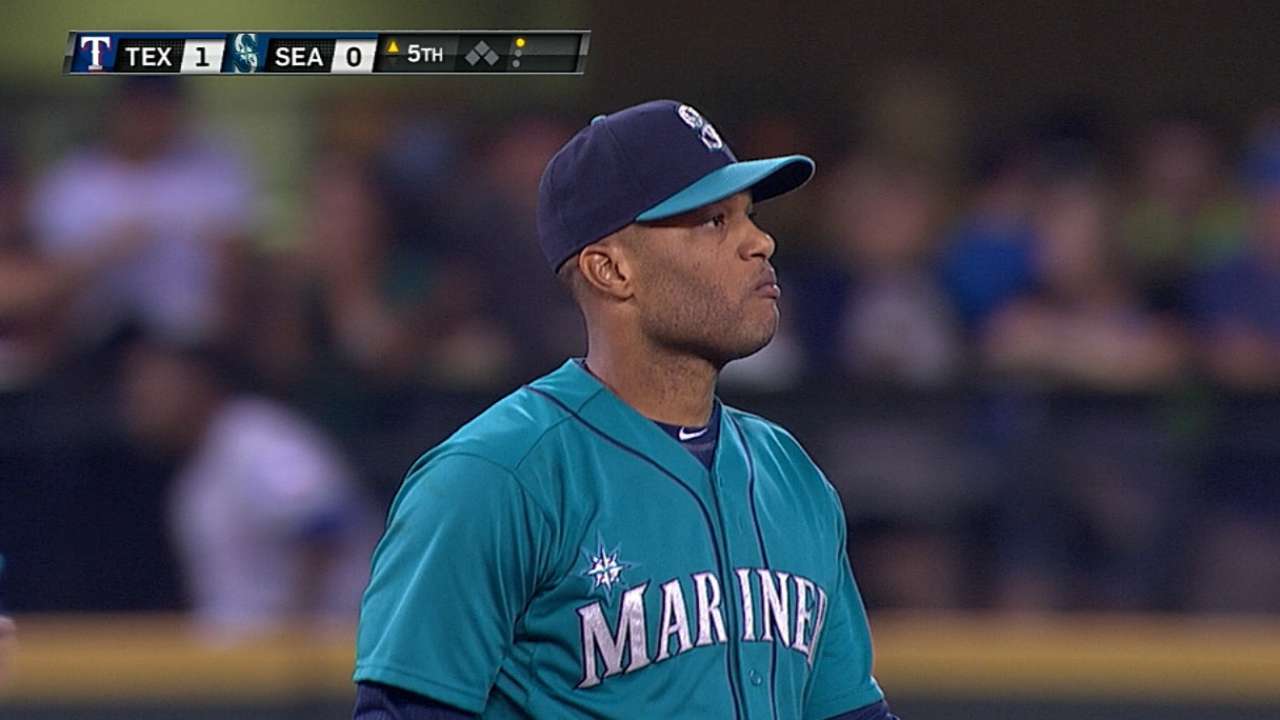 Here's the latest in our Inbox series. You can click here to submit a question of your own.
Robinson Cano didn't hit as many home runs as people thought he would last year. Do you think he has adjusted to Safeco and will hit more homers than he did last year?
-- Logan F., Normandy Park, Wash.
After averaging 28 home runs over his last five seasons with the Yankees, Cano hit 14 last season. I do expect that number to rise this year and would be surprised if he doesn't hit 20-25, given his history. But I don't think it's so much about adjusting to Safeco Field as just getting better pitches to hit now that Nelson Cruz and Kyle Seager will be entrenched behind him in the lineup.
Cano stayed patient all last season, taking what pitchers were giving him. And a lot of times, that wasn't much, so he pushed more balls to left field rather than getting pitches to turn on and drive as much as he'd like. Safeco actually can be a decent park for left-handed hitters, as Seager showed last year when he hit 16 of his 25 dingers at home. Cano hit nine of his 14 homers at Safeco. But while he wasn't yanking the ball out as much, he did prove quite capable of producing at Safeco -- he batted .308 with 16 of his 37 doubles there -- and I suspect his power numbers will trend back upward in 2015.
If J.A. Happ doesn't outperform our other starters, could he be sent down? Or does he have to be traded/released?
-- Shane A., Hesperia, Calif.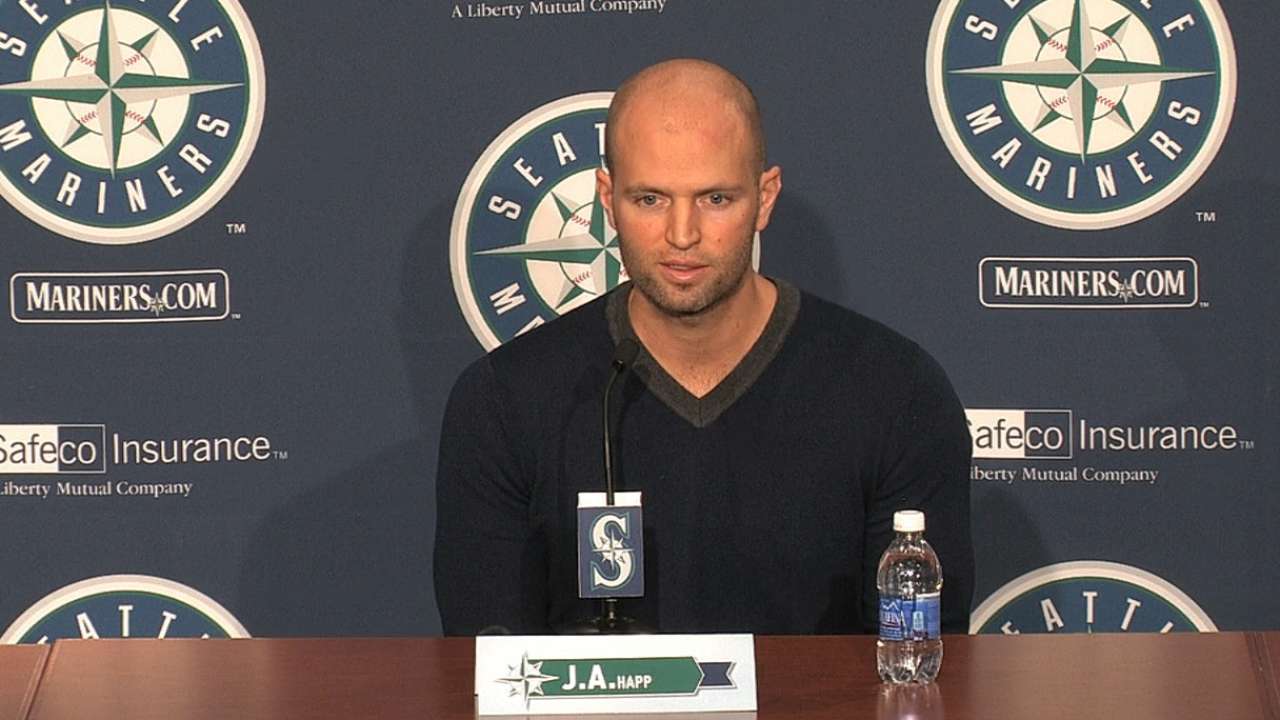 Any player who has been in the Majors for five full seasons can't be sent down to the Minors without his permission, unless it's an injury rehab situation. Happ falls into that veteran category, meaning he'd be able to request his release if he was asked to be sent down. Among the Mariners contending for rotation spots, James Paxton, Taijuan Walker and Roenis Elias have Minor League options remaining. Erasmo Ramirez is out of options, so he'd need to go through waivers if he isn't on the 25-man roster.
Where will Ketel Marte start the year and can he get the Mariners' shortstop job in two years?
-- Alex A., Chehalis, Wash.
Marte will likely start the year at Triple-A Tacoma, since that's where he spent the last month of 2014. The Mariners are high on the Dominican native, who just turned 21 in October, and they've worked him at both second and shortstop to increase his options. Obviously second base is filled in Seattle for quite some time if Cano stays healthy, but Marte has the defensive ability and is a speedy switch-hitter who could certainly challenge for a roster spot by 2016 either at shortstop or as a utility player.
With all the talk about the return of Jesus Montero, what's the plan at catcher? Is Mike Zunino still going to be the first choice, or does it depend on how Spring training goes?
-- Quentin S., Rennes, France
Montero's catching days appear to be over, at least as far as the Mariners are concerned. The plan for him is to work strictly at first base and designated hitter. Zunino is definitely the starting catcher and will again see the vast majority of the work, with veteran John Baker just brought in to compete for the backup job with Jesus Sucre and John Hicks.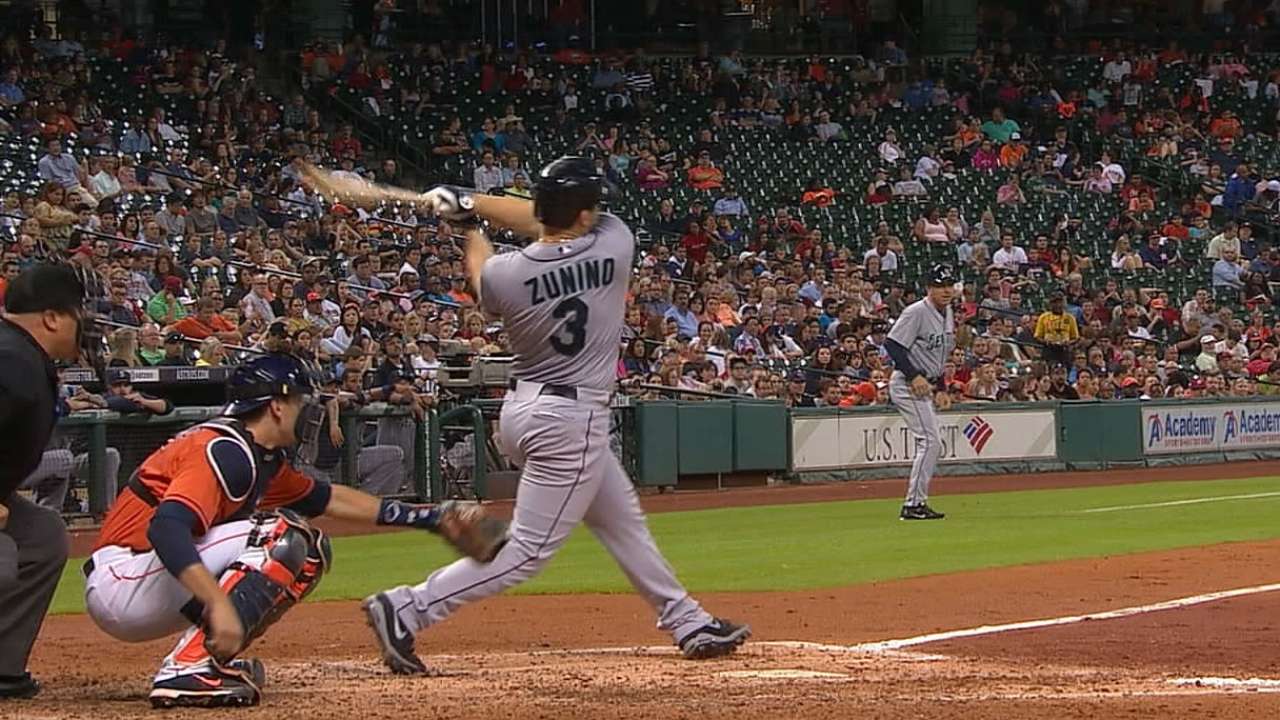 What is the Mariners' plan to back up Logan Morrison at first base? Are they trusting Montero will win a roster spot in Spring Training? If not, then what?
-- Mark S., Vancouver, British Columbia
Montero will certainly be given a good look there this spring. Ji-Man Choi is another young contender and Stefen Romero played some first base last spring. But as long as Morrison is healthy, the Mariners don't have to carry two full-time first basemen on their 25-man roster. Morrison figures to be the everyday starter and if Willie Bloomquist is healthy as the utility man, he can fill in when needed. I suspect Dustin Ackley could become another fill-in option there as he played first in college. The Mariners have some corner outfield depth with the addition of Seth Smith, Justin Ruggiano and Cruz to go with Ackley, James Jones and Romero.
How would Franklin Gutierrez fit into the Mariners' outfield if he shows continued progress? Seems like they are loaded with righties now.
-- Gary I., Mount Vernon, Wash.
Gutierrez will almost certainly need to prove he's fully healthy and capable at Tacoma before the Mariners even think about giving him a shot on their 25-man roster. There is absolutely no expectation that he'll be needed to fill a role this year. He didn't play at all last season and was available for just 41 games in Seattle in 2013. Signing him to a Minor League deal required no financial risk -- or roster spot -- so this will be a chance for the 31-year-old to take his time and see if he's got anything left. But I have heard that Gutierrez looked like his old self in the field and showed some power at the plate in Venezuela this winter, so it'll be interesting to watch how things go in the coming months.
There's been talk that both general manager Jack Zduriencik and team president Kevin Mather were in the Dominican Republic checking out Cuban prospects Hector Olivera and Andy Ibañez. Why would the Mariners be interested in bringing in infielders when the positions they play are already locked up by Cano and Seager?
-- Scott B., Kamas, Utah
As Baseball America reported, Zduriencik and Mather attended a workout for the well-regarded Cuban youngsters earlier this week, while noting both players fill positions where Seattle has no apparent need. Zduriencik and Mather indeed have spent the last four four to five days in the Dominican, but that doesn't mean they were there just to see those two players.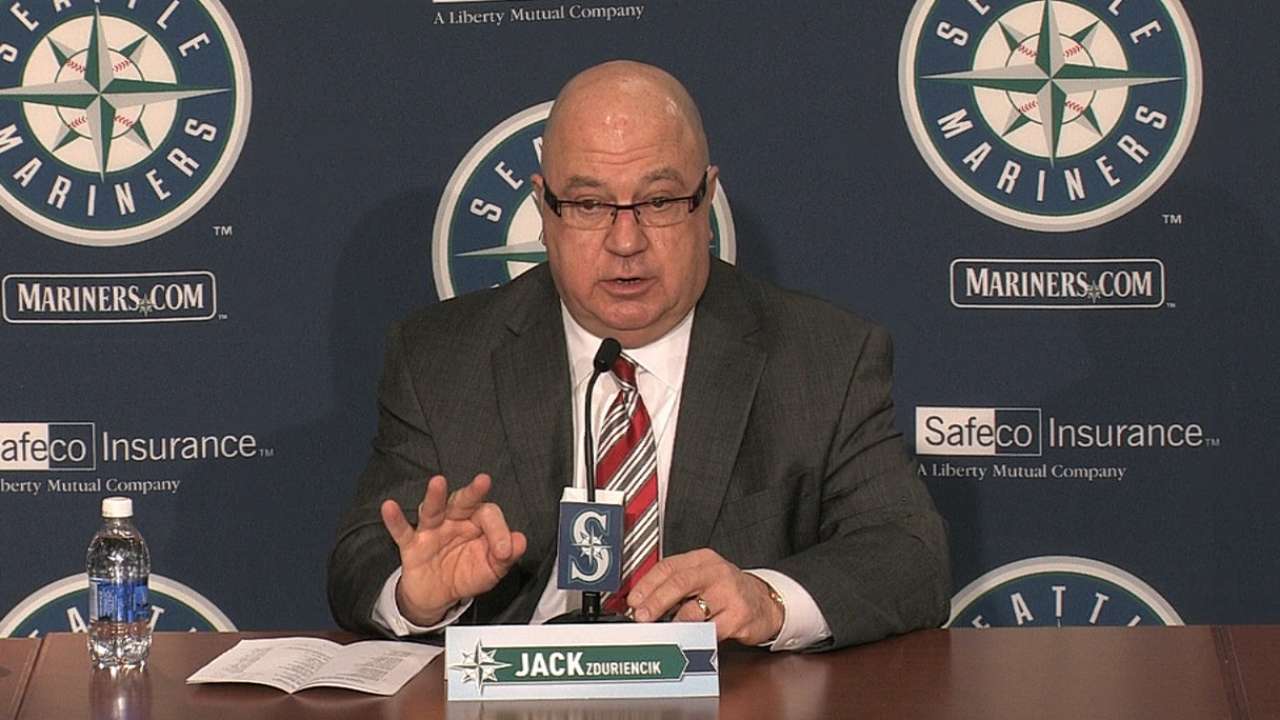 The Mariners have their new baseball academy in the Dominican and that is a big focus of the club's international operations. Staying on top of the premier Cuban talent that is coming available only makes sense as well. And there's nothing wrong with adding assets to the organization wherever and whenever possible, no matter what position.
Greg Johns is a reporter for MLB.com. Follow him on Twitter @GregJohnsMLB as well as his Mariners Musings blog. This story was not subject to the approval of Major League Baseball or its clubs.