Porcello driven by success, not next contract
Right-hander hopes to lead by example in first season with Red Sox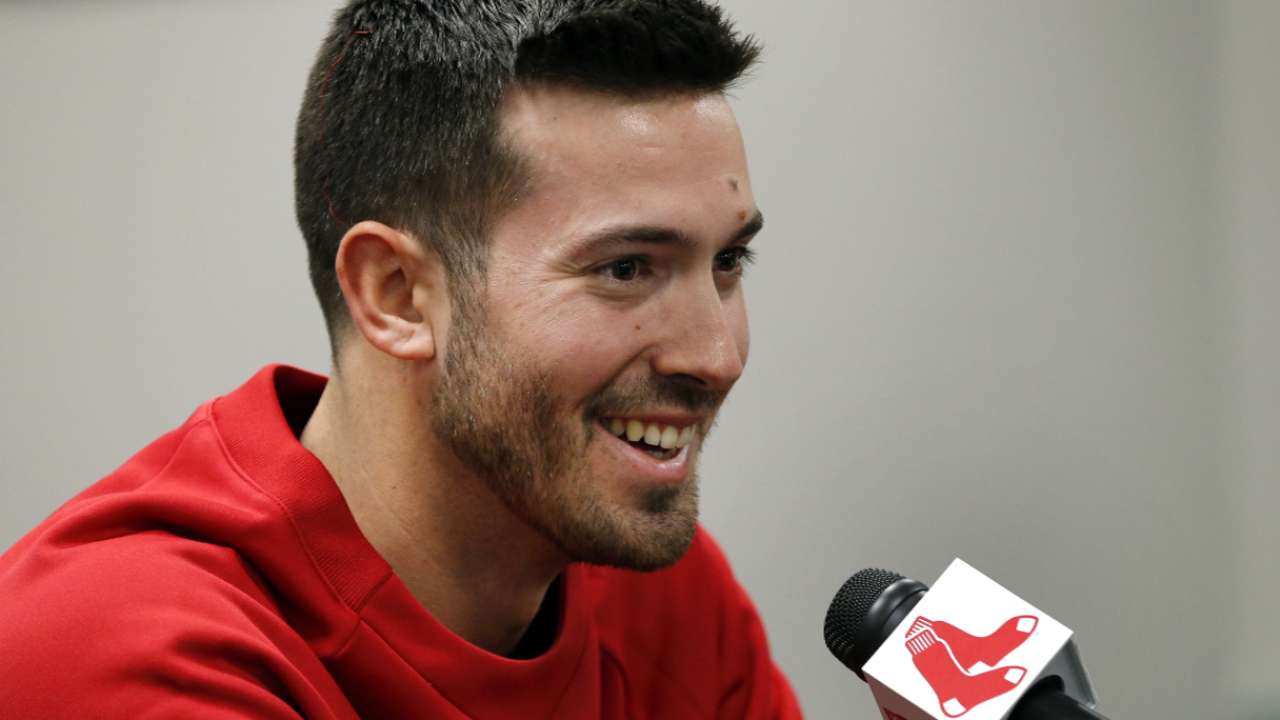 BOSTON -- Whether or not Rick Porcello winds up being a short-time member of the Red Sox or a fixture over the next few years, his main concern is that his stint with his new club is a highly productive one.
Porcello, who was acquired from the Tigers for Yoenis Cespedes back in December, can be a free agent following this season.
Porcello is convinced that situation will take care of itself. Right now, he is putting all his energy into preparing for the season.
In fact, the righty is already in Fort Myers, Fla., working out at the club's Spring Training facility more than two weeks before pitchers and catchers are due to report.
"Just getting off to a good start and locking in and having a good year is what's important," Porcello said recently at a team community event in Connecticut. "Obviously the money is a huge benefit of playing this game, but for me, the most important thing is to make sure that I play well. I don't care how much money you make. If you're not playing well, and you're a competitive person, then you're not happy."
After several years of pitching with Max Scherzer in Detroit, Porcello was very happy to see his former teammate land a huge payday with the Washington Nationals.
"I text messaged him and said, 'Good for you, you lucky you know what,'" said Porcello. "Honestly, I didn't really talk to him that much when he was going through that whole free-agent process. I just kind of wanted to leave him alone about it. I congratulated him and wished him well, and honestly, that's been it for now."
Perhaps at some point, the Red Sox will approach Porcello about an extension. At this juncture, the righty is just trying to see what playing for Boston is like. Maybe after he gets a sense of that, he can make a more informed decision about his future.
"I think it's premature for that," Porcello said. "I'm just trying to settle in and fit in with everybody and get to know the guys and get to know the staff. The most important thing on my mind is getting settled in Spring Training."
To Porcello, the money involved with playing baseball has never been an obsession. And perhaps that philosophy will serve him well as he enters his "walk year."
"It's always strange, at least for me, because growing up, you played baseball because you loved playing the sport," said Porcello. "The money stuff gets thrown around, and obviously for somebody and their personal financial standpoint, that's a huge opportunity when you look at it. But at least for me over the course of my career, no matter how much money I make, I'm not happy unless I'm playing well."
At the age of 26 and coming off a 15-win season, Porcello could be positioned to have a big year on a team that, at least on paper, lacks a true ace.
After pitching in the shadow of Scherzer, Justin Verlander and -- for a couple of months last season -- David Price, Porcello has a chance to gain more prominence in Boston.
"I think everything is going to take shape depending on how you perform," Porcello said. "For me, I'm vocal in social settings with my teammates and what not, but when it comes to a leadership standpoint, I think, at least for me, I try to lead by example. When I get the ball, I try to show my teammates that I'm out there to work hard and give them everything I've got every fifth day. That's where I look to try to step forward, is just to perform and let that speak for itself."
Ian Browne is a reporter for MLB.com. Read his blog, Brownie Points, and follow him on Twitter @IanMBrowne. This story was not subject to the approval of Major League Baseball or its clubs.