On road to recovery, Withrow looking forward to health
Dodgers reliever rehabbing after Tommy John, back surgeries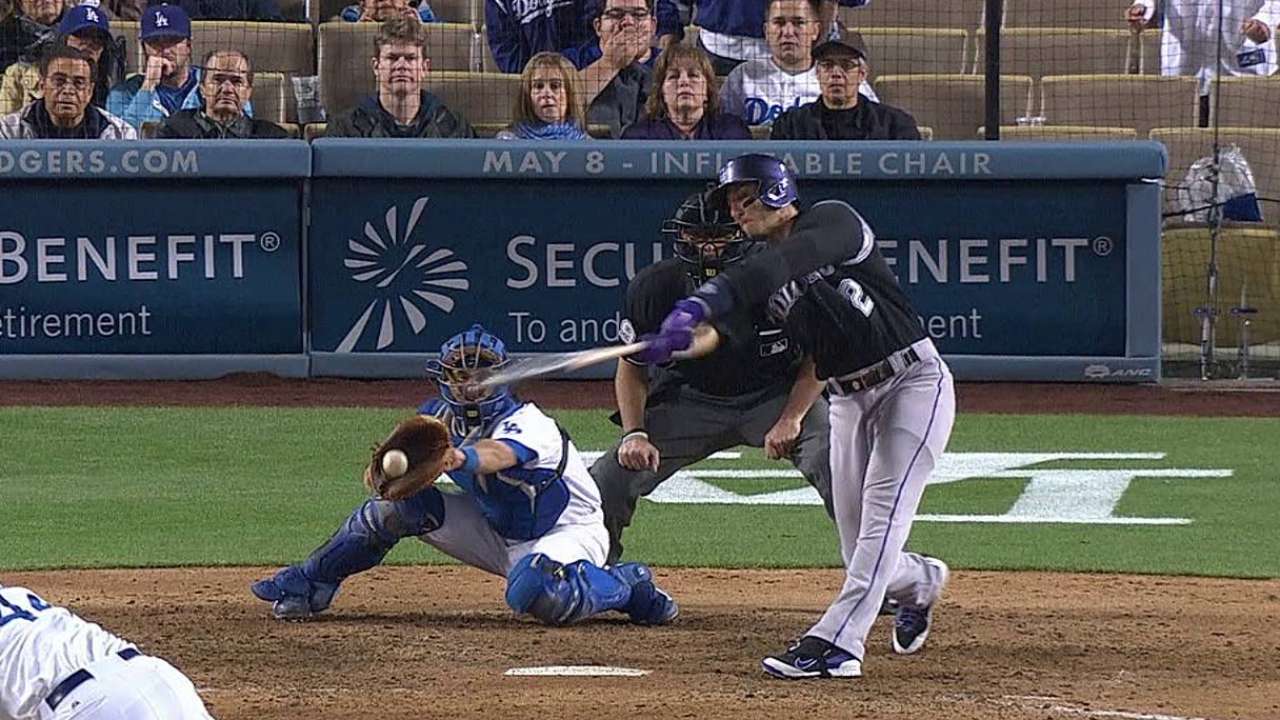 LOS ANGELES -- Chris Withrow isn't yet healthy enough to play with his toddler, never mind playing with the Dodgers.
The reliever blew out his elbow late last May trying to pick up the slack when Brian Wilson was hurt and inconsistent. Withrow underwent Tommy John reconstruction June 3, then while rehabbing the elbow, a chronic herniated disk in his lower back worsened, and on Dec. 2, he had another operation to fix that.
So the 25-year-old can't even pick up his 17-month-old son and is out indefinitely, perhaps for the entire 2015 season. During last Saturday's FanFest, while his teammates were preparing for the start of Spring Training, Withrow was facing the monotony of double physical therapy and the cheerleading that comes with injuries.
The silver lining, as Withrow sees it, is that just maybe he'll come out of this orthopedic nightmare fully healthy. He can't even remember what that feels like or how long it's been.
Withrow concedes that even before he imploded in a May 17 game at Arizona, his elbow was barking, but manageable. Coming into that game, he had compiled a microscopic 0.95 ERA. He actually had thrown a no-hitter against left-handed hitters, retiring 27 of them without allowing a hit. He finished the season with a 2.95 ERA and opponents' batting average of .143.
But there were telltale signs of trouble, specifically 18 walks in 21 1/3 innings, which was more alarming than the 28 strikeouts were impressive. His walks-per-nine-innings ratio ballooned from 3.4 in 34 2/3 innings in 2013 to 7.6 last year (5.0 throughout his Minor League career).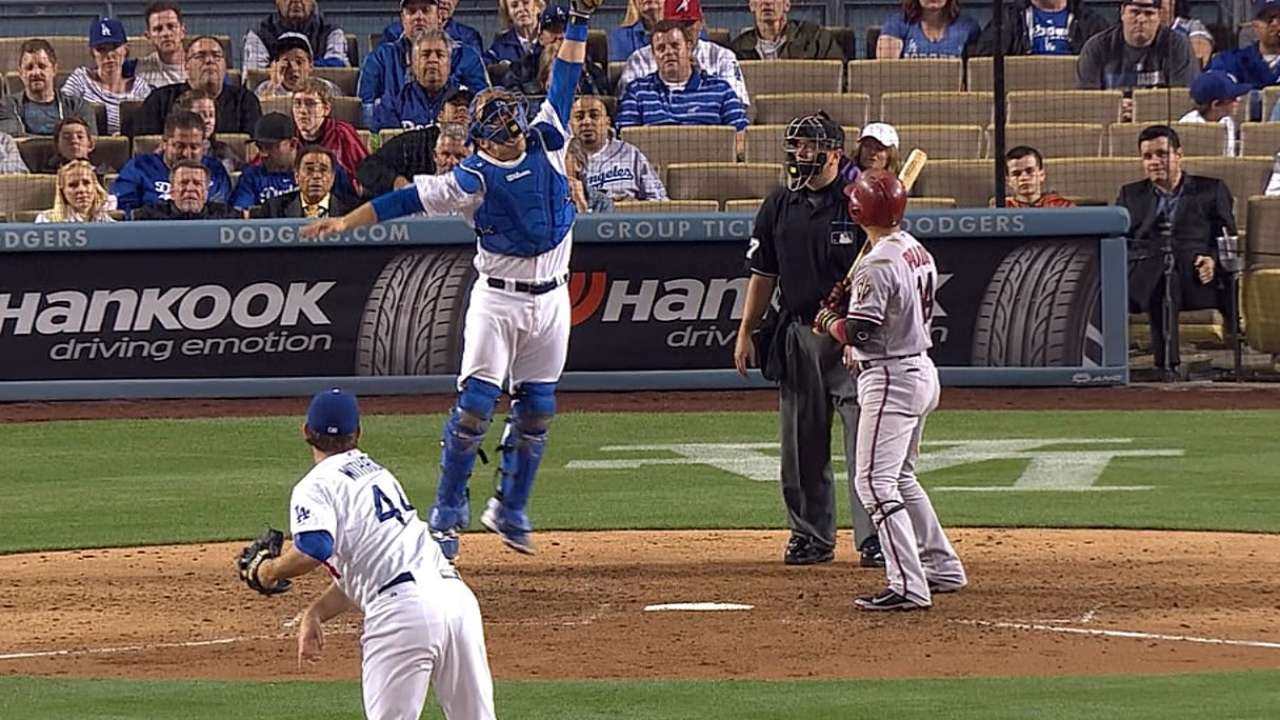 Withrow said he never felt the elbow go on one specific pitch, but he was tagged for five earned runs against the D-backs (after allowing only two in 18 previous outings). He pitched once more for the Dodgers in New York, then was optioned to Triple-A, but was shut down when he got there and ultimately had the Tommy John surgery.
"The elbow is something I've dealt with for as long as I can remember," said the former first-round Draft pick, who had been pitching with a partially torn ligament. "The MRI told me it had gotten to the point where I couldn't throw anymore. I don't want to use it as an excuse that I pitched hurt, but I will say it will be really nice not having something nagging, something I always had to maintain."
Withrow began a throwing program in November and got good and bad news.
"When I began tossing Nov. 2, my arm felt incredible," he said. "But you know the back has bothered me off and on for years and it had gotten significantly worse. We just felt it made sense to get it taken care of as long as I was already out."
Withrow said a return to competition by the end of the season "I assume is the best-case scenario."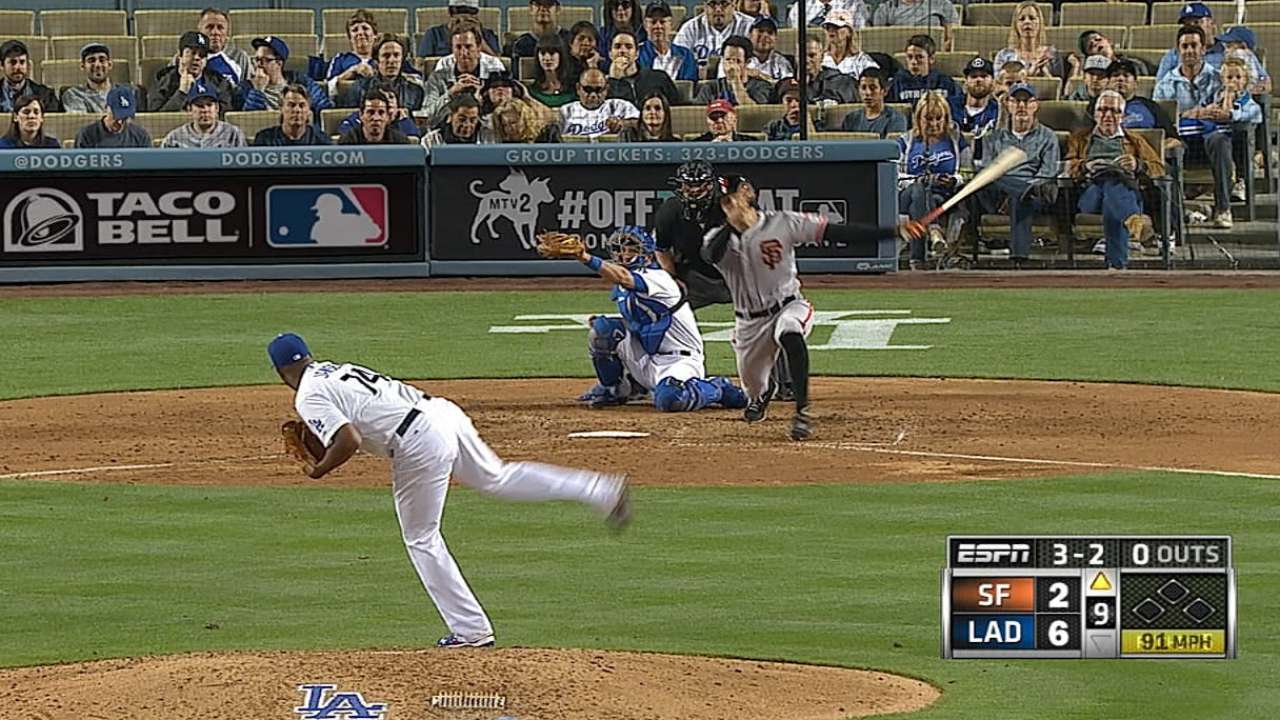 Withrow's absence added to the bullpen's season-long setup woes. Wilson, the quirky former closer, kept getting the ball to set up Kenley Jansen, but without a fastball he became a smoke-and-mirrors junkballer. The Dodgers decided to eat the remaining $10 million on his contract rather than bring him back.
Chris Perez set up well in April, then lost his command and the confidence of the staff. He was left off the postseason roster and is a free agent.
By the end of the season, manager Don Mattingly held a cattle call for right-handed setup relievers, among them Brandon League, Pedro Baez, Carlos Frias and Yimi Garcia. Mattingly's lack of confidence in his middle relief presumably set the stage for Clayton Kershaw's two postseason catastrophes.
Withrow's continued health concerns contributed to new management's focus on rebuilding the bullpen during the winter with trades for setup candidates Chris Hatcher, Joel Peralta and Juan Nicasio.
Ken Gurnick is a reporter for MLB.com. This story was not subject to the approval of Major League Baseball or its clubs.