Tigers join the fray for Cuban teenager Moncada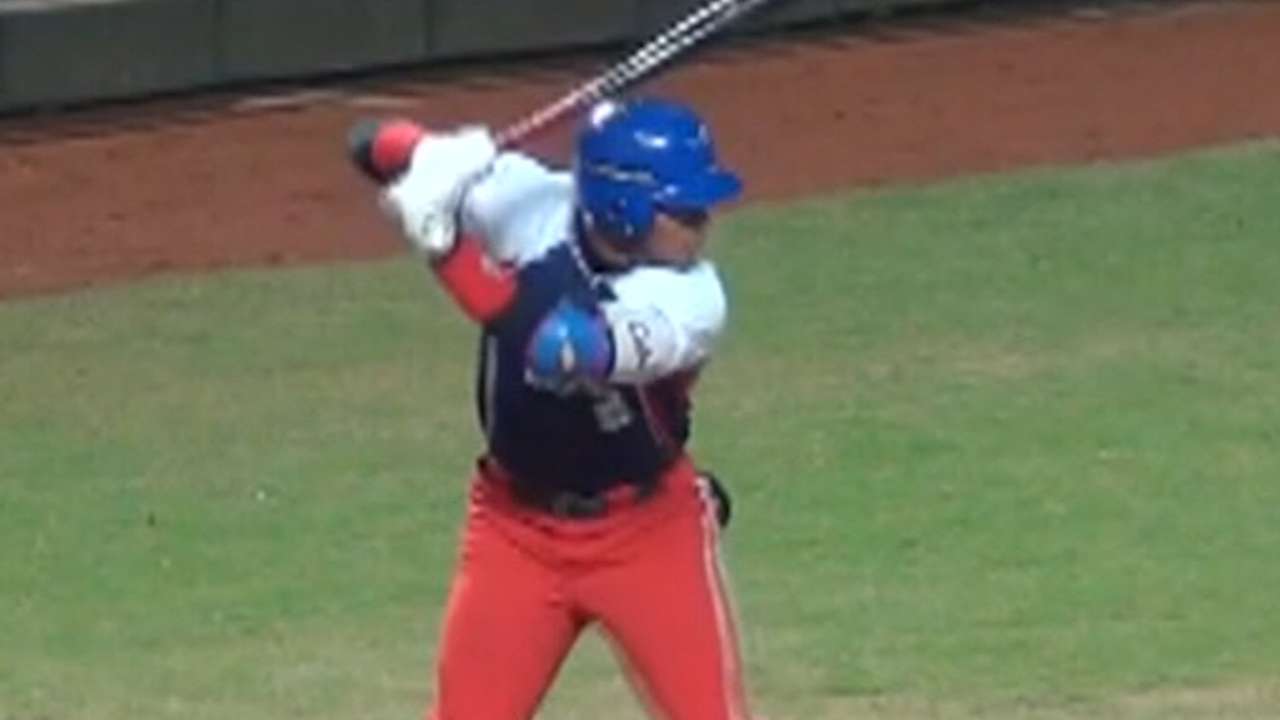 DETROIT -- Add the Tigers to the list of teams with a level of interest in Cuban teenage talent Yoan Moncada. Whether the Tigers can beat out bigger-market teams like the Yankees, Red Sox and Dodgers to actually sign him is another question.
At this point, the interest is obvious enough that team president/general manager Dave Dombrowski -- who doesn't talk often about amateur talents -- acknowledged it.
"He's a good player, no doubt," Dombrowski said Tuesday during his annual appearance at the Detroit Sports Broadcasters Association luncheon.
By all reports, that is an understatement. At age 19, 6 feet tall and 210 pounds, he has been touted as the best young Cuban player to come to the states in a while. His showcase workout in Guatemala in December reportedly drew evaluators from nearly every Major League club.
Between his athleticism and his hitting ability, his talent is strong enough that some team is expected to break its international amateur signing budget to get him. It's strong enough that the Tigers -- a team that for the past several years has spent big to win now -- are at least open to the idea of spending big to secure his talents for the future.
The Tigers brought in Moncada for a private workout last week at their Spring Training facility in Lakeland, Fla. It was around the same time that Moncada worked out for the Tampa Bay Rays down the road at Tropicana Field in St. Petersburg.
Other clubs to work out Moncada, according to MLB.com's Jesse Sanchez, include the Yankees, Red Sox, Dodgers, Padres, Giants, Rangers and Brewers. With Moncada now legally cleared by Major League Baseball and the U.S. Department of the Treasury's Office of Foreign Assets Control (OFAC) for teams to sign, that list could increase.
Moncada told Sanchez he would like to sign soon and make it to the Majors as quickly as possible. Detroit isn't viewed as a favorite, but rather a dark-horse competitor.
Since Moncada is younger than 23 and didn't play pro ball in Cuba, he's subject to international signing guidelines, including bonus restrictions. Each team gets a $700,000 base pool plus bonuses based on reverse order of finish the previous season. The Tigers had the sixth-lowest spending pool at $1,946,900, while the Astros had just over $5 million.
Fitting Moncada within what's left of those pools isn't likely to happen. The key is having money left to spend, which is where Detroit could have an advantage.
The Tigers have traditionally shied away from big-money signings on the international market. They've shown interest in past Cuban players, including Rusney Castillo last summer and Yoenis Cespedes a few years ago, but they qualified as pro free agents. Detroit would be subject to penalties by signing Moncada, putting a cramp in future efforts to restock a farm system that has been thinned out by trades.
Yet the Tigers have a history of spending big for amateur talent when the opportunity arises. Before the current Draft spending caps, Detroit regularly signed top picks for well over recommended slot money, and stocked up on young pitchers because of it. It was the primary reason they ended up with Rick Porcello and Andrew Miller.
Moreover, the Tigers don't necessarily have to outspend the bigger-market clubs. According to Sanchez, the Yankees, Rays, Red Sox, D-backs and Angels all went over their spending limit far enough that they're in the maximum penalty range, including a ban on signings over $300,000 after July 2. For this period, they're subject to a 100 percent tax on overage, one dollar for every dollar they spend. The Tigers aren't in that threshold yet.
Jason Beck is a reporter for MLB.com. Read Beck's Blog and follow him on Twitter @beckjason. This story was not subject to the approval of Major League Baseball or its clubs.